Skiing is an incredibly fun and rewarding sport once you have the basics down. No matter what your level is, there is nothing that compares to the wind on your face, and maybe in your eyes, when skiing.
But what if you've never been skiing before. How do you know where to start?
First of all, you'll need some gear. I recommend renting what you can, but you'll have to buy a few necessities to get you started, which we'll look at below. Your friends may also have some gear you can borrow so ask around.
Let's look at some advice to get you out on the slopes.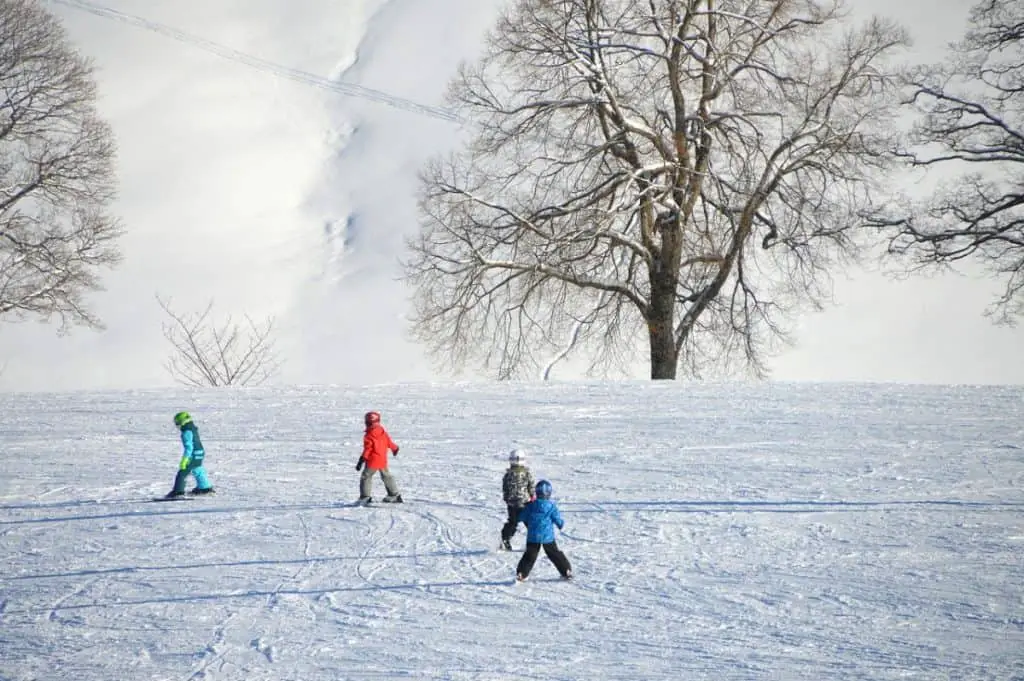 Take a Lesson
For beginners, I recommend taking a lesson. The instructor will make sure you stay within your ability and comfort zone when starting. After your lesson, the instructor can give you advice on what trails to progress to next if you will be skiing multiple days.
What most people don't realize is that instructors teaching beginner lessons often started skiing only a few years before. While this may seem like a waste of your time, new instructors are a great resource.
An instructor, who only started skiing a few years prior teaching a beginner lesson understands what you are going through and the struggles you are facing. This is a valuable resource to a first-time skier.
I spent a season working as a ski instructor. Since I learned how to ski when I was 4 years old and have been skiing for over 20 years now, teaching adult beginner lessons was extremely difficult for me. I cannot relate to what you are going through as a beginner.
Don't Let Your Friends Teach You
Since you're going to take the lesson, don't let your friends try to teach you. Unless your friends have worked as ski instructors before, they probably don't know how to break down the fundamentals so you can learn.
It happens all too often is that your friends tell you they'll teach you to ski but things change once you get to the resort. Your friends will want to hang around the beginner slope for a little while but will eventually get bored.
At this point, your friends will either talk you up to feel better than you actually do to come with them or leave you behind. The intention is good, but we're all human, and we'd rather have fun than spend a day teaching someone else the basics.
Take the lesson first, then go ski with your friends. Later in the day, your friends will be tired and happier to ski easy stuff with you.
Dress in Layers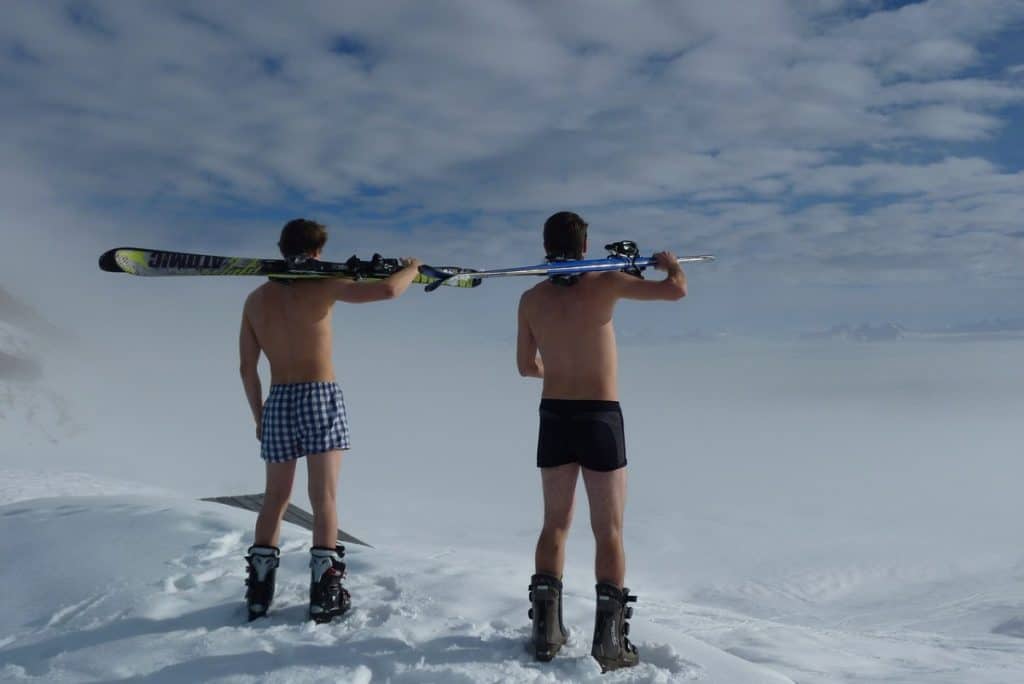 When skiing, dress in layers. This allows you to adjust throughout the day. Dressing in layers means having a lighter weight base layer, a heavier mid-layer, and a protective outer shell.
Your base layers are just long underwear. You don't need anything special as a base layer although it is generally best to avoid cotton if you can. I recommend leggings or something like a lightweight jogging pant on the bottom and a long-sleeved shirt on top.
For your mid-layers, I recommend a fleece zip-up or hoody. Cotton is okay too as a mid-layer. I used to always ski in a cotton hoody for a mid-layer
The outer layer should be something to protect you from wind and snow. Waterproof fabric is best but not necessary on fair weather days. Since your snow pants will most likely be insulated, most of the time you can skip the mid-layer on the bottom and just have the base layer under the snow pants.
Helmet, Goggles, Face Mask, Gloves
Once you have your clothing figured out, consider some of the accessories you will need. Helmet, goggles, gloves, and face masks can be borrowed from friends if they have spares.
Depending on the shop you rent skis and boots from, they may also rent helmets. A quality ski helmet is always a good idea when skiing. You've got to protect that noggin of yours!
If you only were to get one of these accessories, I recommend a good pair of gloves or mittens. Keeping your hands warm while skiing is important to enjoy your time.
If your hands get cold, you can always supplement with hand warmers. A good pair of gloves for skiing will be wind and waterproof.
Next, consider having goggles and a face mask. On a fair-weather day, you can get away with not having either of these (though trust us, you'll want sunglasses or shades of some sort).
However, if it gets cold, windy, snowy, rainy, or any other winter weather you can imagine, you're going to want both.
The goggles will protect your eyes and the upper portion of your face and the face mask will protect the bottom.
Rent the Skis and Boots
Borrow friends' gear when you can, but rent the skis and boots
If your friends have gear they're willing to loan you, great! Not having to spend money to use a decent pair of gloves or goggles will help you out. Even better if your friends have a spare pair of snow pants to loan you.
One thing I don't recommend borrowing from your friends is boots or skis. Unless you have a very similar size and shape foot to your friend, it probably won't work out well.
Instead, rent boots and skis that are properly sized and appropriate to your ability. Rental shops will be able to walk you through the different packages they offer and explain the differences.
For first-timers, you're going to want the most basic package. This equipment will be more forgiving when learning.
Rental techs will get you on the right length skis for first-timers. They will also make sure that your boot is fit properly in the ski binding and that the binding will release when you need it to.
If you get to the point you're spending weeks or months on the slopes each year, then at that point you can look for perfect-fitting ski boots and the best ski boot bags to go with them!
The Boots Are Supposed to Be Tight
That's right. The boots are supposed to be tight. That being said, they don't need to be painfully tight. You want your foot to feel snug and secure in the boot so that it cannot slide around.
When you first put the boots on in the rental shop, they will feel tight. Ski boots are not going to be like any other boot you've worn before. As you wear the boots throughout the day, they will probably start to feel looser on your feet.
If the boots are too loose on your feet, you will struggle to get the skis to turn the way you want them too. In skiing, everything stems from your hips, knees, and ankle position.
If your foot can slide around in the boot, you won't be able to control the skis and turn as effectively.
Most rental shops will swap out boot sizes for you if you change your mind throughout the day. It's okay to get the wrong boot size on your first day.
Pick the Right Socks
DO NOT wear cotton crew socks, multiple pairs of socks, or thick hiking socks. Having the wrong socks inside your ski boots can make your feet colder.
When cotton socks get wet, they lose all their warming properties. So, if you have sweaty feet, once you start sweating in cotton socks your feet will get cold.
Wearing multiple pairs of socks takes up too much space inside the boot. Unless your ski boot is way too big for you, multiple pairs of socks will cut off circulation to your feet. When you cut off the circulation, your feet will start to get cold faster.
Thick hiking socks have a similar effect to wearing multiple pairs of socks. If your feet aren't getting proper circulation, they will get cold.
I recommend a thinner merino wool sock. Proper ski socks are not that expensive and will make a big difference in ski boots. Merino wool socks can stay warm when they get wet.
A ski sock will also go up high enough on your calf to come out of the top of your boot. The sock should be pulled up so that it does not bunch in your boot. A bunched sock will have the same effect as multiple socks or thick socks.
Have Fun!
Lastly, but most importantly, is have fun. On your first day don't be too hard on yourself. You will probably fall a few times, but everyone has to start somewhere. Even those of us who have been skiing most of their lives still fall.
Get back up, shake it off, and keep trying. No one is laughing at you for trying something new on your first day.
Skip the Poles
While many beginning skiers grab the full array of equipment, including poles, the truth is that most ski instructors will tell you that they believe it's best to learn without using poles.
While good ski poles can definitely add to the level of control you have on the slopes, in the beginning they're more likely to be hazards. Learning the basics and then moving on to intermediate skiing skills and control are the most important things to focus on.
By skipping the poles you really get to learn about controlling your body and shifting the legs to keep balance.
You also don't turn ski poles into weapons while flailing about any time you fall for the first time. Learn to ski first, add the ski poles later.
In Conclusion
There's a lot to love about winter outdoor opportunities. It's been a while since I've been able to hit the slopes, but to be honest I'm eager to get out there again. These are some of the best ski tips for beginners and hopefully they will help you start off your time on the slopes on the right foot!
Other Winter Recreation Posts of Interest