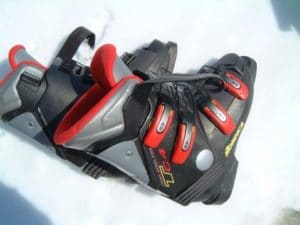 When it comes to hitting the slopes, you want to make sure you have all your gear properly packed up and ready to go. For those of us who have only skied a couple times, and always rented skis and ski boots from the counter, the idea of a bag just for ski boots might seem funny or obsessive. However, as skiing becomes a more consistent form of winter sport, this starts making a lot of sense.
Ski boots aren't exactly easy to carry around, and the last thing you really want to do is carry them around in a plastic bag you then throw away or store, before then having to head back to your vehicle at the end of the day. A well designed bag isn't just convenient for you as an athlete, but these ski boot bags are perfect for carrying these boots around in style.
There are several different types of designs available, and the one that's best for you is going to be more about preference than anything else. The good news is with multiple options you are almost sure to find one that meets
Athalon Everything Boot Pack Reviewed
Available in an impressive 25 different colors and aesthetic patterns, this polyester boot pack is an incredible option when it comes to carrying around your ski boots in a way that is efficient, effective, and stylish all at the same time. Athalon is a trusted brand name among winter outdoor enthusiasts, and it's not hard to see why this particular product lives up to the brand's reputation.
Created from a high-density and high-quality polyester, thee bags feature boot sections on each side, each one with its own zippered entry. The backpack straps are easily hidden, very padded, and the bag is strongly reinforced not only to provide the best possible carrying bag but also includes a waterproofing tarp at the bottom of the bag to help prevent any of the content from getting wet.
The contoured shape is perfect for carrying ski boots and makes moving them to and from the slopes easy and effortless. There's a section of the bag that expands for your ski helmet, as well as a front pocket that is perfect for an MP3 player that even includes an outlet for an earphone.
These are some of the most popular boot bags on the market. From four lumbar back pads to bring cushioning when carrying the bag to multiple expandable pockets that allow you to carry all your ski slope accessories to an outstanding design that delivers everything you could want in style – this is a great purchase.
Add in an excellent 5-year warranty and you can see why Athalon Everything Boot Packs are among the absolute best on the market. What more could you ask for?

Transpack TRV Pro Ski Boot Pack Reviewed
The Transpack TRV pack for ski boots is an outstanding option, and is in fact that second best on this list. Designed with side boot pockets to carry either boots or shin guards (complete with drainage grommets). The specialized Isolsceles Storage System means there are a wide variety of options when it comes to storage and transport of your ski boots.
The Transpack TRV bag also features a closed cell that works great as an ID holder and is foam padded for that extra little bit of protection you want for important identification badges.
There is a stow-away style compartment that allows for shoulder straps, as well as a waist belt that can be brought out in case you need to hike some distance before getting to your preferred destination. This is a bag that offers plenty of space so you should have no problem packing up all of your important winter gear and there is even some extra space for limited dry gear so you can change out after a long day on the slopes (is there ever a better time for a pair of dry socks?).
This ski boot bag from Transpack is a favorite among both young skiers and adult athletes as well, and this excellent bag is highly rated and popular for good reason.

Transpack XT1 Ski Boot Bag Reviewed
This high quality polyester ski boot bag from Transpack is really near the top of the mountain when it comes to creating a truly amazing boot bag that experienced skiers will absolutely love.
The XT1 model here is outstanding, providing a combination of simple but elegant style, reliable durability, and an excellent design protected by a reliable water resistant coat (which is crucial if these are going to be out and about in the snow).
There are a lot of features to like about this back, including the strength & durability of the coated polyester, side pocket with great drainage, a strong water resistant central compartment and a foam padded back.
The shoulder straps have neoprene padding for comfort's sake and are adjustable to make this an outstanding choice for skiers and outdoor athletes of all sizes. One of several outstanding styles offered from Transpack, just like the TRV Pro the XT1 also has the Isosceles storage system to maximize carrying ability in addition to keeping you comfortable and helping create the ideal storage situation for your ski boots.
This is an outstanding option and you won't be disappointed with it.

Kulkea Boot Trekker Ski Boot Backpack Reviewed
The Kulkea Boot Trekker is a very popular option among skiers who go out on the slopes often enough that a solid boot bag option is more of a necessity than a nicety. These bags are well designed, very well built, and provide a durable and reliable option for experienced skiers looking for the perfect way to take their favorite pair of ski boots to the slopes.
KULKEA ha a strong reputation for a very well designed bag that packs and releases the boots so well that there is actually a patent pending on their innovative design. That would be pretty solid if this was just a ski boot backpack but it also has space for your ski helmet, gloves, and other important gear.
This pack measures (in inches) 18″ H X 14.5″ L X 18″ W, with a little bit of space to expand out another 1.5 inches in width. The water resistant nylon, polyester, and tarpaulin materials that are used in order to construct this outstanding ski boot bag that is also very well designed with multiple compartments and organized in a way that will have you truly prepared when you hit the slopes.
Available in six colors, most of which also include a complimentary color accent, meaning you will find a design that you are sure to love. These are good for up to a Men's 13 size foot, allowing them to serve the majority of ski boots out there on the market.

Kulkea Powder Trekker Ski Boot Bag Reviewed
Kulkea appears again because hey, they know what skiers and snowboarders want and they make a variety of truly great ski boot bags. The shoulder straps are padded and contoured for maximum comfort while also remaining easily adjustable. That is an excellent setup and design.
The back panel is made of mesh with a padded spacer, and that is further heavily reinforced so you never have to worry about this pack failing you: it is going to hold up to any beating you can give it.
The pack is easy to pull onto your back and adjust to make comfortable, while the shoulder straps can also be easily disconnected because of the buckle system. That adds an additional degree of helpful versatility that you will be thankful for.
The waist belt is comfortable, well designed, and has the padding and adjustable buckles that make it easy to carry and feel great while getting your ski boots from point A to point B.
A top zippered pocket is perfect for ski masks, bandanas, or balaclavas while the contoured and ventilated side boot pockets means your ski boots are in good shape and ready to go the moment that you are.
This is an outstanding and highly rated option that is going to be very popular with a wide variety of skiing enthusiasts.

KGB Sport Pro Ski Boots Bag Reviewed
Man, talk about heavy duty! This is more of a heavy duty winter backpack than a ski boot bag, but the appropriate side design means whether you are using this to carry your skiing gear, creating a solid bug out bag, or maybe even doing both the KGB Sport Pro Ski Boots Bag is a really interesting heavy duty bag that will definitely find a strong niche audience of fans.
A heavy duty backpack with side pouches that carry your boots, the interior offers plenty of space for goggles, ski helmets, and any additional clothing you need like ski masks, balaclavas, hats, gloves, socks, and more.
This is one of the largest backpacks you will see on this list and is made from a combination of heavy duty ballistic nylon in addition to the 600D polyester that can hold up to the most challenging of conditions, with the side boot holders made from an elastic neoprene which allows it to adjust based on boot size.
This type of versatility can be found throughout the bag as there is space in the middle but there is also a neoprene-lined pocket for your goggles, a helmet holder on the front of the bag, and additional protective cover that can zip away or in place for more storage.
Not your conventional model – but a strong multi-use winter bag that is definitely worth a look.

Athletico Ski Boot Bag Reviewed
A popular option that has long been recognized by snowboarders and skiers alike as one of the top offerings in the market, the Athletico bag for snowboarding boots and ski boots is ruggedly designed to hold up while also versatile in set up to allow multiple options for storing your gear and carrying it all with you.
These ski boot bags from Athletico keep comfort in mind, as well, with padded back support, straps that are hidden but can be brought out for more of a backpack carry, as well as padded handles for ease on the hands when carrying.
The front includes a bungee-corded section that allows your favorite pairs of goggles and gloves to be easily carried along and this design has the popular headphone port attached to allow you to listen to music before hitting the slopes.
The bag features reflective side piping to reflect light in fog, snow, or increase visibility in otherwise poor weather conditions. This pack is made from high-density polyester which means it is solidly waterproofed, and the two large boot compartments and multiple additional pockets means you won't run out of places to store your necessary gear.
This is a solid option and one that you will be glad you went with.

Team Pack Ski Boot Bag Reviewed
The ski boot bag from Team Pack has been a very popular pick among experienced slope fiends for quite some time now. This is an oversized day pack that include side boot holders on the exterior, allowing one to be carried on each side of the back.
These are easy to use, and on the back there is also an attachment that allows you to carry the ski helmet, as well, secured by a mesh flap.
The backpack straps are fully padded, giving you extra comfort as you carry your pack to and from the slopes. In addition to all this, the top handle of your pack has a comfortable handle made from PVC.
This is an extremely versatile pack that provides a massive amount of space to take along all the odds & ends or whatever extra supplies you want or need to really enjoy a day on the mountain. This size of backpack even allows you to carry a change of clothes much more easily for when all the snowboarding or skiing fun is done.
This pack is a bit more complicated to use and it doesn't have back padding, which are the main cons, but it does have lots of storage and is very versatile, meaning this is an outstanding overall option for you and all your winter needs.

Transpack Sidekick Lite Ski Boot Bag Reviewed
Available in lime and in red, the Sidekick Lite ski boot bag from Transpack is a nice little option that has been popular for several years now, and although they are moving on with some other designs, there are plenty of individuals who still love this classic backpack.
Looking like your conventional backpack, each side has padded ski boot holders that will hold your ski boots firmly while also designed with drainage grommets so you don't end up bringing melting snow and water into your house or vehicle.
There's a zippered helmet pocket on the back that includes a solidly designed mesh gusset as well as an overlapping buckle over the top for an additional bit of security.
The bottom of this pack is made from a water resistant tarpaulin, while the back has a padded foam back that helps increase comfort. Add in some adjustable shoulder straps made from specially contoured neoprene and it becomes easy to see why this particular ski boot backpack has so many fans.
The Transpack Sidekick Lite bag holds up as being extremely durable and reliable with its 600 Denier polyester (coated to be water resistant) while also remaining lightweight in nature. So carry your equipment with confidence, and know that there is even a one year warranty to add further peace of mind.

Element Equipment Boot Bag Reviewed
Available in 5 different good looking color combinations, Element Equipment has an excellent handle on the design and aesthetics that make for a fantastic ski and snowboard boot bag. Aside from the main interior, the back panel is also fully padded, and an interior goggle pocket is lined with fleece.
This leads to a beautiful and comfortable ski boot bag that many winter outdoor enthusiasts are huge fans of.
This bag not only holds one pair of boots but also has space for clothes like gloves, balaclavas, hats, gloves, and more. This convenience is great, allowing you to take everything you need for the day with you.
Made from high quality 600D PVC coated polyester, this bag is heavy duty, waterproof, and can fit some pretty sizable boots (all the way up to a Men's 14). This makes them very popular with larger skiers and it should come as no surprise that this is one of the best selling models that can be found on Amazon.
In addition to all these quality features, this ski boot bag also comes with a 100% money back guarantee.

Transpack Edge Isosceles Ski Boot Bag Reviewed
The Edge Isosceles style of ski boot bag from Transpack is another great design that has shown enough to make our exacting standards for the top rated boot bag list. Coming in 10 different good looking color combinations for a wide variety of outstanding aesthetic choices.
The materials are waterproof and there is appropriate venting built in to prevent stink from settling in over time. This is a backpack style of boot bag, so the straps are always out, and this is an efficient and effective way of carrying all your gear although there are some complaints that this is a bit smaller than other models and sometimes you need to pack a bit creatively to prevent your helmet or other hard gear from really digging into the back when you wear this pack.
This is not an issue with the actual ski boots seeing as how these are carried on the side. This can still be a very effective pack design, and there is room for hats, gloves, goggles, and even your helmet. A small "envelope" in the interior is perfect for holding keys, your ID, wallet, smart phone – the odds and ends you need to take with you but don't want to take out with you or lose.
A solid bag overall. There is room for some improvement, but for most skiers this will work just as well as some higher end models from other brands.

Ski Boot Bags FAQ
Q: How can you easily tell the left boot from the right boot?
A: Really good ski boot bags are designed and labeled so it is easy to see where to put each one, and which is which as you unpack them. Good design makes life easier in all aspects.
Q: Can I use a ski boot bag as a carry on?
A: Here the issue isn't what type of bag it is, but the overall size. The current regulation sizes for a carry on bag is: 9 X 14 X 22 inches. Most ski bags are a bit too big or bulky to meet these standards and thus can't be used as carry on bags. Most ski boot bags must go as checked luggage.
Q: Where can I buy ski boot bags?
A: You can always look for sporting goods stores, especially in areas that see a lot of skiing and snowboarding, however for most shoppers we believe that Amazon.com is the best choice. They actually have a very good selection, you can shop among many merchants meaning you get a better deal, and in general you'll have better options.
Q: What are the main styles of boot bags for my ski boots?
A: There are generally two different styles. One is like a small backpack with a side pocket that perfectly fits one boot on each size, flanking your odds and ends in the middle pouch. The other is more like a carry bag with one large central compartment where both boots are placed. There are advantages and disadvantages to both – and as with anything some designs are better than others with each type.
Q: What is the difference between a ski boot backpack and a ski boot bag?
A: Nothing. The two are considered one and the same. While some might look a little more like a carrying bag and others might be a bit more designed as an actual backpack, but these are all pretty much grouped together under the one general term.
Q: What is the best style of ski boot bags?
A: This is very much a preference sort of thing as both styles have their obvious pros and cons. If you like having everything contained, then the interior storage style is probably going to be your favorite while if you are a "grab everything and the kitchen sink" type of adventurer then having the side pockets to free up interior space is probably the way for you to go.
In Conclusion
A ski boot bag might be the type of gear you don't think about much, but when you're looking for ski boots that give you the perfect fit so you have the most comfort and control on the slopes, you want to be prepared. A good ski boot bag makes traveling easy and convenient, as well as providing more space for additional skiing or snowboarding accessories that you will be glad you brought along.
Do a little bit of research, get an idea of the particular style of bag that suits you best and go from there!
Great video on getting the most out of your boot bag

Other Pages of Interest: