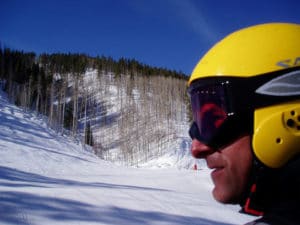 Protecting your head is a crucial part of any sporting activity and the best ski helmets do just that. There's no question that skiing was just a natural fit for my love of the outdoors, winter, and adrenaline when I was a kid.
Racing down a snow-packed hill at high speeds, enjoying the blur of green pine trees, focusing ahead on anything in the way – all of it is just an amazing experience and one of my favorite ways to spend a couple days in winter.
However, my tolerance for bouncing back from full scale wipe outs…that's not quite what it used to be. In other words, a good ski helmet is just what the doctor ordered not necessarily even for competition, but to keep my head intact (literally?).
Why only settle on functionality? There's no reason a good ski helmet can't protect my head, look good aesthetically, and still have that comfortable fit that also allow for a ski mask, shaded ski goggles, or balaclavas depending on what the weather and temperature permit.
Chart: The Best Ski Helmets on the Market
Smith Optics Unisex Adult Holt Snow Sports Helmet
Available in 4 sizes and 13 colors, this is an open-faced unisex sports helmet that offers plenty of protection with a wide variety of solid color options that mean whatever your favorite color or look you will be sure to find a premium Smith Optics that will suit each and every single one of your needs.
Made from a solid plastic construction and featuring a buckle closure chin strap that is adjustable to provide a better fit, there's a lot to love about the helmet Smith Optics offers.
This helmet is comfortable. It is incredibly sturdy and well built. Good for all weather conditions, this is a skating helmet unlike virtually any other. A durable outer plastic shell keeps you protected. The padded interior and adjustable buckle closure keep you comfortable.
At 11 inches in height and 10 inches wide there is plenty of space for most individuals. The trademarked dual regulator ventilation design allows amazing control & comfort. This is how the helmet stays cooler in the summer and warmer in the winter. This is the one ski helmet that can double as a skating helmet. It's all you really need.

Lucky Bums Snow Sport Helmet
The Lucky Bums snow helmet is a great option for skiers and snowboarders alike. This provides some serious all-around protection that is comfortable, durable, and stylish, as well. That means this helmet really hits all the major points. An elite helmet worthy of every level of winter sportsman.
This helmet's design features two protective layers. This guarantees extra padding and protection for your head. Add in a comfortable padded chin strap and google loop and the design really shines. Available in a wide array of colors and sizes these helmets are built for a wide array of skiers and snowboarders.
Built up to strict EN1077 Standards, this helmet is CE certified and offers the full level of protection you crave. The interior fabric is designed to be comfortable while a little extra ear padding gives protection and comfort. There's an impressive airflow that older helmets often simply don't have. Add in the adjustable strap and there simply is a lot to love about this elite option.
The Lucky Bums ski helmet is designed to be vented for great air flow, as well as hypoallergenic. This makes it great for everyone. The Lucky Bums brand is a family business barely 10 years old but they have made an impact! Not only that, but this family stands behind their company. They offer a limited lifetime warranty protecting against any problems as a result of materials or craftsmanship.
These helmets look great, feel great, and give the protection you need!

OutdoorMaster Ski Helmet
Sleek, stylish, and looking excellent in multiple colors, this ski helmet is built with a strong reinforced ABS shell as well as an additional core that helps absorb the shock from falling impact during any wipe out.
That dual approach towards safety makes this an incredibly stable and popular option. That's understandable, but safety doesn't mean sacrificing comfort or style.
The OutdoorMaster ski helmet is one of the top rated ski helmets out there for a reason. Aside from being safe it is also very comfortable as the interior insulation is not only built for safety but to offer soft padding on the inside.
There are nine different color options that are available and that means plenty of different color options for the perfect look, all of them in a fine matte finish to enhance the sleek design of the helmet.
This adjustable ski helmet can be adjusted for a perfect fit. The ear pads and fleece lining are easy to remove and wash. Add in some of the best ventilation in the business and you are looking at a great day out on the slopes.
The one big caveat: this is not a helmet built for people with really big head. You basically need a head 23 inches or below and there have been some complaints that those at around 23 inches felt the helmet was tight or too small. Since sizes tend to go on the lower side if you're near the borderline look at one of the other top rated ski helmets.
However for everyone else this is a great design and value, and it is backed by a one year money-back 100% satisfaction guarantee.

Smith Optics 2019 Holt Snowboard Helmet
Available in matte black or matte white, Smith Optic's 2019 take on their newest snowboarding helmet and it's a winner!
Featuring a bombshell construction with airflow climate control, there's a lot to love about Smith snowboarding helmets. An impressive 14 vents means plenty of ability to stay cool and well ventilated even during the heaviest of days on the slopes.
Built for all-season use the self adjusting system helps guarantee a solid fit. And we all know that a good fit is a crucial part of having solid protection.
These helmets have been tested again and again to come up with a better design. Focusing on being able to withstand the hardest of impacts while cushioning the blow, there's a lot to love about what they've finally brought together.
Good air flow helps perfect the combination of warm and cold to keep your comfortable. In fact, the design allows you to adjust the vent to increase or reduce the amount of air that comes in. Open more to cool down, close some to keep the heat in.
This is some serious climate control to go with the high level of protection you want from a truly elite helmet!

Traverse Dirus 2-in-1 Convertible Ski & Snowboard Helmet
The Traverse convertible helmet is built with  versatility in mind to be used for skiing or snowboarding – and it does a great job of doing just that while still offering high quality. Often times quality gets dropped in the name of versatility. Not here! That's good news if you're looking for a solid ski or snowboard helmet.
The helmet features a solid outer shell that is going to fully protect you from falls while the inner liner and ear pads offer plenty of protection. They are also removable. This means you can switch them in or out as needed.
That type of adjustability can be hard to find. This is a solid helmet that looks good, protects well, and won't bust your budget. In fact, it's one of the better value buys out there, in our opinion.
So what's the potential downside? In this case the helmet is pretty heavily packed so if you tend to have a really large head, this isn't the best choice. In those situations the fit is going to likely be tight. Great for people with a small head. Or an average sized head, for that matter.
Well deserving of its spot on this list of best ski helmets. You'll save yourself plenty of headaches if you go with this model.

Giro LEDGE Snow Helmet
This was one that we hadn't heard too much about before looking for recommendations from our friends living in more winter sport-friendly locations. However, several of them started talking about their Giro snow helmets.
After that type of consensus recommendation, we had to have a look ourselves! The LEDGE style of Giro comes in small, medium, or large sizes. In addition to this, they are available in 9 different colors as of this writing. The hard shell construction on the outside includes a removable foam interior. An auto lock system helps them to fit really well, and allows the changing out of interior padding.
There are plenty of versatile features that make this choice popular. The removable goggle retainer is nice, allowing you to switch out goggles as needed. The removable ear pads have already been covered and allow you to adjust to comfort based on head size. The Giro audio systems are compatible with Giro goggles and add that little something extra.
These helmets hold up because they were designed with street and park skateboarding in mind. That means holding up to a fall on concrete. If this shell can hold up to that and pad your head of a sidewalk, it will hold up to snow.
Add in a self-adjusting fit system that molds to your head and there's a lot to like about what these protective sporting helmets brings to the table.

Lucky Bums Alpine Series Helmet
The next great quality skiing helmet on our top rated listed is from the Lucky Bums brand. Their Alpine Series of skiing & snowboarding helmets will keep you safe and stylish down the slopes!
Currently available on Amazon in 4 colors (black, charcoal, matte black, glacier blue), this stylish and well-designed helmet will have you looking good as you fly down the slopes. CE certified and approved, the hard outer shell is molded & then combined with a quality EPS liner to cushion, protect, and endure.
So what does all that technical talk mean? It means you get plenty of protection and comfort in combination. Add in the fact these are durable builds that can take a beating over time, and there's a lot to love here!
The Lucky Bums Alpine Series helmets have a reputation for being lightweight. These only weigh about a pound. The lightweight materials make the helmet comfortable even as it protects. Multiple adjustable vents mean better temperature control as well. Always good whether it's unusually warm or cold – you can help adjust heat retention or loss!
Lucky Bums also has a reputation for some pretty top notch customer service. That is always good to see, even if it is all too rare. If you don't like the helmet, you can get a refund no questions asked. That's pretty solid quality right there.

AKASO Ski Helmet
AKASO is a name that has broken onto the scene relatively recently compared to the competition, and so far they are really getting rave reviews. While we are always hesitant to put a newcomer at the top of the list, AKASO has earned their place here. If the ratings continue to come in as highly, they very much could move up in the future.
This sleek and well-designed helmet is currently available in only two classic colors: black or white. However, this shouldn't keep you from this quality ski helmet. Lightweight yet featuring a hard outer shell, this is a comfortable yet powerful helmet.
Certified as providing an outstanding level of safety, the interior has EPS foam. EPS foam is made right here in the United States. Even more important, EPS is renowned for absorbing shock impact. In other words this makes the helmet extremely comfortable and really safe & protective. That is always a winning combination on the slopes!
Other major features include back snaps to hold your goggles in place and help keep them secure, adjustable vents to control the air flow around your head, detachable liners and padding, as well as a lifetime warranty from breakage. You're going to be hard pressed to find anyone else willing to back up their product like that!
Add in the very reasonable pricing and it's easy to see why AKASO skiing & snowboarding helmets have become so popular in even such a short time.

ZIONOR Lagopus Ski Snowboard Helmet
The Lagopus skiing/snowboarding helmet from ZIONOR, sometimes referred to as "The H1," is a sleek top notch helmet for those winter warriors hitting the slopes. This is an outstanding option which is available in 5 different colors and offers another exceptional option for skiers and snowboarders alike.
This helmet features fully reinforced construction with both ABS & EPS material. That's double the protection from hard falls and helps drastically reduce concussion rates from falls. Dual mode airflow gives plenty of options for cooling down or keeping the heat in.
In other words, you get to stay comfortable and protected. The thick inside padding is a nice plus and the fact that these helmets are compatible with ski goggles and somewhat adjustable in fit makes them even better.
Graded for all season use, these helmets are relatively new on the scene but there is already quite a bit to like about what they bring to the table. If you're looking for a quality snowboarding helmet, you certainly won't be disappointed.

OutdoorMaster Ski Helmet PRO
This is one that we wouldn't recommend to a long-term skier or snowboarder. There are better advanced options, but if you're looking for a great beginning or entry level helmet then this is a great option. The Ski Helmet PRO from OutdoorMaster has been compared favorably to many more expensive models.
The adjustable back knob helps to loosen or tighten the fit. For those of you in between a small and medium or medium and large this is extremely helpful in finding a better fit. The vents are also adjustable. This means you can control how much heat you keep in or let out.
The chin strap is padded, which is nice, and this is relatively lightweight at 1.21 lbs. That's not bad at all. The liner and ear pads cover plenty of area and are removable so can be replaced with other options, as well.
These are a really good beginner helmet however it is worth noting that they do tend to run a bit large. Also, in the case of truly high speed crash or collision there have been some reports of this ski helmet cracking. However, as long as it does its job to protect your head – that's all that's really important.
Solid option, and an especially good beginner's helmet that won't bust the budget.

What to Look for in a Ski Helmet
While the designs can vary immensely from one brand of ski helmet to another, there are still some common factors you want to look for. By keeping these in mind and tackling your shopping with this list in mind, you'll be more likely to find a really top notch ski helmet that will meet all of your needs and then some.
Choose the Best Materials
This is a really big one. Certain materials stick out as just being higher quality than others. You're looking for materials that can take a hard impact on the outer shell, and soft or comfortable padding on the interior. Good snowboarding helmets are going to be "two part" like that.
Whether set up as "Hard Shell" or "In-Mould," you still need to look for really good materials that have a reputation for being some of the best in the business. For outer shells this means things like ABS or tested polycarbonate blends.
For interior material, there are a lot more customized options. That being said there are two things you're looking for: comfort & shock absorption. The materials used should be able to do both. Most companies are eager to tout both benefits. If one doesn't, it might be time to move on.
You shouldn't have to wear your helmet loose, and you want to spend time wearing it to make sure that the interior padding prevents any tight "squeeze" that pinches in on you. If the fit isn't comfortable than the sizing is wrong or you may be stuck with cheap materials. Neither is ideal. Look for the best materials and you'll be better protected, look better, and be more comfortable, as well!
Pay Attention to the Fit
When it comes to snowboarding helmets, the fit matters a lot. If it doesn't fit properly then you aren't going to get the full protection that you are wearing it for. On top of that it's also going to be uncomfortable. Remember, no matter how good looking the helmet is, first and foremost it's there to protect you.
If you're an old hand you know how to track down the best fit for you, but if you're new then you'll want to spend more time trying on more sizes, styles, and figure out what really seems to work for you to provide a perfect fit while also seeing which ones don't.
There are helmets that have an adjustable fit. For some winter warriors this will really help to find the perfect fit while for others, it's not an easy solution. Don't be afraid to mess with some of these and see if they really hit the spot!
The Chin Strap Matters
There are a surprisingly large number of variations in chin strap design between helmets. You'll want a helmet that has adjustable chin straps, which is important to make sure you get the perfect fit. Too tight means you'll be really uncomfortable. Too loose and the fit isn't going to be great. The entire point of a good helmet is to protect you from injury when you fall – you need to make sure that it has a good chin strap. That strongly increases the chance of being able to pull off the perfect fit!
Consider the Ear Covers
Some helmets have padding that is great for protection but not great insulation. Others really have the insulation down. If you tend to get cold ears, then you definitely want to find a helmet with ear padding. Preferably large and fluffy.
Some helmets give the ability to wear a thin winter stocking cap while others do not. While testing out fit you'll want to think about the ear covers available and if one model really provides a better meeting of your needs than others.
Ventilation (Air Flow) Systems
This isn't the case with all top-of-the-line slope sports helmets, but many will have an air flow system via vents. This is important as it can be surprisingly easy to overheat during warmer days with the sun coming out. While some people are okay with helmets without vents, we almost always recommend getting one that does have some type of air flow system put in.
That not only shows some serious thought has been put into the actual design, but if you don't overheat you can just keep the vents closed to stay warm. If you get too warm, having vents gives you an option other than getting off the slopes for a while. This is also one of those areas that really separates different ski helmet designs from one another.
Take a look at the different vent systems out there, ask around, and go with one that you feel like does the best job of keeping you comfortable so you can stay on he slopes longer.
Is There Earphone Integration?
Some people like being fully focused on the slopes while they're out there, some people find it much easier to concentrate when they have their favorite music blaring. There are some ski helmets that are audio compatible meaning you can use your earphones. However there are also many that do not have this feature. Whether or not this matters depends on personal preference.
Camera Mounts
These are definitely not for everyone. Many of us prefer to have all memories of our skiing and snowboarding times in our heads…and any embarrassing misadventures forgotten. However, if you're a sports blogger, outdoor YouTube adventurer, or anyone else who uses action capture cameras like GoPro, then you may want to make sure you can find a helmet that either has a pre-attached camera mount, or the ability to add one.
These can create some pretty wicked action shots. Not a big deal for most of us, but if you really want some good outdoor action shots, then this is something you will definitely want to take a look at.
Helmet Construction Types
Construction styles for ski helmets can be broken into three general categories: ABS for the best durability, in-mold for the lightest weight, and hybrid in-mold for a great compromise between the two. There are pros and cons to all three of these designs. While most people do have a preference, it's worth taking a look at all of them.to see what type of design really resonates with you.
ABS Style Helmets
ABS styles of helmets are sometimes referred to as "traditional build." This involves a hard plastic shell for protection on the outside as the base. The interior is then lined with a foam liner of some type that is actually glued to the inside of that shell. This means that ABS helmets are generally very tough.
The downside for some is that the ABS style of helmets are going to be heavier than in-mold or hybrid styles of helmets. This means they are bulkier. That doesn't mean they're worse. On the contrary, ski helmets of all three styles appear on this list for a reason. This model also tends to be less expensive than others.
Those are some pretty strong reasons for liking quality ABS skiing helmets. Budget-friendly and good for beginners, there's a lot to love here. Even some very experienced slope wizards have an ABS helmet they love.
In-Mold and Hybrid Style Helmets
These are technically two different styles, but they are so closely related we cover them both right here. In-mold technology combines a thin but hard shell with a soft foam liner from the very beginning. They are molded together, hence the name. So no gluing an interior soft shell into a hard outer shell. These are almost always some type of polycarbonate or polycarbonate blend.
The hybrid is obviously a combination between ABS and the In-mold models. These are often much closer to In-mold than anything else, but they technically fall under a slightly different design than the pure design.
These integrated helmets tend to weigh less, still provide excellent protection, as well as superior ventilation. Many high end ski helmets use these design styles. That results in many of them appearing on this list.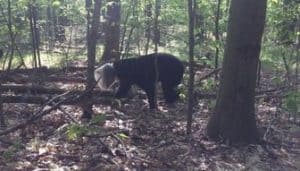 How to Measure Your Head for a Helmet
So one thing you definitely want to make sure of is that you get a helmet that fits. While the endless pictures of men with helmets stuck on their head amuses me to no end…it's not a great look for you.
Fortunately measuring your head for a helmet size is pretty easy. In fact, most companies even include information on how to do it or picture guides. That being said most companies use the same general sizes for advertised helmet sizes. This standardization makes it easier for most customers.
So the first step is to get a soft measuring tape. They are very easy to find and inexpensive. If you don't already have one around the house you can literally buy one online for just a few bucks (this is the one I use: Singer Tape Measure). Once you have that the next step is to measure your head's circumference.
The place you want to measure is approximately one cm above your eyebrows. A mirror helps for this part. You need to make sure the tape is the same height all the way around your noggin. No slanting or bunching that can throw off measurements.
Measure around in centimeters. Trust us, this is going to be far better most of the time compared to doing it in inches.
Generally speaking helmet size ranges are (in centimeters):
51-55 for small
55-59 for medium
59-63 for large
63-67 for x-tra large (assuming they offer it)
Now these are general helmet size standards. Each company may go by slightly different ones. We've fond a few examples of companies that had WAY different size levels, so do your homework.
If properly fitted, the helmet should be comfortable yet snug. Generally speaking it will rest about two centimeters above your eyebrows. This helps guarantee a comfortable and safe fit – which is what good ski helmets are going for as a combination.
Can You Use a Ski Helmet for Biking?
I know we usually keep most of the questions in an FAQ section, which you can see down below. However, this question comes up all the time and is about personal safety so we want to make sure to cover it thoroughly.
So the question: Can you use a ski helmet for biking/cycling?
Short Answer: You shouldn't use a ski helmet for biking unless you don't have any other option. They're not designed for the same thing as skiing or snowboarding helmets.
Long Answer:
The best solution is to have a specific ski helmet for skiing and snowboarding and another one for cycling. There are some really good reasons for this. The first is that they are designed for different types of impact.
The big concern with cycling is that one time crash that can cause severe injury. That's why those helmets are designed to minimize the damage from one sharp heavy impact. Protect from concussion, brain injury, that sort of thing. This is the ideal design for a protective cycling helmet.
However, that's not what slope sports helmets are designed for. Whether it's skiing, snowboarding, or both, there are going to be falls. A lot of them. A good ski helmet is going to be designed to disperse the impact from multiple falls throughout the day and needs to offer side coverage as well as crown coverage.
Because of this a ski helmet might not be able to protect from the high speed one time blunt impact of a cycling wreck, especially if concrete is involved.
That being said, a helmet is better than no helmet at all, but it's not optimal and one of these helmets is not built specifically to protect for the types of falls that the other will help with.
Ski Helmet FAQ
Q: What is the best way to determine fitting?
A: You'll want the best fitting helmet possible, and if you know what you have generally used as a size go off of that, but if in doubt then make sure to use any fitting or size charts on time, and generally speaking you are a little bit better off going a touch large than a touch small, especially if you have a lot of hair. You can also always put another stocking cap underneath, so there are options for getting more padding whereas if it is too small, that could be a problem.
Q: Are ski helmets really necessary?
A: Absolutely! You want to protect your head from injury. While skiing and snowboarding can lead to some amazing fun times, and I've fallen hundreds of times over the years with no major injury, you want to be safe. Don't risk a concussion or worse. Protect yourself as much as possible with a well-fitted skiing helmet.
Q: What if I'm a middle size?
A: Not all of us fit easily into a "small," "medium," or "large" size. That being said, many companies make ski helmets in larger and smaller sizes than just those three. In addition to that it's also important to know that one company's small might be another's medium. And vice-versa. Keep looking around until you find the one that fits your specific needs.
Q: Can ski helmets be used for biking?
A: Please see the section above as I think we did a pretty good job covering it 🙂 However if you want the short version again, a ski helmet is better than nothing but we don't advise using it in place of a cycling helmet.
Q: How should a ski helmet fit?
A: The ski helmet should rest approximately two centimeters above your eyebrows, cover the ears, and be comfortable yet snug. If there's pinching it's too tight, and if it can wobble then it's too loose and you need to look at adjusting the fit accordingly.
Q: Which ski helmet is best?
A: This is impossible to answer for sure. The best ski helmet, in the end, is going to be a high quality option that offers a lightweight but reliable outer shell, soft foam liner, and fits you perfectly. We're big fans of Smith Optics, Lucky Bums, & Outdoor Master but there are several other brands out there that make really outstanding ski helmets.
Q: Are ski helmets and snowboarding helmets the same?
A: Yes. They are designed for the same types of activities, to protect from the same injuries, and use the same design. The two are interchangeable.
A Few Final Thoughts
While I still absolutely love the adrenaline of flying down the slopes and the specific thrill that only skiing can bring, the old fearless me is gone and those full wipe outs seem like a much bigger deal now than they did back then. A good ski helmet is a nice extra bit of protection to make sure you come out of a wipe out in as good a shape as possible.
For those of us who are older bones break instead of bounce, and you're very aware of not being able to walk things off anymore. If you're young and invincible…it's still a good idea. Trust me, old you will thank you for the minimal consideration.
Great video on finding the right sized ski helmet