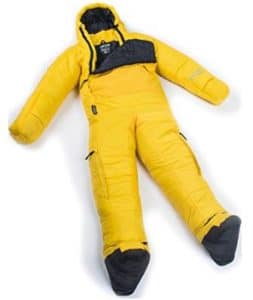 One of the fun things about having an outdoor website is you get to research and find out about unique products that you didn't know existed. Because of social media, we were able to review products like a pocket bow and arrow, upside down life jackets, solar rock speakers, and Connect Tents.
As we were continuing our research into the world of sleeping bags, I ran into the unique product line of wearable sleeping bags or sleeping bag suits.
We are probably way behind on the times, but if you haven't heard of sleeping bag suits before, we thought it was our duty to let you know about them.
Are they going to be practical in all of your outdoor adventures? Probably not, but they are really really cool!
Check out our quick review on the best wearable sleeping bags below and let us know what you think!
Quick History of Wearable Sleeping Bags
Selk'bag is the leader when it comes to wearable sleeping bags.
According to their website, Selk'bags were created by Rodrigo Alonso in 2006.
Alonso founded this product in the country of Chile, and they were inspired by the Selk'nam natives of Tierra del Fuego, Chile.
This group of natives were nomadic people who dressed lightly and uniquely even when dealing with the cold weather of their country.
The history of the Selk'nam people is fascinating – and unfortunately very tragic, I would encourage you to learn more about them.
Today, Selk'bag is creating fun, comfortable, and very unique form-fitting sleeping bags that can be worn while outdoors or inside your home!
There are numerous stores across the United States that now carry their line of sleeping gear, making it much easier to find and enjoy this product line.
We should also note that these sleeping bag suits aren't just for adults out camping – there are also unique character based sleeping bags for children and adults.


What Makes Them Cool?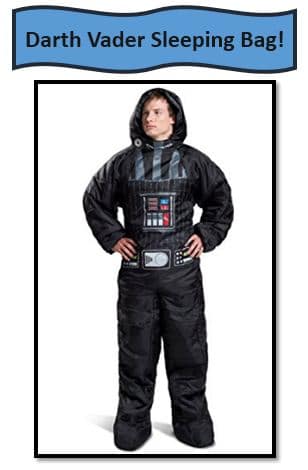 There are a few reasons why I really like this product line. The main reason is just the look. You have all sorts of different color options and designs to pick from. You should be able to find a sleeping bag suit that really fits your personality.
Secondly, you get a fantastic range of motion while using this product. You are easily able to move your arms and walk around while wearing your sleeping bag! It is easy for you to grip things (or eat snacks), and do everyday activities. For real – you are able to run around and your range of motion doesn't feel overly restricted!
Thirdly, these sleeping bags have little booties that can be removed from the sleeping bag.
That means you are able to walk around in your sleeping bag indoors with the booties on, and you can walk around outside with them off – removing the concerns you have about tearing your sleeping bag or getting it all dirty.
Fourth, this is a functional sleeping bag! It is very comfortable, it can be very warm, and you can easily sleep in it!
Fifth…who doesn't want to be able to fall asleep anywhere they want while wearing their sleeping bag? That seems pretty cool to me!
There are some other great reasons to buy these sleeping bags, but we will go into more detail in the review section below.
Sizing Options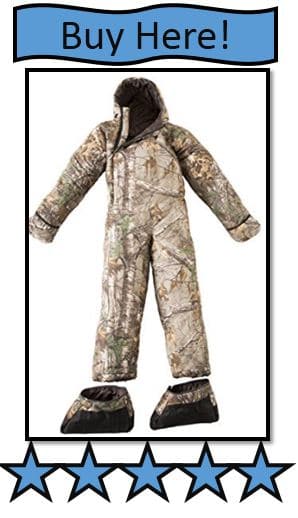 Selk'bag does provide different sized bags for both children and adults. They do recommend that kid's sleeping suits are used on children ages 7 years and older. This is because they don't want children tripping when running around inside their kid's wearable sleeping bag.
The kid's medium is recommend for a minimum height of 4'0" and a maximum height of 4'6". The kid's large is meant for children between 4'6" and 4'11".
An adult small fits people up to 4'11" (5'4" if the booties are not used). An adult medium fits up to 5'5" (5'9" if you use it without the booties). An adult large fits adults between 5'5" and 5'11" (fits up to 6'1" if used without the booties).
For us larger adults, an adult x-large is meant for adults between 5'11" to 6'4" (6'5" without the booties). There is also an x-large wide which is meant for the same sizes as x-large height wise, but has a larger girth for heavier body types.
Important note – The more you weigh, the bigger the bag you should choose. You should also size up if you are right on the border between two sizes, it is better to have extra space than not enough space to be comfortable.
If you follow these guidelines, you should have a lot of fun wearing these sleeping bags!
These guidelines are applicable to all of the options listed below – with the exception of the x-large wide not being available on all choices.


Different Options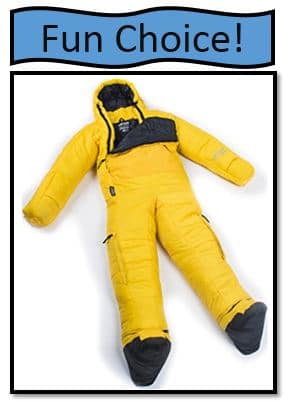 Right now Selk'bag is on what they call 5G sleeping bags (5th Generation). You are going to have a few different options to pick from. You have the Original Selk'bag, the Selk'bag Lite, Realtree®, and character designed Selk'bags for both adults and children.
The most popular would be the original Selk'bag. If you follow the sizing chart from above you will be able to pick the right option for you!
The design includes zip-off booties – so you can run around in your shoes when out and about, and put on the booties when it is time to go to bed.
The hand openings allow you to grasp items, beverages, and do all sorts of fun things. There is a kangaroo-style front pocket for storage.
The temperature rating is 37°F – so it should keep you plenty warm outdoors. It does have leg vents that can be unzipped if you are getting to warm and want to cool down.
The color choices are awesome as well – black, green, yellow, purple, and blue – and they all look very good.
Your Selk'bag 5G Lite choices are very similar to the original option listed above, but they weigh a little bit less, come in some slightly different color options (asphalt grey, seaport blue, twilight violet), and the temperature rating is 44°F instead of 37°F.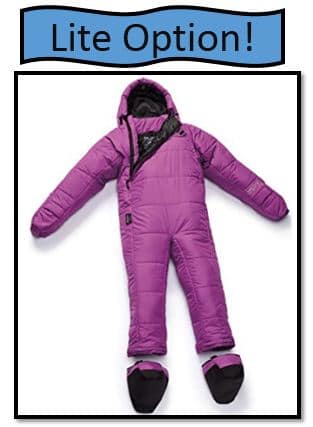 They are a better choice if you don't need the sleeping bag suit for really cold weather. They are also a little bit less costly than the original options.
The Selk'bag Realtree® Xtra® is really designed for hunters and other outdoorsmen – and I'm not just saying that because of its camouflage color scheme!
Hunters are going to love the range of motion, the weather resistant outer shell, and removable booties. The temperature rating is also 48°F – so the wearable sleeping bag will keep you warm, but won't over heat you on your trek to your deer stand.
You also have character designed Selk'bags for both adults and children. These character bags are more for indoor use…and fun camping trips! They aren't really designed for strenuous outdoor activities.
Right now Selk'bag is doing a really neat Star Wars wearable sleeping bag line. It includes a Chewbacca, Darth Vader, Storm Trooper, and Rebel Pilot option. Again, these are both in adult and child options – so have some fun with them!
They have also released other character based bags – such as super heroes (Spider Man, Iron Man, the Incredible Hulk) and I'm sure they will release other really fun designs in the future – so keep checking in with them from time to time!
Final Thoughts
These sleeping bags aren't going to be ideal for everyone, or for every outdoor adventure that we encourage you to take!
But they are fun, well built, and can be a blast when used in the right situations. The best advice we can give you is to have fun with them!
If you were looking for a more traditional sleeping bag for yourself or your child, please check out the following articles: the best camping sleeping bags, the best winter sleeping bags, and the best two person sleeping bags.
As always, if you have a great story, great experience, or even a bad experience with these sleeping bags, let us know!