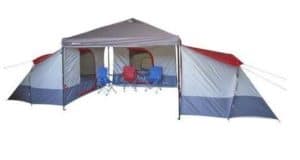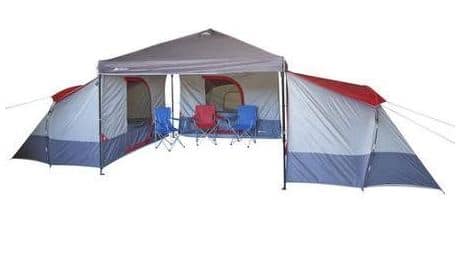 We like to believe that it takes a lot to impress us at Amazing Outdoor Adventures when it comes to tents. We have been camping for so long we have seen the development of instant tents, cabin tents, party tents, and everything else in between.
That is why we have to give a shout out to Ozark Trail and their line of ConnecTENTs, and yes, that's the proper way to write the brand's name.
We have heard them called a few different things like connect tents, connecttents, connect tent or the proper Ozark Trail brand name of ConnecTENT – but whatever you call them, they are really freaking cool and we are really big fans of what they bring to the table.
Ozark Trail created a way to have separate tents for you to sleep in, but have those tents all connected together. Some of these connect tents create awesome social spaces, while other versions help give children an independent sleeping space that is still connected to their parent's tent – just in case they need something.
Here is some additional information and pictures of connect tents – we hope you find them as cool as we do.
Your Best 2018 Connect Tent Options
We put together a quick list of some of your different Connect Tent options. Connect Tents tend to become unavailable at times on different online shopping sites, so we try to keep this list as updated as possible! Please read on beyond this quick list for more detailed reviews about each option.
The Best Connect Tents
Our list of your best connect tent choices.
Ozark Trail 4-Person ConnecTent for Canopy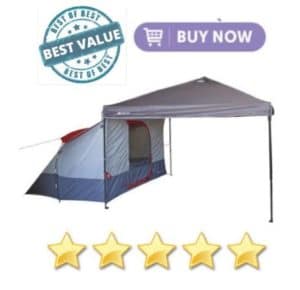 This is a really fun tent for any situation where you want a private space at night, but a big outdoor social gathering space before bedtime. How this tent works is really simple, you clip the hooks that are located at the top front part of the tent to the top of the canopy (there is a built in slot for you to hook into).
The bottom front part of the tent has hooks that connect to the bottom of the canopy poles. Once the front of the tent is connected, you stretch out the tent and one pole is placed into the slots located in the back part of the tent. Stake the back corners, and bam – you have a 4 person tent that is attached to your canopy.
It is really important to note that the canopy IS NOT sold with the tents. This tent works with the 10 x 10 Ozark Trail straight leg canopy. An adjuster is available if you already have the Ozark Trails 12 x 12 Canopy and would like to attach tents to it.
We recommend contacting the Ozark Trail customer service department directly if that adjuster is needed.
You can attach one, two, or three tents to the canopy, which can sleep up to twelve people if you don't need much space inside the tents.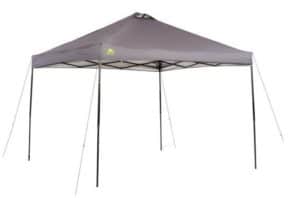 The tents themselves have a floor size of nine feet by seven feet, with a center height of 66 inches. Setup time is really quick, normally 5 minutes at most. The tents have two large windows and a mesh roof.
There is an attached rain fly that can be quickly rolled up to open up the mesh roof, providing great ventilation during the day and an awesome view at night. There are even a couple of storage pockets built into the tent itself. We can't stress this enough – these tents do not work without the canopy, and the canopy is sold separately.
There is a lot to love about this type of tent. It is great for camping, music festivals, tailgating, partying with old friends during an outdoor reunion, basically any time you want to create a big social space. Below is a pictures of 3 of these tents attached to the canopy. To create that setup you need to buy 3 of the 4-Person Connectents and 1 10 x 10 canopy.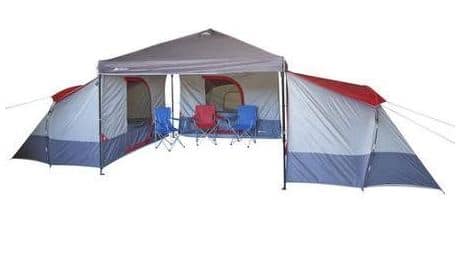 Ozark Trail 8-Person Dome ConnecTent with Canopy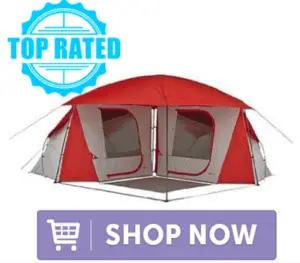 Ozark Trail also makes a connect tent that has a canopy built into it. Unlike the first option listed in this article, since the canopy is built in it doesn't have to be purchased separately.
Setup is relatively easy. The first thing to setup is the canopy, which is basically locking the poles into the correct connectors. Since the canopy can be big and awkward to move on your own, we do recommend having two people during the setup process.
Once the canopy is upright, you can attach either one or two of the tents. The tents snap onto the canopy base, and a pole is placed into the back part of the tent to erect it. Stake down the corners and you are ready to go with a completely set up tent, complete with hangout and outdoor shade. Not a bad deal at all!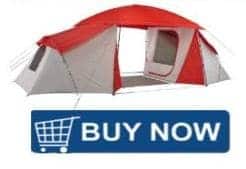 The tents themselves are not free standing, so if you want to pitch them you need to setup the canopy. You can move the tents into different positions on the canopy, either creating an L shaped layout or having them be across from each other. If you want to, you can setup just the canopy without the tents.
Each tent is 10 feet by 10 feet so it is rated to sleep four people, but that would be a little tight if it was four adults. Each tent has two windows and a mesh ceiling that can be covered with the pre-attached rainfly.
Ozark Trail ConnecTent 8-Person 2 Dome Tent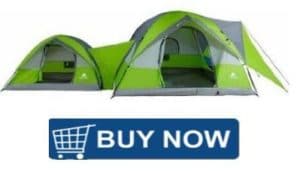 For the family that doesn't need three separate tents connected together, Ozark Trail also has an option to connect 2 tents. It is really similar in concept to ConnecTent previously listed, except you are only connecting one side tent to the main center tent. You could think of this as a "junior version" of the larger 10 person design that we reviewed further up this article.
You will have plenty of room to sleep eight people, and this tent comes with all the standard features like storage pockets. There are also numerous doors and windows for ventilation that help with keeping the tent cool, showing off some of the same fantastic benefits that the larger version offers.
If you love the look of these tents, but need something bigger, or want to stick with something a little more traditional, I encourage you to click on our article about the best family tents!
Ozark Trail 6-Person 10' x 10' Connectent for Canopy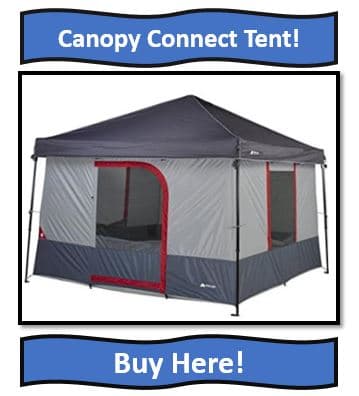 Have you ever been outside having a good time under your canopy, and you wished you could just turn your canopy into a tent so you could continue your fun into the night? If you have – check out the Ozark Trail 6-Person 10 x 10 Connect Tent for Canopy.
What this tent allows you to do is turn your 10 feet by 10 feet straight legged canopy into a tent. It takes about 10 minutes to connect all the walls to the canopy, and obviously the roof of the canopy acts as the roof of the tent.
Once setup it will sleep up to 6 people, it will have windows on all four sides of the tent for good ventilation, has a center height of 98 inches, and a sleeping space of 10 feet by 10 feet (which is large enough to fit two queen sized mattresses).
It even has an easy access port that allows for an extension cord to get into the tent.
IMPORTANT NOTES: This is not a stand-alone tent. It will not work without a 10' x 10' straight-leg canopy. The canopy is also NOT INCLUDED when you buy this Connect Tent.
I would consider this tent a dream come true for anyone trying to turn their canopy into a sleeping quarter!
Ozark Trail ConnecTENT 10-Person 3 Dome Tent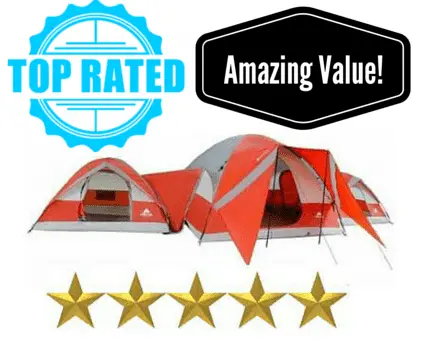 This is the perfect tent for people that want separate sleeping areas at night, but want all those sleeping spaces to be connected. I love this tent for families that have younger children.
When you children want some privacy, they can sleep in the side tents. If they get scared at night, they can come back into the main sleeping area. I can also see this tent being good for a group of friends that use the center tent as a social space, and the side tents as a sleeping space.
Setup is simple as well. You start by setting up the larger, main center tent. You than setup the two side tents. There is a tunnel on the side of each main tent that zips into the side tents connecting them all together.
After that, setup the rainfly and canopy and you are ready to go. It is normally a 10 to 15 minute process to set everything up. You can only setup one side tent if you wish.
The tents themselves are very roomy. The center tent is the biggest with a space of 10 feet by 9 feet and the two side tents having a space of 7 feet by 5 feet. Each tent has its own window and door. There are also plenty of storage pockets available.
There is one consistent complaint with this tent is that the connect tunnels do not fully close, allowing a space for bugs to get into the tents. That's a really big shame because honestly, we love everything else about this tent but if you have a little bit of extra netting you'll be in good shape – and that's not hard for an experienced outdoorsman to rig up.

Common ConnectTent FAQ
Q: How do you connect two tents together?
A: Tents aren't generally designed for this, which is what makes connecttents so cool. There are several different designs from pods that connect via tunnels to larger tents with mini-tents that are then connected at the end, and some make an L-shape with a final canopy to take up the rest of the space.
Q: What are the advantages of tents that can connect together?
A: There are several, including creating a basic social space for everyone while separating individuals so there's privacy available for changing, sleeping, reading, or just getting a little bit of privacy for a bit.
They're still tents so they're not soundproof or anything, but it's a nice little bonus.
Q: Is this one tent or two tents that are then connected?
A: Depends on the specific design that you are looking at. Some are a bit more separate and then connected but most of the time these are a tent that are packaged in separate packages with instructions on how to connect.
Each connect tent is going to be a bit different by nature so be sure to thoroughly check the instructions for each one to know how it works.
Q: Where can I find connecttent reviews?
A: There are many great connect tent reviews around online, but we are absolutely one of the best reviews for these awesome tents online…there's a reason you almost certainly found us through Google 🙂
Q: Are these the same as tents that connect to jeeps or cars?
A: No. Although it's easy to see why someone might mistakenly think the name might applies to those, but they are actually very different types of tents. We do have an entire article on those tents, as well, which can be found here on our review of car roof tents.
In Conclusion
Hopefully this connect tent review helped introduce you to a different type of tent that many people aren't even aware exists. These are really the best connect tents available right now on the market and provide a great alternative to some of the more standard dome and cabin style tents.
We would love to hear any feedback from people that are having great or not so great experiences with these tents, so please feel free to leave a comment.
If you are looking for a more traditional style of tent, please check out are articles on some of your other options.
Below is a video showing how the ConnecTENT locks into the canopy.