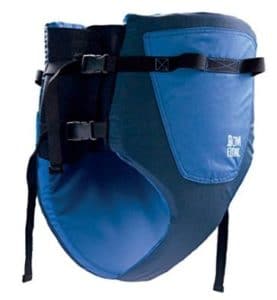 I love the water – I love fishing, boating, swimming, and pretty much any outdoor activity that involves water. I am also a terrible swimmer. As much as I enjoy doing it, I'm not going to be any help saving a drowning swimmer.
And as bad of a swimmer as I am, my brother is even worse. Life jackets are a must for us in most situations – and one of the coolest products I've ever seen that you may not even know exists are what I like to call upside down life jackets (others call them diaper floats).
There are lots of different brands out there (UFLOAT, FLOATY PANTS, BUMFLOAT) that have basically made a life jacket that goes around your waist and supports your lower body instead of restricting upper body movement like traditional life jackets do. We wanted to thoroughly review and list out the best upside down life jackets so you could see if you are as excited about this product as we are!
Quick Upside Life Jacket Options Chart (2018)
We decided to create a quick chart showing you your different upside life jacket options! We are going to encourage you to read past the chart to see a much more detailed review on each option as well as important information pertaining to these fun life jackets!
The Best Upside Down Life Jackets
This is our list of the best Upside Down Life Jackets!
VERY IMPORTANT NOTE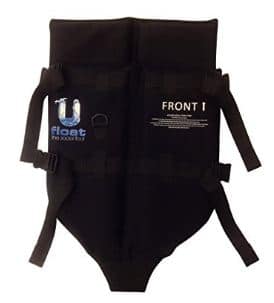 Not all of these upside down life jackets are coast guard certified, or certified by any official agency. Not all of these brands are an official replacement for traditional life jackets that have been tested and certified (UFLOAT is certified by the USCG as a wearable personal flotation device if you buy the right version).
Weak swimmers in deep water, boaters, and many other situations should still require you to use a traditional life jacket. You should know how good of a swimmer you are, always act accordingly.
Situations where you are relaxing with friends in a pool or lake are perfect situations for this product. Tossing the football around in a lake while having a drink is a perfect example of when these life jackets should be used.
I guess the best thing we can say is be smart when substituting your traditional life jacket for an upside down one. Design matters, certification matters because that tells you how high quality the upside down life jacket really is. After all fun is fun – but safety has to come first. When you know you have a fully USCG certified UFLOAT life jacket then you can enjoy the full fun of a weekend out on the water!
Very important note: These units weren't designed for younger children – they should always be wearing a traditional, certified life jacket while upside down jackets and diaper floats are just for the adults.

Benefits of Upside Down Life Jackets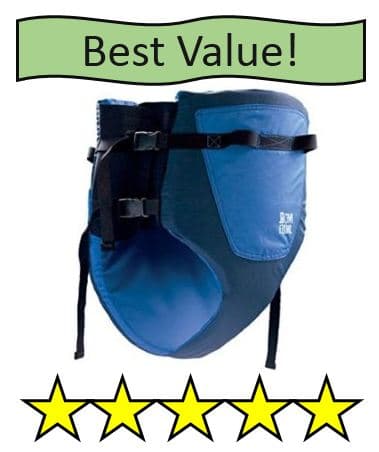 There are a couple of major reasons to buy an upside down life vest over a traditional option. The biggest one is range of motion. Traditional life jackets can be very restricting and uncomfortable. It can be hard to move your arms, and often your life jacket rides up in the neck area. This is especially true for larger guys, which both me and my brother qualify as. Lack of movement and general discomfort are the biggest reasons why people really dislike traditional life jackets.
Since upside down life jackets goes around your waist, upper body movement is not restricted. You can still play catch while in the water (or hold an adult beverage while gently floating in the water), and you also don't have to worry about your life jacket riding up and making you uncomfortable.
There are also people that will wear traditional life jackets around their waste. Obviously this product was created so you wouldn't have to do that, and it will keep you safer and much more comfortable in the process (lets eliminate potential chafing problems).
Some people will use pool noodles as a flotation device. These are hard to navigate in, and are honestly very unstable to sit on. When chilling in the water, a good diaper float is going to be much more comfortable and much more functional.

Different Upside Down Life Jacket Options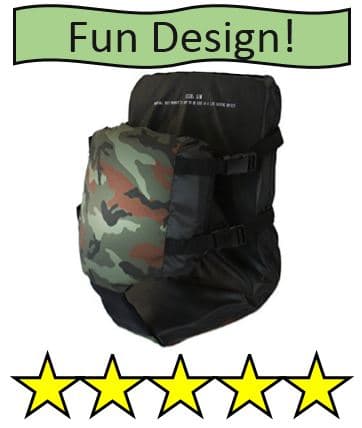 The UFLOAT PFD upside down life jacket is our number one recommendation because it is certified by the coast guard to be a personal flotation device (it is also very durable, very highly rated online, and it also looks great). It also satisfies regulations that require certified floatation devices to be carried – however – make sure you are completely up to date on your local boating laws to make sure you meet all criteria.
UFLOAT makes a recreational model that is not certified, so if that is very important to you, make sure you are buying the right option.
Both models they make are for adults with waist sizes 24 inches to 48 inches, and 90 pounds or more. The straps are adjustable making sure you get the proper fit. 400 pounds is the official weight limit for it.
It is made of high quality materials (neoprene, PVC Foam, Polyester Mesh) – and besides being very comfortable, it is very durable. I also think it looks great. One size fits most people – so stop wearing traditional life jackets upside down or using noodles to float when you have access to this product.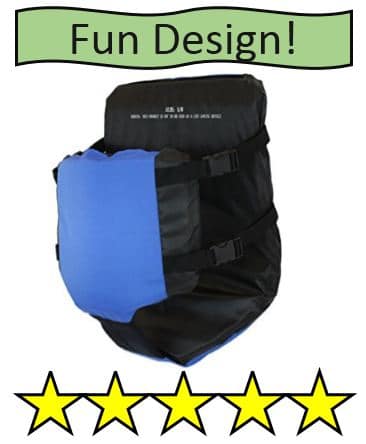 This is the most expensive option, with the recreational version being around $100 and the certified version being around $130.
BumFloat also created a diaper float – but there version is not USCG certified. This upside-down life jacket is very comfortable and has four adjustable straps. This unconventional life jacket currently comes in two sizes, medium and large. Medium is meant for adults that have up to a 38 inch waist, and large is meant for 38 inches and above.
The price is more affordable with this option, usually in that $45 to $50 range. They do have a couple of camo designs that are in that $60 range – with blue camo, regular camo, and pink camo available.
Floaty Pants is another company that makes an upside-down life jacket that is not USCG certified, but is great for hanging out in the lake or pool. Their product also comes in a medium and a large size. The medium size is designed for adults in the 100 to 180 pound range, while the large version is for people in the 170 to 300 pound range.
The medium sized option is 15" wide across the back while the larger version is 17" wide across the back. Floaty Pants created seven different designs from "sexy thong" to bright red to "ab guy" – so you should have fun finding an option that fits your personality as there are a wide array of designs for many different types of humor available here.
These are also consistently the most affordable option, usually being in the $40 range.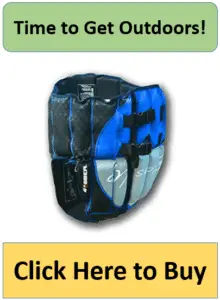 Update: The Human Bobber – An Interesting New Upside Down Life Vest
There's little question since we first wrote this article that the top names have continued to thrive and produce some of the absolute best upside down life vest designs out there, but that hasn't stopped at least one company from continuing on this trend and making a very intriguing design of their own.
Getting enough attention to even be featured on the hit TV show "Shark Tank," the Human Bobber is a flotation device that is designed to be used as both an upside down life vest as well as a regular life vest, giving it some serious versatility that definitely has us intrigued.
This design is approved by the Coast Guard as a Type 3 flotation devise, and the design really is well made to allow a strong degree of functionality. Multi-directional zippers and buckles mean a surprisingly good fit either way while still remaining very easy to use and simple to figure out.
There's a lot to like about this particular design and it's a solid addition to the other top choices from UFloat and Floaty Pants that we have already mentioned in this particular article.
Final Thoughts (for now)
I know I will be using one of these life jackets this upcoming spring and summer to float around in the water, probably with a cold adult beverage, enjoying my time outdoors.
The big benefit here is going to be comfort. For people that struggle with floating a little bit, it is really nice to have a safe and comfortable way to enjoy the water. The reviews on all three of these options are very positive, so make sure you buy the option that fits your situation the best, and do remember that only one option has all the lifesaving certifications.
We would also like to hear from anyone that has had personal experiences with this product. Let us know your experience and if you enjoyed or hated using your upside down life jacket!
Check out this video of the UFloat in action!