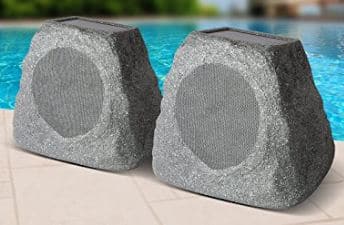 This review is a little bit different than what we normally do, but I just loved this product, and had to let our readers know about Solar Stone Speakers (some people call them solar rock speakers or Bluetooth outdoor speakers)!
These great speakers are perfect for any home that wants an outdoor entertainment space with a great sound system. These speakers are actually designed to look like large rocks – so they can blend right into your landscape design.
The good ones will also use Bluetooth technology to connect your speakers to your device and allow for great outdoor jams. They are waterproof, so weather won't be an issue for them. They are heavy, so you don't have to worry about them blowing away – and best of all– the solar charger will store hours of power, meaning you don't have to bring the rocks indoors to charge.
Bluetooth stone solar speakers sound great and are a perfect way to spruce up that outdoor entertainment space. Listed below is our list of the best solar stone speakers reviewed!
ION Audio Solar Stone Speakers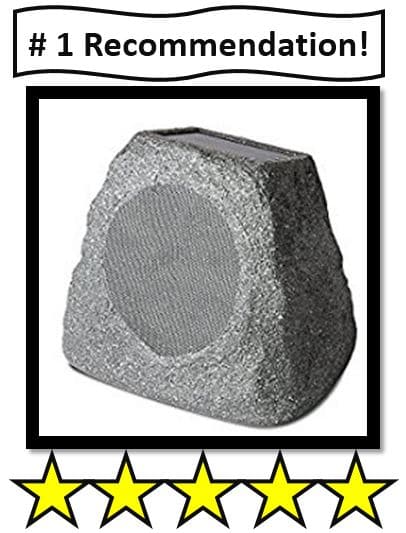 ION Audio has long been in the business of making great speakers, and these stone speakers are no exception. The speakers themselves are 6.5 inches in size and encased by the stone frame – making them about 10 inches in height.
They do weigh about 9.5 pounds per speaker, with the option of buying one or a pair available to consumers! The weight is necessary, you don't want your speakers blowing away when it gets a little windy outside.
The battery that runs these speakers can be charged two ways, by the solar panel on the top of the unit or by an AC power adapter. The AC power adapter will fully charge the speakers in about 6 hours, while it does take the solar panel about 55 hours to fully charge the speakers. One fully charged, the battery provides about 48 hours of music!
The AC adapter charger comes in handy if you run these speakers a lot, otherwise, the solar panel will normally be enough to keep your speakers charged for normal usage.
These units do automatically turn off if they haven't been used in a while to save energy, so you do need to hit the power button on the back of the stone every time you are going to use it.
As for the speakers themselves, they connect via Bluetooth to your device, with a range of up to 100 feet between the solar stone and connected device. In theory, this means you can leave your phone charging indoors if needed, as long as you aren't more than 100 feet away!
If you buy a pair of the speakers, they should be placed within 30 feet of each other for a proper connection. If the distance is greater than 30 feet, you will not get the sound quality you are looking for, and there is a good change your connection will not work.
The speakers are considered a full-rage speaker and there is an on-board amplifier built right into the unit. It does provide a great sound! You don't get the canny, muffled sound you get with a lot of those cheap, portable Bluetooth speakers.
There is a small link button on the back of the stone that will connect multiple solar stone speakers together.
They are rated as IPX4 waterproof – meaning they should stand up just fine in normal rainy conditions. It would be recommended to take the speakers indoors during thunderstorms or heavy rain conditions.
These speakers are great, and are our number one recommendation for anyone looking to buy some good, outdoor solar speakers! You can normally buy a pair of these speakers for right around $160.
Alpine Solar & Bluetooth Rock Speakers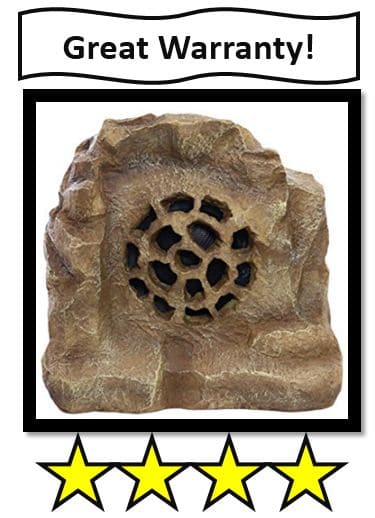 Alpine also makes a very nice solar speaker, with the solar panel located in the back of the rock case.
You get to pick from two color designs, brown & gray – so hopefully you can seamlessly incorporate them into your landscaping.
These Bluetooth rock speakers have a 50 foot range between device and speakers, which should be plenty strong enough for most people.
The big difference between this and the ION speakers listed above, is this product only can connect to one speaker at a time, it does not have the ability to run two speakers simultaneously. For me, I like my music load and multiple speakers running at once!
The battery is strong, lasting about 10 hours in time.
It is also very durable, being able to withstand extreme colds and hot conditions. From a product dimension size, it is 13 x 9 x 11 inches, and weighs about 7 pounds.
The speaker size is 4 inches, and sounds great. The big selling point for these speakers is the high quality. You get a 30 day easy to refund time period – and a 1 year hassle free manufacturer warranty.
Other Outdoor Rock Speaker Options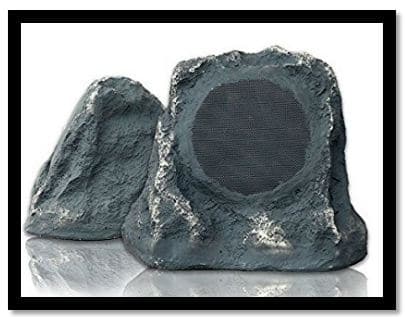 There are numerous other outdoor rock speakers that you can buy that are not solar powered. Since they are not solar powered, you are going to have to plug in at least one of the speakers to a power source. This means you may have to drag out that extension cord to your patio.
You should also make sure that whatever speaker you pick is Bluetooth compatible! Some rock speakers are not Bluetooth capability meaning they will need to be plugged into a sound system. To me, you want to have that Bluetooth capability.
Sound Appeal would be my recommendation for you if still want a rock speaker, but don't care about the solar part. Their design is really great (especially the Sandstone option) – and they are also very highly rated online.
With the Sound Appeal line, you are going to plug one speaker into an 110V outlet, than a wire will connect the master speaker to the other speakers. Sound Appeal also creates a non-Bluetooth rock speaker, but again, that means you have to plug the speaker directly into the sound system.
Final Thoughts
Solar Bluetooth Rock Speakers will make a great addition to any outdoor space. Again, the best advice I can give you is to pick a Bluetooth option – they are just more functional, and don't require you to hook up the speakers to your sound system.
I do like the solar stone speakers better because the keep themselves charged, but can understand if you want to pick a non-solar option.
At the end of the day, having high quality speakers to provide awesome music during a backyard barbecue (or just sitting on the patio) sounds like a blast to me. These speakers will deliver in the entertainment department!
We hope this review helped, and if you want to learn about some other solar powered camping gear, we encourage you to click on the link above.
If you are looking for some other great products to spruce up your outdoor entertainment space, check out our reviews on the following products:
The Best Solar Powered Cookers
Here is a fun Youtube Video showing some of these speakers in action!