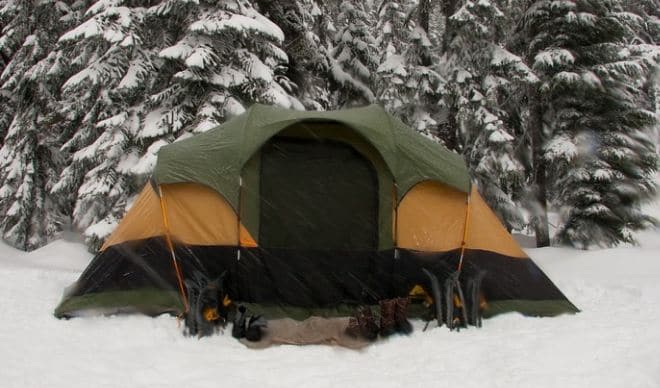 I love camping – I even love camping enough to have attempted one or two late fall/early winter camping trips. These camping trips aren't for everyone, but they do produce a unique camping experience!
The key to winter camping is you have got to have the right gear- especially good sleeping gear – on those cold nights. With that in mind, we decided to continue with our sleeping bag theme with an article about the best winter sleeping bags.
For this article, we decided to focus on sleeping bags that have a temperature rating of 0°F or lower. We know that winter weather temps are going to vary significantly based on where you are located – but for most camping trips that temperature rating should keep you nice and warm.
So, what are the best winter sleeping bags?
The best winter sleeping bags are the High Peak Outdoors Cascade -40 sleeping bag, the Black Pine Grizzly winter sleeping bag, and the Teton Sports Cold Weather sleeping bags.
The best winter sleeping bag for the money is the Coleman North Rim Sleeping Bag. The most expensive winter sleeping bag is the Fjallraven Polar -30 C° Degree Sleeping Bag.
Below is a very detailed review of each of the best winter sleeping bag options!
Quick List of the Best Winter Sleeping Bags
Below is a quick reference chart listing the basic information about the 10 best winter sleeping bags. Beneath the reference chart is a more detailed review about each option – with pretty much all the information you could ever want about each one.
Quick List of the Best Winter Sleeping Bags Reviewed
High Peak Outdoors Cascade -40 Degree Sleeping Bag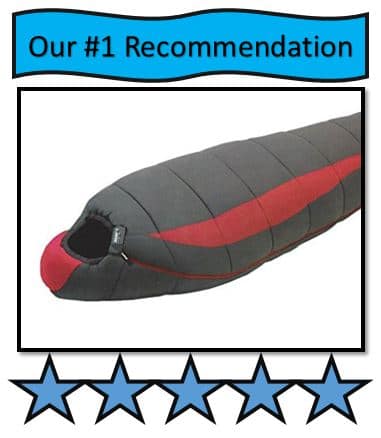 When it comes to real winter camping – the High Peak Outdoors Cascade -40 Degree Sleeping Bag is one of the best sleeping bags you can buy!
This sleeping bag has a temperature rating of -40 degrees – which I'm going to assume is going to cover the vast majority of our readers camping needs!
The overall size is 86 inches long, 34 inches wide at the top of the sleeping bag, and 22 inches wide at the bottom portion of the sleeping bag. A compression sack is included.
The bag is made from a Nylon Taffeta shell and it uses Invista Tactel® fibers for the insulation – these synthetic materials help keep you warm, but keep the overall weight of the sleeping bag to 8 pounds.
The design of this sleeping bag was specifically created for cold weather sleeping. It has a thermal collar/hood design that will really keep you warm, with drawstrings at the top to keep your head safely protected from cold air drafts.
Two of these sleeping bags can be zipped together to make one very large sleeping space!
With a price of about $200 – it is hard to find a sleeping bag this highly rated at that cost. We would give this our number one recommendation for a true cold weather sleeping bag option.

Black Pine Grizzly Sleeping Bag
Black Pine makes some fantastic sleeping bags, and for those that do some extreme cold weather camping – The Black Pine Grizzly -50 Ripstop Sleeping bag was designed for you.
The -50°F temperature rating is awesome; it has a cozy flannel lining, a nylon shell, and multiple microfiber insulation layers that are going to keep you very warm. My brother is a big fan of this one as there were apparently plenty of nights when he was in Alaska where -40 just wasn't quite enough. Ten degrees apparently makes a ton of difference when you get that low!
From a size standpoint, you are looking at a sleeping bag that is 90 inches long, 40 inches wide, and it weighs about 12.5 pounds. This giant size should fit most campers very comfortably.
The hood protects your head from the cold, and that double insulation layer prevents cold spots from occurring – truly keeping you warm and comfortable on the coldest nights.
Believe it or not, this sleeping bag is machine washable – just make sure you hang it out to dry.
For anyone that camps in really cold weather and is looking for the warmest and most comfortable sleeping bag – this is one that you should pick.
At a price of about $140 – you will love the cost and the design (a great looking inner plaid design and black outer lining).
This sleeping bag has the lowest temperature rating – making it the best for really cold camping trips. However, it is very heavy and bulky- so it really wasn't designed for long backpacking trips.

High Peak Outdoors Summit 0°F XL Sleeping Bag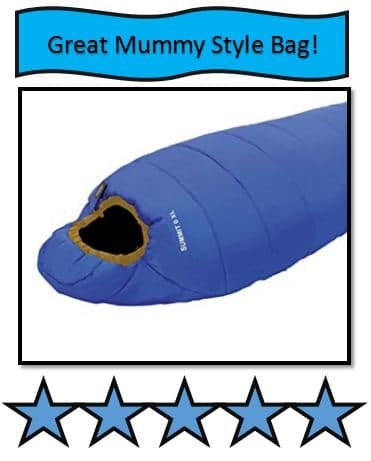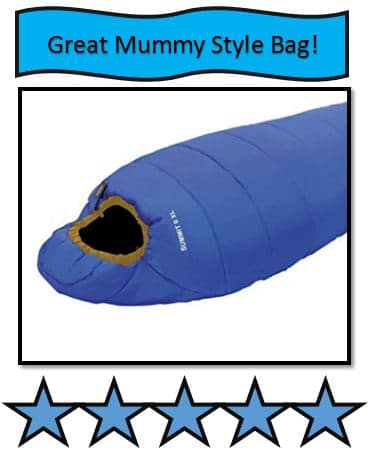 For those who don't need a -40 degree sleeping bag, but love High Peak sleeping bags, we would recommend the High Peak Outdoors Summit 0°F XL Sleeping Bag.
This sleeping bag measures 95 inches long and 34 inches wide, which will fit all but the very tallest of campers. The 0 degree Fahrenheit temperature rating should keep you plenty warm on your camping trips as well.
Even though it is very large in size, it only weights about 4 pounds – which makes this much more manageable to handle than some of the 10 – 12 pound bags.
This High Peak Sleeping bag can also be zipped together with another High Peaks Outdoors Summit Sleeping bag to increase your sleeping space.
It is a mummy sleeping bag, which is a very good design choice for cold weather, and it has a Dura fiber insulation and polyester taffeta shell.
It comes in a sharp blue color scheme – and the price is fantastic, right around $100.
This sleeping bag is perfect for anyone who wants a very dependable, affordable, mummy style sleeping bag and isn't planning on camping in extremely cold temperatures!

Teton Sports -25F Sleeping Bag Reviewed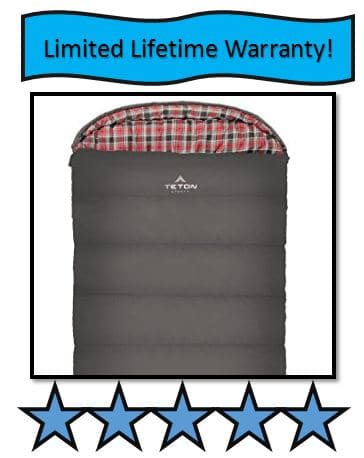 Teton Sports makes really good sleeping bags – with the Teton Sports -25F Sleeping Bag being a great cold weather sleeping bag option from them.
The extra-large size (it is 90 x 36 inches) will help keep adults very comfortable. It has a double layer insulation construction that is very durable, but also very warm. It is also built with a taffeta shell. Teton Sports does a great job of creating durable sleeping bags with very durable materials.
The design also includes a half circle mummy style hood that has drawstrings to tighten up. This design helps keep your pillow and head off the cold ground.
There is a right zipper and left zipper version you can buy. If you buy one of each of them, you are able to zip both of them together to create one very large sleeping space. The large sleeping space is nice because body heat really helps to keep you warm on cold winter nights.
Teton Sports also has a great customer service center based out of the United States, and this sleeping bag comes with a limited lifetime warranty.
The price is normally around $100, which is cheap considering the weather rating plus extra space you are going to get with sleeping bag!

Chinook Everest Ice III Sleeping Bag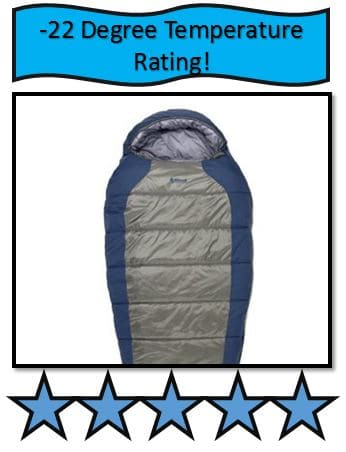 UPDATED for 2019: Another great winter weather sleeping bag is the Chinook Everest Ice III Sleeping Bag. Originally we had reviewed the Chinook Everest Ice II – but that has recently been upgraded to III.
If you aren't familiar with Chinook, they are a Canadian based company that makes some fantastic outdoor gear for adventurers (including clothing, cookware, hiking gear – all the good stuff).
This sleeping bag has a temperature rating of -22°F. The design is your classic mummy style with the hood area to protect your head.
There are multiple layers of insulation, and you are looking at a size of 90" x 34" x 22" and a weight of just over 7 pounds.
It is available in right or left zipper options, and like most of these sleeping bags on the list can be zipped together with compatible sleeping bags to increase your sleeping space.
I also like the color scheme and design of this sleeping bag. It has a classic blue/grey look to it, and it looks like your classic cold weather sleeping bag.
The price is right around $125 – which is great for this durable, well designed, good looking, winter sleeping bag.

Coleman North Rim Extreme Weather Sleeping Bag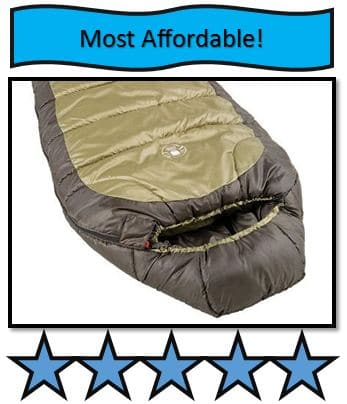 Coleman did a nice job of creating the Coleman North Rim Extreme Weather Sleeping bag – which is designed to be used in temperatures of 0°F to 10°F.
It has a 100% polyester cover and a 100% polyester liner which is durable, comfortable, and most importantly warm. A stuff sack is included with it to help with storage.
From a size standpoint, this sleeping bag will fit adults up to 6'2" in height. It also has a mummy/hood style design that will help keep your head covered, off the ground, and warm.
If it is a warmer night, the bottom of the sleeping bag unzips to allow for extra ventilation – which will help keep you cool. This lets this sleeping bag be used during multiple times of the year.
This is a very affordable winter weather sleeping bag – usually costing under $70. Coleman is a trusted name in outdoor gear and this sleeping bag has overwhelmingly positive reviews.
We would recommend this sleeping bag for someone that takes one or two colder weather camping trips a year.

Browning Camping Klondike -30 Degree Sleeping Bag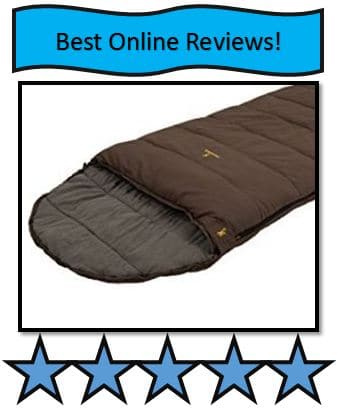 From an online review standpoint – it is hard to find a cold weather sleeping bag with better positive reviews than the Browning Camping Klondike -30 Degree Sleeping Bag.
This sleeping bag is 92" x 32" and has a weight of 15 pounds, which is on the larger size. A big part of the weight comes from the super comfortable flannel liner. It may be heavy, but it is very comfortable.
The design includes an oversized hooded area that is meant to keep your head warm – and it has the standard rectangle design that most of us associate with sleeping bags.
It has multiple layer insulation that is designed for max warmth, which is why it works in temperatures of -30 degrees.
It is large and heavy, so it does have roll up straps that make it a little easier to transport and store when not in use.
This sleeping bag DOES NOT have the ability to be zipped together with another sleeping bag to increase the sleeping space.
The price is around $150 – which is fantastic for a sleeping bag with overwhelmingly 5 star reviews from online store sites.

Elite Survival Systems Recon 5  Sleeping Bag Reviewed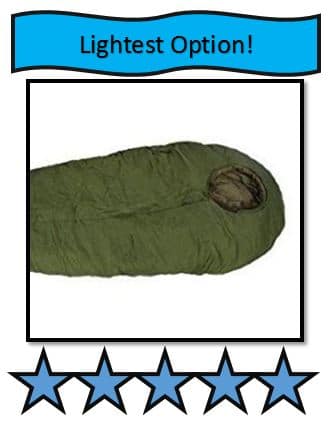 Elite Recon makes the lightest sleeping bag on our list with the Elite Recon -5°F Sleeping Bag. It weighs about 4.5 pounds, which makes it much easier to hike and travel with than some of these heavier options.
The size is 7'6" in length, 33.5 inches wide at the shoulders, and 22 inches wide at the feet.
It has a compression sack included that packs it down to 10.5" x 10". That is very manageable when hiking around outdoors.
The outer shell is made with a Ripstop Nylon and it filled with a Thermolie Micro insulation meant to keep you warm.
There are some special design features on this sleeping bag that really help to keep it durable.
The design is unique as well as you can see from the picture. It is very snug, which helps to keep you warm and your head protected from cool breezes.
This sleeping bag costs right around $200 – and the big selling point with it is the weight. It is much easier to hike with a 4.5 pounds sleeping bag rather than a 15 pound bag!

Slumberjack Boundary -20 Sleeping Bag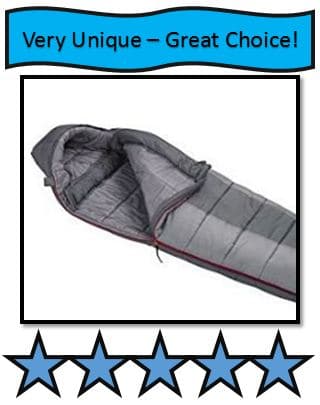 One very good sleeping bag that a lot of people don't know about is the Slumberjack Boundary -20 Sleeping Bag. Slumberjack has been around for over 50 years creating great outdoor gear – that is a lot of experience!
This "Borderland" version is the newest of the Slumberjack sleeping bags – and this one is about 7 pounds in weight and a size of 84" x 34". That size should fit adults up to 6'4" in size.
The unique feature of this sleeping bag is what Slumberjack calls "arms out" functionality. Basically they combine zippers and Velcro straps to provide much more dexterity and flexibility than you get with a traditional sleeping bag.
The design also looks really warm – which is exactly what you want in cold weather camping situations. It also has a full length zipper that allows for increased ventilation, letting you cool down a little bit.
There is also a chest pocket that you can use to store items in. You won't have to worry about losing your cellphone, wallet, or car keys.
The price is right around $130. This is just a solid sleeping bag that has some unique features not available in other cold weather sleeping sacks.

Fjallraven Polar -30 C° Degree Sleeping Bag Reviewed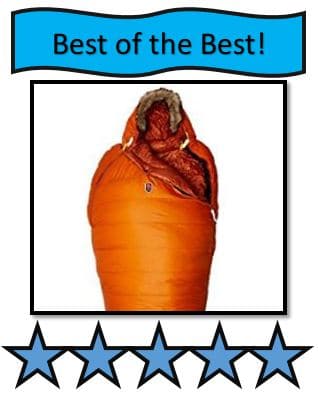 You would have to consider the Fjallraven Polar -30 C° Degree Sleeping Bag the absolute premium, best of the best in the winter weather sleeping bag world. This Swedish company has stores all over North America, and a very popular product following.
This sleeping bag has a hood design to it, and has a synthetic fur that keeps you extremely warm, and extremely comfortable. It is also padded with extremely high quality down materials – this sleeping bag is truly made with the best of the best in terms of materials. A lot of companies offer down, there aren't many that offer synthetic fur.
The design includes one full length zipper and a short zipper. The short zipper lets you sit up in the sleeping bag with your arms out to organize things inside of your tent.
The hooded design also minimizes heat loss and cold spots, but does not restrict freedom of movement. The -30 degree temperature rating (that's -22°F) is created for Arctic camping conditions. Comes in a normal size as well as "long" for those of us who start heading a bit north of 6 feet tall.
The price range for this sleeping bag is right around $1000. What you are paying for is to have the best of the best in terms of materials, durability, and design. If you want to be absolutely assured of being warm during the coldest of winter campouts, this is definitely the way to go.
This sleeping bag was truly created for serious cold weather campers.

Understanding How Temperature Ratings Work
While temperature ratings are an important guide for understanding which cold weather sleeping bags are going to work best to meet your specific needs, that's only a good starting point. Each person is a little bit different, and the various winter environments out there can offer other challenges that need to be taken into consideration, as well!
The first is knowing whether you are a hot sleeper or cold sleeper. This doesn't mean preference, although the type of sleeper you are often has a part in this, but this refers to people who sleep with very few sheets or cover, and give off tons of body heat sleeping. That's a "hot sleeper."
A cold sleeper is the opposite, someone who needs extra blankets, extra layers, and is often cold waking up because their nighttime metabolism isn't great.
Why does this matter? Because if you're a hot sleeper, you should assume any temperature rating on a sleeping bag is fine for you. Your body will produce plenty of heat, the sleeping bag will catch it, and you should sleep comfortably as long as the outside temperature stays in line with what your bag is rated for.
For cold sleepers, they need to assume the rating is too low by 10-15 degrees. So a 20 degree bag for them is really a 30-35 degree bag. A -40 bag would be a -25 bag. They need extra layers and a warmer bag to be fully comfortable.
This isn't an exact science, and some premium sleeping bags are going to perform a touch better than others based on materials, design, and more. So it may take some time to test but if in doubt get one warmer than what you think you'll need – you can always adjust later.
Winter Sleeping Bag FAQ
Q: Why do American and European sleeping bags have different temperature ratings?
A: The American temperature rating is all about how low it can go and you can still be comfy with long john underwear, socks, stocking cap – basic winter camping gear. The European sleeping bag temperature rating or EN number, will normally have an upper limit, a comfortable range, and the lower limit, a temperature where the sleeping bag is no longer approved to keep you warm and safe.
Q: Are winter sleeping bags the same as 4-season sleeping bags?
A: Basically – this is a generic term and as always you need to be aware of environment. Winter in the South doesn't require anything below 20-30 degrees in above zero in all likelihood. In Iowa zero degrees is a regular winter temperature. If you go all the way up to Fairbanks Alaska, -40 degrees or -50 degrees is a viable winter temperature.
Q: What's the variance in temperature for winter sleeping bags?
A: The temperature range here can vary enormously. Generally speaking, anything rated as good at 10 degrees Fahrenheit or lower is considered a good winter sleeping bag but obviously there is a huge difference between -50, -40, -20, 0, and 10 degrees. You don't want to be stuck with a bag that isn't rated to your outdoor temperatures.
Q: What if I tend to wake up cold?
A: Make sure your sleeping bag is up to snuff with local temperatures, and consider a good sleeping bag liner or further insulation to help increase how much of your body heat gets trapped in the sleeping bag. For many people even an inexpensive emergency thermal blanket can give that extra boost you need to your 4-season sleeping bag.
Q: Are there any accessories I should look for in a winter sleeping bag?
A: This is going to vary based on preference. Some of us grew up sleeping in fall with stocking caps or ski masks, while others are going to find a hooded sleeping bag to be one of the best options out there. You may want to bring a neck scarf, extra insulating wrap for the interior of your bag, or something like that but the main focus needs to be the bag itself and how it works for you.
Q: Can an autumn sleeping bag work if I bring an emergency blanket or extra layers?
A: This is one of those hard to answer open questions. Generally speaking you want to start with a properly rated sleeping bag, but as long as the difference in temperature isn't much beyond the actual rating than an extra blanket, an extra layer of clothes, an emergency blanket lining the sleeping bag, or all of the above can work together to make you more comfortable. That being said, look for an appropriately ranked winter sleeping bag and work from there.
Q: I had a very highly rated sleeping bag but was cold anyway – what gives?
A: Most of the time in this case the person didn't use a sleeping pad. Basic rules of camping still apply – you need blankets and/or sleeping pads between your sleeping bag and the ground so the cold doesn't seep in and your body heat doesn't seep out. If you had a proper sleeping pad and found yourself cold anyway, then it might be time to cash in that warranty.
Some Final Thoughts…
Like we said in the beginning, winter camping can be an amazing time – but how much fun you have really depends on making sure you have the right gear. Your safety also depends on making sure you have the right gear.
There aren't many things worse than shivering in the cold all night because you didn't back a sleeping bag that could keep you warm enough.
This review should help you find the right sleeping bag for your situation, and with such a great variety to pick from, finding the right sleeping gear will be easy!
Also, if you are going to be winter camping, make sure you have the right winter tent! You might also want to look at some good hand & feet warmers too!
Here is a list of other winter outdoor gear you might be interested in:
If you aren't going to be doing a ton of winter camping – please review these articles on the best camping sleeping bags, the lightest sleeping bags, & the best 2 person sleeping bags. They articles should help you find a good sleeping bag for your summer and spring camping trips!
Good video on picking out the right sleeping bag