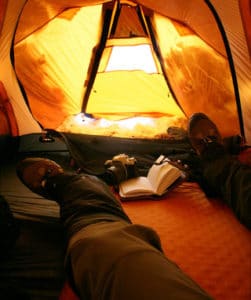 I don't care what season it is, it's always a good time for a hike. However, some seasons have particular challenges. While summer demands sunscreen and plenty of extra water, and perhaps some portable shade, while a great winter hike means you'll want some quality high gaiters to keep the snow out of your boots!
Tucking your jeans into your boots only works so much (if you can do it at all) and at some point the snow is going to get in there, and that's never a good thing if you are going to be spending a really long time in freezing temperatures out during a long winter day.
A good pair of high gaiters, also going by the name of winter gaiters, high winter gaiters, or winter boot leggings, can make all the difference when it comes to staying warm, dry, and happy. When you're out and about in winter, you don't want cold snow backing into your socks and boots – and having it melt next to your skin is even worse!
Currently we've found seven top rated high snow gaiters that we feel comfortable in recommending. As always we will add new ones that make the grade, or remove ones that slip in quality, doing our best to keep this as your go-to list to know which high garters are best for winter use right now!
FiveJoy Mountain Hiking Boot Gaiters (Men and Women)
Top of the list of good hiking garters for winter comes from FiveJoy. These gaiters are designed to fit around hiking boots and include a really exceptional waterproof leg cover. This keeps out snow, water, debris, and will help prevent snow from getting into all those cracks and crevices and causing the most common complaints winter hikers have.
FiveJoy brags about offering truly superior protection and because of the breathability of the material, these can even be used in the right circumstances during other warmer seasons like spring, autumn, or even some relatively mild summers (although if you use it to keep out sand and dust make sure to wash and clean appropriately to maintain them!).
These gaiters come in four basic sizes, and the Amazon page we link to shows a copyrighted fit chart that will clearly show what sized boots are appropriate based on your leg sizes. While these will generally match up really easily, it is important to remember that for individuals with particularly big or thick legs you may need to go a size higher than the chart suggests.
These gaiters get high marks for being very easy to put on and fit, being durable and rugged in design, and comfortable no matter what the season. That is a high level of versatility to go with top notch quality and the combination makes for our highest rated pair of high gaiters out there.

Outdoor Research Rocky Mountain High Gaiters (Men's & Women's)
Since this is the same relative boot design, just one specifically for men and the other for women, we put them into the same section. Individually these would still rank out as #2 and #3 (or 2A and 2AA – they're both exceptionally made and designed) so in one space it is. Make sure you click on the right one depending on the gaiters you need or the individual who you are shopping for.
Made from nylon and pulled under the footwear with a 1-inch wide hook and loop combo, these are available in four sizes for both genders and provide a great design that couples with outstanding materials to create the ultimate high gaiter for the consummate hiker and outdoor fanatic who wants to be out exploring no matter what the conditions or the season.
While especially designed with cross country ski boots and hiking boots in mind, they are built with a durability that allows for 4 season use and versatility that you can rely on. These high quality pieces of outdoor gear won't let you down!
Click HERE for the Men's High Gaiters for Winter Hiking
Click HERE for the Women's High Gaiters for Winter Hiking


OUTAD Waterproof Outdoor Snow Gaiters
The waterproof snow gaiters by OUTAD are made from a strong yet breathable nylon that doesn't get too hot or suffocating while providing excellent waterproof protection from rain, sleet, and snow. The material is resistant to tears, and an easy metal hook attachment connection at the bottom makes it easy to pull together.
These are easy to transport, easy to carry, and once set up around your footwear and lower legs they get the job done with a minimum of discomfort.
These come in six sizes, with variations at the small, medium, and large sizes to help guarantee the best possible fit no matter what your overall leg size whether skinny or bulky.
In addition to this, these don't just come in one color like most high gaiters, but there are six different color options available: blue, gray, dark gray, green, black, and orange. That is a solid variety to take care of any of your aesthetic needs.
The company also offers a solid warranty, promising to send a new pair if there are any issues with the old or issue a full refund, customer's preference. The high number of positive ratings show not too many outdoor enthusiasts have had to test this warranty out – which is always a good sign!

Unigear Waterproof Snow Gaiters
Made from an industry respected anti-tear Oxford fabric that holds up against all sorts of challenges and terrains while walking, hiking, hunting, camping, or exploring, the waterproof snow gaiters from Unigear might be marketed towards winter waterproofing but they have the design and durability to hold up under even the most strenuous of conditions.
Able to flaunt a full waterproofing, the resistance to rain, snow, and all types of wet conditions sets this up as being a great piece of winter gear that you definitely won't want to forget on your next deer hunt or snowshoeing expedition. These offer an important additional level of protection while also giving the ability to breathe so you can truly appreciate the best of both worlds.
Available in green, black, or blue and in the conventional four sizes, there are multiple options to help make sure you find one that fits with your preferred winter boots perfectly. The front opening can be closed using Velcro.
This gaiter keeps the bugs out, keeps the dust out, and whether in the form of rain, snow, sleet, slush, or mud, water isn't going to find its way in, either.
The company offers a lifetime warranty on their gaiters as a strong show of faith of how durable and reliable they really are.

VINQLIQ Waterproof High Leg Gaiters
These snow proof gaiters from VINQLIQ meet all the checklists. They are waterproof, durable, and designed to meet every waterproofing and protective coverage need you may have. These gaiters are there for hunters, skiers, snowshoers, winter hikers, and more. You won't have to worry at all about the snow when you have a good pair of VINQLIQ gaiters on over your boots and lower pants.
These gaiters are available in five different colors and are designed with a 3 layer waterproof design that brings a strong and sturdy element to this gaiter that many outdoor enthusiasts truly appreciate.
The dual locking system allows for solid front closure, while a Velcro zipper and a strap at top means the gaiter is easy to put on and firmly and solidly in place once properly adjusted.
These gaiters are designed with winter in mind, but they are definitely built to handle any challenge in all four seasons. Add these with your favorite hiking or hunting boots (or even ski boots) to keep out snow, rain, slush, mud, or even dirt and debris.
The early reviews are positive and these are gaiters that we are going to be keeping an eye on in the future – they have a very good chance of moving up the list if they keep this up!

AYAMAYA Hiking Gaiters Reviewed
While not as many people are familiar with the gaiters from the AYAMAYA brand, they have put out a really solid waterproof design that is worthy of making this list. Anti-dust, anti-mud, anti-debris, anti-snow, anti-water: these are designed to go over about any kind of shoe or boot when properly measured and provide the full amount of protection that you need during your outdoor excursions to enjoy everything that the natural winter world has to offer.
These aren't just made from any nylon, but a very high quality nylone double layer that helps ensure optimal waterproofing which is good for a rainy fall or spring, or the feet of snow from the winter.
Designed specifically to hold in place, these hiking gaiters have a front opening design to make them easy to put on and remove, while keeping the legs comfortable and dry, which is exactly what you are looking for.
Made from a combination of 420D nylon and 600D nylon, you'll be happy with the results here when you keep your legs dry and warm no matter how long you are out and about in the snow.

Hpory Hiking Leg Gaiters
They look big, they look thick, and they look tough, and when you get a close up look at these heavy duty gaiters from Hpory, you'll find out these observations are not far off the mark. Although they are often marketed under the name of "outdoor leggings," these are good for hikers, backpackers, hunters, cross country skiers, and other similar outdoor enthusiasts.
Made from the highly thought of Oxford Cloth and heavy duty 600D nylon, these fabrics combine to make gaiters that are waterproof, great for any season, and can protect your socks, lower pant legs, and feet & legs from getting crusted in dirt, or soaked.
That's a win-win, and that's even before understanding just how much more comfortable you are going to be when you get to keep your lower legs dry and warm throughout the day. The material in these gaiters does allow them to breathe which makes them useful even in the other seasons. They're not for winter only, even though that's the month they are designed for!
Buckles, Velcro, and a draw cord means these can be firmly kept into place and there is more than one back-up to make sure there's no failure with these on. Just adjust until the fit is solid and comfortable and you are ready to go.
While some outdoor enthusiasts are really big on this brand, we've seen them as good enough to make the list but we're not quite as high on these as the other ones on the list. They can be a bit tight and are not a great choice for guys with really large calves. There is a 100% money back guarantee offered by the company.

Winter Hiking FAQ
Q: Are high gaiters necessary for winter hiking?
A: Not necessarily in most cases, but they are often an excellent addition that certainly makes things much more comfortable when hiking and increases the chances of your feet staying dry and warm.
Q: How do I know if the fit it right?
A: This can take some time to make sure you get the right fit down, but you want to look for a snug fit that fits well right around the leg but isn't too loose or too tight. At that point you have a solid fit.
Q: How do I know which size to pick?
A: There is going to be some trial and error here but a good general rule of thumb is to go one size larger than your true shoe or boot size.
Q: Can winter hiking gaiters be used during other seasons?
A: Yes, but a conditional one. Many companies make high gaiters that are specifically aimed at just winter while others aim to have four-season models built to be more durable and still get the job done. You'll want to read descriptions because while all 4-season gaiters can work for winter, that doesn't mean all winter designs will work well for other seasons.
Q: How do these affect insulated winter boots?
A: Whether you're worried about hunting boots or hiking boots, you don't need to be. The insulation is to keep your feet warm, while the gaiters keep the snow and ice out so the insulation doesn't get wet and everything works even better.
Some Final Thoughts
While I can definitely see how these would be useful cutting through some tough shrubbery or keeping the pebbles, dust, and dirt of a desert hiking trail off of you, for me the high gaiters are all about the winter hiking. No more worrying about frostbite while half way through a hiking trail with snow already packing into my boots! Every season has its pros and cons and for me, winter is a particularly special season that offers plenty of magical moments. And while seeing the Aurora in Fairbanks Alaska definitely helped, these moments can happen anywhere and I want the gear that lets you do the same!
How to put on a snow gaiter video