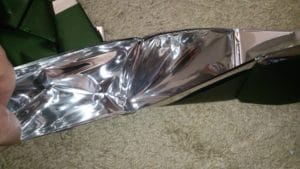 Emergency winter blankets are a popular addition to any travel survival gear, and for good reason. Whether you're looking at heavy duty designs from some of the old school companies that can give some degree of secure warmth in a pinch in winter survival situations, or the lighter new versions that work better as a versatile piece of equipment for emergencies or as a support.
There are many misconceptions about these admittedly cool looking mylar "blankets" and how effective they can be in extreme cold weather and especially in emergency situations whether a family stranded in a car or someone out in the wild in a legitimate survival situation. That's not to say these can't be useful, but they're not a thin mylar miracle that will hold off even the worst of conditions.
Understanding what these blankets can and can't do is crucial to make sure you get the best one for your needs, go into any situation prepared, and get the most out of your best emergency gear!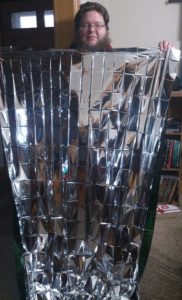 Exposure: The Huge Danger of Hypothermia
In most cases people who are lost in the wild die of exposure before they die of anything else. For most people the core body temperature isn't something they think about very often and truth be told, they really don't have a reason to. While food and water are important parts of survival, one of the major reasons shelter is also important is because of core body temperature.
If it gets too high, you die (heat stroke/heat exhaustion) and if it gets too low, you die (hypothermia). Hypothermia is a serious danger in cold weather, and not just extreme cold. This is arguably the biggest immediate threat you are facing in a cold weather survival scenario, and it should not be taken lightly.
Even mild hypothermia can be dangerous when you have the ability to get into a warm house, toss on some blankets, and warm yourself.
When stuck out in a more serious situation where it is much harder to warm back up, the situation can quickly become dire or even fatal. These blankets should be only one small part of your defense against hypothermia in an emergency and used accordingly!
Ideally they are only one part of a larger warmth plan like actual rolled up winter sleeping bag or blanket, and chemical hand or foot warmers.
In fact to more fully understand why this type of gear is so important, and why hypothermia is dangerous, you should click on that link to check out the Mayo Clinic's definition of hypothermia and a full explanation.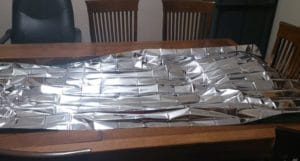 Top Rated Emergency Blankets: What You Need To Know
We're going to do our best to separate the lists into two sections here: those that are heavy and more long term emergency winter blankets and the ultra thin mylar blankets that are meant for one or two time uses, tops, before going for another one.
While there are some that kind of blur the lines, generally it makes the most sense to compare ultralight and thin models with one another, then get the thicker and more permanent reflective blankets in another section.
The first list focuses on the inexpensive emergency winter thermal blankets that most people think of when mylar and the silver reflective surface come to mind: these are the ones that are inexpensive, can often be bought wholesale, and are so lightweight and compact that they can be easily packed in a variety of packs, kits, the glove compartment, or a variety of other places.
These emergency blankets are a very versatile piece of equipment that should be with any prepared outdoorsman because they have so many uses, add virtually no weight to a pack or kit, and take up so little space.
Swiss Safe Emergency Mylar Thermal Blankets
Whatever they make, the Swiss are generally renowned for their manufacturing as consistently being some of the best in the world, and even when it comes to inexpensive emergency thermal blankets, this trend seems to continue.
Each package includes four emergency blankets, each one wrapped up individually so you can touch up your bug out bag or survival/preparedness kits in multiple places with every single purchase. These are made the from often cited "NASA approved aluminized polyethylene."
These emergency blankets weigh a mere two ounces in weight, and measure a full 82 inches in length by 52 inches in width, providing a pretty solid spread while the top notch materials means they do a solid job when it comes to living up to the claims of being able to reflect back and keep by the body up to 90% of the body heat that your body gives off.
These come in six colors to choose from (green, orange, pink, silver, red, and woodland camo) which makes up the color on one side while the other is obviously the reflective silver you get from mylar.
Add in a 100% money back guarantee and reports from many that they could use even these disposable emergency blankets more than once, unusual for this type of outdoor gear. Incredibly highly rated for good reason, they remain on the top of this exceptional list of best rated thermal blankets.

Emergency Mylar Thermal Blankets Reviewed
Are you looking to buy emergency blankets in bulk? Maybe buy mylar winter blankets wholesale? 20 at a time is a good way to get started with any mass order, and while these are also available in orders of 1, 5, and 10, the 20 pack is a solid deal that can help really prepare a large number of kits, be used for a large give away, or provide plenty of inexpensive reflective solar blankets for any large scale projects you have ready to go.
These very simple, very plain solar blankets are designed to help prevent the loss of body heat and are great as a lining for reflecting body heat back onto the individual whether as lining inside a sleeping bag or even wrapped around in a true emergency situation.
Designed by Ever Ready First Aid Kit as a good inexpensive option, they are both water proof and designed to block out wind. These are designed specifically for emergency protection in all types of weather, and these inexpensive thermal blankets are designed so they will not crack or rip from normal use and will not shrink or mildew, either.
With thousands of positive reviews from first hand accounts, it's easy to see why these emergency blankets are often seen as one of the true standard bearers in this industry. A very solid buy.

Titan Survival 2-Sided Mylar Emergency Survival Space Blankets
These emergency survival blankets by reliable brand Titan Survival are extremely popular among many preppers or even regular outdoor enthusiasts who want a reliable quality emergency blanket on hand for all the "just in case" scenarios.
Featuring a shrowd camo (patent-pending) design on one side and the classic reflective silver on the other side. Thee mylar emergency survival blankets are durable, light weight, and designed to be both water proof and windproof.
This versatility allows them to be used for a wide array of purposes from insulation when sleeping to another layer underneath your clothes while moving to shade and signaling. These are stronger than your average survival blanket so why they can tear or rip in the right conditions, they are much more durable than they actually look.
Thee emergency blankets can reflect up to 90% of a user's body heat back on them, which is great to help stave off hypothermia or shock whether in true winter weather or dealing with a cold rain – which can be even more deadly in many survival situations.
Great for backpackers, emergency kits, wilderness survival kits, bug out bags, and more. A definite must have for preparation focused individuals.
Finally, Titan has a reputation as a high quality veteran owned business and their products are backed up by a lifetime guarantee.
Primacare HB-10 Emergency Foil Mylar Thermal Blanketd Reviewed
Primacare's take on the emergency foil blanket was of course going to make our list of the top rated emergency blankets out there. Consistently appearing on top ten lists or as a favorite of people who have used them in real world situations, Primacare isn't pretty or sexy – but they make a very good rescue blanket that holds up when you need it most.
This particular group is a pack of 10 blankets, each one individually wrapped with a bag that in a true survival situation might become valuable in and of itself. You can reflect up to 90% of your body heat back on yourself and being able to buy them in groups of ten means you can have 2-3 per pack or prep kit – which is what you want since they are much more effective in small groups as opposed to being a single individual piece.
After all, you don't want to give up your insulation and wind/water shield to attempt to signal for rescue – you want to be able to do both! One of the thin I love most about this company: they make these mylar blankets in larger sizes to give more material and room to larger individuals like myself.
Very few companies make these blankets beyond the standard size, which is an issue for those of us well over six feet tall or with the build of an NFL lineman. Scroll down the page after hitting the "Buy Now" button to find the other larger options available.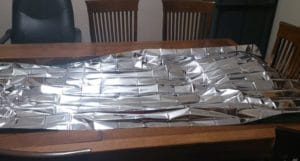 Stoik'd Mylar Thermal Blankets
These blankets haven't caught on as fast as some of the larger current popular models, but I have a feeling the days of obscurity are going to end as these are absolutely outstanding option for a thermal blanket, and one is included with each self inflating sleeping pad that Stoik'd produces, which are also remarkable and those are gaining widespread attention (and can be checked out on Amazon.com right HERE).
These emergency blankets are designed to be a high quality extra layer for sleeping bags, shelters, or emergency situations where an extra bit of interior padding can make all the difference, especially when keeping body heat in. They measure an impressive size at 52 inches by 82 inches, which is great for larger people like me because that means there is going to be enough area for full wrap-up.
Smaller thermal blankets rarely provide that for larger individuals and more material is certainly going to be better than less when it comes to these.
I was incredibly happy with the results of this emergency blanket when I tested it, and you can read that full review here at the Stoik'd Emergency Blanket Product Review.
Nykkola Emergency Mylar Blankets Reviewed
The 4-pack of emergency blankets offered by Nykkola have many hundreds of reviews online, the overwhelming number of which are positive. Weighing just under 1.6 ounces each, these mylar blankets are simple, silver on both sides, and the reflective material i meant to help you keep your body heat in while keeping cutting wind and water out.
The fact these are silvered on both sides makes it a bit easier to make sure you're properly insulated or wrapped up when in a rush, and they are seen as an inexpensive option compared to where many of the other names in the industry are priced.
While the reviews are overwhelmingly positive, it is worth noting that there have been some isolated reports of durability issues with these, murmurs that they don't quite hold up to the same level as many of the others on this list, though we'd still give them four and a half stars based on experience and the general overwhelming positive reviews.

Best Next Level Thermal Blankets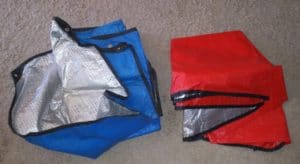 This next session should probably be its own post – but how to you differentiate two related but different products often called the same thing? The following here are thermal blankets and shelters that are designed for long-term use.
Their focus isn't being small, light, and cheap but on creating a more heavy duty piece of equipment that should last years. In fact the two in that picture were originally purchased in the late 1980s.
These definitely have some serious advantages over the mylar emergency blankets, but they also lose all the benefits that the inexpensive, small, and light versions bring to the table. I think in many ways they really are two different products filling up two different niches despite the incredible similarities and really should be treated that way.
So if you're looking for the absolute best light weight, fit in every small emergency kit type of emergency blanket then scroll on up.
However if you are looking for some of the heavy duty options, then read on for a few that get our seal of approval!
S.O.L Survive Outdoors Longer Emergency Blanket
This isn't going to be a couple of inches long and weigh a single ounce, but the Survive Outdoors Longer (S.O.L.) emergency blanket is a heavy duty piece of survival gear that is the clear step up from the disposable versions of thin thermal blankets.
These incredibly durable emergency blankets are incredibly resistant to tearing, and in fact are extremely difficult to damage or shred through normal use – you need to break out scissors or knives or other very sharp objects.
Similar to a heavy duty tarp version of these emergency blankets, they are thick, extremely durable, and in my experience are much better at keeping out wind and a hard rain. Not only do they still reflect 90% of your body heat back to you to keep you warm, but they are exceptional as being used for emergency shelters. As a ground cloth it can be very effective as insulation, or as an outer wind cover for a lean to or made up wilderness shelter.
This works great to create shade in a desert type environment, or it can be used to stay dry and warm in cold weather. There's a reason the emergency shelter blanket by S.O.L. is so highly regarded, and we rank it as the best of the heavy duty thermal blankets that are currently out there.

Grabber Outdoor All Weather Blanket
The Outdoor All Weather Space Blanket by Grabber is an excellent example of a heavy duty version of what a good thermal blanket brings to the table. Basically this can be used the same as any of the earlier mentioned thermal blankets, but this one is heavy duty and built to last.
In fact, several of my friends who spend a lot of time in jobs that include the words "In the field" or "A few months in base camp" are fans of this one because it's still light, easy to pack, and it's reliable and will work over and over again.
This thermal blanket weighs 12 ounces and measures out 5 feet X 7 feet, covering plenty of space. Grommets are in all corners, increasing it's versatility especially if you have rope, twine, or good paracord on hand. Whether thrown over the shoulders as an immediate emergency stop gap, set up for shelter, or set down for ground cover, there's a lot to like about what this heavy duty emergency blanket brings to the table.
There's no question that pound for pound this emergency is warmer than wool, much more durable because of its tough laminate coating, and it is a multi-purpose piece of survival equipment that in a pinch can help prevent hypothermia, create an excellent outdoor shelter, or signal for rescue.
Made in the United States, this moisture resistant piece of equipment offers outstanding durable all weather protection you can count on time after time.

Survival Frog Tactical Bivvy Reviewed
Featuring a special HeatEcho thermal reflective material, Survival Frog doesn't mess around when creating an entire emergency bivvy/sleeping bag. This ultra lightweight emergency shelter only weighs 4.8 ounces, can be stuffed in a sack that fits in the palm of most people' hand, and works as an incredible emergency shelter when you need it most.
Lightweight, small, yet made from many of the same body heat reflective materials as mylar thermal blankets, there's a lot to love about this set up. The bright orange outer cover makes it easy to spot, while the internal material helps keep 90% of your body heat inside the bivvy, helping you keep warm even when the outside environment is making that extremely difficult in a survival or emergency situation.
This bivvy has a reputation for being remarkably durable, tear resistant, and the design also features seams that are taped and reinforced. This emergency bivvy is meant to act as a powerful weather proof shield to create an important barrier between you and the cold.
This can be used as a standalone or it can be used as incredible insulation into another sleeping bag that works as your main sleeping area. Add in the fact that these ship from the United States and a 6 month full money back guarantee for any reason and you can see why this becomes such a popular option among many experienced outdoor enthusiasts.
The only potential complaint I've seen come up a few times is that this is solidly and tightly made, so if you are well above average in size then the fit can be pretty tight – sometimes to the point of being uncomfortable and constricting.

What Emergency Blankets Can Do
The thicker emergency blankets give a little bit more option, but even with those the ideal situation is to have a blanket, a sleeping bag, something that can give padding while the emergency blanket increases the padded effect with reflecting back your body heat. These can work as absolute killer insulation and are excellent pieces of survival gear, especially IN CONJUNCTION with other proper equipment like a good heavy duty sleeping bag.
These are great for signaling, and can be used for building more effective shelters. This are all fairly common uses for thermal blankets, but it's important to know that even the heavy duty versions of these are not pocket miracles that solve any cold weather issues that might come up.
They're great pieces of equipment, but limitations do exist and you want to make sure you're fully aware of these ahead of time.
What Emergency Blankets Can't Do
Emergency mylar blankets, especially the thin inexpensive ones, are not miracle workers. This isn't a space heater packed in a 4 inch space or anything like that. While these are great to have for a variety of reasons, make sure you have a realistic understanding of what these blankets can do and what they can't.
While there are actual emergency sleeping bags or bivvies that are designed with the intention of being able to standalone, they're still not going to be as effective as a full range of proper cold weather survival gear.
Especially in regards to the inexpensive ones, you're not in great shape if you're wrapping one around you like a shaw while surrounded by snow. These aren't going to create an invisible 90 degree cocoon around you – but it can slow your body heat loss and works as an incredible insulator with a sleeping bag, blanket, or to line a full wilderness survival shelter.
Emergency Blanket FAQ
Q: Where can I buy emergency blankets / where can I buy mylar emergency blankets?
A: There are many reliable places to purchase really good emergency blankets. Many companies sell them directly from their website, they're available in many outdoor supply stores, and then there's always the reliable online marketplace of Amazon.com and we are big on this one.
Q: How do emergency blankets work?
A: The idea behind a good emergency blanket is that it is something very light, but specially designed to reflect your body heat back at you, allowing you to stay warm in potentially life threatening conditions.
Q: Do emergency blankets actually work, or is this a survival scam?
A: Survival blankets are absolutely designed to work well in preserving body heat and keeping that trapped in to keep people warm. Now that being said, there is a huge difference in what is realistically expected between a heavy duty tarp sleeping bag with mylar lining versus an emergency blanket that is built to be extra light and generally are better for most people as extra lining or support as opposed to a standalone emergency solution.
Q: Are emergency blankets reusable?
A: This depends on the type you have. The thin and small emergency mylar winter blankets most people think of are meant for a one time use, and when used as actual blankets that is about the extent that most people will get out of them. For more heavy duty designs lined with mylar but made from thicker materials, those designs can be re-used over and over again.
Q: What are emergency blankets made of?
A: Mylar and thin reflective plastic sheeting are the most common materials for most of the inexpensive models, and they are also some of the same materials that are grafted on to heavy duty tarps or survival sleeping bags that have a more solid outer tarp setup and feel while the interior takes advantage of the reflective material to keep your body heat trapped.
Although many companies talk about trademarked this or trademarked that, at the end of the day they're all a take off of the same materials.
Q: Are emergency winter survival blankets good gear to have or just a rip-off?
A: Even if you're not a fan of the mylar blankets for their purported uses, even the cheap models can be very useful to have on hand for a variety of assistant level uses in emergency or survival situations.
Q: How do I use emergency cold weather survival blankets?
A: This really does depend on the type you have: a heavy duty waterproof tarp/sleeping bag that has a reflective interior that is built to last for years or even decades, or the inexpensive emergency thermal blankets made of mylar that most people are thinking of with this term. The heavy duty ones are pretty self explanatory while the cheap ones are actually much better used as additional insulation, ground blanket, or as an outer signal.
Q: Where can I buy emergency blankets?
A: These are available in a wide array of areas from common stores like Wal-Mart to specialty outdoor stores, and of course our favorite: Amazon.com
Q: Where can I buy emergency blankets in bulk?
A: Sometimes you want to order directly from the company for this one, although if you're willing to do some searching you can sometimes find a mass sale from Amazon that is just as good or even better than the bulk pricing you are otherwise going to get.
Q: How can I find an inexpensive/cheap mylar thermal blanket?
A: This shouldn't be too hard, to be honest. Both types of reflective emergency blankets tend to be quite affordable and even all of them on this list (which are the top available) tend to be quite inexpensive.
Great Further Resources for Review
In Conclusion
As this post shows, there are many ways that a survival blanket or survival bivvy can be excellent pieces of equipment to make sure you are better prepared for a wide variety of different situations. Whether you are looking at the heavy duty options really designed for an emergency situation or lightweight designs whose strength is in versatility, there are plenty of good reasons to make sure that one (or more) top notch mylar emergency winter blankets become part of your preparedness kit or survival prep.
Great Survival Blanket Comparison Video