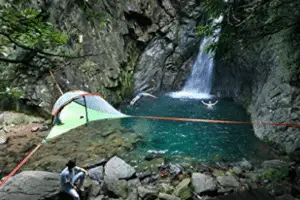 There are plenty of debates about tent camping versus hammock camping, and there's no denying that both definitely have their pros and cons. While there are definite large groups of fans who are all about the traditional tent camping, and others who love the benefits of going with ultralight hammock camping, but looking at these middle of the road versions requires a little bit more research since  they are quite a bit less common than regular tents or hammocks, at least at this point.
The tent-hammock hybrid goes by many different names: tree tents, hybrid tents, hybrid hammocks, and even sky tents. Whatever name they go by, these hybrid camping shelters are an interesting option when it comes to setting up a great outdoor shelter. Read on to learn more and see what our top 5 tent-hammock hybrid picks are.
Lawson Blue Ridge Camping Hammock
The Lawson Blue Ridge Camping Hammock is a hybrid setup with sewn in bug netting that includes natural protection from mosquitoes and other insects. This also allows for an outstanding clear view of the sky on clear nights and the stars or moon, but also comes with an easy to attach waterproof rain fly that allows you to move from heavy hammock to a heavier tent emphasis for more shelter, while still maintaining the benefits of being off the ground.
There is a reason that the Blue Ridge Hammock by Lawson is one of the best sellers. This model is rated as the #1 hybrid hammock by multiple online guides, and this hybrid shelter even won a well deserved (and fairly prestigious) Gear of the Year award. This lightweight tent creates a mid-air cocoon effect that many campers find extremely comfortable and very reassuring during some overnight camping.
The potential views are also extraordinary depending on where you can find a proper place to setup – which is a major benefit of going with these hybrid camping shelters.
Even The Chive featured this outdoor tent at one point (#4 on the linked article), going to show just how widely regarded this particular model is.

Tentsile Connect Tree Tent
Tentsile is a company that is going to come up quite a bit on this list, in part because they have a very concentrated department focusing on these sky tents as being a great solution to getting the best out of both hammocking and regular tent camping.
These high quality tents come in 5 different colors, and are designed for four seasons while comfortably fitting two people.
This particular design has four potential doors, a tight rain fly that is also important to use during colder months (and during the fall and winter you will still want to look at a good hammock pad to properly insulate). In addition to these, these Tentsile tents have a very unique "connect tent" type of setup that allows multiple tents to be set up together in a way that makes for a larger common area.
There are four internal pockets that allow for storing of loose things like sun glasses, pens, keys, all the small things you still need to carry along but don't want to break, roll over, or lose. These tents are built for heavy use and give a variety of options for camping out without leaving a trace behind.

Tentsile Flite Tree Tent Hammock w/ Rainfly
Coming in five different colors, these relatively light hybrid tents offer an excellent 2-person tent option that gives the shelter of small tents while also offering the off the ground benefits of an outdoor hammock. This tent is 7.4 lbs, which is quite light compared to the majority of hammock tent hybrids in the market, and makes it the better option for backpackers who insist on going this route versus a more conventional ultralight tent or hammock for camping.
The Flite models have a single lightweight (but ultra strong) flexible aluminum pole. The canopy is created using a polyester mesh that is waterproof, lightweight, and works well to cover the mesh ceiling panels when rain or stormy weather threatens.
While not exactly set up for ultralight hikers, this is by far and away one of the best lighter weight models out of the ones that are currently available. This makes this hybrid model particularly versatile and in high demand from outdoor enthusiasts eager to try these out and see in what capacity they really work for certain types of adventure travel.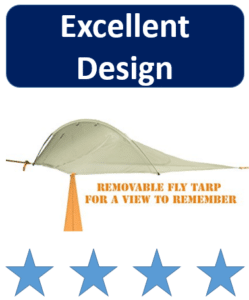 ArcherOG 2 Person Cloud Tree Tent
The Cloud tree tent not only has a unique name compared to the other tent/hammock hybrid designs that are out there, but considering they come from a company like Archer Outdoor Gear, that should really come as no big surprise. The double sided doors means plenty of options to make sure there is an easy way to enter or leave the tent, maximizing the number of good outdoor campsites where this tent hybrid shelter can thrive.
The extra strong webbing is good for comfortably holding up to 500 lbs without issue, making it more than enough for most couples or offering plenty of additional security and support to an individual hiker/camper and his or her gear.
A tight mesh allows for great outdoor views that really immerse you in the experience of camping outdoors while avoiding the heat loss that comes from camping on the ground and keeping any pesky insects outside the tent, where they belong. This tent is definitely high four star quality and holds up as one of the top five models that is currently out there in the market, and one of the outright best if you shy away from the often higher prices of Tentsile tents (or shy away from that tent company for any other reason).

Tentsile Stingray All-4-Season Tree Tent
Rated for two to three people, the Stingray hammock-tent hybrid manufactured by Tentsile comes with two strong and flexible aluminum poles to offer the necessary support to support this tree tent, which is noticeably larger than many other similar tents of this style. The extra space it what allows for that third person to join the normal dual capacity.
The Stingray all season hybrid tent hammocks have the usual features you would expect from a well designed hybrid shelter with strong mesh windows on all sides that allow for relatively clear views of the outdoor world surrounding you while keeping out the biting insects you really don't want sneaking into your sleeping bag.
Being off the ground means this is a great option for individuals who believe in low impact camping to leave as little a footprint in the wild as possible, and this tent comes with a strap and carabiner system to use to make sure the trees even receive minimal impact (this is a much better option than conventional ropes). Because of the standard hang design, you still have the option to easily pick up replacement hammock straps or replacement hammock carabiners, if you find yourself in need of a replacement.
Add in an array of different colors to choose from and the fact that this tent is built to even hold up to many cold autumn and winter days with the fly and an insulating pad, and you're in great shape to enjoy the outdoors through any season.

In Conclusion
These aren't going to be for everyone, but for some the idea of getting the best of both worlds between a hammock and a conventional small tent is just going to be too much to pass up on. Tentsile makes an array of outstanding hybrid shelters and while they might currently be the main name in the industry, there are several others closing in who are also providing some outstanding options for campers who like a little bit of tent and a little bit of hammocking in their lives!
Video on Crua Hybrid Hammocks