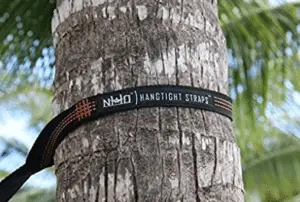 Like many others, I've long come to realize that hammocks aren't just for backyard relaxation a la Homer Simpson. Whether relaxing in the backyard or wanting a comfortable way to sleep while camping or hiking, hammock camping, aka "hammocking" is a great way to go. That being said if you don't have the right hammock straps to go with the perfect hammock, you could be in for a bad time.
If you love camping and hiking but hate the idea of sleeping on the ground, then the hammock is a great way to go – just make sure you have hammock straps that match your weight and stress needs!
The movement towards hammock straps as the responsible choice for camping has been gaining steam for some time now, and it shouldn't be all that surprising. As more and more outdoor enthusiasts realize the benefits of hammock camping, the demand for high quality hammock straps is only going to continue to climb.
Campers want to know that when they're hanging between trees, or poles, or any two solid items they've tied the hammock to, that they don't have to worry about one side giving out and dropping them unceremoniously on the ground. This is doubly a concern if you are high up off the ground or setting up over a creek or running water.
Using straps, sometimes referred to as a "hammock suspension system," gets the job done in a way that doesn't damage the trees and generally has far less impact on the environment than rope or cord. The hammock rope versus strap argument still takes place but it seems like the overwhelming majority of campers are moving towards the strap & suspension camp.
Best Hammock Straps Reviewed
One thing worth mentioning off the bat is that most of these top ten are probably more or less interchangeable. As with anything there are a few outstanding hammock straps that seem to top off above the rest (although interestingly one of our all-time favorites seems to be moving away from producing anymore) and we make sure to point them out.
That being said, these are all the best of the best options out there. Excellent hammock straps (and sometimes the full hammock suspension system: hammock straps + carabiners) make up the entirety of this list. If they're not incredibly elite, they're not on this list.
The far majority of these options rate 9/10 stars on 10-star systems across outdoor review sites across the web, and most of them have hundreds if not thousands of online reviews across many websites. These are the cream of the crop on Amazon and on outdoor websites as well.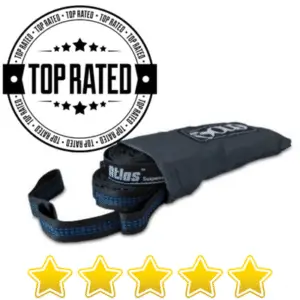 Eagles Nest Outfitters (ENO) Atlas Hammock Suspension System
The Atlas suspension system straps by Eagles Nest Outfitters (ENO) are as good as they absolutely get when it comes to ENO hammock straps. These are the best choice among many great ones when it comes to hammock straps that are affordable, dependable, and durable.
are the second most popular option on Amazon.com based on the sheer number of positive reviews, being one of only two options that hold their rating with over 1,000 positive user ratings from previous customers. That's a a pretty dang solid base to look at when it comes to deciding whether to trust the overall star rating or not.
These black and blue straps are lightweight at only 11 ounces, making them a great choice for ultralight backpackers and long distance hikers looking to shave the weight off the pack, and can safely support up to 400 lbs of weight meaning they work even for larger campers.
Each of these hammock suspension straps are 9 feet in length, and designed to be environmentally friendly so they don't damage any the of trees that are used to support your camping hammock. These are easy to set up, easy to take down, and easy to pack back up, making them a great choice for the growing number of hammock campers out there.
ENO offers several other hammock strap options as well and while the ENO Atlas hammock straps are our pick for the best out there, and there are thousands of 10/10 or 5-star reviews out there that agree, you also won't go wrong with ENO Fuse Tandem Hammock System or the ENO Helios/XL Hammock suspension system.
Pros:
Excellent price
30 combined adjustment points for easy adjustment
Fantastic durability
Comes with an XL version for bigger fellas
Thin, light straps that are still good for safely holding up to 400 lbs
Special poly-filament webbing
Weigh a very light 11 ounces
Final Editor's Score: 10/10


MalloMe Camping Hammock Straps
MalloMe caught our attention a few years ago when we first started looking for the best hammock straps out there, and they have continued to up their game. One thing that stands out instantly is the fact that each of MalloMe's straps are 12 feet long as opposed to 10 feet which gives you 4 feet of extra length to work with.
That added versatility is a major plus. The straps are triple stitched to make sure that you don't lose any of the strength you want. Add in 40 connection loops in a pair of straps and it is easy to see why these are considered some of the most versatile hammock straps around.
Made from spun polyester and coming with two heavy duty steel carabiners so you don't need to buy them separately, and the 1-inch width provides plenty of sturdy support while hanging while also being wide enough to protect tree bark from damage.
The loop setup reduces sagging, and while sometimes "versatility" is just another term for complicated, in this case simplicity still reigns. These are easy to set up and easy to take down.
These straps are also incredibly affordable considering how well-designed and built they are. The only potential downside is that they are a bit heavier than other options, which means if you're a ultralight backpacker you will want to go with the ENO hammock straps to save those ounce.
Pros:
Very affordable price
Extremely versatile design
Great connecting loops and strong stitching
Truly superior combination of design and construction
Final Editor's Score: 10/10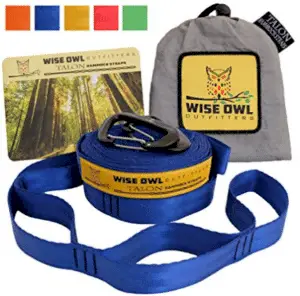 Wise Owl Outfitters XL Hammock Tree Straps
Okay pun fans, here it is: like the animal name, they are the wise choice because they are safe, reliable, and easy to set up and use. True to the name, WOO hammock tree straps are outstanding. It should come as absolutely no surprise that one of the truly elite names in camping hammocks would also produce some of the best hammock tree straps out there, as well.
Available in a wide variety of colors, these high quality tree straps have quickly garnered a well deserved reputation as one of the best products out there when it comes to safely and effectively hanging up that outdoor hammock without damaging the tree. For low impact campers, this is definitely a product worth taking a serious look at.
These straps are made out of a strong webbing composing of polyester and polyester filament. The end result is a combination that comes together to create a strong and reliable strap that can hold up to large amounts of weight and will not stretch and weaken over time.
Weighing in at 15 ounces these are lightweight, although not ultralight, but also include 19 loops per strap to allow for adjustments so you can make sure your hammock is not strung up too tight or too loose.
Straps are an inch wide and the package comes with two ultralight carabiners so you can hang it up right out of the pack, and may even save a few ounces replacing heavier carabiners better designed for rock climbing as opposed to hammock camping out of an ultralight pack. You can adjust your sleep with 19 loops on each side for 38 total as well as the solid construction you expect from one of the best brands in the business.
Pros:
Very good number of loops allows for easy adjustment
Excellent construction
Very good weight for a heavy duty hammock strap
From one of the biggest names in the business
Final Editor's Score: 9.9/10


Foxelli Hammock Straps
Slightly larger than your average hammock straps at 125 inches each instead of 120, Foxelli's straps also include 20 loops on each side that allows for easy adjustment to get the perfect setup for your evening sleep.
The Foxelli straps are highly adjustable as a pair, provide plenty of weight, and have very solid stitching one inch thick to make sure the straps are secure and ready to handle any load. If your hammock is strong enough to hold the weight, you know the Foxelli straps will hold out as well!
These are safe, reliable, and they the most lightweight option on this list. If you're an ultralight long-term hiker looking to cut out every ounce possible then you want to look at Foxelli since they have managed to create the lightest heavy duty hammock straps for ultralight backpackers out there.
Highly rated, well stitched, and coming with a full money back guarantee, Foxelli does a great job of trimming off every extra ounce without doing a number on the quality as well.
This is a reasonably priced pair of hammock straps that are ultralight, give plenty of adjustment options, and still manage to look and function well as great pieces of equipment.
Pros:
Extremely lightweight – perfect for ultralight backpackers
Strong stitching
Very adjustable settings thanks to excellent design
Reasonable price
Cons:
Not highest elite package compared to some others, but more than enough for most needs
Final Editor's Score: 9.6/10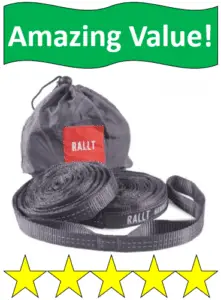 Rallt Hammock Tree Straps
Rallt is a name that is strongly associated with quality, and they don't disappoint. These tree straps for hammocks are each 10 feet long for a total of 20 feet to work with or adjust while hanging, and were tested to 2055 lbs of breaking point.
This hammock suspension system is made out of polyester which means no stretching, no tearing. The materials are going to hold up to pressure and to time and use.
The setup system involves a daisy chain loop, the beauty of this being that it works without having to know any knots, making setup easy, although maybe a touch of a bummer for those of us who wanted to show off what we remember from out scouting days, put we all have to make compromises sometimes. I suppose.
These straps for the hammock suspension system (fancy phrase for hanging straps) are compact and ultralight, coming in at only 11.7 ounces while still offering that level of strength and support that any outdoor enthusiast would expect from a high quality product like this one.
In Summary: Rallt Hammock tree straps give excellent support, offer support that you can be confident in, and lightweight enough that it won't make your shoulders buckle under the weight.
Pros:
No stretching because of polyurethane construction
Uses quality bar tack stitches
Reflective tracers makes it easier to find at night
Very lightweight
Can hold up to 500 lbs safely
Cons:
Don't come with hammock carabiners
Final Editor's Score: 9.5/10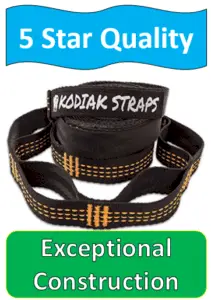 Bear Butt XL Kodiak Straps For Hammocks
We're a really big fan of what Bear Butt brings to the table. These straps are incredibly sturdy and strong to hold your weight while remaining very soft to the touch which is nice on the hands during setup.
Measuring 10 feet in length each, these two combine for 20 feet of length and have 40 loops to allow for easy adjustment to get that "just perfect" hang that gives you the most comfortable possible campsite to enjoy. Add in two carabiners and that's a lot of support and quality for a relatively low price, and it is easy to see why they are so popular.
These hammock straps are tested up to 1000 lbs, which is far more than even many of the sturdiest hammocks are tested to handle, so you know these straps won't let you down!
These Kodiak straps for hanging up camping hammocks are manufactured by Bear Butt, which is manned by a couple looking to make their mark by providing the highest quality outdoor products.
Based on the first 400 some reviews from hammockers and other campers who have given these a try, so far Bear Butt is on the mark when it comes to providing outstanding quality.
The straps are durable, look good, and if you're a fan of brand related puns, the Amazon page for this product is going to be a delight. If you're not the type of person who finds most puns funny (or if you're an English major typing this post who finds the far majority of puns really, really annoying) then admittedly the page can be a bit of a slog.
But humor wise to each their own. Doesn't change the fact these are dang good hanging straps and deserve to be on this list of great camping hammock straps.
Pros:
Tough custom polyester design
10 feet straps for 20 feet of hang
Stretch resistant
Compact & lightweight
Environmentally friendly
Incredibly strong
Very affordable price
Add in a lifetime warranty, great design that makes them tree-friendly, and money back guarantee, and it is easy to see why these are becoming so popular.
Cons:
A bit inconsistent when it comes to availability
Final Editor's Score: 9.4/10


Pro Venture Pro Hammock Tree Hanging Straps
The tree hanging straps for hammocks produced by Pro Venture don't focus on being overly flashy but they produce a solid strap that holds a solid amount of weight and is designed to put up with even the most intensive rigors over long periods of time.
These are strong, easy to set up, and are low impact on the anchor points for where you set up your hammock.
These have been tested up to 1200 lbs, meaning each strap is capable of holding up to 600 lbs of stress, and they are designed to not wear out due to sunlight, moisture, or weight from constant use. These straps do not stretch, they are made with full 5 star quality in mind.
The supporting straps come in orange, white, or blue and come in 8 foot lengths or 11 foot lengths, therefore giving 16 feet or 22 feet of adjustment room based on which one you decide to go with. Pro Venture's hanging straps also come with a full one year warranty for coverage as well as a 100% satisfaction guarantee or a full refund.
That's a lot of faith the company has in their ability to deliver, and based on the sheer number of positive reviews it seems like they have definitely backed it up.
Pros:
More than one strap length available including small and extra long
Don't stretch
Reasonable pricing
Full 1-year warranty
Final Editor's Score: 9.7/10


Grand Trunk Straps
This is a solid and lightweight hammock strap and harness system, and it is one that manages to cut weight through the old school use of smart knot tying and lightweight but powerful ropes. These are still environmentally friendly by the smart use of straps around the rope as it pulls around the tree.
These do tend to be a little bit weaker when it comes to the amount of weight they can handle. As opposed to being able to brag about handling 800 lbs, or 1000 lbs, or 1200 lbs, these max out at 400 lbs. When it comes to camping hammocks this doesn't matter as much seeing as how most hammocks can't hold that amount of weight.
This does mean that they are strap systems for camping hammocks and aren't going to be the best choice if you need something different and versatile.
That being said, what the Grand Trunk camping hammock straps lack compared to others on this list when it comes to weight, they have a large number of aesthetic color options, are durable, and are lightweight and easy to carry. Because of the rope system they are one of the single most adjustable hammock strap options out there.
Add in a lifetime guarantee and it's easy to see why so many hammockers are enjoying what Grand Trunk brings to the table.
Pros:
Rope & knot system gives even more control
Very lightweight at a mere 12 oz
Excellent levels of adjustment
Lifetime warranty
Cons:
You need to know your knots
Final Editor's Score: 9.0/10


Kammock Python Straps
Relatively new on the scene, there's a lot to love about what Kammock Python Straps bring to the table, and just as its name implies, the Kammock Pythons boast an impressive weight capacity and plenty of slack to set up wherever you want.
These hammock straps are really easy to use, easy to adjust, and make it easy to set up your hammock for the night – or even just for a relaxed rest. These straps are the standard 10 feet each, while there is also a longer version of 15 feet each for people who need a little bit of extra reach.
These straps are durable, they are flexible without stretching, and the design really seems to hold up. In other words, they are hammock straps that really seem to be to get exactly what serious campers need. This shouldn't be surprising as they are designed and produced by individuals who are all about the great outdoors.
Given more time, we would not be surprised to see these hammock straps climb up the list of top options that experienced hammock campers truly do enjoy.
Pros:
Very lightweight at a mere 12 ounces
10 and 15 foot hammock strength laps available
Powerful stitching
Cons:
Doesn't have the same level of in-field testing as many other hammock straps, though this can change with time
Final Editor's Score: 9.6/10


HangTight Hammock Straps – CURRENTLY SOLD OUT
Note: If they go back to producing hammock straps once again with the same quality then this jumps right up to one of the top three. We really hope they do start producing these again because they are absolutely outstanding!
If you found it hard to believe there was an easy choice for the best hammock strap options but among all the gold and jewels, HangTight's straps are the diamonds.
With nearly 1,800 ratings as of this writing, and a stunning 4.9 rating across multiple websites online, there is a reason that they stick out above the competition.
There is a heavy focus on quality here, with reinforced stitching patterns that include a bar tack design for further support. The supportive looping is short, compact, and lighter than the competition while remaining stronger, as well.
These are 10 feet long with an amazing breaking strength of 2200 lbs and get positive marks not only for being strong and dependable but they are also are designed to be tree friendly. This means none of the damage that can result from traditional hanging methods using rope.
The two ten foot long straps are more than enough for most campers, and there is an equally high quality XL HangTight Straps For Hammocks version that gives the same type of quality from even longer straps, so give those a try if you need just a little more space. In a tightly competitive market with so many outstanding choices, HangTight is a company that still manages to stick out in a good way.
Pros:
Extremely well made
Stunningly strong with the highest breaking strength out there
XL version is great for larger individuals or couples
Environmentally-friendly
Very affordable considering strength of the strap construction
Final Editor's Score: 9.9/10


Chill Gorilla Pro XL Hammock Hanging Straps – CURRENTLY SOLD OUT
Propping itself as an ENO accessory to get the attention of fans of one of the biggest names in parachute hammocks for camping that's out there, Chill Gorilla's XL hanging straps have definitely garnered major attention and a very strong following.
Available in black or blue, these polyester straps with daisy loops for easy adjustment are designed to have minimum impact on trees, poles, or whatever you are hanging your hammock from.
True to its name, these straps are designed to be able to handle the big weight and have been tested and approved for up to 600 lbs.
This comes in at .86 lbs, or right about 14 ounces, and everything that is included can be easily fit into the carrying pouch, making this a legitimate option for the long distance backpacking crew. If you've ever been into ultralight hiking, or know people in that group, you know how every ounce counts.
This company includes a 100% money back guarantee, and the polyester is the standard for the industry to display outstanding strength without wearing out over time.
Final Editor's Score: 9.0/10


Bloom Hammock Hanging Straps – CURRENTLY SOLD OUT
A full hammock suspension system by Bloom comes with two straps of over 11 feet each, designed to handle up to 1400 lbs total, two good carbiners, and an easy to carry bag that everything from the Bloom hammock strapping system can be fit into.
40 total loops means there are plenty of opportunity for adjusting the hammock's hang as needed in order to get the most comfortable setup for sleeping. The non-stretching polyester means that these straps are not going to wear out from basic use.
At 17 ounces, this entire package is extremely lightweight while still providing an impressive amount of strength and durability for the outdoor hammock camper.  These straps are machine washable and won't wear out, meaning they can be clean and used again and again.
There are two color designs, the blue/white combo and the white/yellow combo. This lets you choose the one that is most aesthetically pleasing to you.
Both look extremely good and offer the same quality of craftsmanship and functionality that you would come to expect from any of the top straps for hanging hammocks on this list.
Pros:
One of the most adjustable hammock straps out there
Surprisingly strong straps considering number of adjustment loops
Washable
Final Editor's Score: 8.9/10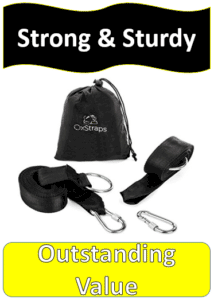 OxStraps Hammock Straps XL – CURRENTLY SOLD OUT
OxStraps really does offer more of a full suspension system as buyers not only get the lightweight and high quality straps but also two carabiners as well as an easy carrying pouch that can be attached to a hiking bag or tossed in a backpack depending on your transportation needs.
Tested up to 1200 lbs, and commonly rated above 1000 pounds total for two straps working in tandem, this is a strong suspension system whose carabiner and loop setup means no need for knots (sorry Eagle Scouts), and makes it easy for even a complete beginner to get their campsite ready quickly.
The straps are made out of spun polyester to encourage maximum strength with minimum weight and at only .75 lbs of weight they pull that off quite well.
The carabiners are a little different than some of the other popular hammock hanging systems, but as any rock climber can attest, those are built to be strong and they are built to hold a lot of weight in much more important situations than with hammocks, so you will be good to go.
One of the more unusual features of these is that they aren't all black or gray. In fact, they come in five different colors at this point including: black, green, pink, red, & green.
Add in the fact that these come with  a carry pouch, and there's a a lot to like about this very unique strap system setup, which allows for multiple wraps around the tree.
Pros:
Lightweight at only .75 lbs
Heavy duty polyester stitching
Each strap is 10 feet long (for 20 feet total)
100% money-back guarantee
Final Editor's Score: 9.2/10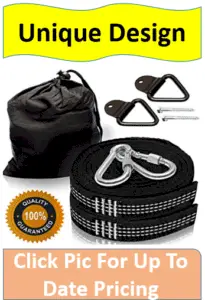 Benicci Premium Hammock Straps – NO LONGER PRODUCED
The premium hammock suspension system offered by Benicci is very unique, and it has its fans as well as detractors. There is a degree of flexibility here as the basic polyester straps can hold up to 400 lbs each, meaning a set up hammock is good for holding up to 800 lbs of weight.
These can be used to hang a hammock off a tree without damaging it, while included carabiners, screws, and the necessary hardware to create a semi permanent fixture in stone or other solid material from which to use a carabiner setup when two trees aren't available.
Many individuals dislike this second option seeing as how many campers switch to hammocking in part because it is lower impact on the campground.
The the fact is that this hammock comes with both setups so individuals can decide to use whatever setup works best for them. Versatility shouldn't be discounted.
The 15 safety loops are triple stitched, and the straps overall weigh less than a pound, making them ideal when every ounce counts. If in doubt, you won't go wrong with these outstanding straps.
Final Editor's Score: 8.8/10
What to Look for in a Good Hammock Strap
There really isn't a difference between hammocks for hikers versus hammocks for campers. The main thing is making sure that you are in a spot where you have the trees to properly set up a hammock. However, anyone who has done any amount of hammock camping understands that the supporting gear matters just as much.
Good hammock straps are a must since they will be taking the most pressure of your weight when you have your hammock fully setup. You do not want to go cheap on the hammock straps.
Saying it Again: You do NOT want to go with a cheap set of straps. Go with one of the premium choices on the chart or reviews above.
The good news is that by understanding a few basic traits to look for you will have no problem figuring out which options are best and going with those versus the cheap knock-offs.
Best Hammock Strap Traits:
Length of the straps
Strength/weight capacity
The number of adjustment points on the straps
Quality of materials
Price
Weight
Length of the Straps
The longer the straps, the more space you can have between trees, poles, or whatever you're using to help set up your hammock. However if the straps are too long there's more stress on them. A pretty standard size is 10 feet per strap, giving you 20 feet plus the hammock length to work with.
Straps' Weight Capacity/Strength
If you're near 400 lbs, you need one of the few heavy duty set of straps or if you're using a double hammock as a couple you need the straps that are built to handle that weight comfortably. Most of these straps on this list of this best hammock straps review blog post are going to be on the heavy duty side of things, but
Adjustment Point Numbers
While it would be great if every campsite had two perfectly sized trees the perfect length apart for your specific hammock and straps – it's not always going to work out that way. The more adjustment points that each hammock strap has, the better your ability to create the perfect setup. Some people like just a little bit of looseness to the setup while others like it tight.
More adjustment points lets you set up your camping hammock the way you want and gives you far more control.
Quality of materials
The better the materials used, the better these are going to perform. High quality materials tend to lead to really good hammock straps while even one bit using inferior materials will cause the whole thing to unravel (maybe literally). Always look at industry standards when it comes to material and both positive and negative reviews to get a sense of the overall level of quality.
This will play a major part in the durability of the straps, as well.
Overall price
Hey, price matters. While you should never trade quality for price, many of us do have a budget and if you're planning a big hike or a heck of an adventure, every dollar counts. Be sure to look for sales, discounts, and the best possible deals that are out there.
Weight
While this is a relatively minor factor compared to the others on this list, but if you are a lightweight or ultralight backpacker then every single ounce is going to count. If you have those pack needs then one pair of straps weighing 18 ounces and one weighing 15 ounces might make all the difference.
The Rope Vs. Strap Argument
As I learned first hand when I first began to realize how widespread hammock camping was, you won't research very long before finding out there is a major discussion of using rope or parachute cord versus using hanging straps. There are many different reasons for this, and it's a conversation that continues to go back and forth throughout the community.
One important thing to know if you're a beginner is that you shouldn't ever use ropes! While knot tying skills are great, using rope on the tree can damage it while a good specially made hammock strap will not only keep your hammock secure but it will also do so without any damage whatsoever to the trees themselves!
While it's understand able that your first instinct is to go with using rope, in some instances rope can actually dig into the bark and make a tree more vulnerable to insects, disease, or damage.
For example:
Here is an active discussion of this very topic on the Tree Buzz Forums. They are not the only forum that are talking about this point. You can see other hammockers' opinion on this topic over at Hammockforums.net, as well.
There is also a really active community of hammock campers on Reddit who go over topics like this. Even just a little bit of reading will help you see every part of the conversation, with many campers wanting to go the strap route not only because of convenience with not needing to learn knots to tie the ropes off, but the increased surface area also means less stress on the tree and the bark, which means lower impact.
Replacement Hammock Straps
Sometimes a hammock package comes with all the supporting straps and gear, but that won't always be the case. In addition, many sleeping hammocks come set up to be hung with rope when campers would much rather prefer using straps that are much less harmful to trees, meaning you're spending day one looking for proper replacements.
This isn't a bad thing. The good news is that, as this article has convinced you (at least I hope so otherwise dear Lord – how many MORE words do you want on hammock straps???) there are many outstanding options available.
Find the one that has the dependability, flexibility, and fits your specific needs and then go enjoy your local slice of the great outdoors!


In Conclusion
There's a lot to love about hammock camping, but being able to get the most relaxation out of your time outdoors means you need to have the right hammocking gear so you can relax. The good news is, as this article shows, there is no shortage of options when it comes to getting anything you need. Whether you decide to go with rope, parachute cord, or hammock straps, you have the high quality options that you need in order to set up your outdoor hammock and enjoy the relaxing effects of your perfect outdoor setup.
Hammock Strap Setup YouTube Video

You May Also Like to Read