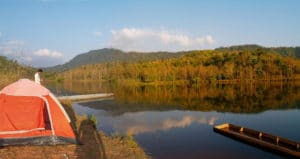 There are many different types of tents out there, and if you've been following our blog for any amount of time you know how much we focus on the many different camping options out there.
From winter camping tents to beach tents to a variety of ultralight options for backpacking or even good kids' tent options, we want to help you find that perfect fit for a great outdoor experience.
The first thing to figure out is what exactly are you looking for? Answering this question will set you on the right path to finding the specific small tent that works best not only for your budget but also to fit your personal camping needs, as well.
Some of Our Favorite Small Cozy Tents
There are many great options out there and we have reviewed them on many of our posts, but here's a quick chart of 10 of our favorites out of all of them out there.
One Person Tents: What to Look for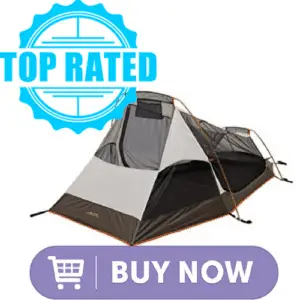 There's no question that if you go with a one person tent you are definitely looking for that adventurous solo excursion. These tents are most often built for ultralight backpackers who may be hiking 15, 20, or even 30 miles a day for extended periods of time.
Because of this, the tents have to be durable while also being relatively small and light. This can be a tough combination to find but fortunately there are many options that meet these important considerations.
Even solo campers who love weekend camping usually go for a 2 or 3 person tent just for the extra space to stretch out. However, if you are the type who loves days packed with 20 mile hikes into undisturbed nature (and buddy am I ever with you on that one!) then you are definitely going to be looking for a solo ultralight backpacking tent because every ounce matters on that pack.
If you are looking at a one person tent for solo camping, that means you most likely are ready to move so you want to look at things like:
Carrying weight
Ease of setup
Durability/materials
Overall price range
If it's designed specifically for backpackers
There aren't as many of these tents available because the demand isn't nearly as high, but that doesn't mean there aren't a healthy selection of tents that meet these criteria. In fact, two of our favorites make the top 12 list of small tents and you can always check out our blog post on the best one person backpacking tents for more.
Good Two Person Tents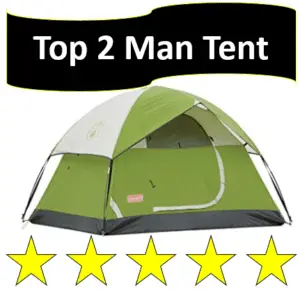 When it comes to finding a lot of top notch choices for smaller tents, there's no denying that the 2 man options seem to be where it's really at. Our top 12 list has 7 tents that can count under this category, or at least have a model that is set for a couple.
Coleman and ALPS tents both appear in this category, as do a series of top notch tents from other manufacturers who know how to make a good couples tent.
There are many reasons why this style in particular is really popular. For one, it's the perfect size for a variety of different needs. Backpackers who want a little bit of extra space for their pack or for stretching out (without adding too much more weight), solo campers who like having their space, or couples who enjoy weekend camping – all of them can use a high quality two person camping tent so it makes sense that there would be more of these designs available.
There are many great tents designed for two campers here, and you should have no problem finding something that fits your specific needs on our top list up there. If you want an even more in depth look, don't forget we have done a complete article on some of the best two person tents available and you can always check out that article to learn even more.
Upgrade to the Three Person Tent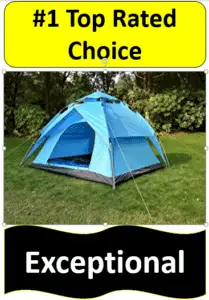 The three person tent is a little bit more of a hybrid when it comes to small tents. It's not quite big enough for families unless it is a small family of a couple and a small child, and they are often a touch on the heavy side for ultra light backpackers, though that's not necessarily 100% true.
Most of the time a truly good tent for 3 people is most often used as a camping choice for two people, with a little extra space for a pack.
Even though these might be a lot less common than both smaller and larger styles of tent, there are a few companies that really work in this niche to produce outstanding tents that can meet an outdoor enthusiast's needs.
Three man tents are probably the least common of the type on this list, but Toogh, Kelty, and Coleman have all manufactured some absolutely incredible tents for three people, so you are not short on options.
Obviously we have three on our list that can qualify as being among the best of the best for when you're looking for that perfectly sized camping tent, but if you feel the need for even more information take a look at this post on the best 3-person tents out on the market.
Excellent Four Person Tents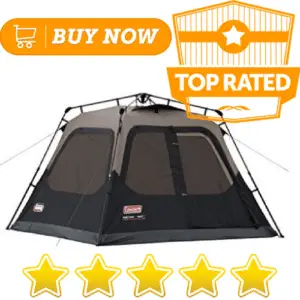 This is the borderline area where small tents become big ones, but there are some fairly compact 4 person family tents and since that is sort of the very definition of a small family tent.
While Coleman tents show up all through the various designs, they especially dominate the competition when it comes to 4-man tents.
This should not be a major surprise considering that once you jump up to our family tents article you'll see that the Coleman name shows up everywhere.
Let's face it: they simply know how to make big tents. Well they know how to make tents, period, so it shouldn't be any surprise that they show up on the list once again. They even have a very unique instant pop up cabin tent for four people, which is extremely unusual as far as your average design setup goes. If the cabin style isn't quite your thing, there are other options for finding the right type of four person tent design that will work for you and your personal needs.
Want to know more before crossing over to the full family sized tents? Take a look at our very recent best tents for four people article and see what jumps out at you.
Coleman Tents vs. ALPS Tents
While there are many great tent companies and plenty of outstanding styles, it's kind of hard to notice that two company names keep coming up over and over again when talking about the top tent designs out there: Coleman & ALPS. These two companies are consistently found among top tent lists, and it isn't hard to see why if you have had experience with any of these tents.
These two tent companies have a lot in common as well as having a lot different between the two, which makes studying them and comparing them all the more interesting.
Coleman has frequently pushed to make themselves one of the top names in outdoor products and that effort has paid off. ALPS has done the same although there is a slight difference between these two. Coleman has made general tents and is serving a general outdoor market while ALPS tents are really focused towards climbing, mountaineering, and Alpine challenges. Because of this focus quality must be at the forefront, and as a result even those of us who aren't climbers or mountaineers can appreciate quality construction.
Coleman is also a very large and nationally recognized company while ALPS is a small company based out Missouri, focusing on quality at home over mass quantity. Neither one of these is necessarily a positive or a negative, but it goes to show that both have a lot to offer from very different places.
For budget friendly general camping needs where not a lot extra is needed, it's hard to argue with what Coleman is able to bring to the table. If you're looking for that truly premium tent that is designed to hold up to serious conditions, then you're looking at something that goes right into the mission statement of ALPS.
When looking at it from the point of view of a general camping enthusiast, you really can't lose on either side of the ALPS Tents Vs. Coleman Tents argument.
Small Tents & Ultralight Backpacking
While it makes sense any ultralight backpackers who are hiking days, weeks, or months at a time would need a backpack to be as light as possible and therefore need a small tent, that doesn't mean every small tent is going to fit a backpacking enthusiast's needs. These tents not only need to be small and easy to pack up, but their choices also need to be based on weight, room to sleep and contain their pack, and convenience to setup.
Depending on the area they might even go with a camping hammock option if there are plenty of trees in the area. If this isn't quite your idea of the best way to cut weight, understand that there are many 2 or even 3 person tents designed specifically for the ultralight backpacker, but you will be hard pressed to find a 4 person tent that works. Even among tents advertising for three campers you will need to do a little research and make sure it is light enough to meet your needs.
In Conclusion
There are many options out there when it comes to finding a quality small tent that can offer you the coverage and protection from the elements without getting too complicated or busting the budget. Whether your version of a small tent is all about going solo on long backpacking adventures or having enough space for you and a friend or two, there are many great options out there to choose from.
Great video on picking tents from a survival perspective: