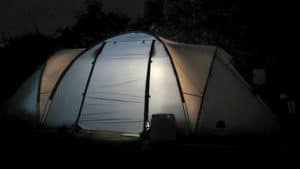 So what exactly are you asking about when you ask for a recommendation for the best family tents for camping?
Is it the amount of room you have? The ability to create rooms for a bit of privacy? Or is it something else entirely?
Depending on the size of your family and their experience camping, it can be a bit difficult to nail down just what exactly you're looking for.
The truth is that the term "best family tent" is going to have very different meanings from one family to another, and that affects what type of a tent you should be buying. No two family's camping needs are going to necessarily be the same and that's what makes it so important to take some time to find the best fit.
For us, we feel the criteria needed to make that determination comes down to durability, affordability, looks, ease of setup, and positive feedback from users. Nobody wants family camping tents that only last one camping season, are too expensive for most families, or look terrible – not when there are so many great options out there!
We also consider family size tents to be tents that fit at least five people comfortably. I mean otherwise you're just a few friends, or a couple plus one. A good family tent is going to give enough space so if the rain starts pouring that you're not all playing a game of too close Twister uncomfortably inside the tent.
So with that being said, here are some of our favorite options from popular tent companies offering tents that the entire family can enjoy.
Updated for 2019: We have kept the old family tents for camping article up because the listed tents are all extremely high quality. In the far majority of cases they are still the absolute best choices for most families looking for that perfect camping tent, but in the past year there are also some really great tents that deserve to be added to this list.
So here is the new and revised list that includes some more outstanding large tents that are tops on the market!
Best Coleman Family Tents to Check Out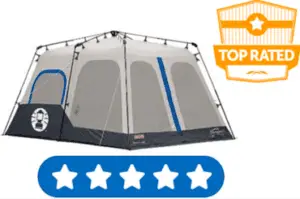 When it comes to ease of setup, one of the best tents on the market is Coleman's 8-Person instant tent. Like the name implies, you should be able to fit eight people comfortably with its 10×14 foot base and the 6 foot 5 inch center height gives enough head room for all but the tallest family members.
And if you're taller, well it's fabric so no big deal (one of the many benefits from good old fashioned tent camping)!
The poles come pre-attached to tent, so Coleman claims you can set up the tent in less than one minute. This is a very nice feature, to the point where my brother and I both actually consider it a major benefit. For anyone that has spent hours trying to figure out where poles go after losing the instruction manual or having the numbers on the stickers wear out, this is a fantastic feature that really simplifies the process and cuts down on any potential headaches.
Camping should be enjoyable – and spending hours setting up, screwing up the set up, and then finally correctly setting up the family tent is not getting off on the right foot, especially if you got to the campsite late and find yourself setting up a tent by headlight (speaking from experience on that one – don't judge; we were all greenhorns once…).
Other benefits of this family tent includes:
Two doors & seven windows
Two rooms
Modern and pleasing look
1 year warranty
Over 85% of 1,300+ reviews are 4 or 5 stars
Relatively inexpensive at only $200 to $300 on average
The bad with this tent is there are some complaints with durability. Since the poles are pre-attached, some people complained of breakage during take down. Also, during really windy conditions, it can be difficult to get the tent staked down and secure, again due to the pre-attached poles.
These are some of the most common potential hiccups that come with large instant setup tents.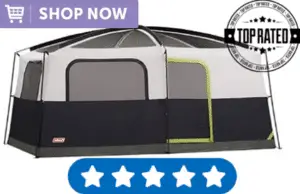 For fun, modern looking large family tents, we would recommend looking at the Coleman Prairie Breeze 9-Person Cabin Tent. This tent gets high marks in the looks, space, and durability categories.
What I like the most is the non-traditional, square look. It's 14×10 foot size helps to fit an incredible nine campers comfortably, or even two queen sized air mattresses if you like a bit of extra comfort while camping out – and who doesn't?
A 7″ center height makes getting in and out of the tent comfortable for even the tallest people. Special features of this this tent include a battery compatible led lighting and fan system. With an average cost of $250 to $300, it can be a little more expensive, but it does come with a one year warranty.
Looking around online, over 90% of all reviews rate it as 4 or 5 stars (or 8 or 9 from a 10 point scale), and our personal experience with this model has been really positive. This is a fantastic tent overall that can take a beating and a few years after first purchasing it, this tent is still fully viable and works well (no leaks, no mildew, the tent keeps on working).
There is one obvious downside with this tent, however, and that is the ease of setup. Even the most experience campers are going to need at least 15 minutes for setup time, and this isn't one you want to learn how to set up while it is dark outside.
At least one other person is recommended for setup as this is much easier with two people helping out, and you definitely need a second person if you are going to play it safe and attach the rain canopy. That is not a solo camper job.

Honorable Mention:
Coleman 8 Person Canyon Tent – While Coleman's popular Canyon Tent for 8 people won't quite hold up to the elite models that Coleman puts out, this is still a solid tent that is known for being very affordable. Great price for the budget-conscious campers, this Coleman tent generally runs in the $100 to $150 range, making it affordable for even most budget conscious campers.
That is a major plus, as anyone who has ever shopped for premium family tents know how quickly the prices can hoot through the roof.
There are some durability concerns, especially if you're looking for something that can take an absolute beating year after year, but it works as a great starter tent that will be more than enough for the average family who likes to came every so often.

Updated for the 2018 & 2019 campers:
Well Coleman tents continue to impress. We've been paying attention to some of the other outstanding models they continue to put out there. There are two more that we need to add to this list of really outstanding tents, because both of the following here have been tested out over a long 2016 and 2017 camping season, and they have proven that they really live up to the Coleman quality standard and deserve to be on our list of the top rated family tents currently out there.
Coleman WeatherMaster 6-Person Screened Tent
This two room polyester tent can comfortably fit up to six people along with their basic gear. Highly rated, there is a side mesh "room" (floorless) allows you to sit out in the shade and enjoy the outdoors while also being screened from any overly healthy and ambitious local mosquito and/or insect population.
Basically a family tent with it's own sun room – which can be plenty of fun and also provides a nice little play area for keeping little ones close by.
Meanwhile the WeatherTec System (which is proprietary to Coleman Tents) while offering a full 6 feet 10 inches of head space in the middle of the tent, allowing all but the tallest people to stand comfortably while in the tent – a definite bonus for those of us who are definitely taller than average, and taller than most tents. This also makes moving around to settle for the night a much easier and less  stressful thing when everyone doesn't have to be bent over and bumping into each other.
A screened roof allows you to enjoy the breeze and see the stars while the weather is good, and a rain fly or rain tarp are easily attached over top to make sure everyone stays dry and comfortable when the rain clouds come in.
Add in a limited one year warranty from the manufacturer and there's a lot to like about this Coleman family tent and everything that it has to offer.
This is a very impressive tent and we have to say certainly a welcome new addition to the list!
Coleman Evanston Screened Tent for 6 People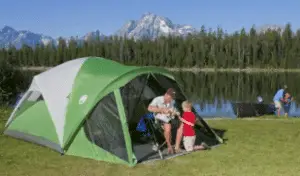 This polyester family tent is designed by the Coleman company to sleep six people, and in addition to the main tent area also has a screened in front porch to help keep bugs out, and leave a place to put shoes (as long as it isn't raining) before making it into the main part of the tent.
A 14 ft X 10 ft footprint spans over the floor of the main part of the tent to make proper setup a breeze and there are four screens to allow a full breeze through the tent on comfortable breezy days with the full rain protection you would expect from a well designed family tent.
In addition to all these excellent features, one thing that really sticks out about this tent is how the Coleman Company still attempted to create a design that was similar to smaller dome tents to allow for easy set up and take down. Bucking the trend of big box tents or square tents, the Evanstan looks like a particularly large dome tent, which certainly has its advantages for the right sized family and can work doubly well with smart use of the tent's screened in proch.
This tent is 20 lbs. in total, which is actually a touch light for the larger tents made for camping families out there, and makes my brother and I jealous of the 50+ lb (true thick metal poles from back in the day so no, we're not really exaggerating) monstrosity we put up through the Boy Scout camping days.


Looking at Eureka Camping Tent Options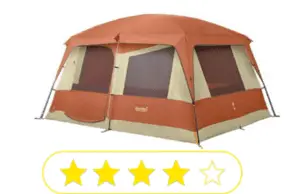 Eureka Copper Canyon 8 Family Tent
Eureka tents are a very high quality, durable tent. The best family camping tent that Eureka offers is the Copper Canyon 8. This spacious tent fits eight people in its 10×13 foot floor space and 7 foot center height space. There are six total windows and a center divider that can be used to create two separate rooms.
The frame is created with high quality fiberglass and steel, creating a really nice balance between weight, durable strength, and flexibility. Even better, setup can be done relatively easily by one person, which while advertised by many larger tents, is actually pretty rare in practice.
The cost ranges in the $350 to $450 range, so we would recommend this tent for families that do a lot of camping because you're investing in the tent – this is a big investment if you only go out a couple weekends a year.
With almost 90% of the reviews we saw on different sites being 4 stars or above (as of June 2016), it is difficult to find much negative about this besides the cost, which can be prohibitive if you are on a family budget when it comes to camping and camping gear.
That being said, we think it's important to let you know that there are a few concerning comments and occasional negative reviews about issues with leaking and waterproofing wearing off, but the overwhelming majority of customers do not experience this issue.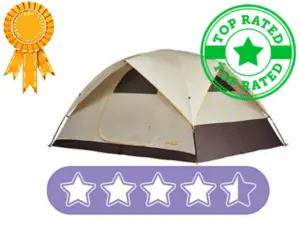 Eureka Sunrise EX 8 Family Tent
One of newest family tents for camping to hit the market is the Eureka Sunrise EX 8. As a family tent, it is a little smaller than some of the other options. It has a floor size of 12 feet by 10 feet, and a center height of 6'2″, so realistically it fits six comfortably compared to eight like the name implies.
However, it is also lightweight compared to most big family tents and if it's a couple and a few kids, this is more than enough space to stretch out without getting so into everyone's personal space as to cause conflict.
This tent weighs in at just over 20 pounds, which is much less than the 30 to 40 pounds that most similarly sized tents weigh. While this still isn't ideal for something like a PCT hike, you don't carry family tents for those types of trips. The lighter weight for a group tent means if you need to do a little bit of hiking before reaching camp, this is a very nice option for you.
The free standing fiberglass frame is durable, and the 2-pole dome design makes for a relatively quick and easy setup, which is always a huge plus when you've got to get the tent up while keeping track of all the little rug rats running out and about.
As long as you look at this as a 6 person family tent instead of the advertised 8 person model then you will be in good shape here.

Top Rated Big Agnes Premium Family Tents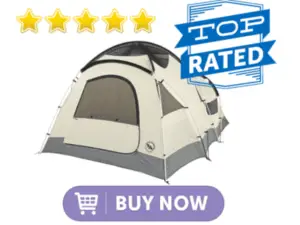 One of the least known, but highest quality, tent companies is Big Agnes. These tents can come with a hefty price tag, so I would only recommend them for serious camping families that are going to spend a lot of time outdoors.
The Big Agnes Flying Diamond 8 should be considered your best option for large – all season – tents. For families that are adventurous, spending time in adverse weather, this is your tent.
You will have no complaints about the winter insulation or waterproofing of this tent. The floor area is 112 square feet, and multiple rooms give you all the privacy you need. The downside, expect to pay at least $700, making this less than ideal for non-serious campers.
When looking for the best family tent, the best recommendations we can give you is that Coleman makes very affordable tents that are perfect for families that will enjoy a few weekend camping trips every summer.
For families that enjoy a little more outdoor time, Eureka makes high quality tents that can stand up to long summer camping trips. For the adventurous families that might be spending time in less than ideal conditions, spend the extra money on Big Agnes all weather tents.

CORE 9 & 12 Person Instant Cabin Tents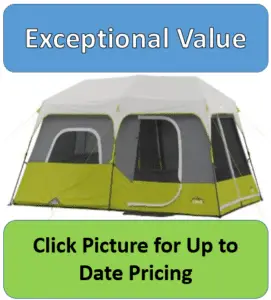 Technically two different tents, these were both high enough quality that we felt like they both needed to be mentioned. In fact, CORE has done a great job of breaking onto the scene with some seriously outstanding family designed tents. These sleeps 9 or 12 people, depending on what model you get, and are great not only for family outings but also for Scout outings or other group related campouts and/or excursions.
These tents come with plenty of interior storage pockets, a rain fly, and plenty of space. The 9 person is 14′ x 9′ while the 12 person model is 18′ x 10′. Despite these numbers, the tents are specially designed to allow for easy setup and take down. There is a room divider available to provide a little bit of privacy or allows a separation of lounging space and sleeping space.
This is a heavier tent at 36 lbs, but it is a heavy duty tent that will definitely hold up in the field and can be a great long term investment for larger families who still want their camping time.
To be clear: these are truly outstanding tents. In fact, we think of them as currently the go to choice where quality matters most and budget isn't a major issue (within reason). CORE family tents show up in many of our best tent articles for very good reason – Including our article on the best family instant tents!
Honorable Mention: The 16′ x 9′ CORE 9 Extended Dome Tent
Browning Camping Big Horn Family/Hunting Tent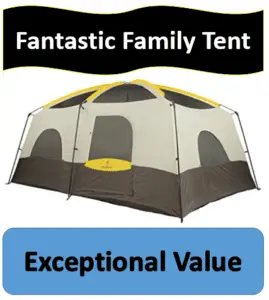 The Browning family hunting tent has a three pole system that involves fiberglass poles with steel settings to make sure the tent is fully stable when set up. There are room dividers within the tent that can split the tent up, or rolled up to make the entire tent just one big open space.
There are six mesh windows that allow for plenty of ventilation when let down, along with a rain fly to make sure your tent is fully protected if the storm clouds start rolling in.
This tent weighs 34.75 pounds and not only do the poles help contribute to the weight, but the material used is plenty sturdy and designed to hold up to the most rugged of uses. There are many campers who reported that the tent not only stood up to heavy rains and wind, but even hail.
That's some heavy duty quality.
This tent comes with steel stakes, and replacements are easy to find if needed. This is an outstanding tent design, which is what one would expect from an outdoor name like Browning. We recommend this tent as one of the 10 best options currently out there.
Ozark Trail Base Camp 14-Person Cabin Tent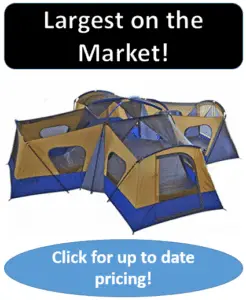 Whoa Nelly – that is a BIG tent! Why stop at six or nine people when you can have a giant 14 person family tent? This is one of the largest cabin tents on the market, and is designed so that there can be multiple room dividers for some degree of privacy, or they can all be rolled up for one large tent with a centralized area in the middle.
The unique design is part of the reasons that so many people can fit into this tent – and that setup can be good or bad depending on what exactly you need.
This is overkill for the average family, but if you find yourself with multiple couples, dealing with a base camp or exploratory situation, then this might begin to make a little bit more sense overall.
This big family tent from Ozark is definitely built to hold up to rough terrain and although the setup time is a big longer (and requires a minimum of two people), for the right situations there is going to be nothing quite like it – and you know if you're one of those people this tent will work for.
When it comes to a very large base camp tent, you have a winner right here!
In Conclusion
Don't let a lack of ideas hold you back. There are plenty of official government websites even encouraging you to camp, and to enjoy the many amazing parks and sites that are out there just waiting to be discovered.
We're always looking to give you the best possible information on the tents that are worth purchasing. When you're looking for something large enough to take care of your entire family, that can mean several hundred dollars (or even thousands, in some cases) in investment.
If you're still looking for more information, take a look at this video, which does some great comparisons between the most popular models of outdoor tents currently on the market.
Great Picking a Tent Video by REI