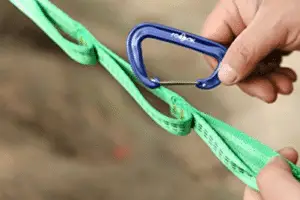 Anyone who has ever been out camping understands that all too often it's the little details that make all the difference. This makes sense to some extent, I mean you're not going to forget the tent when you go camping. Guys love fire too much to forget the firewood or not have something planned for when they get there.
By the same token you're not likely to forget about packing the hammock or the straps, but what about the carabiners? That can quickly become an issue during set up and unless you're prepared that's going to be harder to gerry-rig than a small tent. This is the type of thing you definitely notice once you need them and don't have them.
Carabiners are more often associated with rock climbing, but depending on your preferred camping set up, they become an important way to help set up your hammock strap suspension system and picking the right ones for your specific needs can make a major difference. Read on to see many of our top choices for the best hammock hanging carabiners out there!
The Best Hammock Carabiners
There are several different things to consider when choosing between carabiners and going with the one that is going to be the best fit for your specific needs. There's no question that carabiners that are designed for rock climbing are going to be strong enough to certainly get the job done, there are slight variations in design that allow hammock carabiners to function better for the needs of your average hammock campers.
Just a short list of things to look at:
Weight of the carabiners
Shape or design
Weight that can be handled
Materials used in construction
Specific usage design
These are often relatively small details, or at least seem like it, but they make an enormous difference in how they are going to function for various uses, especially when it comes to getting them for hammocks or thinking about things like weight and ultralight backpacking needs. Read on to learn more about which ones get the nod for being among the best options – specifically for camping hammocks.
Our Top 6 Choices: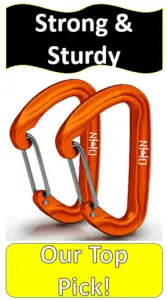 HangTight Wiregate Carabiner
These biners by HangTight come in a set of two, which makes sense since they are designed specifically for use with camping hammocks as opposed to any other function, which helps explain their simplified catch design – something you would not see when rapelling or rock climbing.
These are built for the common hammockers in mind and are made from an extremely lightweight but strong aluminum. In fact, these only weigh .75 ounces each and yet are rated to hold up to 550 lbs safely, and stand up to 3500 lbs of force. That is some heavy duty lifting for a pair of carabiners that won't even be noticed weight wise on even the pickiest of thru hikers' backpacks.
HangTight set out to make the ideal strong and lightweight carabiners specifically for hanging hammocks, and they frankly nailed it with these. They are so small and seem impossibly light, yet are more than powerful enough to hold up an especially large solo camper or in most cases two average sized adults.
These come with a 100% complete money back guarantee if you try them out and for some reason aren't satisfied, but that's hard for us to believe. With many good choices available, these bright orange camping hammock carabiners still stick out as the king of the pack.
Rallt Aluminum Wire Gate Carabiners
Rallt's Wire Gate Aluminum carabiners for hammockers were certain to make this list. These come in sets of two, as makes sense, and are a multi-use hanging carabiner that are designed for use in camping, hanging hammocks, or basic backpacking and hiking utility uses.
These popular D-shaped carabiners boast a 10 kN rating, which means they are good for up to 2,248 lbs of pressure. These are 3.15 inches long and weigh a mere 0.7 ounces, once again showing why there are special carabiners for ultralight backpackers who decide to go the hammock camping route.
Rallt is a trusted name, and these carabiners clearly are for use with a rope or hammock strap system that will provide plenty of comfort to the hammocker or thru hiker, but as clearly stated these are not for rock climbing. They are specifically designed for hammock setups much closer to the ground.
These are extremely popular non-locking carabiners and have earned rave reviews for being very easy to set up as well as take down, without any problems of these unintentionally disconnecting or coming loose.
Hunter Safety System High-Strength Locking Carabiners
These carabiners are heavy duty use, meaning they're not specifically designed for hammocks, but are put up to heavier standards such as rock climbing. This means they are stronger, more stress resistant, and in this case rated up to 5600 lbs of stress.
This pair of high quality biners is going to be heavier than your ultra light models that are designed for the long distance backpackers in mind, but they also have a much higher tolerance for weight and stress since they are designed specifically to handle much heavier weights.
These are the type of design that rock climbers are going to be more familiar with, and they have the type of firm design and material build that is good for a wide variety of uses. The lock system allows them to be extra secure, and they still work as part of a rope or strap system in order to hang up the perfect camping hammock.
Even with "heavier" carabiners, these are still very light and aren't going to add much to the pack.
Gimars Snag-Free Wire Gate Carabiners Biners
This group of four lightweight carabiners, two blue and two black, make this ideal for a couple or a pair of hammock campers who need some solid and reliable biners in order to hang up the perfect hammocks for camping or ultralight backpacking. This D shaped carabiner is outstanding for campers, hammockers, and even backpackers, giving the perfect combination of strength, lightness, and utility to get the job done right.
These biners are rated for up to 2,645 pounds of pressure, putting in an outstanding amount of strength into hammocking carabiners that only weigh 0.7 ounces each, making them extremely easy to pack up whether you're driving up to a campsite or hiking to a far away rustic site. At 3 1/8 inches long and 2 inches wide, in addition to being made from a very high quality aluminum that won't rust.
These Gimars carabiners have a money back guarantee, and they are one of the best Hammock carabiners on the market.
Favofit Aluminium Hammocking Wiregate Carabiners
The Favofit wiregate carabiners for Favofit are bright orange or black in color, extremely light weight, and come in sets of 2 or 4 depending on your specific hammock camping needs. This means your buying needs are meant whether you are going solo and need a pair of perfect D-shape carabiners or if you need two pair so you and a friend, fellow outdoor enthusiast, or significant other can both enjoy your outdoor hammock time, you are covered.
Made from rust proof aluminum, these biner clips are incredibly light weight at 0.7 ounces each, and they can withstand a stunning 2697 lbs of force. There is no sharp edge by design so there's no worry of hammock damage, and these are light enough and function with enough utility that they can easily see further use as being used with keys, attacked to backpacks during a hike, or even clipping camping gear to a pack. These are an outstanding design and still bring home that 5-star quality that is a pre-requisite for landing on this list.
Raqpak Wiregate Carabiners for Hammocks
I absolutely love the description for these carabiners of "Deceivingly strong & durable." That really hits the nail on the head when it comes to how hammock carabiners work. These biners come in at 21 grams, making them incredibly light even compared to other wire carabiners made specifically for hammock campers and ultralight hikers. Coming in multiple colors and in packs of 2, 4, or 6, they are made out of a rust proof aluminum and are rated 12 KN, which allows them to handle up to 2697 lbs of pressure.
In real weight terms there are many individuals in the 300+ lb range, or couples even approaching 400 lb who have used these with a full hammock setup in the wild and had no problem at all. The construction of these are for hammocks and lighter, definitely not for rock climbing, but they are very well made and designed and are in fact one of Raqpak's highest rated items on Amazon as of this writing.
In Conclusion
There are many reasons you might need a new replacement carabiner. Whether you're replacing a damaged or broken one, getting a replacement due to rusting, or just looking to upgrade to one that is more heavy duty for rock climbing (or going lighter for ultralight packing), there are many reasons to take a look at different biners and what each brings to the table in regards to your specific needs.
Do you need stronger and heavy duty ones? Carabiners that you find easier to use whether in setup or take down? Want something as light as possible to shed every single extra ounce off of that pack? There are options in this article to solve your issues. So don't be overwhelmed or flustered when getting equipped for your next hammock camping excursion. Do just a little bit of research and pick out the ones that are right for you with the help of a quality hammock carabiner guide like this one!
Good How to Pick a Carabiner Video