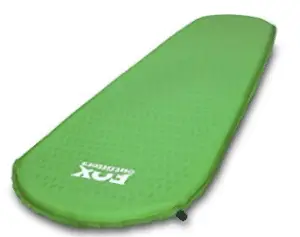 Hammock camping has been growing in popularity for quite some time now, and it's definitely an exciting take on more conventional tent camping. While in extremely warm climates the idea of extra insulation might seem ridiculous as a necessary part of your camping gear, in many areas that extra bit of padding is critical for a good night's sleep when the temperatures start dropping.
A good sleeping pad for camping not only works to add an extra layer of cushion for comfort's sake, but that also helps you stay warm. If you've been a big camper like me and my brother, I'm sure you've had those fall camping trips and you always put extra blankets underneath you before getting into your sleeping bag.
You need layers between you and the cold ground, or it seeps the heat out of you, and the nights get much colder once that happens.
A good pad does the same thing for a hammock, putting a layer between your sleeping bag and the cold air hitting the outside of the hammock material. This pad might not seem like much but it is an absolutely necessary piece of equipment for fall or winter hammock camping.
What To Look For In A Hammock Pad
One thing that's important to understand is that there are specifically built hammock pads, but many times a pad for insulating the bottom of a hammock is going to be the same as a plain camping pad that is used to give a level of cushioning for tent campers who want that little bit of padding between them and the cold hard ground.
The key is to find what works. For some people, the specially designed hammock pads are going to feel right and be easiest to set up, while other campers are very used to one particular type of sleeping pad. Generally speaking these all work relatively the same (although the Hennessy Hammock example we review further down this article throws an interesting potential curve into a relatively new design), and the key is to find one that you are interested in and comfortable with.

Fox Outfitters Ultralight Self Inflating Foam Camp Pad
There's something to be said about a long proven track record, and that's one thing that Fox Outfitters definitely has going for them. It should come as no surprise that two different hammock pads from Fox Outfitters end up on the list. The ultralight version of their pad, which will be a favorite among ultralight backpackers who are often hammock campers and need to save on every ounce, so it's a great fit for their specific needs.
The ultralight foam camp pad is self inflating, which definitely cuts way down on the work. The Ripstock fabric used in construction makes this more resistant to ripping, tearing, or even general abrasions.
These pads are extremely light, developed to be used outdoors while holding up to the heavy use that can damage it, and they are designed to be comfortable, as well. This isn't as important with a sleeping bag between you and the pad, but it is still a nice little bonus and absolutely critical to help insulate you in your hammock during the autumn and winter months – or even the extreme early spring if you like to get that early start. Built as ultralight camping materials, these pads are still also designed to last for years with conventional use.
All the sleeping pads on this list are worthy of being part of your hammocking gear pack, but this hammock pad stands near the top.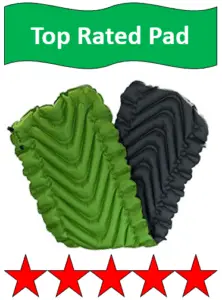 Klymit Static V2 Sleeping Pad
The Klymit sleeping pads are really interesting as they come from a company that also puts a heavy focus on hammocking, making these some pretty top notch designs when it comes to producing sleeping pads for campers. The V2 is a green and charcoal black color pad that looks good, feels plenty comfortable, and still weighs only a touch over 16 ounces, meaning it is just over one point.
This is a three foot by eight foot pad that is designed to be multi-use friendly. This is a fantastic liner for a nylon parachute hammock and has received especially high marks from many backpackers, campers, and hunters for the comfort level that it brings to the table.
On a related note, there is another sleeping pad by Klymit that gets even more positive attention (which is really saying something), and that is the Klymit Static V Lightweight Sleeping Pad. This comes in 5 different color patterns on Amazon.com and while a little bit heavier than the V2 at 18 ounces instead of 16, that little amount is not going to be a back breaker. These are both excellent designs with a strong reputation for delivering on their promises for quality.
Add in the lifetime warranty and it's hard not to like what they bring to the table. Either one of these hammock pads for fall camping will do wonders for keeping you warm and comfortable even when it gets chilly.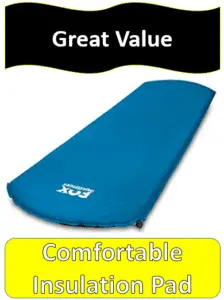 Fox Outfitters Comfort Series Self Inflating Camp Pad
Fox Outfitters provides an array of options when it comes to their hammock sleeping pads, and this flexibility is part of the reason that they are so popular with many hammockers. These pads are available in short, regular, or long sizes allowing campers to customize their overall experience in getting the right pad for their particular parachute hammock.
Whenever you can customize or personalize an experience like that, you are more likely to be happy with the final setup.
These self inflating cam pads are premium quality and designed to prevent slipping and abrasion without giving an inch when it comes to comfort – otherwise what's the point?
The design is set to give additional comfort and support. Add in the fact that the attached valves are made from non-corrosive materials while allowing both rapid inflation of the mat or deflation of it.
One important detail to note: this is not a hammock pad for the ultralight backpackers as the rolled up bag weighs between 3lbs 10 oz and 3lbs 12 oz.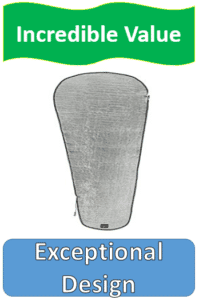 Hennessy Hammock Radiant Double Bubble Pad
Coming in regular or extra large sizes, the radiant double bubble pad by Hennessy Hammock is an intriguing new design and unlike most others on this list are not meant to be ultra adaptable. This design is made specifically as an insulating hammock pad to help maximize the positive warming benefit of your own body heat.
The design here reflects up to a full 97% of a person's own body heat back to them, keeping a well set up hammock extremely cozy. These aren't just claims that haven't been backed up in the field. There have been an enormous number of positive reviews from actual hammock campers who have tried this pad out in the field and they have been extremely popular with hikers and campers who have enjoyed the benefits of these incredible hammock pads. They are quickly gaining a reputation as one of the best options out there – especially for autumn hammock camping enthusiasts.
Individuals still need a good 4-season sleeping bag to make sure they stay warm in fall and mild winter weather, but the combination works great. The extra large size is a mere 13.9 ounces while the regular size is 10 oz, making these extremely popular with the ultralight crowd. They can be rolled up or folded, also making packing much easier and more flexible. This is one we could see definitely moving up this top rated list.
Eagles Nest Outfitters AirLoft Hammock Mattress
Eagles Nest Outfitters have come out with a good mattress pad that can be used for tent camping but was actually designed specifically with hammocks in mind first. This is shown in the design, which you can tell takes into consideration the need for the right type of fit with side flaps in the middle that help to stabilize the mattress pad in addition to offering that little bit extra area that protects the sides from your sleeping bag from the cold air that comes right up to the hammock's edges.
The Airloft mattress pad is made from a special foam that is coated with TPU coated nylon. This offers plenty of comfort, helps prevent warmth from escaping, and the 6'8″ by 3 ft pad can be set up very quickly, making it easy to set up with your particular parachute camping hammock.
This pad does weigh 2.8 lbs which makes it a better fit for site campers or hikers and backpackers who are just going for a couple days or a week of hiking from site to site as opposed to the ultralight backpacking group or thru hikers tackling massive trails like the AT, PCT, or CDT.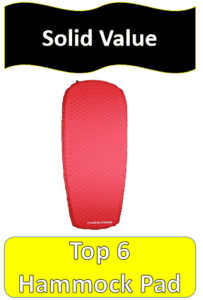 Hiker Hunger Ultra Lightweight Self Inflating Pad
Boasting of being both lightweight and thick, Hiker Hunger makes their mark in the comfort/insulation part of the camping market with their self-inflating ultra lightweight pad. While this can serve dual uses, such as a comfort pad on the tent floor or insulating the interior of a hammock to help insulate autumn hammockers from the cold.
There's a lot to like about this pad. One of the first things to notice is that the popular no slip fabric is used on both sides of the pad, and it is built to resist abrasion and damage from regular use.
These are 1.5 inches thick and offer a solid layer between you and the outside of the hammock that is directly connected to the cold and its energy sapping properties.
This Hiker Hunger pad also comes with a carry bag as well as a patch kit, to make sure you are fully prepared when you are out there in the wild. Most of these pads, when bought new at least, also offer a 3 year warranty. That gives some strong reassurance they believe in the craftsmanship of their inflatable pads for hammock insulation.
Replacement Hammock Pads
Replacement hammock pads are sometimes a necessity, but in this case it isn't like finding replacement tent stakes or spare replacement fiberglass tent poles where they are manufactured on the side. If you need a new pad to line your hammock with to stay insulated and comfortable, then you need to look at a brand new camping pad.
While this can be frustrating at first, if you're someone who switches between hammock and tent camping might be able to find a pad that can work in both situations, that's just bonus. Don't take chances with a badly worn camping pad. Find a high quality replacement should be on top of the list when the seasons hit that special time where the temperatures are a bit lower and the days a bit shorter.
The right combination of camping hammock, hammock sleeping pad, and cold weather sleeping bag will have you comfortable throughout your outdoor autumn adventures.
In Conclusion
There are plenty of devoted hammockers who don't use a pad, especially when they're in areas that tend to stay pretty warm, even at night. There's nothing wrong with that – whatever works best! However, if you want to keep the comfort and unique benefits of hammocking even when the temperatures start on a strong downturn, then you definitely need to get yourself an excellent (and comfortable) hammock pad to help with insulation and to keep you comfortable and sleeping through even those really chilly nights!
Great Hammock Pad YouTube Video

You May Also Enjoy