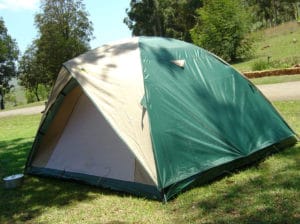 While big family and cabin tents definitely have their place, sometimes all you want is a pretty simple or pretty basic tent that gives plenty of shelter, plenty of room for sleeping, and don't add too much weight to your backpack. This is where a good 3 man tent can be a very versatile answer to all your needs.
There are many great options when it comes to smaller tents, and while the solo camper can do just fine with one and two man tents, if you're looking for a good couple's tent you need to start looking at the 3 person models and go up from there. (This post has been updated ((again)) based on major changes in early 2017 2018 – including 3 new tents on the best rated list and one hard drop – so read on and enjoy up to date information on the best three person tents out there!)
What Should You Look For In A 3-Man Tent?
The old saying might go "Two's company, three's a crowd," but when it comes to tents, going one person more (when it comes to tent size) is a good idea. This leaves room for packs, for stretching out, and helps take into account larger individuals who don't fit the "average" size that many tents use as a measuring factor for how to market.
If you want to camp for two, a three person tent is absolutely the way to go, but if you're looking for a genuine 3 man tent then you should also look at some potential 4 people options in many cases, as well.
There's more on this further down, but let's get to the top 3 person tents reviewed!
Our top 3-person camping tent reviews include: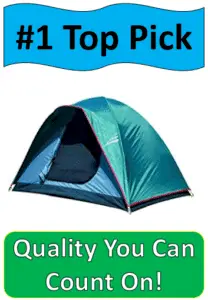 NTK OREGON GT Dome Tents
NTK is a very new name on the scene when it comes to 3-person small tents, but the feedback so far from outdoor enthusiasts who were willing to take a chance has been nothing short of outstanding. In fact, with the first update to this post these tents are among the highest rated of the tents that are specifically built for a small group of people.
Measuring at 7 feet by 5 feet, this is often best for two adults and a child but can also fit three average sized adults in the right situation and when sleeping spaces are set up efficiently.
This tent is designed to be easy to setup and take down, taking out the complication of things. Weighing a mere 5.7 lbs, this is a sturdy and well built tent that might not be perfect for ultralight backpacking but it is outstanding as a tent for a small family, a 3-person tent offering extra room for two people, or two parents and a young child.
An ultra thin mosquito mesh keeps the insects at bay, while a solid frame means this is a tent you can rely on year after year. Officially rated as a three season tent, it can be set up effectively in most ground and common camping areas in most seasons.
Constructed with seamless polyethylene in multiple layers, this is a tent that is built to last and it's easy to see why it is popular choice among outdoor enthusiasts.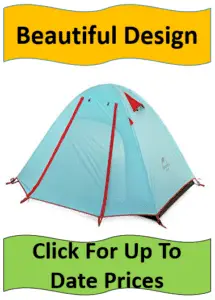 Topnaca 3-Season 3 Person Backpacking Tent
Coming in 2, 3, and 4 person sizes, Topnaca backpacking tents come in a variety of sizes and colors and have earned their spot on this list of top 3 person tents that are currently on the market. Made from a combination of both 210T polyester cloth as well as B3 nylon mesh, Topnaca tents boast a classic design that everyone who has spent time tent camping will be familiar and comfortable with. These are well made and well put together tents that are perfect for three people.
Tested heavily against both wind and for waterproofing, these are tents that are designed and built to hold up against less than ideal weather. On the other side, shade from UV rays and work towards a degree of SPF proofing shows a distinct and clear amount of work going towards protecting from the dangers that too much sun brings with it, as well.
Lightweight but strong, poles made from quality aluminum, this tent also comes with a high quality fly sheet, tent stakes, and the other basic setup supplies you need to set up and get straight to camping.
There's a reason this tent is so popular among campers – and why buyers almost never return this model.

Coleman Sundome 3 Person Tent
Coleman is a well recognized name among outdoor enthusiasts, and it's not hard to see why. They are known for being all about the Great Outdoors and whatever product being produced is done with quality – so it should be no surprise the Coleman 3 man sundome tent makes this list of top choices.
Available from Amazon.com in either green or navy blue, this polyester tent is designed to sleep three comfortably and uses fiberglass poles in order to keep the weight down without sacrificing strength and quality.
An electric accessibility port allows for the charging of smartphones or other gear when electricity is available, but what sticks out even more is the fact that this tent really is designed with space in mind. They are a 3-man tent that don't just look at square feet, but how those square feet are designed to allow room for three grown campers or hunters.
There is some ability to customize the exact shape or setup depending on need, and the hunting version of this tent does offer enough space for a couple of air mattresses which is an added degree of comfort that many campers will find attractive. There's a reason this is one of the most popular 3-person tents out there, and for good reason.
Coleman is a very reliable name in the outdoor field and their small tent design here does not disappoint!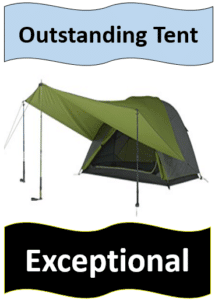 Kelty TN 3-Person Tent
The extremely well thought of Kelty 3-man camping tents are made from a combination of nylon and fabric, and even include 40D Sil Nylon & 70D Nylon, which definitely shows the strong dedication that this company has to creating the absolute best tents in the business, and the Kelty TN3 absolutely stands out as one of the best options when it comes to camping with a tent designed for use by three campers.
This tent offers just under 40 square feet of sleep area, and there is absolutely no denying that this tent packs a lot of quality into a mere 5 lb 4 oz of weight.
The removable rain fly allows for full protection from the rain or can be detached to create additional stage while keeping the top mesh uncovered to see the stars and enjoy the night sky while out in the wilderness. This is a very nice functional piece of versatility that many small tents don't offer campers and trekkers.
Sometimes a moment of peace is what you need to live for, and this tent offers a high level of quality while also delivering that peaceful time out in nature that all too many of us crave.
An outstanding tent design, and this makes it easy to see why Kelty 3 man tents are among the most popular that are currently available out on the market.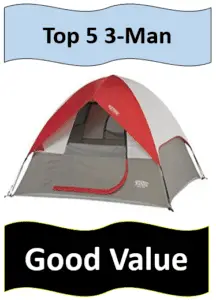 Wenzel Ridgeline 3 Person Tent
The Wenzel Ridgeline is a finely designed tent that has earned its way into this top list of best 3 man tents, and if this is the one you go with you won't be disappointed by the results. Made from polyester, the Ridgeline tent for three people offers plenty of space to stretch out a sleeping bag and get rest, and the design makes it easy to put up as well as to take down.
Light grey with a red trim, this 7 x 7 dome tent can be zipped up to be fully waterproof or the flaps can be open to allow in the breeze and clear views of the campsite and lovely nature surrounding them.
This tent weights 6.25 lbs which makes it heavy for an ultralight backpacker but very light and easy to setup for everyone else looking at more of a traditional outdoor campsite setup. When it comes to a weekend campout, this is an outstanding small tent that is likely to hold up even to the rambunctious nature of kids, which is no small consideration when you are looking for the right tent to help introduce the kid(s) to the beauty and awesomeness of the great outdoors.
Wenzel has a reputation for creating quality small tents and if you're looking for a 3-person option that won't let you down, the Ridgeline is definitely one you'll want to give a serious look before the next camping season kicks off. The Wenzel 3 man tent is one that gets the job done and deserves its spot on this list.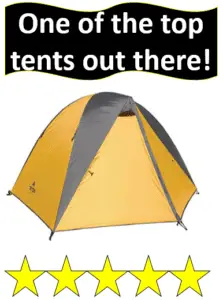 TETON Sports Mountain Ultra Tent
Designed with an "Oxford bathtub" floor design, this high quality micro mesh tent with built in ventilation to offer the full array of comfortable options when out and about – whether camping at traditional sites or taking the 3 person ultra tent as part of a backpacking excursion, this durable tent offers plenty for campers and backpackers to enjoy without having to bust their budget in order to get the quality they deserve.
This 3 person TETON mountain tent is designed with reinforced seams and well supported anchor points to make sure that this tent is setup to last even after years of use and the wear and tear that comes naturally with so many camping adventures!
Sometimes it's better to pay a little bit more up front rather than have to replace your tent every couple of years, and if you pay for quality from a TETON tent you can rest easy knowing durability is a major trait that you will be able to count on.
This 3 person tent by TETON Sports includes a rain fly, free storage bags, and a limited lifetime warranty, as well, making it a full package that really provides some truly outstanding value to the buyer.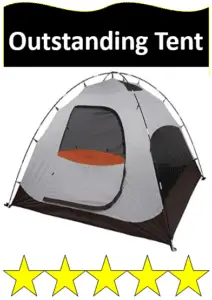 ALPS Mountaineering Meramac 3-Person Tent
ALPS Mountaineering is a brand that comes up a lot when talking about our top list of tent brands, and with good reason. Based out of Missouri, this company combines strong American manufacturing and first hand outdoor knowledge to create incredibly high quality tents and the Meramac 3-man is especially notable from this family of tents.
This tent is very easy to assemble using the classic free standing 2-pole design, and these lightweight poles are made from flexible and durable fiberglass featuring connective shock cord on the inside. The poles are connected with ferrules that are made of a very solid aluminum that holds up to wear and tear and unlike steel will not rust. Add in the polyester fly that is not only great for keeping rain out but also for minimizing UV damage and there's a lot to like about the Meramac tent right off of the bat.
Measuring 6'6″ by 7'6″ this is a solid sized three person tent with a center height of 52 inches, which is pretty solid for a three person tent. This is built to hold up to heavy duty use, and weighs 9 lbs, 5 oz which disqualifies it from most backpackers and all ultralight trekkers, but makes it rock solid for camping or for weekend hikers who don't mind hoisting a little extra pack weight for a couple days in exchange for heavy duty quality then this is a great option.
The interior is fully designed with multiple storage pockets, a gear loft, two zippered doorways, as well as guide ropes. The tent itself is strong polyester and the full length rain fly is full length (not a three quarter length cop out) and can be arranged to create an awning over each door.
The seams are factory sealed on the floor and the sides, meaning you are very safe from rain, dew, and water seepage. This is a high quality design made from outstanding materials, and there's a reason that this 3 person tent from ALPS Mountaineering has found such a large group of fervent supporters. This is truly a high quality tent, and is an excellent value for the money!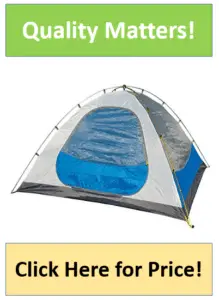 Mountainsmith Morrison 3 Man Tent
Another new arrival on this list, I had heard a few things about the Mountainsmith brand but after sitting back and hearing from some of my friends and watching attention explode online, it became obvious that the Morrison 3-man tent from Mountainsmith belonged on our top rated tent list.
The bathtub style of floor wraps up on the sides to help add an extra layer of reinforcement against water and keeps campers dry. The main fly and floor seams are factory sealed, and a full coverage rain fly comes with the tent to keep even the heaviest of rains out while vents on the tent itself can be unzipped during sunny weather for warmth and sweet breezy ventilation.
Made from a high quality polyester, this tent has two doors, one on each side for convenience, and the tent can be set up to create two vestibules where you can store wet gear or excess gear while setting up camp. This is a free-standing design with flexible aluminum frame poles (shock corded together) that the tent attaches to via plastic clips. Set up is easy thanks to color coding, while you can adjust setup for higher or lower ventilation depending on what the situation calls for.
The design of this tent features mesh gear pockets in the corner, guy lines that are actually reflective in nature, and the tent itself is fire retardant in nature. A gear loft and open slot for a headlight to create interior lighting creates an ideal setup if you want to create more light and visibility at night.
As a final added bonus, the instruction sheet for various setups is sewn to the carrying bag, so it's always right there when you need it for guidance.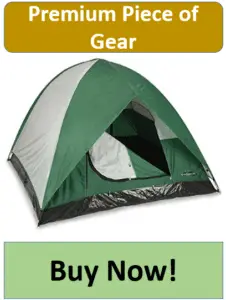 Stansport McKinley 3 Person Dome Tent
Finally, no list of top rated 3 person tents reviewed would be list without the popular Stansport McKinley Dome Tent, which has gained serious popularity over the past two years, and for good reason. Built from a solid polyethylene material, this 7 ft X 7 ft X 54 inch height tent is rated as a three person tent, although it is a bit on the small side for three, in our opinion. Weighing 8 lbs 7 oz, there are two large doors that give easy access to the tent from two sides, which is ideal when you are cramming people together.
Large mesh panels allow for a large amount of ventilation, which is a life saver on a hot but breezy day, and can help create a much more comfortable sleeping situation. The floor comes from a bath tub floor design that is used to keep moisture out. Shock corded poles mean easy setup, and this tent comes with stakes and a rain fly although we aren't particularly big fans of the tent stakes here, especially if you're going to be camping in a lot of hard ground. You'll want to pick up a more heavy duty replacement option.
This is a smaller 3 man tent that isn't designed for air mattresses, so bring in the sleeping pads and sleeping bags and think of this as a good one or two person tent with a little extra space of as a good 3 man music festival tent where you don't mind getting a little bit closer to everyone you're going with.
A good addition to this list, and it's a great tent as long as you understand what exactly it is you are getting.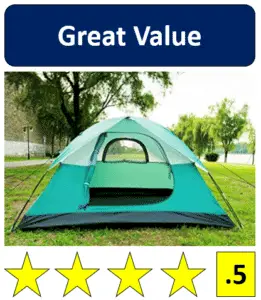 SEMOO Large Door 3-Person 3-Season Lightweight Family Tent
The SEMOO 3 person tent has a large group of devoted followers, and it isn't hard to see why once you take a look at this 3 season lightweight tent. Not only is is water resistant and family friendly, but this 82.7″ x 82.7″ x 51.2″ tent uses solid fiberglass poles to provide a strong structure for the fabric, which is a variety of polyesters used to provide the best overall camping and outdoor sleeping experience.
This tent only weighs 5.6 pounds and comes with an additional pole that can be attached to help secure a rain fly for inclement weather, and the set up also comes with 10 steel stakes and line to allow a fully secure experience even when wind and rain both hit hard. Those extras aren't standard with every tent, making this an even better deal for the budget conscious who don't want to go looking for more equipment after dropping their summer camping budget on a new tent.
When a rain storm moves through, you'll be glad to have this level of quality construction and design surrounding you to keep you high and dry during your camping adventure!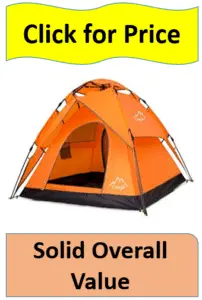 Toogh Waterproof 3 Season 2-3 Person Camping Tent
Toogh tents have a reputation for being the absolute top of the line in many fields, and when it comes to looking at the 3 person tent options, they certainly do not disappoint! These tents are popular with backpackers, families who like to hike out to their favorite campsite, or for couples who just want a solid and easy to set up tent for a nearby campsite.
The Toogh tents are offered in half a dozen different colors (including sky blue, orange red, and army green) and are designed with double layers over the roof to be thoroughly waterproof even in the heaviest of rains.
The tent, poles, and other pieces that come with this overall package weigh 7.72 lbs in total and the tent is very adaptable, allowing it to be perfect in the rain, on sunny days, or the overhead tarp can become an awning for extra shade on the beach. This versatility is one of the major selling points of this Toogh tent, and helps explain their popularity.
This is an extremely flexible tent that is also durable and well made, and at one time was our top choice, though some inconsistent manufacturing recently has knocked it down the list a bit for now, but still an outstanding choice and one of the best that Toogh has to offer.
2018 Tent Update: We're a bit torn on Toogh tents now as there have been several reports over the past year and a half of a drop in quality due to cheaper manufacturing out of China. While we haven't seen this in person, it seems some of their designs have suffered a massive drop in positive rankings, others have held steady, and in some cases they would have a huge drop and then a suspicious bounceback of dozens of 5-star ratings in a day or two from people who never made another rating.
At this point because the demand is still there, there are some good models being reported, we still have Toogh designs on our top of list, but we've definitely gone colder on them and have moved them towards the bottom of what we recommend – as of this update we suggest other tents on this list first.

3 Man Tent FAQ
Q: What is the most durable three man tent?
A: This is going to vary between tent manufacturers and from one year to the next as new models come out or manufacturing practices change. In general non-ultralight 3 man tents are going to be a bit more thicker or durable than those that are, and while this answer can change three brands that earn especially high marks for durability from us are: NTK Oregon, Topnaca, & ALPS Mountaineering.
Q: What is the best three man tent?
A: Obviously this depends on what you specifically need and what factors are most important, but this article is more or less listed in order so the models you find at the top of this article are going to be our choices for the best options and the sheer lack of returns on the dozens upon dozens of these tents we sell tells us we've made the right choice.
Q: Are there 3-man tents you can stand in?
A: No. Not unless you're really short. From a purely practical standpoint, the smaller size of three person tents means it doesn't make sense to create a tent that lets you stand, which would then sharply cut off design and usable space. If it's that important to you, you need to start looking at 4 person tents as the smallest level where you can start getting that level of size.
Q: How do I find a cheap three man tent for sale?
A: There are plenty of options. If quality is still a consideration we suggest shopping online and at Amazon however if you are loading up on really cheap tents from Wal-Mart or K-Mart just remember a $20 tent is a $20 tent. You're better off getting one on this list that will actually last over the long term.
Q: What should I look for in a 3 man backpacking tent?
A: You want one that is still strong but also lightweight since every ounce counts. Look for one with a strong emphasis on on being waterproof because there's nothing worse than 20 miles hiking while soaked to the bone in cold weather (been there – and it's not only miserable beyond description but outright dangerous).
Don't underestimate the recommendations of those backpackers who hike the same way you do. There's a big difference between ultralight thru hiking versus a week versus a weekend hike.
Q: What should I look for in a 3 man tent for music festivals?
A: Durable and waterproof. Also glow in the dark setup lines are a great especially if you are trying to find your way back at night a little (or a lot) inebriated.
Q: What are the most important traits of a high quality 3 person tent?
A: For us it is quality of construction, space available, smart design, and the ability to expand vestibule or a rain fly for more space. I also want to hear recommendations not just from one or two people but from a large number of outdoor enthusiasts who have tested the tent in multiple conditions. Keeping an eye on the large picture with a variety of traits each tent shares is a great way to make sure you're keeping the big picture in mind and not settling for inferior quality.
Q: What materials are superior to make the best tents?
A: This can vary as not all nylons or polyesters are equal, but we like seeing fiberglass and aluminum when it comes to tent poles, truly exceptional nylon or polyester when the tent is constructed (if it doesn't have a specific designation type we're worried), and heavy duty stakes that won't bend or twist while taking a pounding.
A Few Final Tent Thoughts, for Now
There's no reason to get caught up on too many details. The truth is any of the 3 man tents we review on this post will provide you the outstanding shelter you want and need for any camping excursion. These are all great choices so if you're just looking for something to get going into the wild, then choose one and run with it. These are really good tents, and getting out in the wild will help you figure out what you really are looking for in a tent and narrow down the choices of which are best even more. If you tend to over pack, you may want to take a look at our post about the best 4 person tents.
So get out there and enjoy all the amazing natural scenery that this world has to offer!
Tent camping out of a backpack video