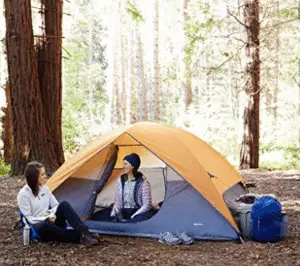 Family camping can be a tricky thing sometimes. While it can seem nice to have an 8 or 10 person cabin tent, that can be a long and frustrating set up – especially when the poles are made of metal and the ground is really hard as you're trying to pound those stakes in (thin metal ones loved to bend and twist).
As my brother and I can attest from countless weekends camping in our youth – the room is nice but man, some of those setup sessions could get pretty rough (and tiring). We guarantee those tents are not one man setup jobs, either. They are a hassle, and if you're even a little bit off your game or it's really windy you can also count on some frustration, too. Jon and I do not miss those days – no, sir!
But unless you're going solo or with a young love planning to really cuddle up close, the one and even two person tents just aren't going to do it. A 4 person tent is that great size where it's still easy to set up, offers plenty of space for backpacks, and still is small enough to be easy to pack and easy to set up. In other words in many situations, it's the perfect setup.
Some Of Our Favorite 4 Person Tents
Coleman 4-Person Instant Cabin Tent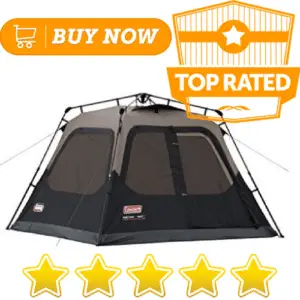 Coleman is a major name in outdoor camping and recreation gear for a reason, and it should come as no surprise that they are on our list as having one of the best 4-person tents out there. And while there is honestly very little difference between spots 1-3 on this list (and all these tents are top notch as of this writing – or we wouldn't even mention them), this instant cabin pop up tent by Coleman gets the nod for number one.
The first things that sticks out is the innovative design. Generally "cabin tent" and "pop up tent" are two terms that do not go hand in hand, yet Coleman manages to pull this off by pre-attaching the poles. This means you find your spot, secure the center, and then lift up. Two people can set this tent up in about a minute's time, making it one of the easiest to get up and moving.
There are a lot of features to like here, as well. The construction is made from 150D polyester taffeta, which is a heavy duty material and confirms that they didn't skimp on quality. Special attention was given to make the tent waterpoof, they even boast of a WeatherTec system to really keep additional water out, and the design makes it easy to open up the screens for air flow without letting all the bugs in.
Coleman Sundome 4 Person Camping Tent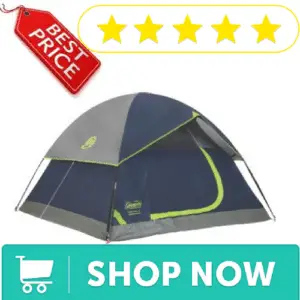 Look it here – there's another familiar name! Coleman makes a wide variety of fantastic outdoor items and their tents might be the best of them all. This popular Sundome 4 person tent comes in either green or navy as far as color options, and is one of the highest rated tents on all of Amazon for this particular style/size.
Weighing in at 10.2 lbs, this tent is much lighter than the first one on the list. Now it's large enough for four average sized people though it's a bit of a cozy fit, and it works well with kids being among those 4 people, but if you have one particularly large person, it is going to be much harder to fit four full sized adults inside that tent.
There are two windows for ventilation during nice weather, and an included rain fly offers additional protection from the rain when needed. The design includes a strong and extra durable floor that is built to last the test of time, and this tent even comes with a one year limited warranty.
This is an outstanding choice when looking for these types of family tents.

Snugpak The Cave Tent for 4 People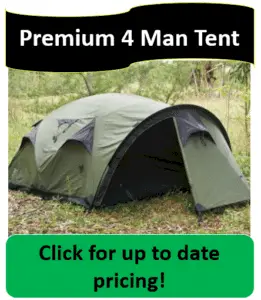 The Cave is an outstanding 4 person tent design from Snugpak that is definitely on the premium side of construction. Weighing in at 11.5 lbs, the Snugpak is a spacious four man tent that is created out of extremely high end materials such as 50D Polyester.
Add in the special anodized poles made from DAC Featherlite NSL and it quickly becomes easy to see that these are very high end materials that strongly sets The Cave apart from other competition.
This tent comes with a rain fly to offer additional coverage from the rain. This is a two door tent and each door has its own vestibule. Even the tent stakes are made from a high end material and these 25 alloy stakes are extremely impressive – with 23 used in a full set up and 2 extras to spare. In addition to this, the tent also comes with a free basic repair kit so you're prepared the first time you might need a little patch after years of work.
The biggest knock on this tent model is its expense. While premium materials and design often means premium pricing, this tent is definitely on the upper high side with 4 person tents and can really cut into a budget for family camping.

Eureka Copper Canyon 4 Person Tent
This style is generally available in 4 person and 6 person sizes, and one of the most refreshing parts is that although it's still a snug fit – this is a 4 man tent that can actually fit four average sized adults, if need be. This is one of the more sizable four man options and going with a cabin style makes it feel like there is even more room to boot, which for those of us who like space will appreciate.
This is a cabin style tent using 6 poles for set up and features an 8 foot by 8 foot floor space with a full 7 feet in height so there's plenty of head space for all but the tallest NBA star. The roof is full mesh which is great for beautiful starry nights or a quality rain fly can be tossed over the top for full waterproofing if you're expecting storm clouds later in the evening or early in the morning.
The door is a large D-style (this brings back memories of camping with Scouts) that is easy to open or close, while mesh windows on each side can offer great ventilation on nice breezy days while they are also very easy to zip up in case inclement weather might be on the way.
The frame is a hybrid of steel and fiberglass creating a very sturdy and reliable camping structure. Solid double sealing means reliable waterproofing that holds up when camping even during heavy rains, and the polyester fabric used to construct the tend its coated helping to add in to its durability.
There's a lot to love about this tent and it's a great addition in 2018 to our list of top rated four person tents for family camping.


TETON Sports Mountain Ultra Tent
TETON is a fantastic brand, and one that we've been very bullish on (especially their outstanding sleeping bags for big guys) and we're glad to see that their reputation for making some of the best camping sleeping bags around also carries over to other outdoor products they make like the TETON Sports Mountain Ultra tent.
Good for a small family, or exceptional for two adults (maybe three) with gear, this is a more conventionally sized 4 person tent so fitting four adults is going to be a tough go of it, but this is a solid option for a variety of other endeavors and if you don't mind sleeping close, it is doable.
Above all this is a truly exceptional tent that is built to last, well designed, and includes a rain fly to get through rough weather while the mesh gives a great view of the outdoor world when the skies are cloudless. The design only takes three poles to set up yet remains solid and firmly staked when moderate and even high winds hit. This is relatively lightweight at 7.8 lbs though maybe a touch heavy for long distance ultralight trekkers on an established trail.
We love to see the Oxford footprint to protect your tent floor as well as the reinforced seams and anchor points. It is obvious that a lot of effort went into making sure this was as high quality a tent as possible. Add in solid lightweight aluminum poles that have been tested against (and beat in testing) carbon-fiber options and it's easy to see why so many campers love this tent.
Finally, these tents have TETON Sports' famous limited lifetime warranty and it is easy to declare this one of the better options currently available.


FiveJoy Instant 4-Person Pop Up Dome Tent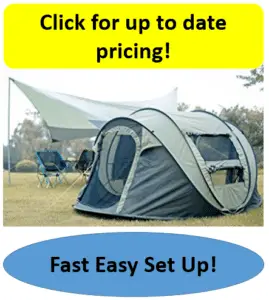 You don't see many instant pop up tents once you get up to tents for 4+ people, or at least not ones worth talking about, but FiveJoy pop up dome tents for four people actually pulls off a fairly impressive model that is definitely worth mentioning, and one of our favorites among these tents.
The quality of construction jumps out immediately. Many pop up tents are created with minimal stitching, but the instant pop up tent by FiveJoy has double stitching, high quality zippers, and finely attached mesh windows that show a care of construction that campers and outdoor enthusiasts will greatly appreciate, especially if they have ever been in a tent that failed to hold up mid-way through the rain!
This tent is a mere 8 lbs and includes a circular carrying case for when you need to break down the tent to leave or transport it from one site to another. Fiberglass poles and galvanized iron tent pegs insure that your tent stays up and secure until you are ready to break camp once again.

Mountain Trails South Bend 4 Person Tent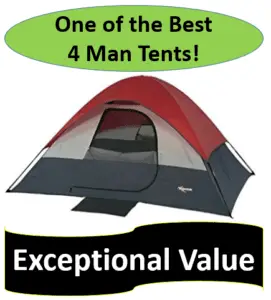 This is a bit of a tight fit for four average sized adults, and is more like a 3 person tent unless there are some kiddos involved, but that doesn't take away from the fact that this Mountain Trails sport dome tent is an excellent build, and for the right couples or families is going to be an excellent choice for getting the kids to learn to enjoy the wild as you get your nature time.
These polyester tents have a shock-corded fiberglass pole setup to create a stable frame, welded polyethylene floor for extra durability and waterproof support, with an excellent ventilation setup through smart use for mesh windows to allow full air flow, but which is easily zipped up to keep out the rain when the weather turns.
Weighing a mere 7 pounds, this tent is light enough to pack for some mild hiking to a better spot, and the construction is surprisingly strong for a budget friendly model of tent. You're not going to be hurting at all if you decide to give this Mountain Trails tent for four campers a try. It's worthy of its place on this best of small camping tent list!

Coleman Carlsbad 4-Person Dome Dark Room Tent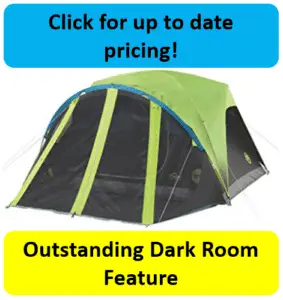 This is a tent that's built for napping – and for killing those annoying random lights that seem to cut through the darkness and leave a bright swath of light across your face when it's time to sleep. Coleman (here they are again!) has designed their dark room dome tent, which is designed specifically to cut out 97.5% of sunlight, moonlight, and other types of light that would otherwise cut through the tent.
As a nice side effect, this also reduces the heat that comes into the tent during the day.
The tent comes with a built in foot print for extra warmth and comfort while sleeping, and the tent itself is well constructed with special attention given to every detail. The tent is easily opened up to allow a breeze through, you can sit behind a screen to enjoy the day (without the bugs) or you can batten down the hatches if the rain comes in.
There is a lot to like about the way Coleman put this excellent 4-person tent together, and there's no denying that for those of us who love camping but like to sleep a little bit past dawn – this is a fantastic solution to those oh so early light issues.

Weanas Pro Backpacking Tent Reviewed
This excellent tent comes in several sizes with the largest style being modeled for up to 4 people. Made from a heavy duty polyester and yet weighing a mere 6.5 lbs to the relief of true ultralight hikers and backpackers, this is an excellent hiking backpack that holds up to the wear and tear that comes with some serious outdoor adventuring.
The floor dimensions are 88 inches by 80 inches to give plenty of ground space and although this puts it as a solid sized 4 man tent we would say it's more 4 slim adults or three normal ones comfortably. If you're backpacking chances are you're using this for two plus gear and it is an outstanding option for that use. This is a bit taller than most 4 man tents which makes changing a bit easier.
This is an open mesh design with a rock solid rain fly over the top that creates an outstanding tent design whether sunny or raining. This is a compact and light tent that has been tried and tested and it has held up in a great way. A favorite of not only backpackers but also many motorcycle campers, there's a lot to love about this durable tent.
Taking advantage of the 2 door and 2 vestibule set up, it's hard to find much you don't like about this tent. The reinforced aluminum poles are great, although sometimes the aluminum pegs don't hold up quite as well after several years – but if that's your biggest complaint after multiple years of use then you're in good shape.


ALPS Mountaineering Camp Creek 4 Man Tents
Most of us are more familiar with the smaller ALPS Mountaineering tents as opposed to larger styles of tents, but these four person cabin style tents are available from the trusted ALPS brand and display the same level of quality and outstanding design & construction you would expect from this brand.
A unique hub design and strategically setup pole clips interact with the strong yet lightweight fiberglass tent poles means the setup is actually surprisingly easy and the extra height space is very nice for a variety of reasons from ease of changing to setting up a cot, portable bunk beds for the kids, or even an air mattress.
This tent isn't lightweight: it does weigh 20 lbs and the focus is obviously on creating a solid tent for multiple people or a small family and this design knocks it out of the park when it comes to that.
This free-standing design is exceptional and the Camp Creek tent offers great ventilation while the weather is nice while the rainfly and large awning setups over the doors mean you don't have to worry about water getting in. These are actually available in a 6 person size, as well.
Outstanding design and quality for a very reasonable price.



AmazonBasics 4-Person Dome Tent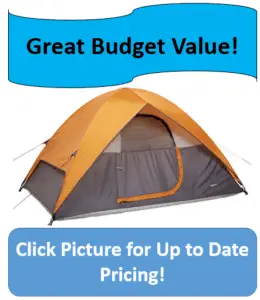 Made from 100% polyester, the AmazonBasics 4 person tent is the smaller version of another similar model Amazon offers that is designed for 8 people. This is a dome style 4 man camping tent that includes a removable rain fly, measures 7 feet by 9 feet, and is mentioned as being perfect for a very short backpacking trip or for drive up campsites where you can bring up the vehicle and then pitch the tent.
Set up is fairly conventional for this style of a dome tent, with fiberglass poles that need to be fed through the supporting loops on the tent and then raised at the same time. Two people should have no problem getting this tent set up in a matter of minutes, and it is possible for one person to set it up, though it is far easier to get that extra little bit of help.
The durable design means this tent is set to last through multiple camp seasons, and the interior mesh pockets hanging from the walls are perfect for glasses, wallets, keys, lighters, pocket knives, cell phones, etc.
Weighing a mere 8.65 lbs, this tent offers campers a great value through and through.

What to Look for in a 4 Man Tent?
There are several things you want to consider when purchasing a four man tent. While the perfect specific brand for one person won't fit the needs of another, by asking a few basic questions up front and keeping some general features in mind you should be able to narrow down this list of best four person tents down to the specific brand and design that will work for your specific needs.
What is the common intended use?
Are you going to be backpacking with someone else and want extra space for gear and stretching? Looking to have a small family tent for basic campsite camping? Something else in between? Understanding your specific needs is important if you want to pick out the best tent that will satisfy your personal outdoor camping needs.
Picking a tent based on your needs is always the way to go.
Do you need a specialty tent of any kind?
Pretty self explanatory but if you need a tent that is under a certain weight, doubled up against rainfall, or particularly mesh heavy to allow ventilation then these are considerations that really need to be made up front to drop some off the list, and move other brands up to the top of options you can consider.
What size are the four people?
As with most tents, most companies here are a bit generous in describing what four people and comfortably mean. If it's two parents and two small kids then that's one thing or four small slender individuals but if you're talking four full sized adults or a couple of large burly guys, then the practicality of four people changes.
So does the focus of the tent. If it's a small cabin family tent that's way different than a large backpacking tent.
Durability
No matter what the intended need or use, durability should always be a major consideration when it comes to picking out the right four person tent for you. The longer the tent lasts and remains in good shape, the better your investment.
4 Man Tent FAQ
Q: So how do companies determine how many people can fit into a tent?
A: This varies from company to company although many will have an illustrated guide of how to pack everyone in like sardines. You may want to take this at face value as some will work well but others…not so much. Especially if you have someone who wakes frequently at night.
Q: Do 4 person tents make great family tents?
A: For smaller kids generally yes, as long as you focus on ones like ALPS Camp Creek, the Coleman Carlsbad, or the Eureka Copper Canyon. These are 4 man tents that focus on a lot more on being a good starting family tent for when the kids are young but as they grow older you'll want a larger tent in many cases.
Q: Do 4 person tents make great backpacking tents?
A: Depends on how much of a load you're willing to carry, how much space you need, and what specific style you are choosing to invest in.
Q: Where is the best place to find four man tents for sale?
A: There are plenty of options. Look at warranty info, we generally believe in buying new to get a warranty to cover any issues, and let's face it right now Amazon might be a common answer you're sick of but it's a great place to find the best options on sale.
Q: What's a good cheap 4-man tent?
A: Well we don't like the word "cheap" because you get what you pay for, but there are some decent inexpensive options out there and the Coleman Sundome, AmazonBasics, or MountainTrails tents we review in this particular post are our personal favorites.
Q: Do any of these tents have vestibules or screened in porches?
A: Some do have a pull out vestibule type setup however these tents just aren't quite large enough for an attached screened in area to be practical.
In Conclusion
Sometimes the small solo tent works, sometimes you just need to get into something a little bit bigger. For many small families a four person tent is just the right size to have space to sleep, room for gear, and still allow the comfort of stretching out and staying warm from body heat. This article shows you the full list of our recommended tents and you will find at least one that works perfectly for you, your budget, and your specific camping situation.
As this video shows, it's never too late to get into tent camping!
First time camping tent video