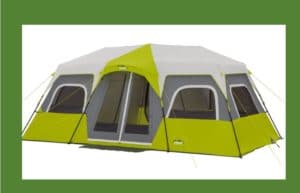 For years my brother and I worked hard perfecting our campsite setup skills. We would divide and conquer the necessary tasks, with one of us getting the firewood and gear ready, and the unlucky loser getting stuck dealing with the tent (often mocking his brother as he also got the coolest job of starting a campfire).
Setting up the tent was the job I disliked the most. The bigger the tent, the longer it took. And after multiple uses, all the color coated stickers had faded – leaving me with no idea where anything was supposed to go. Of course the almost the same size middle poles that attached to the adjustable ones were almost exactly like some of the outside ones…but you didn't know you mixed them up until the last moment when the tent couldn't stand all the way up. Oops – down it would come to switch them around again.
Luckily tent companies have helped alleviate those setup issues by creating instant tents, which setup in almost no time at all and without the extremely heavy metal poles that we dreaded growing up. In other words, the options are so much better than when we were kids, and as adults we're still thankful for that!
This article will give you a breakdown of the best family instant tents – specifically designed for people like me that just don't want to deal with the hassle of setting up camp.
NEW UPDATED 2019 Family Instant Tent Addition
There is one tent that has gained a lot of popularity late into 2018 and should be added to our list of the best instant tents. That tent would be the Americ Empire Cabin Instant Tent. It is a HUGE family tent that can fit up to 12-13 people and is a great family camping tent! For an even more detailed review about this new entry, read below!
We have also added a new 2019 addition from Ozark Trail – the Ozark Trail 11 Person 3 Room 14′ x 14′ Instant Cabin Tent – which is basically replacing the older Ozark Trails 16′ x 16′ 3-Room Instant Tent.
We still love Core Instant Tents, Coleman Instant Tents, Timber Ridge Instant Tents & the Ozark Trails Instant Tents we have written about in the past!
UPDATED 2018 List of the Best Instant Tents!
We have updated our list of the best family instant tents for 2018! We are still looking at things like cost, durability, functionality, size, and positive reviews when giving you our list – but we have made some changes based on the feedback we have seen from our site!
We have added a few new options like the Coleman 6 Person Tent & Timber Ridge 6-Person Tent, and changed our ranking to reflect just how popular the feedback has been on the Core 12 Person and Core 9 Person Instant Cabin Tents.
Last year alone we had over 70 different Core tents purchased from our website – with none of them being returned – and even more impressive, we got zero negative feedback on them.
A more detailed review on each instant tent is listed below this chart – but please enjoy our updated 2018 instant tent rankings!
The Best Instant Tents of 2019 Quick List
A quick list of the best instant tents for family camping.
Editor's Choice: Core Instant Cabin Tents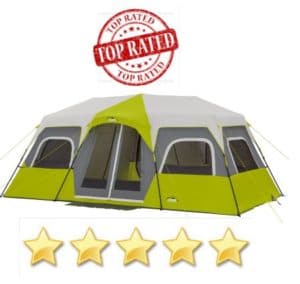 Core makes two really good versions of family instant tents. One is the Core 9-Person Instant Cabin Tent and the other is the Core 12-Person Instant Cabin Tent. The tents are almost identical except for size and cost. The 9-Person version has a space of 14 x 9 feet and a 78 inch center height. It has a setup time of about 60 seconds (not including the rainfly), has an electrical cord access port, a room divider, storage pockets, and a bright color scheme.
The 12-Person version has a space of 18 x 10 feet and an 80 inch center height. The extra space fits three queen sized mattress. It also has the electrical cord access port and storage pockets, in addition to having multiple room dividers giving you the ability to create three separate rooms.
The setup does take a little longer, normally about two minutes, but who can complain about that? Cost wise, the 12 person version is normally between 300 to 350 dollars and the 9 person version is between 200 to 250 dollars.
Update: Core now offers a top rated 6 person instant tent that is built with the same design specs and standards you've come to expect from the outstanding 12 person and 9 person designs, but is slightly smaller for families or small groups that are just starting out. If in doubt you should still go for a slightly larger tent to accommodate everyone and their gear, but this is another outstanding choice that this awesome tent company offers. You can check up on this specific model HERE.
Core is a clear number #1 for us in the world of best family instant tents – and you will get a lot of enjoyment out of your tent if you go this route.

Americ Empire Cabin Instant Tent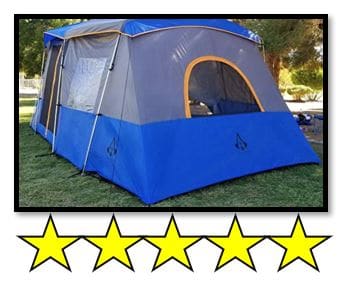 If you are looking for a large, family tent that is easy to set up – the Americ Empire Cabin Instant Tent has to be towards the top of your list.
Major features include:
3 rooms for added privacy
21 feet x 10 feet space with a 7-foot center height
It can fit 6 queen sized mattress; or about 12 – 14 people in sleeping bags
The tent only weighs 30 pounds – even though you are getting all that space
You get 2-doors, 6-windows, and a lantern hook.
Advanced waterproof design to help protect your tent.
Steel leg poles for strength & design
You should be able to set up this tent in under 10 minutes
Includes a nifty carry bag
Made in America!
All of these features make this an exciting tent to own, and a perfect option for family camping. With just how high quality this tent is, we needed to include it on our best family instant tent list!

Ozark Trails 16 x 16 3 Room Instant Cabin Tent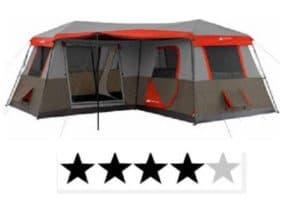 Ozark Trails makes the perfect multi-room instant cabin tent for campers that want a little extra privacy during camping trips. Like the name implies, you can divide this tent into three separate rooms, with each room having enough space to fit a queen sized mattress inside.
Each room can be completely zipped off, allowing for a private bedroom area or changing space, which is definitely a nice bonus if you're by a lake area with a beach for swimming, have a lot of kids running around, or just need to take a nap one of those days to recharge a little bit during an exhausting and fun week of enjoy the great outdoors.
The space is 16 feet by 16 feet with the tallest center height being 82 inches, or a full 6 feet 10 inches, allowing for plenty of room for even the biggest and tallest of campers. Setup up time is just under two minutes for most people, although it may take a minute or two more the first time you set it up just to get used to it. The price is normally around $350, again making this our recommended tent for groups of campers that would like multiple rooms and extra privacy.
This tent also made our list of the best 3 Room Tents if you want to read more about those.
Coleman 8-Person Instant Tent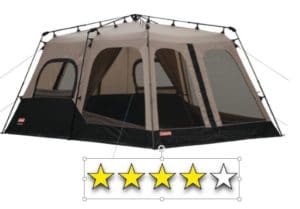 This is the oldest and most popular version of the 8-Person instant tent on most shopping sites. In fact it is so old it is not actively promoted on the actual Coleman website anymore, but due to its popularity, is widely available to be purchased. The reason it is still available is because it delivers on all the important features campers want. It's durable, affordable, spacious, does well in slightly adverse weather conditions, and obviously it's easy to setup.
With a 14 x 10 foot living area and a six foot five inch center height, you are going to have plenty of sleeping room and gear storage. I also like the design because the two big doors and seven windows allow for plenty of airflow and for a good view. The mesh screens also do a great job of keeping insects out of the tent. Due to its popularity, you can still expect to pay somewhere between $200 to $300 dollars for this tent but you are definitely getting your money's worth and the classic Coleman quality you expect.

Timber Ridge 6-Person Family Instant Tent (NEW for 2018)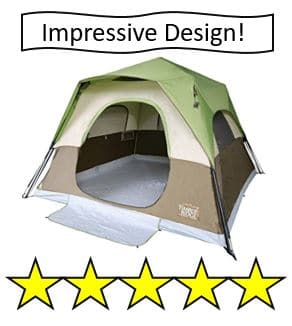 I would consider Timber Ridge to be newer to the Instant Tent world than Core or Coleman – but they do make some very high quality, and very affordable tents.
The Timber Ridge 6 – Person Family Camping Instant Tent has a 10 x 10 foot sleeping area – with a center height of 78 inches! I really like that center height, especially when you compare that to other 6-person tents (who wants to be hunched over in the middle of their tent?).
The tent says it sleeps 6 people – but realistically it would be more comfortable in the 4 person, maybe 5 person range.
The design includes one large o-shaped front door, 3 mesh windows that can be zipped and unzipped, and rainfly that can be added. This tent isn't great in heavy rain due to its polyester materials, but will work well pretty much any other time.
The no assembly required, quick open design should have this tent up and running in just a few minutes, and it comes with a full 1-year manufacturer's warranty in case you have flawed materials or an unfortunate design flaw.
This is a very well-designed tent that should bring a lot of joy to your camping experiences!

Ozark Trails 12 Person Instant Cabin Tent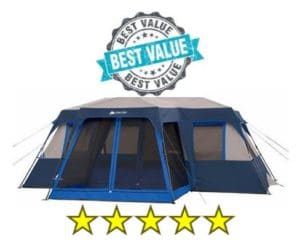 Ozark Trails also makes a really good Instant family camping tent that is a little cheaper and designed a little differently that the 3 Room instant cabin option. This tent is 18 x 16 feet with a 78 inch center height, providing plenty of room for 6-8 adults to sleep comfortably. There is a room divider that allows you to make two rooms, but the rooms are not as private as they are in the other Ozark Trails Cabin option listed above.
This tent does have a large screened in area in front of the entrance that provides a really good area for storage, or a safe spot to remove muddy shoes. Setup time is still under two minutes, and the price is normally around $275 dollars or less, making it a real bargain for beginners! If you want a good price without sacrificing quality then this is the top rated instant family tent we recommend as a value purchase.

Coleman 6 & 4 Person Instant Cabin Tents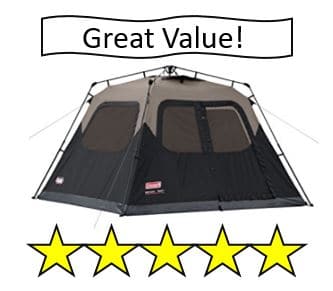 New to the list are the Coleman 6 Person Instant Cabin Tent & Coleman 4 Person Instant Cabin Tent. Honestly, these tents should have been included on the original list – but due to their smaller size they can be a tight fit for larger families that are camping!
The Coleman 6-Person Instant Tent can be setup in under a minute, and has a sleeping space of 10 x 9 feet with a center height of 6 feet. This is perfect for one adult taking a couple of smaller children camping.
If there is going to be multiple adults, it makes sense to purchase one of the larger tent options for maximum comfort!
The Coleman 4-Person Instant Tent makes the most sense to use as a children's tent if you are camping in a large group. The sleeping space is only 8 feet x 7 feet – which will comfortably fit 2 – 4 children, but is going to be a little cramped for adults and kids.
The center height is also only 4 feet 10 inches, which is smaller than I like when camping. I like to be able to stand up with no issues in my tent!
This tent is very durable and can also be set up in under a minute – but again –  I see the most appropriate usage of this tent being a children's tent to supplement the larger tent for the adults in a family camping outing!
Both The 6 Person & 4 Person tent from Coleman have pre-attached poles for that quick setup, are made from a strong polyester material, and have Coleman's patented WeatherTec system which helps the floors and seams keep water outside of the tent!

*NEW OZARK TRAIL OPTIONS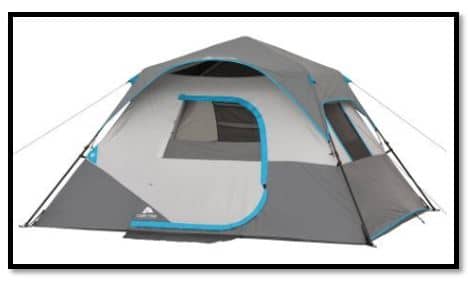 There are a couple of new Ozark Trail Instant Tent options that are replacing some of the older versions that are out there.
The most popular version would be the Ozark Trail 10' x 9' 6-Person Instant Cabin Tent. It has that easy setup that we are all looking for – and it should take you about a minute to get it setup.
Like the name implies, it should fit about 6 people, but really, we are going to recommend it for a family of 4 that doesn't need a ton of extra space to store their gear.
There is also the Ozark Trail 13' x 9' Instant Tent. This tent is geared to sleep 8 people, but again we recommend about 6 if you want to store a decent amount of camping equipment inside.
This tent does have a divider in the middle that can be used to create two separate rooms if you want a little bit of privacy.
This tent is also highly rated, easy to setup, and is going to be a nice addition to anyone's camping gear collection.
Instant Family Tents FAQ
Here are some of the most common questions we get about instant tents that should help you in the purchasing process.
Q: What is the biggest difference between instant tents and traditional tents?
A: The biggest difference between instant tents and traditional tents is how they are setup. Instant tents will normally have everything already in place and attached to the tent.
For example, your tent poles will come pre-attached and basically everything just needs to be snapped into place and the corners need to be staked down. Traditional tents require almost everything to be put together, which makes the setup process much longer.
Canvas tents can take even longer to set up!
Q: What is setup like with an instant tent?
A: Each tent is a little different in how it is setup, but they are all simple. You basically take it out of the bag, hold on to the center pole area, and unroll the tent. After unrolling the tent, you snap or lock into place all of the pre-attached poles. Most of the poles will expand to the appropriate size, and the corners need to be staked down.
Rain flys can take a little additional time to setup. Due to the size of these tents, it is easiest if two people help setup, but it is possible with one person. At the bottom of this article we will link a YouTube video showing just how easy the process it!
Q: What are the biggest drawbacks to instant tents?
A: There are two major drawbacks to instant tents. One is cost. Generally speaking they can cost $100 or more than traditional tents that are similar in size. You are paying for that ease of setup. The other drawback is durability. With everything being pre-attached, it is not uncommon for a pole to snap or for a piece to break off.
You need to be gentler with instant tents during setup and take down than you need to be with a traditional tent. In addition to this, getting a replacement tent pole is much easier for a conventional tent since it is in no way stitched in with the fabric or design itself.
Q: Are family instant tents different from smaller models?
Yes and no. The truth is they are related but the larger ones are a more recent addition. Most early instant tents were hoop tents or set up for one or two people who wanted a way to set up quickly and get the campsite up for the night.
The larger models here mean that these tend to be a bit more sturdy and well built than the smaller ones, but they are all based around the same concept.
Q: Aren't there any really cheap big instant tents?
One of the most important things to understand about these is that you are getting really high quality design that saves you time, frustration, and effort. Since the poles can't be easily changed in and out since they're attached to the design for these family tents, it is important for the companies to make sure they are high quality and don't break easily.
This is why these tents are naturally going to cost more and to be frank: if you're looking for a large family tent you shouldn't be looking for the cheapest option available. That's just asking for trouble.
Q: What size tent should I get for me and my family?
A: The most important thing is to think about the amount of gear you're going to be bringing. Tents tend to rate their "X people" by how many people can cram in and sleep with minimal gear. When you need room for camping, hiking, or hunting gear – then you will want to buy a bigger tent. If the family brings a lot of suitcases even when camping just a weekend, you'll want more space.
When in doubt, generally go for a tent that is 2 people bigger than the amount of you there are going to be as that usually strikes a good balance between what you really need and having a little bit extra space. If you're not backpacking or weight really isn't an issue because you can drive right up to the site, then you might want to look at the really large family tents so that way everyone will have plenty of space – maybe even considering some of the multi-room options.
Brief Wrap Up
The reason to pick one of these tents over the traditional options really comes down to setup. If you hate taking 30 minutes to pitch a tent, or if you don't have good helpers, spend a little extra money and pick one of these tents to eliminate the frustration caused during campsite setup.
While it might seem like a small thing while in the store or perusing this website, take a moment to imagine yourself at a new campsite, kids running around screaming in excitement as you're watching big purple rain clouds moving in.
Is that really the time you want to have to mix and match poles to get the tent set up? Do you really want to be racing the clock, or do you want the tent that you can set up quickly, toss the rain fly for your tent up on top of it, and have the shelter before the rain starts pouring down on you, the spouse and kids, or all your buddies?
Trust us – you want the instant tent. It is worth the investment because it pays off when you realize you really need it the most. The difference between everyone diving into the tent before the rain comes down and spending your time muttering and cursing as the rain pours down on everyone…you just can't overestimate the difference between those two scenarios.
Here is that promised video showing just how easy these tents are to get pitched. Enjoy!