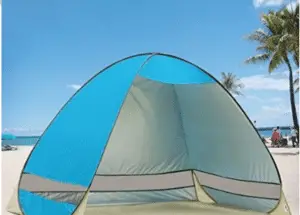 The sun, the surf, the soft sand – what isn't to love about some good time on the beach? When thinking about fun outdoor activities to do over the summer, spending time at the beach has to be at the top of the list.
This is fun when you're a kid, when you're a young adult, and even when you're a family man looking for a great way to get everyone into the great outdoors for a while. With that being said – you are going to want to pick one of our best beach tents to maximize that enjoyment!
However, there are a few things you always forget if you don't live by the beach: like how hot the sand can get or just how hot the sun is blazing down on your skin. Sometimes you want more than just sunscreen – you want a few minutes of shade to recharge!
For a little protection from the sun, and to make your beach time more enjoyable, take a look here for a list of the best beach tents available. Grabbing one of these will help make sure you have a place for shade and rest during your beach camping fun, and as of our last update, we pretty much have a tie for #1. That's a lot of beach tent quality to choose from!
New Best Beach Tents List!
Check out our new list of the best beach tents – updated in 2018 – to see which tents will maximize your beach enjoyment! More detailed reviews of each tent are listed beneath the chart!
The Best Beach Tents for On Shore Camping
Our List of the Best Beach Tents
Pacific Breeze Tents for Beach Camping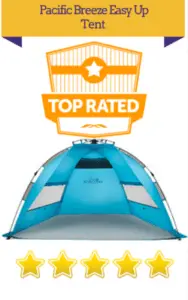 The most well-known producer of beach tents would be Pacific Breeze and they have a very well earned reputation. Their most popular seller is the Pacific Breeze EasyUp Beach Tent, and this tent should be at the top of any best beach tents list!
The biggest selling point is the design which allows for easy setup and take down. Pacific Breeze even claims that this is the fastest and easiest tent to setup and take back down on the market today. It fits two people comfortably, only weighs 4.5 pounds, has two windows that allow for a great cross breeze, comes in a cute light blue color, and also has that all important 1 year warranty.
Cost can vary from $60 to $120 depending on if it is on sale, but even at the high end it is definitely worth the price. Even more astonishing is the positive reviews it receives, over 90% of the over 800 reviews we saw on different sites are 5 star.
That is an absolutely astounding ratio – incredible for any outdoor gear, much less one that is so thoroughly tried and tested. It is tough to find anything negative to say about this tent.
Maybe not the best pop up tent option if you don't like the color blue? That is about it.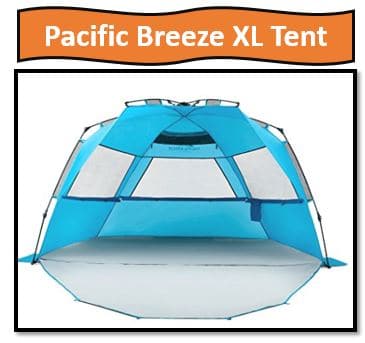 Pacific Breeze also makes the best beach tents for families. The family model is called the Pacific Breeze EasyUp Beach Tent Deluxe XL. It has many of the same qualities as the Pacific Breeze EasyUp Beach Tent, but comes in a larger size.
This version comfortably fits four people. It still comes in that pretty light blue color, but does have an additional third window to allow more control over letting some light or a nice breeze in while still getting UV protection during the hottest parts of the day.
You will want to note that the XL model of this particular tent does weigh a little more at 6 pounds, and due to its larger size, Pacific Breeze does recommend having two people for setup and take down, which is about right from our experience.
One person with a decent wing span can do it, but this is much easier as a two person job.
At a cost of $90 to $150 depending on if it's on sale, you will be hard-pressed to find a better family tent at this price point and once again, the quality makes the price a breeze to pay with a clear conscious.
Over 90% of its reviews we saw are also 5 star, and there's a reason this top rated beach tent is regarded so highly on such a consistent basis, although our new #2 on this list (more like 1B) is certainly focused on dethroning them out of that top spot and if they keep up this level of quality might get there, but having an abundance of great beach tents is never a bad thing. You really can't go wrong with either one.
UPDATED for 2019 – The Pacific Breeze XL Tent also has a version now with an extendable floor for a little extra room! It is a cool feature that you will really enjoy on the beach.

OutdoorMaster Pop Up Beach Tent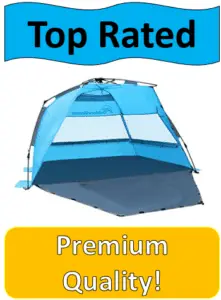 So talk about hitting the list with a bullet! A year ago we weren't even aware of OutdoorMaster, and they weren't on the original list or even our short list of "keep an eye out." But they make one hell of a beach tent and I am frankly a huge fan.
In fact, the beach tent I currently use is this very model! So why are they shooting up this list to claim their rightful place as one of the top choices for beach tents?
There's a lot to like here. You have the very easy setup you want from a good beach tent and in this case you can have it literally raised in seconds. For a day with some wind you'll still want to secure with tent stakes (which come included) and one detail that really impressed me was the fact they included two different kind so you're good to go whether you're anchoring in sand or hammering the stakes into grass.
The UV protection is at a SPF 50+, and the versatility means you can set up with an open side in the shade to lounge, you can pull up a zipper door to use as a private changing area, and hey this is Iowa so I absolutely tested it out to see if it would hold up to a bit of wind and if a rain fly and the outer shell would be enough to keep me dry. Thankfully I was not disappointed!
I like the fact you get a full package with this tent. It's not just a really high quality beach tent but you get the aforementioned two types of stakes, tent cover, a carrying bag, some wind strings – basically you're set up to go for any reasonable conditions.
The tent comes with a 6 month satisfaction guarantee warranty which is really high level for a beach tent.
And I'll say it: the blue is pretty. I love the aesthetic. This is a great tent, and I'm very happy to have it competing with Pacific Breeze as a 1A-1B combo. Eventually we will be coming out with a full blog post review and YouTube review of this tent, but for now we give the big thumbs up to buying it: it's a good deal.

Lightspeed Outdoors Quick Cabana Beach Tent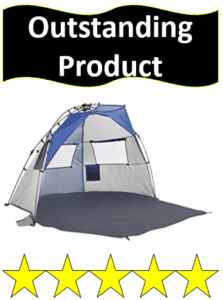 This outstanding instant cabana beach tent from Lightspeed is an absolutely outstanding option, and thanks to the original readers who brought it to our attention after the original publication of this article nearly two years ago (it would be unrecognizable compared to this one – which is great because it shows we're keeping up on our commitment to make sure all our info for you is up to date).
This is one of a very short list of beach tents that now frequently comes up in almost every conversation arguing over the best possible portable beach shelters available.
Coming in a pleasant blue/gray mixture of colors that remains aesthetically pleasing to the eye, this tent offers UPF 50+ protection from UV rays and is a mere 6.1 lbs making it extremely easy to carry from Point A to Point B. This tent is made from premium polyester, has three screened windows for air flow, and the guylines and tent stakes are even included to allow for easy fastening and securing of your beach tent.
Set up and take down is extremely convenient, the design is exceptionally balanced, and there's a no question that this is an exceptional value for the money spent. One potential negative worth noting is that the floor can get a bit hot depending on how direct the sunlight is, but that's small in comparison to all the pros!

Coleman Portable Beach Tents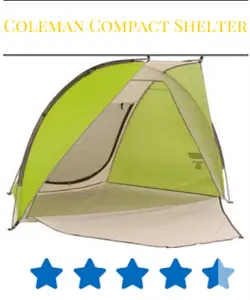 Coleman also has a line of specialty tents for the beach. The biggest selling point for Coleman over Pacific Breeze is cost. Coleman has products that range from $40 to $50 when on sale.
The most popular Coleman Beach Tent would be the Coleman Compact Shade Shelter. Unique features include being able to fully zip up the tent to provide privacy and a beach changing station, multiple color options, and more.
This Coleman portable beach shelter for camping comfortably fits two people, but a negative is that setup is more difficult than the Pacific Breeze products. However, one person should be able to hand the setup. You also have lots of different color options to pick from, so it should be easy to find something that fits your personal style.
Coleman tents have an incredible reputation and this model is no exception. The compact shade shelter for beach camping has very strong reviews online.
We would recommend this tent for the occasional beach goer that isn't looking to spend a lot of money on a new tent though it might not be the best choice for overnight endeavors, and some colors are clearly much better looking than others.

G4Free Pop Up Beach Tents Reviewed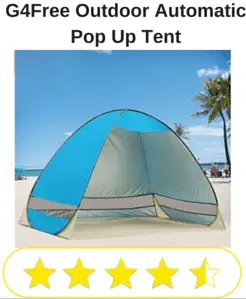 G4Free makes one of the more interesting beach camping tents on the market. They created an instant pop-up beach cabana, which we call the G4Free Outdoor Automatic Pop up Tent. The pop-up design means there is no set up involved, and you can start relaxing on the beach instantly. No annoying set up times, no scrambling to figure out poles.
To protect against strong winds on the blustery days, there are two built in pockets that you can fill up with sand to help anchor the tent down. It is a completely open front that allows for a nice beach breeze, but still protects you from the sun.
The convenience factor is fantastic here, and these tents have a lot to offer above and beyond what you expect from most basic models.
We actually consider this one of the best tents for beach camping if you are looking for an open concept tent or if you are planning to stay up all night to watch the stars.
You also have lots of fun colors to pick from, making it very easy to find a tent that meets your style!
Genji Sports Tents for Beach Camping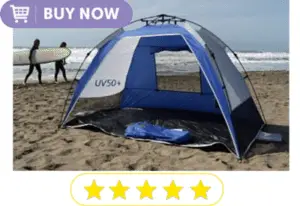 The Genji Sports Instant Beach Star Tent is also a very popular beach tent option. This tent gets high marks on durability. It is made from strong nylon fabric with a fiberglass frame that is both sturdy and lightweight.
It has a unique push up design that Genji Sports compares to opening and closing an umbrella, and they even claim you can setup the tent in two seconds and fold down the tent in five seconds.
The price is normally between $70 and $100. This is a very durable tent that is perfect for families that spend a lot of time on the beach, and a long history of high rankings just go to show how remarkable these tents are and why they are a favorite among many beach camp-goers.
It's a great shelter to give shade for the entire family camping excursion, in between running on hot sand and in the ocean waves, while also offering plenty of options for people watching or just enjoying the view all around the beach even while you're getting some shade from the sun's afternoon rays.

Gotta Love The New Beach Tent Models!
We always do our best to keep these posts up to date so if a year or two goes by and you come back, we still have the best information online to help you make a smart decision and get the most out of your money. When you're looking at some great days beach camping, we definitely want to make sure you enjoy every moment out on the beach. Going through an audit a year later, all five tents on this list for camping out in the sun and sand are still top notch deals, but we have found some more tents you definitely want to consider before your next shoreline outing!
WildHorn Quick-Up Cabana Style XL Beach Tent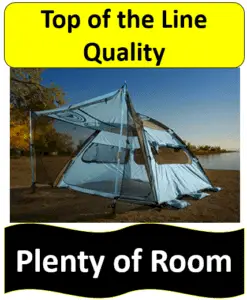 This extra large cabana tent is extremely popular among reviewers, holding a nearly perfect score after 50+ reviews of its actual use on the beach. For the quality that it brings to the table, an extra 60 seconds or 120 seconds is worth it to enjoy everything that this WildHorn tent brings to the table.
Durable and waterproof, with nearly five feet in height and plenty of space both inside of the cabana tent as well as the extra space under shade that comes from the fully extended canopy.
The special design of these tents allows for very fast set up as  well as fast take down. When you're on the beach whether at a big lake, a favorite shore spot by the river, or looking out on a beautiful ocean, you want the tent up so you can start enjoying your setting.
There's a reason that the term "cabana" tends to be synonymous with sunny weather and good times in warm climates, so why not take a chance on this well built and popular beach cabana tent?
There is plenty that this model has to offer and it's safe to say that this is one tent for camping on the beach that you will not be disappointed by!
Schylling UV PlayShades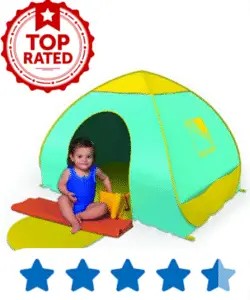 Anybody that's looking for the best beach tents for babies should look at the Schylling Infant UV Playshade. This is not your conventional family beach tent, but it is specifically designed for children. This fun pop-up style of tent is easy to set up, so your child doesn't have to wait long to be protected from UV rays.
Not only does this offer a great bit of shade or place to rest during a long exciting day but it also offers the highest UPF (Ultraviolet Protection Factor) for clothing and fabric with a 50+ rating.
The tent measurements for this particular UV shade is 31 inches high, 51 inches wide, and 39 inches deep, so this fun little beach setup is suitable for 1-2 children depending on age.
This tent is very affordable, usually in the $40 -$50 range on different sites and almost 90% of the online reviews we saw were in the 4 to 5 star range, making it the best of its type.
You can't get the kids falling in love with nature at too early an age and this great beach tent for kids is a fantastic way to get the ball rolling.

Sport-Brella Portable Sun Beach Umbrella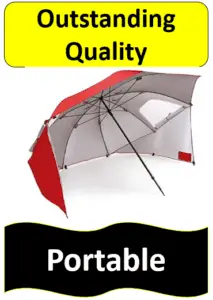 Not every trip out to the beach requires an actual tent for shade and shelter. The classic beach umbrella was always a popular option for people who wanted to be surrounded by sun and fun but also wanted a shady area to keep from getting over exposed and sun burned.
Offering quick shade from the sun in between building sand castles, swimming, and enjoying everything the area has to offer, Sport-Brella is extremely popular for providing very large portable beach umbrellas that are also surprisingly light and easy to move around.
Setup literally takes only seconds and yet provides a heavily shaded area that can easily fit two adults, three kids, and if you have two of them there generally isn't any problem getting the entire family in for a break from the sun's rays every so often.
The 96 inch size offers plenty of space and the 9 lb weight makes it easy to move around. Often also comes in the color blue, these can be useful any time you are out in public and want a place to sit that offers a bit of shade.
A great alternative to traditional beach tents, and while there are several different beach umbrellas out there offering you shade options on the beach, most of the time it is the Sport-Brella beach umbrella that comes out on top.
Beach Tent Buying Considerations
One of the first things to look at is whether or not you're looking at a beach tent for camping or if what you're really looking for is a beach shelter for shade. Whichever one is your main purpose will help you to figure out if certain models are viable or not. Some beach tents are designed mostly to offer much needed shade and some UV protection from the sun's rays during the hottest time of day.
Other tents are actually made for easy setup even on the beach and can offer shelter during the night when that ocean breeze can cause temperatures to drop quite a bit and even get downright chilly at times! There are multiple factors to consider before buying your tent (aka "things to consider" before buying a beach tent) but with a little bit of research you can be sure to get a solid match.
The good news is that there are several different ways to go about finding the right tent for you and your family's beach adventures.
What's Your Budget?
While this shouldn't be the only consideration, hey, beach outings can be expensive and we understand that you have to spend within your budget. Beach tents tend to be on the affordable side of things. That's the good news!
Since beach tents tend to be smaller and often don't need accessories like extra rain flys, tent stakes, or repair kits, there's less stuff needed and so the price is cheaper. Whether an open-sided beach tent or a small dome tent, there's also less material to a ten that is good for beach camping which also means it is less expensive to make and therefore also less expensive to buy.
Even the most expensive premium options tend to actually be pretty affordable when you cut right down to the price tag.
Camping or Day Trips?
If you're going to use the tent for overnight camping chances are you'll want a fully enclosed small dome tent. This is generally going to give a much better overall experience for sleeping and shelter than an open-sided tent, not to mention a touch of privacy. However, if most of your time to the beach is for the day then these open sided beach tents or shade shelters will be more than enough for your specific needs.
How Is the Storage Situation?
You take a lot of small things to the beach. Bottles of sunscreen, sunglasses, reading glasses, phones, books, you have a lot of small things that need to be stored on a beach. You may have jewelry, wallets, other things you wanted to leave behind but forgot (or couldn't leave behind, like a license), and many other potential things.
Are there enough storage pockets in the beach tent you're looking at to handle everything? To keep it all out of the sand? Or are you looking at a model without any side pockets? These are considerations that matter when comparing models of tent.
Does it Offer UV Protection?
Most of the good tents that advertise themselves as beach tents offer at least some form of UV protection, but the amount of protection can vary quite a bit from one model to another. You will want to get an idea of just how much protection is offered with each tent, especially if you have children or infants. More protection is better!
How Durable Is it?
If you have a lot of little ones running around, it's always good to go with the model that is known for being durable.
Beach Camping Supplies
We could write an entire giant blog post on the best beach camping supplies, and at some point we are probably going to do just that, for now this section is just a quick checklist of things you need to consider before your beach campout, especially if you are going with a traditional overnight or multi-night stay.
Before going, think about:
Tarp/rain fly if you don't have an enclosed tent (you don't want to be right on the sand even with a sleeping bag)
Proper sleeping gear (it can get chilly at night)
Cooler appropriate food
Plenty of water (and adult beverages for the over 21 crowd)
Cooler with ice
Cooking gear (look at your portable stove options)
Appropriate clothing (including layers in case the night gets chilly)
Flashlights/lanterns
Beach chairs
Really sturdy trash bags
Sun glasses
Emergency first aid kit
Swim wear
Clothesline setup or drying rack
Trowel & biodegradable toilet paper if truly roughing it (remember the 60 feet from water, 30 feet from trail rules)
Beach Tent FAQ
Q: Is beach camping even legal?
This actually depends most on location. On public lands there are areas where beach camping is 100% legal unless otherwise noted, however there are also states where sleeping overnight on the beach is straight out illegal. Checking locally will help you learn what the local rules and regulations are, as some areas even have very specific times and portions of the beach where camping is allowed, such as giving
Q: Why go with a beach tent versus a regular small 2 or 3 person tent?
A: Depending on the situation either one can work, but beach tents offer several advantages over traditional tents. One is better ventilation, while another is a specific focus on UV protection. Add in designs that encourage easy setup and access and this makes beach tents ideal for a beach situation, especially compared to conventional family tents for camping.
Q: Why are beach tents important?
A: While a tan can be a good thing, and time outside is always a plus as far as we're concerned, staying out in the sun non-stop can lead to serious sun burn, sun stroke, and increase the chances of skin cancer down the line. Beach tents allow you to take breaks from the sun, allowing your body to cool down in the shade so you can enjoy everything the beach has to offer without being over exposed. Shelter is good on a beach!
Q: What are the benefits of a beach tent?
A: Aside from the obvious one of shelter and shade, a beach tent lets you claim a solid section of beach for you and yours, gives you a place to store all the small items (including sunglasses while out swimming in the water), and makes it much easier to centralize your attention on one spot.
Q: Why do most designs not have four walls?
A: The point of your average beach tent isn't for an overall night campout. In that case, going with a regular tent might be a good idea to give you that contained area to keep warm when the temperatures drop at night, especially on a breezy beach. However, for a normal day on the beach you want shade, protection from direct UV rays, and plenty of ventilation. That's why beach tents are designed to maximize as many of these traits as possible.
Q: I've seen much cheaper beach tents at CVS or Wal-Mart, what's the difference?
A: The difference is in quality. Do you want a beach tent that is going to start having holes or tears after a mere few uses, or do you want one that will last several seasons, or even several years? There's also better appearance, better materials, and an overall better experience when you go with a beach tent that's designed well.
Q: What type of beach shelters are available?
A: When it comes to beach tents you're generally looking at one of three design types: frame canopy, pole canopy, and pop up canopy, and then there are also big beach umbrellas designed to be much larger than your average umbrella, but one that truly offers plenty of shade.
Q: Do beach tents have UV protection?
A: This can actually vary from one tent to another, but most of the major companies producing high quality tents for beach use are now made with materials that offer at least some degree of UV protection to them. This doesn't mean toss away the sunscreen or shades, but this is an important thing to consider when looking at your options.
Q: Are there beach tents without a floor?
A: Yes, although these are more often referred to as beach shelters. Beach tents tent to have a floor, but will often have a wall "missing" and be a 3-walled tent. This is ideal for shade and shelter during the day, although that may mean a bit more planning if you are actually going to spend the night on the beach while camping.
Q: Do all beach tents come with awnings?
A: Not all of them do, but more and more new designs seem to be looking at the shade benefit that an awning can bring to the table. Among the top rated beach tents with awnings we recommend the WildHorn Quick-Up Cabana Style XL Beach Tent, which is reviewed a little bit further up in the article.
Q: How do I find a beach tent for actual camping?
A: In this case often times the best options will be to have a high quality sleeping bag and tarp coming along with an open beach tent or the other option is to look for a small easy to set up instant tent. Smaller is better, generally domes, but you're looking for a tent that can either attach to anchors or the poles go into little cloth holders so you don't need to put stakes in the ground since that doesn't work with sandy soil.
Q: Are there beach tents for babies or dogs?
A: Yes in both cases. While not quite as common, there is enough popularity with both that there's a pretty healthy demand for them. Some people believe they are kind of gimmicky while in other situations they can work out great. In this case it's all about keeping the large setup in mind so there's shelter and space for everyone.
Some Final Thoughts on Beach Tents
There's nothing quite like a day on the beach, but it's important to make sure you have the proper shelter for the hottest and most sunny parts of the day (which is why we created this list of the best beach tents). Once you have the right tents, canopies, or shelters for you and your family – or you and your friends, all you need to do is find an amazing beach for camping.
There are plenty out there, and even those of you stuck in an interior state can often find a decent lakeside beach where the family can have their fun in the sun and in the swimming hole while the on shore portable beach shelter will help keep everyone from getting sun burned too badly. A little shade and protection goes a long way.
Why wait another day? Grab one of these tents, think about the best gear you can get for the beach like solo stove bonfire, and then get going to enjoy those beautiful sun rises and sunsets on the beach!
Of course, if you are looking for something a little different then beach camping, check out our articles on Instant Tents & The Best 3 Room Tents – both are great for family camping!
Take a look at this best beach shelter review video – we're not the only ones interested on this topic!

*Thanks given to Amazon.com, who provided the base tent pictures used for this post – all pictures are being used as per the terms and conditions of the Amazon Affiliate program
Other Articles of Interest