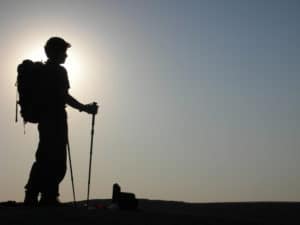 While camping is often a social experience, sometimes when schedules don't work out or you really need your time out in the wild it feels good just to get out and go. Why set up a family tent if you aren't getting help for a group of friends?
No matter how often you go camping with friends, sometimes it's a good thing to have a great 1 man tent you can rely on when you decide it's time for a little one-on-one time with nature. We've all had those times when it was simply time to disconnect. Believe me, we understand that feeling here!
Read on through our one man tent reviews to find out about some of our favorite options when it comes to camping solo.
Update 2018: Originally just a top five list, several tent manufacturers really upped their game in providing stunningly good solo tents for the single camper or trekker, meaning the list went from just 5 to 6 to full blown double digits. Enjoy the new fully detailed list of the best tents out there for the solo camper or trekker…and get out there and enjoy the great outdoors in your style!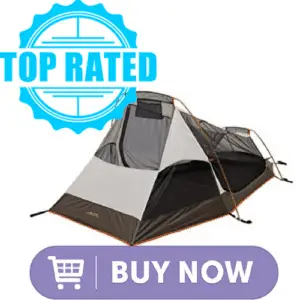 ALPS Mountaineering Mystique 1.0 Tent Reviewed
There are many good choices, but none of them match the overwhelming positive feedback that comes from the Mystique 1-person tent by ALPS. This tent is a polyester design with aluminum poles and is designed not only to hold up to the rough and tough conditions that many hikers and backpackers need to put up with but also some serious protection against cold and rainy weather.
This tent is rated as good for three seasons, and weighs a touch under five pounds. There is a vestibule area that makes it easy to store your backpack separate from your bedding and with a 7'10 length and 21 square feet of total area, you have a truly compact one person tent that still provides all the support and shelter you need without weighing down the pack or breaking the bank. Many one person tents tend to be a bit on the flimsy side, but the Mystique is surprisingly strong and sturdy and the flexible aluminum poles can hold up to even some serious wind as well as normal wear and tear.
There are a lot of good tents for the solo traveler out there but even among all the best options available, the Mystique 1.0 from ALPS Mountaineering is our favorite, and the one that most customer reviewers will pin as the best.
PROS: Top notch construction, solid 3 season tent, amazing blend of quality and affordability.
CONS: If you're an ultralight trekker who needs to watch every ounce, the Mystique is a bit sturdy and heavy (for thru hikers, anyway) at 5 lbs.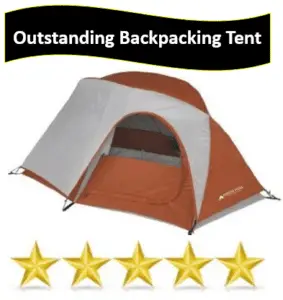 Ozark Trail 1-Person Backpacking Tent Reviewed
With a carrying weight of 4.4 pounds and designed as a two pole set up that can even be folded up post use and placed inside a backpack. There are two organizer packs inside of the tent and an even an e-port that allows for connection to an electrical source via electrical cord. Ozark Trail definitely focuses on backpacking with this particular tent design as it is easy to carry in the pack and move from place to place.
The aesthetic designs are quite good, as well, with the company showing their belief that creating an extremely high quality tent and an aesthetically good looking one is possible in the same model. The poles are made out of fiberglass and this design does take into consideration the need for a person and space for their pack within the tent.
This is an exceptional buy among 1-man backpacking tents and you're not going to be upset with the in field performance that this particular model gives you on your long distance thru hikes.
PROS: Very well made one man tent with solid construction, reasonable price, wide array of colors available.
CONS: Some campers mentioned minor water collection issues, mostly on the outside.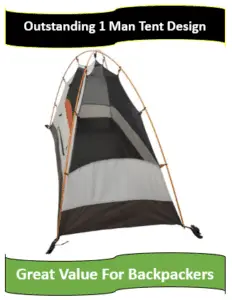 ALPS Mountaineering Lynx 1-Person Tent Reviewed
The Mystique 1.0 isn't the only high quality ALPS tent that makes this top five list. It makes sense that a company focusing on backpacker and ultralight backpacking tents would be able to get more than one style on this list.
The Lynx is another outstanding tent designed specifically for the solo backpacker or hiker who needs the right type of tent to get the appropriate amount of shelter while also being lightweight enough to keep on moving.
Using the classic two pole design that is popular with most single person backpacking tents, the Lynx features aluminum poles, a vestibule for extra storage space for your backpack, as well as everything you would expect from a high quality tent like solid construction as well as waterproofing. Measuring 7'6″ long and 32 inches wide, space might be at a premium but it offers the space needed to be able to relax and enjoy your time out in the wild.
This is a good looking, comfortable, and fully functional tent that is easy to carry on long hikes and gets the job done in three seasons' worth of conditions while displaying the type of quality that you would expect from ALPS Mountaineering.
PROS: Easy set up, very good value for the money, ALPS Mountaineering level of quality.
CONS: A bit heavy for true ultralight backpackers.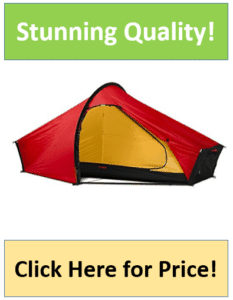 Hilleberg Akto 1-Person Tent Reviewed
Hilleberg is known for its high end tents, as they are willing to spend the extra dollar for top notch materials and to put that little bit extra into construction. Extremely lightweight at a mere 3.6 lbs, this tent it made from Kerlon 1200 fabric and is designed to be a four season tent that has the ability to hold up even in storm or storm-like conditions, helping it stand apart from more inexpensive competitors whose tents can't stand up to the same
The all weather protection that the Akto provides is a major selling point for backpackers willing to pay a little bit extra in order to be able to rely on their smaller tent in harsher or colder conditions. Unlike most one man tents (or most tents in general) this is built to be able to handle weather from all four seasons, including winter. Campers have the ability to add more cloth on mesh windows or pull small flaps away for ventilation.
These features help explain why this Hilleberg solo tent is among the favorites of backpackers, ultralight backpackers, and campers alike. This tent is the most expensive on this list (by quite a bit) but if you want quality above all else this is your choice.
PROS: Arguably the highest quality one man tent on the market, roomy for one-man tent, outstanding 4 season tent (including winter).
CONS: Expensive if money is an issue (not budget friendly).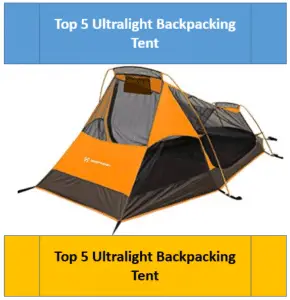 Winterial Single Person Personal Bivy Tent Reviewed
This is the very definition of a lightweight bivy tent, coming in at an incredibly low 2 pounds and 9 ounces in total weight. This is a three season solo tent designed to be able to handle the weather and temperature throughout most of the year. Available in green or orange, this is a good looking tent built to meet lightweight needs.
Two aluminum poles allow for the traditional 2 cross pole design that is easy to set up and use, and many outdoor enthusiasts we've spoken with like the extra bit of sturdiness that these bring to the table.
Three strong bundles of cord are included with this Winterial solo tent, and it comes with 14 heavy duty stakes that are designed to be resistant to bending, twisting, or breaking of any kind. That's a nice bonus considering how many tents come with frankly inferior tent states – but that's not a concern with this particular ultralight tent. You'll have no problem anchoring it down!
This is a quality ultralight tent that works for about any single person expedition or camping trip that you can imagine. There's space for a pack as well as the overall benefits you expect from a small solid tent.
PROS: Very budget friendly,
CONS: Not built to hold up over the really long haul (thru hikes),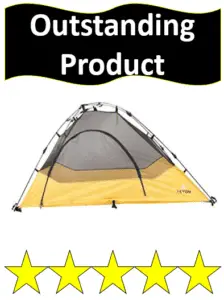 TETON Sports Outfitter XXL Pop Up Tent Reviewed
TETON Sports is a well respected and widely lauded brand, and that reputation is on full display here! This one person tent is incredibly easy to set up. Just roll it out, lock the poles, and then pull the draw string and the tent is set up: on to the rest of your site! This is a really neat design and Jon and I both commented on how unique and unusual the design was and as odd as this sounds, it's actually pretty fun to set up (check out the video on the Amazon page we link to if you want to see what we mean).
While this actually brought up some understandable concerns when it comes to durability, we were pleased to see that the Outfitter XXL held up to TETON Sports's reputation for solid construction. The tent is very solidly built, includes rain fly, guide ropes, and stakes, and has a water resistant tent floor that can work on the ground or even with a cot.
The ability to work with a cot and other accessories TETON produces is a bit baffling to us – if you're looking for a one person tent it's generally not to throw over a cot. However if this versatility is something you're attracted to then by all means put it in the pro column of things!
The design utilizes a U-shaped side entry door and a bungee vestibule is part of the design to help keep things dry when moving in or out of wet conditions. There's a lot to like about this unique design and it's worth noting that the manufacturer does include a limited lifetime warranty covering defective parts or work.
PROS: Creative design for incredibly easy and fast setup, budget friendly, limited lifetime warranty
CONS: Even for a one person tent this can be a bit small especially for larger people, the old rain fly was not 100% effective (big problem if you're buying used)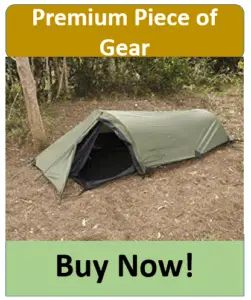 Snugpak Ionosphere 1-Man Dome Tent Reviewed
Another new entry, and from a name where weren't familiar with – which is always exciting when you make a new discovery. This is definitely a tent that is going to be a bit divisive – it will find some huge fans among certain groups and equally passionate detractors in others.
The Snugpak Ionosphere advertises as a dome tent but it really is a bivvy setup in practical design. Small and compact, this is a very lightweight tent designed from 50D polyester featuring a waterproof polyurethane coating over the top. This is a tent that is definitely made with the ultralight backpacker in mind, with the tent weighing a mere 3 lbs including the repair kit which is included (and advertised as the ability to make repairs on the move – a huge plus for through hikers who may find themselves in the middle of nowhere when they need to make repairs or adjustments) as part of the package.
This isn't meant for overnight hunters cutting through thick and heavy brush but as an ultralight option that doesn't take much space, as long as you are comfortable with a bivvy tent setup then this is a great inexpensive option that you'll want to try out on some weekend or week long treks to get a feel for how it's going to perform for you and your specific outdoor needs.
Don't be surprised if this one moves up the list over time!
PROS: Ultralight tent, popular bivvy-based design, comes with repair kit
CONS: Can be carmped, not built for heavy rough and tumble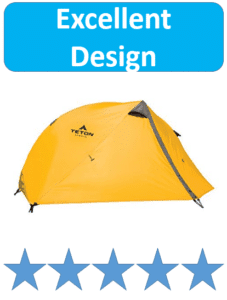 TETON Sports Mountain Ultra Tent Reviewed
The Mountain Ultra tent from TETON Sports is the second one to arrive on this list, and for good reason. Available in four sizes, obviously this review specifically focuses on the smallest "one person" version to stay within the theme of this post. You don't see two tents from the same company on one of our posts unless they are really producing quality, and once again this is a top notch design from a company that understands quality.
Featuring a trail weight of a mere 3.3 lbs, this tent is a great choice for long range hikers and backpackers and is made from a soft yet durable "micro mesh" type of material that gives the benefits of both worlds. There is a solid rain fly included and on sunny days there are plenty of mesh screens for ventilation that delivers maximum comfort.
This tent only has one pole and is pretty innovative in design to set up, which is pretty impressive. A solid Oxford footprint protects the tent floor which is in a waterproof bath tub design. Seams and anchor points are reinforced and of course this tent has the limited lifetime warranty that TETON Sports offers is in full effect with this model.
IMPORTANT NOTE: If you're looking for a lightweight solo tent, make sure to order the 1 person model as this style by TETON Sports comes in 1 man, 2 man, 3 man, and 4 man sizes.
PROS: Lightweight, very well constructed, limited lifetime warranty
CONS: Not fit for cold/winter weather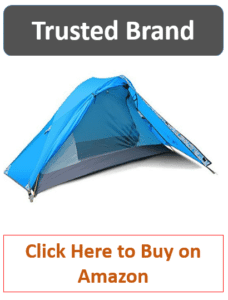 Flytop Single Person Tent Reviewed
This Flytop single person tent is built a bit stronger than your average tent. Sturdy materials are the backbone of this design as the materials are mostly 210D Oxford cloth as well as a solid 2500mm waterproof coating on top of it to keep dew, rain, and even snow out of the comfortable interior of your tent. Add in flexible but solid aluminum for the tent poles and all in all it's a great combination.
While it's advertised currently as a 4 season tent, it's better as a 3 season option, in our opinion, though as long as you're not in a heavy wind chill and snow type of winter climate it may pass the muster just fine.
This tent is very inexpensive, making it a potential viable option even on a shoestring budget and it is built to be extremely lightweight, making it viable for hikers, backpackers, or even distance hikers. Pack weight is not going to be a concern with this particular model, which currently only comes in blue, but it's a quality aesthetic look in this case.
The window is meshed to allow for full air circulation and ventilation when weather permits, and one of the true benefits of backwoods trekking or hiking is the ability to look up at the stars at night…while safe from the biting bugs outside. Good inexpensive option to look at if budget is a major issue, but take the time to learn to set it up some place calm before taking it out on a serious wild trip.
PROS: Very solid all season tent, made from strong durable materials
CONS: Setup is overly complex, relatively untested compared to many other models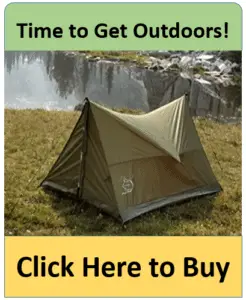 River Country Ultralight Backpacking Tent Reviewed
While most companies have moved on from the more traditional tent designs as new materials and years of testing have led to most companies evolving their preferred style of one or two man tents, there's at least one traditional pup tent that deserves to be on this list of top rated ultralight backpacking tents for one person.
These are easy to set up, great for regular site camping or as a very lightweight solution to an ultralight's backpack, and can be folded to a mere 8 inches making it very easy to pack away. This tent is over 7 feet long so even the tallest of us should have little trouble bedding down for the night while it is 5 feet wide and 3.5 feet tall when fully pitched.
This is a lot of room for an ultralight tent, though the one potential drawback is that this particular design needs trekking poles or a couple of solid sticks over 42 inches to properly set up. These don't come with the tent so you will need to provide them.
However the tent itself is excellent and if you already own a pair of quality trekking poles then you have everything you need to make this setup work!
PROS: Classic proven design, inexpensive pricing, incredibly light
CONS: Doesn't come with trekking poles (you need to provide your own)


Archer 1-Man Ultralight Backpacking Tent Reviewed
This Archer Outdoor Gear ultralight tent for camping and backpacking is an orange and grey option that is commonly rated at four or five stars among most users – making it extremely worthy of being on this top five list. The lightweight tent also has a waterproof shell that allows it to function in three seasons: spring, summer, and fall.
Measuring 210 cm x 100 cm x 110 cm in size, there is plenty of protection from bugs, from water, and enough size to put in the backpack and find your comfortable angle for stretching out getting a good night's rest after a full day of hiking or trekking. The poles are made of a lightweight but high quality aluminum that is durable, flexible, and will create a stable shell that lets you set up quickly and enjoy a good camp setup.
This is built as a very lightweight option so it won't weigh down your pack, and is better as a starter ultralight tent than a long term one, but as a starter tent it is very solid as a first choice.
PROS: Inexpensive, lightweight
CONS: Not as durable as other models, some limited reports of waterproofing issues


What to Look for in a 1 or 2 Man Tent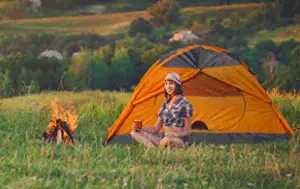 There are several things to look at when looking over your choices for solo tents. One of the biggest things is to first make sure that this is the right decision. There is no fitting a second person in those tents even if you are "small" or "thin compared to average." These are the bare bones models that give you the shelter you need for you and your gear.
Purpose of solo tents
The first thing to focus on is why you want a small tent. When you're looking at something this small sometimes it's something simple like a tent for the beach or an open shelter for the kids in a yard, but most often if you're looking at a serious tent like this it's for hiking or backpacking, and that's the context you want to use to look at some potential tents.
While these are all smaller models, even among them some have a touch more space than others, focusing on a little extra room for gear as opposed to just bare sleeping area that barely fits one body.
This naturally leads to what some people would even consider the next step: to seee if you need specialty tents of any kind. Do you need something that can keep out the cold for high altitude and fall weather hiking? Do you need a touch extra space to store a backpack for those long-term hikes where you're gone days, weeks, or even months on the trail?  Some solo camping tents will account for that while some others won't.
Reviews matter – especially from camping fans you trust
Finally, look at the reviews and ratings from individuals who have actually used the tent. Every company can make up testimonials, but once you get into the actual ratings from backpackers, campers, and other outdoor specialists then you actually can get a much better idea of the quality of these tents.
This isn't an isolated question: there's a great thread here on Reddit exploring the question of what to look for in an ultralight backpacking tent for one person, which is how many (but not all) of the 1-man tents are designed for.
When traveling solo simple tarp and sleeping bag setups, as well as hammocks, are other potentially good options, but those will be covered in more depth in other posts. This one focuses all on the single person and double person tents.
What's your budget?
These are overall ratings, and we believe they're all good but there's no denying that for a one person tent you're not going to find anything that compares to a Hilleberg Akto as far as heavy duty quality tent. However if you have budget issues then this is completely out of the question as these tents can easily run $500 or even more.
However there are many great options for well under this price, and the quality you get at the $200 mark is obviously different than what you can expect at $40. The good news is that we've found some outstanding deals at all these price points.
Design & setup
The sheer variety of different designs and styles here is pretty amazing and each design is going to have its strengths and weaknesses. Heavy cloth may give better protection against weather or cold but a heavily screened design will give much better ventilation – but make a really solid rain fly absolutely mandatory.
In addition to this, to some extent durability is going to be based on thickness of high quality material so the more ounces you skim off of the tent, then you may find that the tent becomes less durable overall. There are exceptions, but as a general rule you need to choose one over the other at some point.
Warranty & return policies
While you always want to focus on quality, having a good warranty and return policy you can fall back on in case something goes wrong is just smart shopping and should always be part of your process when it comes to finding the perfect solo tent.
Solo Tents FAQ
Q: Are all one person tents designed for hikers and ultralight backpackers?
A: Not specifically, although the majority of them are. There aren't many people who are going for one person tents since if you're camping solo at a conventional campsite you could use a two or even three person tent and just stretch out with all that extra space.
While most 1-man tents are designed for long distance backpackers or ultralight hikers, not all of them focus on that specialty.
Q: How do I fold up a one man tent?
A: Depends on the specific style of the tent although most of the time any conventional method will work but if you're dealing with a specialty design then there should be general instructions on the best way to set up and then pack up your specific tent.
Q: Which one man tent is best for ultralight backpackers?
A: Depends on a wide variety of factors but the top of the list here is excellent and ALPS Mountaineering one man tents in particular offer a ton of quality, really lightweight design, and a decent budget-friendly price together.
Q: What one man tent is the sturdiest?
A: Hilleberg. They just don't come sturdier than this, but there is a reason these tents also often cost $500 or more for a single tent. They are built to last no matter how challenging the weather, terrain, or long-term use. If that is well past your budget look at the TETON Sports for reliable construction and beyond that others on this list are going to round ou the top several sturdiest examples of solo tents.
Q: What are the best one man tents for hiking or cycling?
A: Any of these are excellent since they back up really small and light, and then create an outstanding shelter once you camp. Also, depending on the type of the hike, like a really long-term one, you might need to go lighter than you would while cycling.
Q: What is the best one man tent for the money?
A: Really hard to say. The ALPS Mystique is right up there, is as the Ozark Trail. The price range is pretty wide but there are several that find a very good balance and all of these have at least a minimum amount of value and quality or they wouldn't be on our list of best one person tents.
Q: What are the best one man tents for motorcycle camping?
A: We still go with Hilleberg here because of the incredible durability, great material use, and when fully spread out this offers an outstanding campsite shelter you can really build around. Since this is really a specialty type of camping it is also worth asking around to local motorcycle campers to learn more!
Q: How do I go about finding cheap one man tents for sale?
A: Shop Amazon and then ask yourself: "Do I really want to go cheap on these tents?" Then re-check our list for the most budget-friendly tents that also pass the test when it comes to quality and value.
Q: Are there good one man tents available on Amazon?
A: Of course. All the top choices on the list here have a presence on Amazon, so you can check the most up to date pricing on each model.
Q: What makes ultralight one man tents different from just any other regular small one person tent?
A: These are very similar since they tend to be smaller tents but the ones that are ultralight in nature need to be extremely lightweight in nature – focusing on cutting off every single ounce to lighten that pack. These are designed to offer shelter while being incredibly compact.
In Conclusion
There are a surprising number of choices when it comes to finding the perfect small tent, but by knowing what you need, going over some reviews, and doing your research you will be able to figure out which of these 1 man tents meet all of your needs and which ones don't quite get the job done. This article gives you plenty of information to start with and will help you find the perfect tent for your specific needs, and if you need just a little bit more space without adding too much weight, we have a great article on the best 2 person tents available online!
Archer Solo Tent Video Review
Other camping articles of interest: