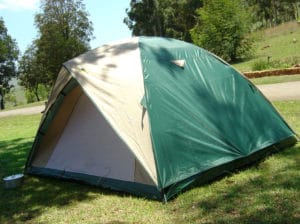 While family tents are certainly nice, and an absolute necessity when you're talking about four or more people hitting the great outdoors, what about those of us who do a lot of solo camping or tag along with groups? What if we're just looking for a 2 person tent or 3 person tent?
I don't want to set up a 10 person tent for myself and furthermore, that just doesn't make any sense! Too much extra weight, too much hassle to put up…and if it gets cold the bodies are too separate for body heat to do its thing efficiently within the tent.
I might love my apartments or my house to be big and spacious with lots of pacing room – but when it comes to tents that's not nearly as good a thing.
Fortunately, for people like me there are plenty of 2 person tents out there that are fast and easy to set up, have enough space to keep my backpack out of the elements, and leave enough sleeping room for me to stretch out and enjoy a peaceful evening's sleep.
Below is our list of the Best 2 Person Tents Reviewed!
Why A 2 Man Camping Tent If I'm Going Solo?
The answer to this is simple: I'm a bigger guy, and many one person tents, as good as some are, don't take into account space for the backpack, shoes, etc. I like cozy, but I don't like feeling completely trapped or celled in. Many people find that a tent that is specifically designed to have room for two people is actually the perfect size for a solo adventurer.
This provides space in the tent for a pack, a little bit of extra room to sit up, relax and read before bed (with help of a headlamp maybe), and makes it a lot easier to crawl out if you have to go to the bathroom in the middle of the night.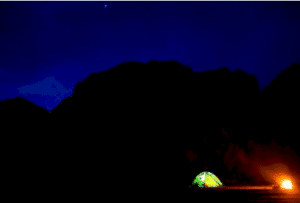 Yet these 2-man tents are still small, easy to set up, light enough for long distance hikers & backpacking enthusiasts, and offer that little bit of extra space without giving up the advantages of a smaller tent (such as making it easier to keep body heat in during a cold night). For some hikers and backpackers this is an ideal situation, and carrying an extra pound or two (if even that) is worth the difference.
I'm personally with this group. I'm a much bigger guy – big frame, big bones, and if I'm anywhere close to 200 lbs. it's because I've been starving myself for weeks – or I've gone back in time and am 13 years old again. The crawl on my belly to get my head to the end of the tent with the fabric tunnel ceiling right there on the back of my head until I lay down and no room to toss and turn or sometimes even side sleep – it's just not a good situcation for someone like me.
The extra space I get from making that move to a good 2-person tent is HUGE!
#1: Coleman Sundome 2 Person Tent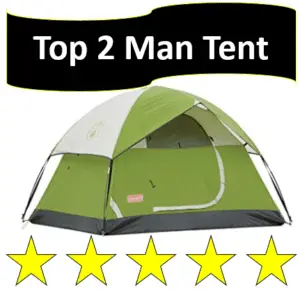 While there are many incredible options when it comes to finding excellent tents built for two campers, the big name of Coleman comes through with our top choice on this list. While Coleman offers a number of small tent options, it's the Sundome 2-people tent in the picture here that gets the top rating of them all!
The Coleman 2 man Sundome tent has the favorite two pole setup for a stable setup that is stable and yet fast/easy to put up. The mesh designs allow for the light to come in and allows different setups depending on the weather.
This isn't necessarily ideal for backpackers or the ultralight as the weight of this polyester tent and its poles/stakes is 6.38 lbs, however as of the day this post was first written it was rated as the #1 backpacking tent on Amazon so plenty of people are finding it useful.
There is even an electrical port for charging if you're in the type of campsite where you can create the right setup for your smartphone, tablet, or other devices. That's modern camping convenience done right!


#2: Kelty 2 Man Tent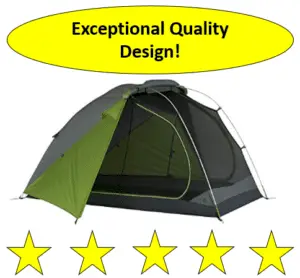 Kelty's best effort at a camping tent for two people is very impressive, and gave the Coleman a serious run for its top spot. Built with a combination of specialized fabric and trademarked specialty nylon, the Kelty 2-man tent is extremely well built tent. There's a reason they have so many fans and why this specific design is so high on the list.
This small tent is three feet tall at its center and weighs only 4 lbs, 9 oz, making it relatively light and in the right type of range to use on a backpacking trip. A removable fly means your tent can be waterproof when rain clouds threaten but it can easily be removed so that you can enjoy the stars in the beautiful night sky.
A decent sized vestibule means plenty of storage space, area to stretch out, and you get the best out of a small tent without getting weighed down with too heavy a pack. The unique design with the pullover is outstanding and will continue to win many fans into the future. This is a top notch choice in particular when you want to be surrounded by nature and there's no sign of rain for days.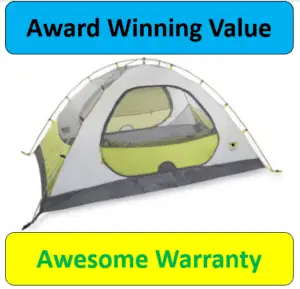 #3: Mountainsmith Morrison 2-Person 3-Season Tent
This exceptional 3 season tent designed by the Morrison company is no stranger to top lists. Our #3 choice on our list of favorite 2 people tents, this particular model was actually the winner of the 2011 Backpacker Gear Guide's awards for being both a "Killer Deal" as well as the closely related "Killer Value" awards.
This tent features 35 square feet of space despite being only 4 lbs and 11 oz in weight. This makes it a quality tent that can fully fit on a backpack for a long distance hike. The polyester rain fly that comes with it takes care of all your weather concerns in addition to providing something that very few tent manufacturer's are willing to offer: a lifetime manufacturer's warranty.
That is a lot of confidence in the quality of the tent, and while the price might be a touch on the higher side compared to other comparable models, there is no denying the high quality material in addition to the fact this 2-man backpacker tent is a little bit larger than your average tent for two, which is great because with smaller tents every single inch counts.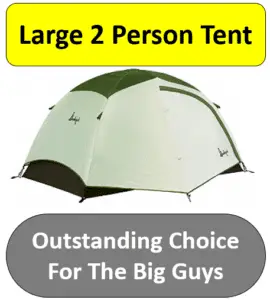 #4: Slumberjack 2 Person Trail Tent
One of the largest models of 2 man trail tents that you'll find, and one of the largest on this list, the Slumberjack trail tent has six foot by six foot dimensions to offer a full 36 square feet of space. Made of polyester and coming with fiberglass poles, this 6 pound 5 ounce trail tent for backpackers and campers.
The tent has full coverage by both fly and mesh panels and features the basic/common cross pole design that allows for a quick setup and take down depending on what stage of camping you're at.
The Slumberjack has a particularly strong reputation as being built firmly to offer as much interior space as possible and a study outside that is designed to hold up to wind and rain.
This is a very good looking tent design, and along with the additional interior space, it is going to be very popular – though not as much a winner with the ultralight backpacking crowd.


#5: WolfWise 2-Person 3-Season Backpacking Tent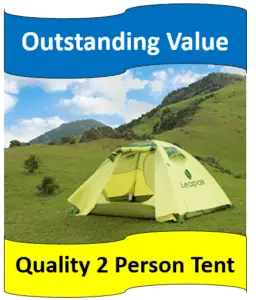 WolfWise has come out with an excellent two person tent designed to provide fast and solid shelter to hikers and backpackers out on the trail. Built for three seasons and weighing a mere 5.07 lbs, this polyester and mesh combination creates an outstanding option for all the outdoor enthusiasts while the lightweight aluminum poles offer a level of support that you don't usually find with smaller tents.
A double cover system makes sure that you stay dry inside your tent even in the heaviest of downpours.
The comfortable sleeping area of the interior has another major trait that really sets it apart from all the other two person backpacking tents that are currently on the market. The interior roof is set up for full USB-based LED lighting. Want to read late into the night or grope around for something you need at night? No problem at all with the interior light setup here!
This is an incredibly unique tent, and it definitely makes the list as one of the best and most unique options out there for camping tents designed for two people – or any number of people for that matter!


In Conclusion
There's a lot to love about the wide selection of tents out there specially built for traveling partners. Whether you use them as advertised to provide space for two or you decide you need a little bit extra space when you're going to be camping and hiking, sometimes it's just better going for a tent that's a little bit bigger. Space matters. You can grab some extra replacement tent stakes to go along with them. These are some of the absolute best 2 person backpacking tents on the market, so take a look through this article again and find the one that works for you!