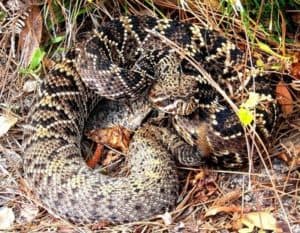 Depending on where you are hunting, you'll not only want to watch your step but you will want to make sure you have the right protective hunting gear to keep you safe. Going through a lot of undergrowth, downed logs, or other prime snake territory gets very unnerving when you know there have been plenty of rattlers, cottonmouths, or even copperheads active in the area.
If you want good snake protection, real reliable protection, then you need to look for a quality pair of new snake proof boots.
While some people think this is synonymous with any type of hunting boot, rubber outdoor boot, or even your basic ranching or cowboy boots, this couldn't be further from the truth. When we're talking about boots that make your lower legs impervious
There's no question that when you're looking at wild turkey hunting in the south, a turkey hunter's worst nightmare comes with getting bit out in the middle of nowhere by a big rattlesnake that just unloads its poison. Even though that that is often blown off as being a "rare occurrence," it does happen and you want to be prepared for it. Read this article if you're not convinced – right from the mouth of an experienced turkey hunter who usually wears snake boots but of course didn't that one day.
When you're out hunting, hiking through the woods and trying to find your mark, you don't want to worry about safety. You want to know you're going to be safe and sound. So naturally, you want your clothes to protect you. That's why you want to get a good pair of snake proof hunting boots.
It's not always obvious which pair is going to benefit you the most, though. So if you're on the look out for great boots, try these five brands.
Comparison Table
Our Recommended Top 10 Snake Boots Available Online
This list is our pick for the top 10 best snake proof boots for hunting, but this gives you the full selection of what is available out there on the open consumer market. Keep in mind that we will do our best to update these and keep them up to date, but these will change over time.
Irish Setter Vaprtrek Snake Proof Hunting Boot Review
Irish Setter comes in near the top because they have not only made creating a boot that is resistant against even the largest of snake bites, but they concentrated on putting together one of the most comfortable, most reliable, and outstanding hunting boots for men.
Featuring snake guard design and a combination of synthetic and leather materials to reinforce against rattlesnake or other pit viper fangs, this rubber soled boot includes special designs around the toe and heel for maximum support while still offering heavy comfort.
Camouflaged decoration help the hunter blend in, while these surprisingly light weight boots are also warm, feature exceptional waterproofing, and go to show the quality that comes from a company that has been producing high quality boots for outdoor hunters for over 60 years now, although they aren't generally a huge name in the snake boot sub-niche of quality hunting boots.
While it's rare to see someone knock off the really big names in the industry, there's no question that these snake proof hunting boots are some of the absolute best out there right now and they get our vote for that coveted #1 spot. These are the top choice for men's snake boots and the women's style are the top women snake boots, too.
As long as they keep up this level of quality, they're likely to stay there, as well.


Chippewa's Back Zip Pull On Snake Boot Review (17″)
Chippewa is consistently mentioned as one of the most popular companies out there because they are known for creating boots out of only the highest quality of designs and materials.
This means hunting boots that are effective, that last, and that are built to offer the best outdoor experience for hunters and other outdoor enthusiasts who need a high quality boot to give them protection and support while out and about in the wild.
The zipper makes it easy to pull these boots on or off, and is covered by a strip of leather to create a whole leather look that makes these boots really stand out to the competition.
These premium boots for snake protection are not only some of the best overall hunting footwear available, but they are also the best looking and can even be cleaned up for a bit of dress up for a night out on the town, while of course offering the full level of snake bite protection you want.
The solid construction is something that old school hunters will appreciate while at the same time major efforts are made to ensure that Chippewa's top hunting footwear is easy on the feet for those long days of walking and stalking during hunting season.
These Chippewa hunting boots will easily be among your favorites and are an absolute must if you are going to be stomping around snake country! Add in the fact you're supporting an American based company and it's hard not to love everything that this particular type of snake boot brings to the table.


Bogs Diamondback Waterproof Hunting Boot Review for Men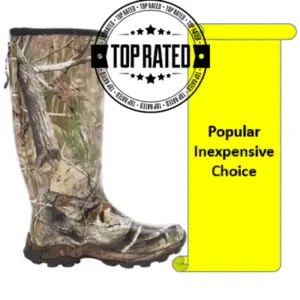 Made of rubber and boasting a rubber sole, this 15″ tall boot is guaranteed to be 100% waterproof to take care of your feet even in the marshiest of wetlands and the most inclement of damp and rainy weather. Featuring a unique aesthetic design, these boots are the only snake resistant footwear currently offered by this company but they definitely stand up to testing.
These Diamondback snake boots by Bogs also sport an excellent design and with rubber construction also makes it the lightest of the snake proof hunting boots, so you can avoid feeling weighted down as you try to move through the woods. This might seem like a little thing, but every ounce of weight, every little bit of stress on the legs counts when it comes to walking mile after mile through rough conditions to make sure you don't finish a hunt empty handed.
Finally, as a nice little bonus, if you're worried about the smell of rubber or the smell of your feet after being cased in rubber all day, don't be. These boots are made with Durafresh anti-odor protection and puncture proof, scent free rubber. In other words, it's like they designed these boots with every common complaint in mind and made sure to go above and beyond to get it right this time around!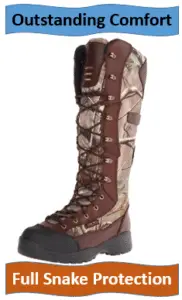 LaCrosse Men's Venom Scent Snake Boot Review
Definitely among the tallest of the snake proof hunting boots, these boots have an impressive stature since they are some of the largest on the market, measuring a full 18 inches tall to provide those extra few inches of protection in case you run into a large rattler with a pretty good striking distance.
The trademarked Hyper-Dri means your feet stay warm and dry, and it's designed to even draw your own sweat away from your foot. Odor killing technology helps to keep any sweaty feet in check, and the combination of side zipper and lace up means getting the boots on isn't a problem and a tight effective 360 degree level of protection is your reward.
Those are all pretty good features in and of themselves but then go a step further and add in strong ankle support with comfortable soles and this is a winning combination when it comes to competing with even the best among hunting snake boots. Did we mention your feet stay dry and warm regardless of the wetlands around you or the sweat that comes up from miles of marching?
These boots are extremely popular for a reason, and the look and style is sure to help keep them among the top models in the foreseeable future – especially considering just how effective that they remain. Lacrosse has long been seen as a trustworthy name for hunters, and this boot will only help to add to this well-earned reputation.


LaCrosse Adder Scent HD Snake Men's Boot Review (18″)
With a one inch heel and a 17 inch shaft, the Adder Scent line of snake protected hunting boots from LaCrosse are a hit with hunters who like the combination of faux leather intermixed with synthetic camo fabric to create a unique and quality boot that gets the job done.
Not only do these boots protect from venomous snake bites, but the adjustable strap on top makes these easier to adjust around thick calves, making for an easier fit than most other snake boots provide.
Designed to keep feet warm and dry, a couple of pull handles sewn into the design make these some of the easiest boots to slip on.
Combine this with the relatively cheap price helps explain their continued popularity and why LaCrosse keeps coming up among the names mentioned of outstanding companies providing the best in hunting gear. While snake boots are never going to be cheap, per se, and you really don't want them to be because you want to be confident that they are going to function above all else.
The Adder boots are among the most popular put out by LaCrosse and even without the solid snake protection it's not hard to see why this particular style and design is so popular among outdoor enthusiasts and specialists. These are a fine pair of boots, and the fact they protect from snake bites is just bonus at this point.

Justin Men's Stampede Snake Work Boot Review
Justin brand boots have a strong reputation already simply from the quality of footwear this company is known for producing for multiple fields. They have long been known for producing excellent work boots as well as great boots for hunters that were dependable, durable, and provided plenty of warmth and freedom of movement.
These Stampede work boots by Justin are made to handle the brutal long hours and conditions that many farmers and ranchers put out there, and these boots are built to be able to handle a wide variety of situations. These are a little bit less for hunters and more designed at that outdoor field and ranch life, although there's not necessarily any reason they can't be used for both.
The triple layering of material means your feet stay warm even in cold conditions and there's no way that a pair of fangs is getting through these. That type of quality footwear is what people are looking for when they drop this type of money on a pair of boots, and in this case there will be no disappointment.
Among all the boots on this list Justin's are among the nicest as far as general aesthetic appearance and can serve as casual-nice dress for certain events and be a quality in-town boot, as well, which makes them truly stand out compared to other snake boots that are currently on the market.

Danner Pronghorn Snake Hunting Boot Review
Danner Pronghorn snake proof boots are some of the most popular on the market, and it isn't hard to see why. These insulated and waterproof boots feature a rubber sole, thick heel and platform for absorbing shock and provide a strong durability that will help make sure these boots last no matter how often you lace them up.
These are some old school boots that are designed to last over the long term and offer hunters plenty to like. While the laces might not be an "in style" as opposed to many of the most recent designs that are pull on on buckle & strap in nature, they do allow a lot more leeway in being able to adjust the fit from comfort or get your boots on even if your feet are swollen after many days out hunting and trying to get the first tag of the season.
When you're out hunting in wet, cold, or muddy conditions, you want to make sure your feet are clean, warm, and that you still have all the protection that you are looking for when it comes to getting a great pair of snake boots. By their nature, truly good anti snake bite boots are also going to be outstanding hunting boots as well.
Any long-term hunters are familiar with the Danner name, so it should come as no surprise they make a truly quality anti venom boot as well. Danner's snake boots are some of the best on the market, so give them a fair shake! If you're not sure exactly which pair to go with, take a look at Danner and everything that they have to offer.

MuckBoots Men's Pursuit Snake Proof Hunting Boot Review
Averaging an Amazon rating of 4.3 out of 5.0 stars, MuckBoots offers a high quality hunting boot for men. Made out of 100% rubber, snake resistant rubber foam helps to keep those fangs away from your skin while also keeping your feet and lower legs both warm and dry. That is important because the more comfortable you can be, the better off you're going to feel after several days.
One of the major features that really sticks out with this type of specialty footwear, the trademarked Xpress cool fabric lining that helps tackle the common hunting boot problem of trying to keep your feet and legs from getting too warm – and even sweaty as a result.
The sock liner is anti-friction to attempt to make comfort a top priority in addition to offering the full protection that comes from your conventional pair of boots for hunters. The small design upgrades make a huge difference when it comes to this particular boot.
MuckBoots work to build a reputation as a reliable brand that is going to hang their hat on providing reliably comfortable and waterproof snake proof hunting boots.


Rocky Mens Prolight Snake Boot (Mossy Oak Breakup)
Rocky has been a solid name in snake boots for years although if we're being completely honest, they did have a pretty rocky go of it for a while. Fortunately a short experiment with overseas manufacturing with inferior materials seems to be over and this is more like the Rocky snake boots that so many hunters came to know and love.
This leather boots are waterproof, comfortable, and of course since they are part of the Prolight series they are absolutely designed to stop snake bites. For the rancher, hunter, hiker, or woodsman who finds themselves spending a lot of time in snake country, that is a crucial bit of protection and certainly brings serious piece of mind to know you have that on hand, or more precisely, on foot!
These boots are 16 inches in length and offer some serious protection while also working to keep up Rocky's reputation as one of the more comfortable snake proof boots out there on the market. These protect from copperheads, coral snakes (in fairness most decent footwear is probably good against coral snakes), water moccasins, and even some of the largest rattlesnakes out there.
The Rocky Prolight series scores big, and their trademarked ProLight BioMech outsole even offers some pretty incredible traction over muddy, slick, and rough terrain of all types. The laces can take a bit to break in, but they're reliable and last the test of time.

Wood N' Stream Mens Snake Bite Cordura Hunting Boots
Featuring a Mossy Oak camouflage that many hunters love and made from a leather-textile blend that is strong yet comfortable, there's a lot to like about this Wood N' Stream hunting boot. That's even before talking about the thick rubber sole, solid ankle support, and the fact this boot is designed to be snake proof. Measuring an impressive 17 3/4 inches from arch to shaft, this is a really heavy duty boot and one of the finest that Wood N' Stream has managed to put out.
There are side zippers to make putting on and taking off the boots easier while the construction manages to give your feet and lower legs room to breathe while keeping both water and snake fangs out. This company takes pride in their design, and have been around for over 6 decades, relying on quality and reputation over that time.
Made by the Weinbrenner Shoe Company, you know you're getting quality, and that's because they focus on hand crafted goods as opposed to cheap mass production. These are truly outstanding hunting boots and definitely worth a serous look from any outdoorsman needing a new pair. The quality of the craftsmanship is only confirmed by the fact that there are so many reviews complimenting the fit – something snake boots in particular have notoriously had issues with.

DISCONTINUED: Chippewa Men's Pull On Snake Boot (23913)
Chippewa snake boots are not only renowned for their excellent construction and ability to hold up in even the harshest of circumstances but create pull-on snake protection boots that are also known for being aesthetically good looking – making them a perfect choice for dressing up for a country western dance or even as casual nice when going out with family or friends.
They are one of the very few truly great dual use options in that respect as they are good in the outdoors or cleaned up for something else.
These boots are very practical and the brown Oro Russet Leather makes these arguably the best looking hunting boots that you can find anywhere in the market. If having hunting boots that can become all purpose for any occasion is an added bonus for you then these are a great pair of boots that you will definitely want to check out to see if they fit your specific aesthetic as well as your specific needs.
Receiving an average of 4.3 stars on Amazon and a solid score of 4.5 stars from us, our one annoyance with this particular boot is that some people (like myself) with really large or bulging calves find the pull on uncomfortable and hard to fit well, and you want to be comfortable if you're going to be spending a lot of time up on your feet and out and about.

DISCONTINUED: Rocky Men's ProLight Waterproof Anti Snake Boot Review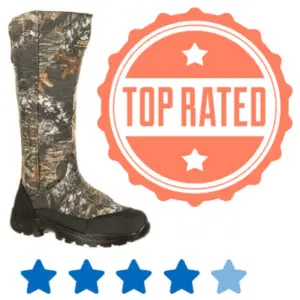 Using a combination of leather and fabric, the ProLight waterproof boot from the Rocky company is currently the best of the line they have to offer.
This company takes pride in focusing on providing an inexpensive solution for hunters and outdoor enthusiasts who want the protection that high quality snake boots can offer but don't like the idea of dropping $300+ to purchase a pair.
Rated above 4 stars at Amazon.com as of this writing, and the side zipper should help for easy access for putting the boot on and off. The camo designs will match in with most terrains and there's a lot for hunters to like about this boot.
Always check the side zippers as the one complaint is that on some models the zippers didn't hold up well. This wasn't an every pair of boot issue, but it is important enough that you need to make sure to check to be on the safe side and hit that warranty if you get one of those rare defective or questionable pairs in the beginning.


Rocky boots have been among some of the most popular in the industry for years and although they have lost some market share, they remain one of the top companies as they attempt to really fill in the niche of inexpensive or cheap snake proof boots.
Important Factors in Choosing a Pair of Snake Boots
There are many important factors to look at when picking out the perfect pair of anti snake bite boots. These are generally designed for hunters, although they are a great outdoor boot for ranchers, for camping, for pretty much any outdoor activity where there might be some concern about running into a venomous snake that could ruin all the fun.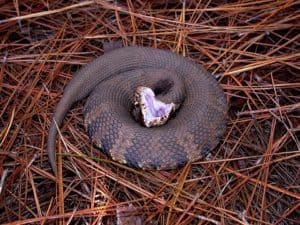 First: What's the fit?
Nothing ruins miles of hiking through the woods or wetlands like a poorly fitting pair of boots. Most hunting boots tend to be a touch on the tight side, and part of the reason for this is many hunters wear extra thick socks or in winter, a double layer.
If this isn't taken into account, you can easily end up with boots that are too tight. Because of this, many hunters naturally order boots a size too large compared to normal shoe size.
However, some boot companies take that into account so their sizes are generally larger than what you would see from a shoe company. A little bit of research ahead of time on the major brands can help give you the information you need to make sure you end up with the right fitting footwear before hunting season kicks off.
Take some extra time to look at reviews on Amazon as this is a topic that comes up a lot, so you have plenty of information that will allow you to make an informed decision and get a great idea of what the proper fit for you will be.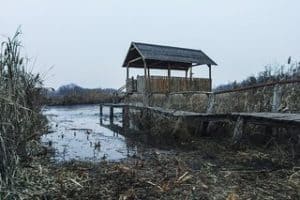 Second: What environments to you expect to wear the boots in?
Not every pair of boots has all the features you would think should be standard. You would think things like being waterproof or having extra padding might come with every boot but you'd be wrong.
Some are better for ranching type activities while there are boots built a lot like cowboy boots and other snake boots that are clearly rubber based and set for wetland hunting scenarios of all types.
The environments you will be hunting, hiking, or working outdoors in will make all the difference when it comes to what type of snake bite resistant footwear will be the best to meet your specific needs.
Keep this in mind when picking between the top choices on this list, or when checking out our articles on some of the largest and most well known providers.
Third: What are the testimonials from customers who actually used them?
There are hundreds of different testimonials online. These not only include the ones on buying websites like Amazon.com but also from online forums where hunters post their personal reviews, YouTube videos that talk about very specific brands of these specialty hunting boots, and more.
A simple Google search, forum search, or YouTube search will help you find plenty of testimonials to look at, and while this can seem like an awful lot of work to put into doing some research before buying a single pair of snake boots, in this case it is absolutely worth the effort.
This type of research tells you what is working right now, what actual hunters think of the most popular brands, and you will be able to get up to date news stories that will concern you like this one about the scary Rocky Snake Boots Recall because of a failed demonstration where the fangs went right through.
Do the research. You'll never regret making sure you get a truly spectacular pair of anti snake bite boots.
Fourth: What is my budget?
There are snake boots that can occasionally be found on sale for right at, or around, $100 although this tends to be on the rarer side of things. The low side of pricing is usually in the $150-$175 range with $180-280 being pretty normal. Many of the higher end models can be $300 or even above $400 in price. Knowing your true budget makes a big difference in figuring out which of these boot choices is going to work best for you and your specific hunting or outdoor needs.
While price should never be the final deciding factor for this sort of buying decision, snake boots are not an outdoor equipment purchase you want to cheap out on.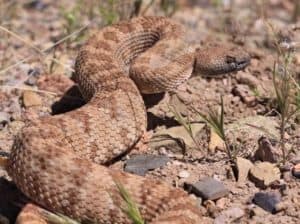 Venomous Snakes & Yearly Snake Bites
Throughout the United States there are basically four types of venomous snakes, although some have various species and sub-species. A prime example of this is the rattlesnake.
While rattlesnakes count as one type of venomous snake found in the United States, there are many different types of rattlesnakes depending on what part of the country you are in, and they do vary in how dangerous their bite can be. In the United States these are the largest and most dangerous venomous snakes that most hunters will potentially run into, but it is important to always keep distance from any type of dangerous snake whenever that is possible.
Just a short list or the various rattlesnakes found in the U.S. includes:
Eastern diamondback rattlesnake
Western diamondback rattlesnake
Timber rattlesnake
Mojave rattlesnake
Prairie rattlesnake
Sidewinder rattlesnake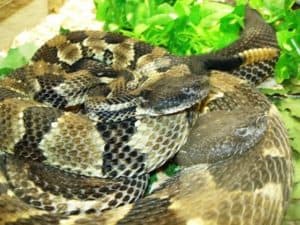 There are over 20 species of rattlesnakes, but you may also run into copperheads, water moccasins (aka "Cottonmouths), and coral snakes.
The best treatment is prevention. While the likelihood of dying from a rattlesnake bite in the United States is very low, the medical bills are going to be extremely high, even with insurance, and many people have highly allergic reactions to venomous snake bites that can result in permanent tissue damage, loss of limbs, and a variety of other issues.
This doesn't even mention the fact that to a person, a venomous snake bite is often described as some of the most overwhelming pain any of the victims have ever felt.
Avoid the pain. Avoid the possibility of losing life or limb. Avoid weeks of painful recovery and possible long-term (even permanent) tissue, nerve, or muscle damage.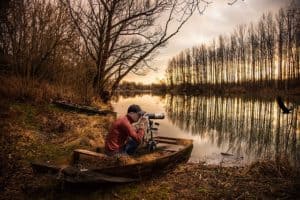 Don't go out into the woods until you are fully protected with a high quality pair of hunting boots that are specifically designed to resist venomous snake bites.
You can check out out page on venomous snakes in the United States (coming soon) or if you like the scientific lists, though without a lot of supporting information, Wikipedia has a great list of all the modern venomous snake bite deaths in the United States right HERE – though rare they do still happen.
There are many good reasons for making sure you have protection from the worst case scenarios with the venomous snakes you might run into.
FAQ
Do I really need snake proof boots or will regular cowboy / hunting / hiking boots do the same job?
There are many people who swear that a normal pair of hunting boots or cowboy boots are more than enough to stop a venomous snake bite, but do you really want to test that out with your own health? This assumption is made on hearsay and just that: assumption.
Boots that claim to be snake boots actually have to test. That makes a huge difference when you can actually look up the videos showing a dozen (or many dozen) of snakes striking at snake boots then there is a lot of reassurance. When you look at venomous snake bites, you don't want to take the chance.
So why are boots labeled as being snake bite proof more reassuring? Well there's the video of Chippewa snake boots being tested, this video of rocky snake boots being tested at a Cabela's, or Doug's YouTube test of his own snake boots.
How should I size my foot for one of these boots?
This can be a difficult question to answer since different specific styles and models will have different knocks on them. As with many hunting boots, generally the idea is to look at a boot that is a size larger than you generally need if hunting is going to take place in the fall, since this gives extra room for more layers of thick socks to keep your feet warm.
This also makes them usable in the winter when snakes aren't a concern in many parts of the country (though in the South this might still be an issue) but different types of snake boots will have varying reputations so make sure to check out each one individually to see what others recommend.
How do I know these boots really do stop a snake bite?
These companies would get in trouble pretty quickly if they kept advertising boots that could stop a venomous snake bite then they would get in trouble pretty quickly from reputation, not to mention lawsuits.
Boots advertised this way are designed to prevent snake bites, and if they didn't work then this guy would be in trouble, as would this guy, and many more. If they don't specifically advertise as being able to repel a snake bite from a venomous snake, then don't assume they can. However, if the pairs you are looking at do advertise as being resistant to snake bites then you should count yourself as in good shape.
Are all hunting boots venomous snake bite proof?
Nope. Most aren't designed with that specific function in mind and because of that there are many selections of (still good) hunters' boots out there that do not offer this level of protection.
What is the best pair of snake proof hunting boots available?
This will vary from year to year and many people have differing opinions. There's a solid group of Chippewa fans who swear by anything that company makes while many of the top rated choices on our list are currently the only style offered by a particular brand or company.
Check out our lists on this page – you're not short of options for finding that perfect protective outdoor footwear!
What about anti snake bite leggings?
These are a great option for helping to protect large portions of the leg, even up to and over the knee, from venomous snake bites. These are another popular option with many individuals who need to work in snake country. These are a little bit more common with ranchers while the boots are a bit more common with hunters, but this is a generality and there are many people who use one, the other, or even both together!
If you want to know more and double your protection then you can check out our snake gaiter review post here!
What are the major brands of snake boots?
This can actually change over time as some companies that used to be big names in the snake boot business have bowed out while some of the best ranked specialty boots on Amazon are from relatively new or smaller companies. However, as of this post there are certain names that stand out as industry leaders and it doesn't seem to be an accident that many of them are big names among hunting boot manufacturers, as well.
Just a few of the largest names in the business would be:
There are definitely others that are moving into the market (Like RedHead boots) while others bow out (anyone remember Herman snake boots?). These names will continue to change but those four companies are consistently among the top names in the field.
In Conclusion
Finding the perfect pair of snake proof boots can definitely be a challenge. There are many different factors that go into figuring out what the best options are for hunters, ranchers, or simply people who want to take a hike in snake country without having to worry so much about getting a surprise bite from a very well camouflaged venomous snake. There are plenty of great options for everyone and that's why there are great snake boots for men as well as snake proof boots for women.
Take a look at our most highly rated anti snake bite boots for hunters and find the pair that works best to provide you with the safety you crave!