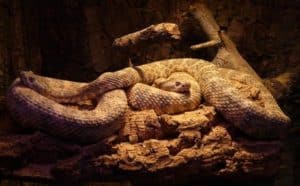 The Top Four Danner Snake Boots
When it comes to whether or not you should invest in a solid pair of reliable Danner snake proof boots, my thoughts are that you are much better safe than sorry! Finding reliable hunting boots is hard enough and Danner is a trusted name. Add in finding good boots that are tested to stop a rattlesnake bite…well better safe than sorry!
Hunters encounter all kinds of terrain and all types of animals when they're out in full force on opening weekend. A little precaution like getting a trusted pair of snake boots can go a long way.
This means even running into those animals they are not on the hunt for. Do you really want to put your foot down near a perfectly camouflaged copperhead? Or maybe even a hidden rattlesnake and not have protection running all the way up your lower leg?
Better safe than sorry…
While the old rule of thumb that the snake is more scared of you than you are of them is definitely true, having a rattlesnake be scared of you doesn't help if they still strike at your legs and sink their fangs in.
Let's face it, there are times when encountering a snake can threaten to do a lot more than just put a hunter off his or her game. Snake bites should never be taken lightly, especially when you're looking at venomous snakes!
Not only can Danner snake boots help protect you from a potentially lethal snake bite, but even if you receive treatment the damage can be immense, and that's before you even look at hospital bills that, even with insurance, will almost certainly be thousands of dollars or even tens of thousands of dollars for the uninsured.
Add in the fact that they are a pretty good hunting boot even if they weren't offering snake protection and there's not really a great reason to pass up on them.
Total protection is ideal
Make no mistake about it, snake boots are not like vanilla ice cream where all is the same. In this case quality matters and it is going to vary a lot from one brand to another. One of the reasons to go with Danner hunting boots is the peace of mind that you are getting some of the best snake proof boots possible.
While there have been some companies who recently struggled with recalls or the embarrassment (and pain) of a demonstration gone wrong, Danner has managed to steer clear of the bad things and bad press by sticking to their demand for quality. As for finding out more, read on for the four top Danner brands to keep the family hunters safe and snake proof!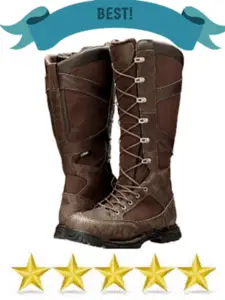 Danner Pronghorn Snake Side-Zip Hunting Boot Reviewed
Anyone who has owned a pair of Danner boots before and believes in the quality they offer will want to own a pair of these Pronghorn snake boots.
By far and away the most popular of all the hunting boots Danner releases, this side-zip boot has a leather upper, an all-leather toe, and has heel caps to help prevent premature wear.
A rubber sole helps make them water resistant while a high quality nylon meshes with leather well to create an incredibly well made hunting boot.
They are designed to be strong and powerful while also remaining as lightweight as possible to be comfortable in case the ideal hunting grounds are miles away from parking.
The liner of these Men's Pronghorn boots are warm yet breathable, and are also waterproof to provide the absolute maximum comfort that is possible.
These high quality boots for hunters are popular for turkey hunters, deer hunters, and anyone who has had to deal with wet, marshy, or wetland conditions. They are equally capable of giving comfort when it's cold and you're going through the woods.
Constantly shifting between a 4.5 and 5.0 star rating on any outdoor website they appear on, these are the cream of the crop when it comes to boots from the Danner company and that is really saying something!
The only potential drawback here is that some of these boots tend to lose waterproofing quickly, which means going over them with a leather waterproofing wax treatment isn't the worst idea in the world to reinforce the lower seams of these Danner snake boots. They're not built for winter – but this is less of a concern since in a serious winter venomous snakes are hibernating.
Whether you're worried about rattlesnakes, copperheads, or one of the other venomous snakes in the United States, these boots will keep your lower legs protected!

Danner Men's Sharptail Snake Boot
Created out of a leather and textile blend, and the classic thick rubber sole to help with water resistance, this is an extremely well made and well designed snake proof boot and it is easy to see why they would even discontinue several other designs to focus on this one.
The shaft out the boot measures 16 inches from arch to top. For those of us with large lower legs, the opening of the boot features an impressive 19 inch circumference.
Or in simple words: that large size is a godsend for the many hunters or outdoor explorers in snake country like me who have very large feet and calves. This causes fitting issues with many other types of hunting boots.
This boot is fully advertised by Danner to be waterproof, offer amazing 360 degree protection, and yet manage to remain good looking, lightweight, and practical for long-term hunting over the course of a day. These Danner hunting boots are made with GORE-TEX waterproof material as well as a breathable lining means this is a really good boot and the adjustable strap allows for a tighter or more comfortable fit, as well.
Many hunters and outdoor enthusiasts have outright said this is the best fitting pair of snake boots they have ever had and large calf hunters have had an easier time not only putting these on, but also a more comfortable fit once you have them on and are out and about during your favorite hunting season!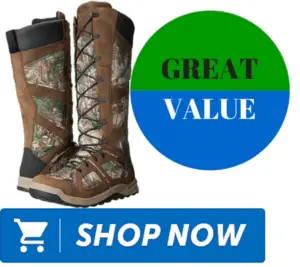 Danner Steadfast Snake Proof Hunting Boot
Danner snake boots offer the Steadfast model which is 17 inches of protection. This boot is a combination of leather and fabric and features rubber soles. They not only look really good, but also hold up to the harsh and heavy conditions that you are going to face while out in the woods hunting.
The boot has a removable insole. The base of the boot is designed to offer both support and comfort, and is comprised of a dual density cushion as a means to that end.
This excellent design helps to create air circulation and has an "airthotic" heel clip for added foot support. In other words, they really put some brains into the design of this one.
This is the perfect all-season hunting boot as it has total outer traction. The liner is waterproof and the toe box is broader for a greater fit. The snake protection is exceptional, although warning: most customers say you need to order one half to one size larger than your actual boot size to actually get a comfortable fit.
In fact, most negative reviews online are all focused on the boot being too small – something that could have been prevented with a little more research into Danner's Steadfast line of hunting boots.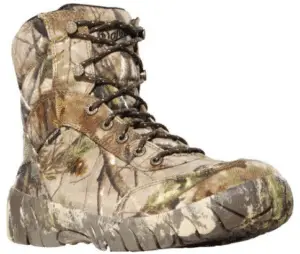 Danner Jackal II 7-Inch Hunting Boot Reviewed
Danner is one of the top providers for snake proof hunting boots that protect from the ankle all the way up the lower leg even up to the knee in some cases, but for individuals who simply don't like those larger boots there are still other options.
The Jackal II 7-inch hunting boot is a prime example, but when you just need mild protection you can opt for the 7-inch hunting boot. These offer what hunters expect: total waterproof protection in a lightweight boot that you cannot find in any other boot in the line. The protection isn't a full 360 up the leg since these are built for comfort and ability to travel long distances in comfort as opposed to full protection.
If your main concern is protection from snake bites, you should go for one of the earlier models, or at the very minimum make sure that you get a proper pair of snake gaiters to take care of your legs in addition to your feet and ankles.
If you're planning on wearing snake chaps or other protective clothing, then these could work and give you a touch more comfort on the feet for those long days hunting out in the woods.

Danner offers hunters a wide array of quality, durable waterproof, snakeproof boots for all seasons and all terrains. The camouflage designs are varied and work for a variety of hunting settings. Choose the ones that work for you and be sure and buy an extra pair for times when you just need that lighter boot to get you through a hunt and a hike.
Important Update 2018: While there are always going to be updates when it comes to outdoor gear, this seems especially consistent and true when it comes to snake boots. The following sections are Danner snake boots that were very popular and even top choices at once point, however as of this update they are no longer available or in some cases are even discontinued. So the following sections are still here for informational purposes, but if you want the best options for snake protection right now, you need to look at the earlier entries.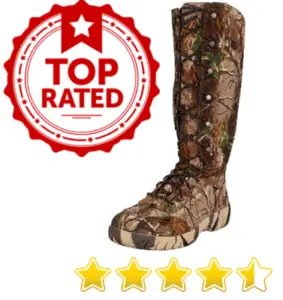 Danner's Jackal II APG Hunting Boot Reviewed
The Jackal II (Model #45764) model of Danner boots for hunters not only features 360 degrees of snake proof protection but they also have a feature that the Danner company has become famous for: Gore-Tex.
The Gore-Tex liner is water proof, comfortable, and flexible. One of the most common benefits given is that these boots feel like walking in tennis shoes – in other words they are very comfortable, especially over the long-term.
This footwear is resistant to a wide variety of issues that you might have with cheaper made boots including, tears, scuffs, and abrasions. The high quality material here helps prevent all of these, and with a combination of the "Danner Phantom" outer sole to go with Denier nylon, you also get hunting footwear that is great for stalking and minimizing noise.
Comfort matters when you're going to go out in the woods for a long day of hunting, and these boots certainly hold up to the old school standard of American quality.
Update: The original version of this line has been discontinued. Some have sold boots under this brand. While we couldn't get an answer as to whether this was a company sponsored release or just some sellers trying to ride off the Danner name, the new ones are not the same as the old. Not the same quality, not the same rating.
So Caveat Emptor if you go with these at this point. We recommend with one of the earlier options on the list.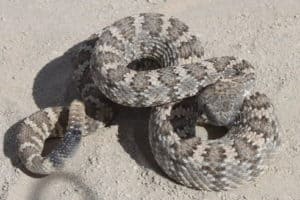 Danner Boots Equal High Quality
Danner boots have long stood for quality even before they became widely known for hunting boots or for their sturdy and dependable line of anti snake bite boots. This was a company that was founded during the Great Depression by Charles Danner in 1932 in Chippewa Falls Wisconsin.
The idea was to make sure boots were made for working men that were inexpensive but held up against the test of time. After all in the Depression every single penny counts and hard workers needed a helping hand wherever they could get it.
Taking a look at the logging industry they would eventually move to Portland, Oregon, and the history of the company not only goes through providing excellent work boots for loggers to providing military footwear to seeing the importance of hiking and outdoor activities and making a strong pivot for hunting and hiking footwear in the 1960s.
The one thing that never changed over the decade was quality, and even when the company was sold from the Danner family in 1983 it was done with the contractual agreement that Danner hunting boots and Danner snake proof footwear would have the same degree of quality as ever, something the new owner gladly agreed to.
Fast forward to being bought by Lacrosse, an outdoor footwear company that also emphasizes only the highest quality and it's easy to see how these two names have managed to stay on top.
If you want the full story and timeline of this company be sure to check out the full Danner Boot Company History. It's an extremely good read and actually a really well designed page.
We know we're not the only ones who really like to understand the history of the outdoor brands we trust. Especially those that have lasted many decades against the test of time.
Danner Hunting Boots, In Conclusion
There are many different fine companies that specialize in this type of hunting and outdoor gear, but when you're looking for comfortable, reliable, and well designed snake bite proof boots for hunters, then it is hard to argue with what the Danner brand has to offer. Around for nearly 80 years, it's not hard to see with the top protective boots on this list why they remain a big name in the business.
Find the pair that is right for you, and enjoy those days out in the woods!
Danner Snakeproof Hunting Boot Video Review
This video here says it all about these amazing and high quality snake proof hunting boots!

Other pages of interest