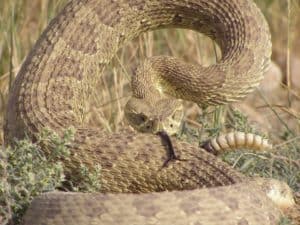 Ever since 1901 when Chippewa began manufacturing boots in a tiny factory in Chippewa Falls, Wisconsin, this thoroughly American company has been a trusted name in the supply of high quality stylish footwear that worked well in the woods and fields and still looked good in town, so it should come as no surprise they are a major name when it comes to good snake boots for hunters.
Moving from pure hunting boots to specialty Chippewa snake proof boots, this is a company that has provided nothing short of absolute premium quality year after year.
These are consistently ranked as among the best hunting and outdoor boots that are available to the general public and a little bit of investigation makes it obvious why.
More than just boots, Chippewa footwear is part of the fabric of America and an authentic salute to the heritage of the country, especially for those devoted outdoor specialists from hunters to ranchers to farmers. When you need proper foot protection from venomous snake bites, you're not going to go wrong looking at what Chippewa has to offer.
The top rated Chippewa snake boots will protect you from copperheads, water moccasins, and even the largest of rattlesnakes. Read on to learn more!
Chippewa: Great Looks, Protection, & Excellent Value
Chippewa boots have been the choice of outdoors men and women for over a century and that legacy continues with the latest collection of Chippewa snake boots. These stylish boots are built to withstand the strikes of venomous snakes through tough, thick outside leather and innovative inner linings.
This helps to create extremely high quality and well respected boots that are comfortable on the hunter while giving the full tough outer protection you want when your safety is on the line. You don't want any fangs getting through!
Some of the most popular models of these anti-snake bite boots include: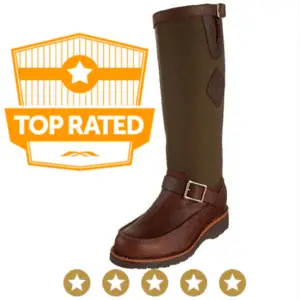 #1 Chippewa Men's 17″ Back Zip Mocc Toe Pull On Snake Boot
With a modern look based on a leather and textile construction and a Vibram sole for comfort these boots are made for the modern outdoor explorer. As a bonus the back zipper makes them a breeze to put on and take off, which is a definite plus over your conventional model of pull-on snake proof hunting boots.
A velcro strap goes over the zipper, with the outer part of the strap covered by leather to keep a solid beautiful look.
This modern take on the snake boot has reviewers impressed with both the materials used in the manufacture of the boot, as well as the fit and comfort while wearing them. Consistently ranking as one of the most popular snake proof boot designs on all of Amazon, these boots by Chippewa are a great buy that offer the perfect combination of protection from venomous snake bites, a sharp aesthetic style, and fantastic comfort and support while you're out and about in the woods.
The only complaint that occasionally comes up is that these boots can be a little bit heavy, but when that's the only complaint then you are doing really well and that is true of any pair of outdoor footwear that you put through the wringer many hours at a time.
These are extremely well designed boots and it is easy to see why they are tops among the many great Chippewa options.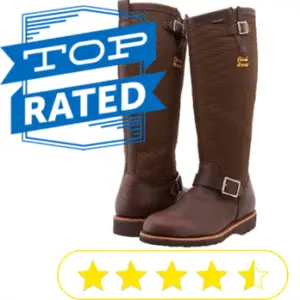 #2 Chippewa Men's 17″ Waterproof Pull On Snake Boot
These classic snake boots feature 80% Cordura & 20% Leather in a good looking construction that gives the appearance of full leather construction and a Vibram sole. The tall boot also has a breathable leather foot area with a buckle strap. The Chippewa logo is embroidered on both boots and gives off a classy appearance on top of the natural protection this hunting footwear affords.
For those looking for a rugged and reliable boot that features extremely good look this might be the right boot.
Scoring a great 8 to 9 stars out of 10 by most rating systems, this particular brand of protective anti snake bite boots by Chippewa are a major outdoor favorite based on quality of materials, fit (with a caveat), and the fact that the water wicking capabilities of the boots score extremely high, helping to guarantee you dry feet when you want them most.
The one caveat is that individuals with wide feet will want to go half a size to one size larger as these can often be a bit tight, especially if you have particularly wide feet, large calves, or both. As long as you keep this in mind you should be in good shape and be able to get a pair of great waterproof hunting boots from Chippewa that will get the job done.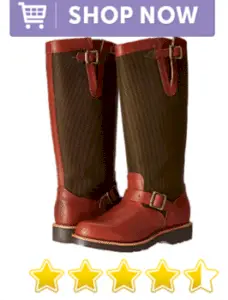 #3 Chippewa Women's 15″ Pull On Snake Proof Boot
Another exceptional snake boot from Chippewa this time aimed at the women's market this leather boot features a Vibram sole, leather welting and leather lining with a removable insole. These boots look absolutely fantastic and the top grain leather used gives these outdoor boots a stylish finish that is hard to match.
Special insoles make them comfortable and help create a long-term fit that doesn't beat on the bottom of the feet or the ankles. This means they can be wore for long periods of time both indoors and outdoors without the wearer having to worry about their feet killing them at the end of the day.
This is a boot that is suitable for everyday wear, as well as the perfect outdoor exploration boot. Another four to five star effort from Chippewa in creating an outstanding snake boot, which should come as no surprise considering they are the undisputed leader when it comes to making top notch snake boots for women.
When you're that dedicated to quality you put yourself in position to consistently be the best.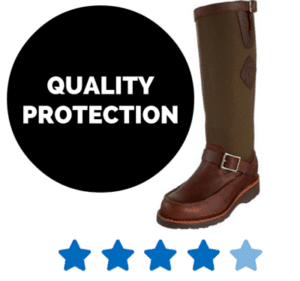 #4 Chippewa Men's Back Zip Mocc Toe Pull On Snake Boot
Another exceptional boot from Chippewa, these anti snake bite boots are of the 17″ variety and are one of the most popular brands that Chippewa offers.
The materials for this footwear are a quality combination of leather and Vipercloth, giving the right combination of rugged good looks, comfort and exceptional protection. After all they can be among the best looking of all the boots to protect hunters from snake bites but if they didn't work, what would be the point?
The back zipper makes the boots extremely easy to put on while a Velcro cover over the zipper gives an extra layer of protection. Stylish and tough these boots would be just as comfortable on the city street as out in the desert or forest and it is not at all difficult to see why they are so popular among so many confirmed buyers.
Another great addition to the Chippewa boot family. Outdoor enthusiasts should take note at this great choice.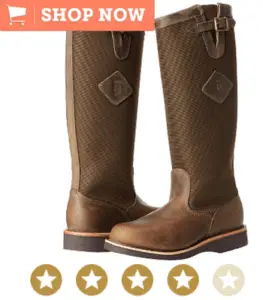 #5 Chippewa Men's 17 Inch Bay Apache Snake Proof Boot
While it can be hard to choose between all the great pull on and zip up options for snake boots that Chippewa has to offer for its male hunters, it's hard to argue with what the Apache boots bring to the table.
These are a great boot, and actually technically one of the highest rated on most review sites. One of the only things that hurts it here is that there haven't been mass reviews and feedback yet, in part because the circulation has been limited and in part because there aren't a ton of reviews yet.
Most boots can be great at roll out – it's looking at if that quality stays together or not when you really see how they pan out. That being said, by pure Amazon grade, so far as of this writing, this is the pick of the men's snake boots from Chippewa.
Made of top grain leather with a Vibram sole these boots tick all the right boxes as far as style and functionality are concerned. Fully deserve the high star rating and the sterling reputation they have acquired.
Chippewa snake boots are products that always deliver as far as style and functionality are concerned. The rugged construction means that these are products that will never let you down – with the correct care these snake boots will last a lifetime. Consider purchasing beeswax leather protector at the same time to make sure all your products are taken care of.


Chippewa Snake Boot FAQ
Q: Are Chippewa Boots waterproof?
A: Yes. Chippewa boots, whether snake proof or not, are designed to be waterproof or at the very least heavily water resistant. This helps make sure the hunter's feet and toes stay dry and warm.
Q: How do Chippewa snake boots fit?
A: Generally very good as long as you have normal calves and feet that are not extra wide. In these cases the measurements match up to regular boot sizes however if you have very large calves or you have extra wide feet, you need to order large or look at designs that accommodate these issues. If in doubt, go one size larger. You can always wear an extra pair of socks, if need be.
Q: Where can I buy Chippewa snake boots?
A: There are many options from virtually any local hunting and outdoor goods store to our favorite place: Amazon.com.
Q: Are all the hunting boots by Chippewa snake bite proof or not?
A: No. There are many great hunting boots that come out from the Chippewa brand, but not all of them are going to be built to prevent venomous snake bites. You actually need to check each pair or brand you're looking at to make sure you're getting a pair that can give you the proper protection.
Q: Do Chippewa snake boots make any styles or models for women?
A: But of course! In fact while many different snake boot manufacturers have stopped making most of their designs aimed at female hunters, ranchers, and outdoor enthusiasts, Chippewa continues to make a couple of the finest designs that continue to provide outstanding protection for women.
Q: How effective are Chippewa snake boots in actually stopping the fangs of aggressive venomous snakes?
A: Extremely. If you have any doubts whatsoever, feel free to scroll down to the bottom of this article and the famous (or possibly infamous, depending on your interpretation) video of a pair of snake boots being tested against dozens upon dozens upon dozens of rattlesnake strikes.
Q: How do Chippewa models compare to other brands in this niche including Justin Boots or Danner Boots?
A: All these brands have some very good snake boots, however, there's little doubt that Justin has began to step back from this niche and while Danner has some exceptional top notch options, Chippewa does stand a step above Danner when it comes to women's snake boots.
BONUS: Chippewa Women's 15″ Pull On Snake Boots
Since there are so many men's boots on this list it makes sense that we would have a good bonus selection that works for the ladies, as well. While these are very closely related to the brown leather anti snake boots for women we reviewed by Chippewa further up in this article, they are technically a separate model.
While the designs are strikingly similar, these quality protective hunting boots for women are good for outside or for being social out and about the town with the same simple pull on action and quality buckle at the bottom.
The versatility of these boots might not be quite up to the ones that look for fully leather, but this gives a bit more of a rustic appearance while offering the same level of protection from rattlesnake bites, copperhead bites, or cottonmouth bites.
Update: They are currently no longer making this style, but we will keep you up to date if this discontinued snake boot design comes back or if a better and newer design comes out to replace it.


Appreciating the Chippewa Company History
There are a small number of boot companies who make up the majority of outstanding hunting boots, and this goes double for the few companies who specialize in hunting boots that are also specifically snake proof. The Chippewa company started in the small Wisconsin town of Chippewa Falls in 1901 and the focus was on boots that worked for every single occasion and held up.
When the vision is this high on quality for all specialty uses then it should come as no surprise that when the demand for rattlesnake proof boots was on the rise from hunters that the Chippewa company was there to answer the call.
In Conclusion
Chippewa offers many amazing snake boots to choose from, and they are one of the few companies specializing in snake proof hunting boots that focus on footwear not just for the men, but for the women, as well. These boots are often made to be dual purpose, especially the pull on designs that are effective as an outdoor boot to protect from snake bites whether hunting or doing ranch work while also looking stylish enough to go out on the town without having to change.


There's a lot to love about these boots, not the least of which is their sheer effectiveness? Still have doubts? Take a look at this insane (infamous?) video of Chippewa hunting boots being put up against dozens of pissed off rattlesnakes.