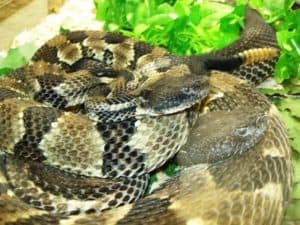 Death from snake bite doesn't happen very often in the United States, but there are still some deaths every year. When you are out hunting, you know that there are going to be times where despite the best laid plans and paying close attention to your surroundings, you might come face to face with a dangerous situation including coming up on a well hidden venomous snake.
While there are situations of hands being bitten for reaching over dead logs or from not paying attention, most of the time when it comes to meeting up with snakes, your boots are going to be your first line of defense, and you absolutely want that line of defense to hold.
Every hunter should consider getting a pair of one of these top-rated Lacrosse snake boots. You will stay safe and your feet and lower legs protected from a surprise snake bite, including the common hunting story of "I didn't notice anything but then there was a sharp sting in the back of my calf and it started burning," types of situations. So read on and enjoy this Lacrosse snake boot review to help you see if they are the right pair of high quality boots for you or the lucky outdoor enthusiast you are buying them for!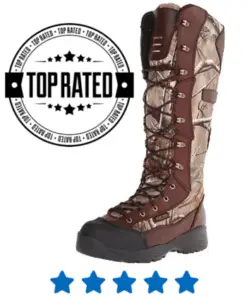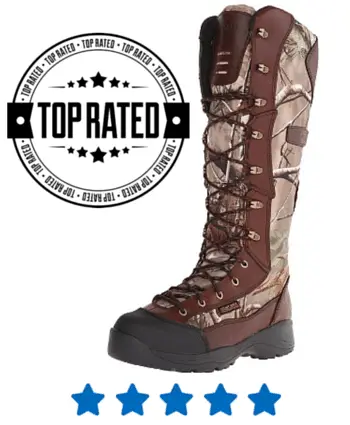 Lacrosse Snake Boots Venom Scent APG HD Snake Boot
This lightweight, flexible snake boot is the top-rated of the five most popular brands produced by the Lacrosse company. It is 100% waterproof and snake proof with the full 360 degree wrapping of snake protection LaCrosse is famous for. Doesn't matter if the strike is from the back or the front, at toe level or calf level, you will be secure with these boots on your feet as they offer full thick protection like you would want while out hunting.
The materials are carefully selected in production to make sure these hunting boots have a leather fit and nylon uppers that offer comfort and durability for any type of terrain. The boot has an EVA mid-sole and a PU footbed for cushioning to keep your feet in great shape over a long day. The mossy oak camo design is extremely popular with hunters, and these are consistently tapped as the top rated snake boots by Lacrosse that actually fit really well (this is consistently the biggest complaint that hunters who do have issues with Lacrosse hunting boots will bring up).
On the plus side when back to the specific design of this Lacrosse boot, its toe cap can handle wear after wear without abrasions. It contains a special odor-fighting membrane inside. The only possible disappointment for some is it does not have speed lacing, but then again part of the reason you can get such a good fit is that you tie it up looser or tighter based on your own specific preferences pre-hunt and this also allows for some serious protection when you are out in the woods hunting, looking for spring morels, or simply enjoying your march through the woods.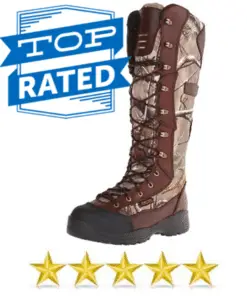 LaCrosse Adder Scent HD Mossy Oak Infinity Snake Boot
These 18-inch boots are easy to take on and off, and they offer rugged flexibility with 360 degrees of snake protection. The scent HD waterproof liner gives hunters 100 percent moisture and waterproof protection. Moisture may get in but water stays out allowing hunters an all day comfort not found in other snake boots. The antimicrobial fibers in the boot's lining keep odor from forming.
This boot also features an EVA midsole and a PU footbed for extra cushioning. It also has a reinforced toe cap that resists abrasion. Finger loops offer quick pulling on of the boot. Use the rear gusset for ease in pulling the boot off. The non-loading outer sole keeps mud, clay and debris off the bottom so the boot is perfect for the fastest and most athletic hunter that there is. The only feedback some hunters have had is that the original laces don't always go all the way to the top notches, but this hasn't prevented the boots from being a really solid fit.
All of that being said, this is clearly a 5 star quality of hunting boot and one that offers the much needed 360 degree protection that makes sure no snake is going to sneak in a bite while you are going through the wild.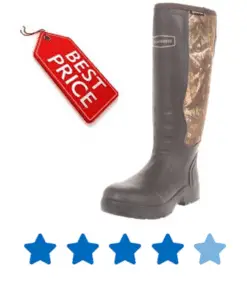 Lacrosse Snake Boot Alpha Mudlite
This is another of Lacrosse's snake boots that have pull-on ease. It is also waterproof with a rubber shaft and slip-resistant outer soles. The ankle is contoured for comfort. The back gusset is made of polyester material and keeps abrasion from occurring.
The boot also has a shin guard making it an excellent boot for the hunter who has to climb. The contoured ankle keeps feet secure and it prevents heels from slipping.
The Aircirc System
The special "Aircirc" system inside the boot allows air to circulate freely. The boot also has an EVA removable footbed. These boots pull on with a little effort but they stay in place for security. These boots are perfect for any hunter with a prior foot injury since they will not aggravate the foot when putting them on or sliding them off after a long day in the field.
They're not quite as good a pair as some of the top models that Lacrosse produces, but they will serve hunters just fine, especially those concerned about keeping the feet warm in marshlands and wetlands while turkey hunting. While this won't be for every hunter, for certain types of hunters this is simply one of the best options when it comes to outstanding snake protection while out hunting.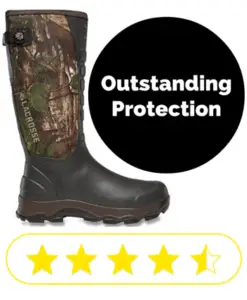 The 4x Alpha Waterproof Snake Boots
These snake boots have special "Quad Core" layered cushioning and support on all sides. This isn't just for helping keep the snake fangs away from skin, but this is designed to provide an extremely high level of comfort to the hunter, as well.
These boots are adjustable to help you create that perfect fit that gives the right ankle, shin, and even back leg support.
These are even good for winter use
One thing that really sets these anti snake bite boots apart is that they are made for cold weather use, as well. While it makes sense most boots worried about snake bites aren't overly worried about cold weather, these can stand up to -20 degrees. At that point you're long past worrying about snakes, but it's nice to know if something bad happens in the Iowa or Minnesota timbers during a sudden cold snap that you at least have a chance of keeping your toes when all is said and done.
You could argue when it comes to your rare deep fall mountain hunters, these become five star boots that even outshine the rest and deliver in a big way in conditions that other boots simply aren't built to put up with. Though granted…if it gets that cold you definitely don't need to worry about snakes for the day.
Waterproof, as well
In addition to this, the Lacrosse Alpha 4x snake boot has waterproof, neoprene uppers and handmade rubber overlays. The shin guards are also rubber and are snag-resistant.
The ankles are contoured to keep heels in place. Quad Core support gives the wearer a total of four layers of cushioned comfort. Perfect for very long hunts, but the sizes tend to run small.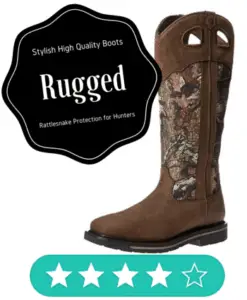 Lacrosse Tallgrass Snake Proof Hunting Boots
These are rugged, 17-inch snake proof boots that hold up to the tradition of the Lacrosse company name. This is one of the most stylish of the boots for snake protection that Lacrosse creates, as it has a mix of the mossy oak camouflage design with solid brown faux leather that almost gives it a bit of a dress boot look.
Basic specs
The "Dry-Core" trademark lining is 100 percent waterproof. This boot also features the Quad Core support for four layers of support and cushioning. The PU footbed is also removable and it has a Tallgrass low lug sole.
One common complaint that comes up with this particular brand of Lacrosse snake boots, however, is the fact that the ankle fit on these snake proof hunting boots can be stiff, and it is really important to be sure to buy the correct size to make sure you are comfortable through those long hunts.
While this boot generally has a high rating, there are some reports of it being particularly stiff around the back heel and calf area. Hunters with large feet and calf muscles might have difficulty getting these boots to fit and want to look for a lace up option, instead. This is a situation where the actual shape of the leg muscles can actually make a major difference.


Brief History of Lacrosse Boot Company
Part of the reason the anti snake bite hunting boots by Lacrosse are so highly regarded goes back to understanding the history of this company. Lacrosse is named after the city of Lacrosse, Wisconsin, in 1897 this was a company that understood the importance of quality right off the bat because you can't produce clothing and items for Midwest hunters without them holding up to all four seasons and the rough treatment from frequent outdoor enthusiasts.
Quality construction over a long period of time ensured they would continue to be a name that outdoorsmen would trust and Lacrosse boots were hailed by many hunters as some of the best around. While the company was initially based out of Wisconsin and was located there for most of its existence (in fact for decades early on in Lacrosse this company was the largest employer by far) before eventually moving to Portland where a subsidiary they bought out (Danner Boots) was located.
The current Stateside operations of the combined Lacrosse-Danner merger still operate out of Portland Oregon to this day.
Danner Boots, once an independent company based out of Portland, is actually owned by Lacrosse now and they continue the same level of quality from their brand although it is all under one company. If you were a fan of Danner snake proof boots the good news is that they still are high quality because that is what Lacrosse is known for. It's a merger that really has remained beneficial for not only the companies but their loyal hunter clientele.
Snake Protection FAQ
Q: How effective are snake proof boots?
A: Properly made anti-snake bite boots are an excellent way to protect not only your feet but also your lower leg up to the knee. This is where the majority of venomous snake bites occur and the strong and thick material will help prevent any fangs from sinking in. That might not only save your life – but massive pain, damage, and medical bills, as well.
Q: I heard the Lacrosse company that makes snake boots was bought out – does this mean those boots are made overseas now?
A: Not quite. What happened was Lacrosse acquired Danner, another well known outdoor company that was known for producing top notch hunting boots in general and snake boots in particular. Danner was based out of Portland, so that's where Lacrosse moved the main part of their production line to.
The boots are still designed, made, and manufactured in the United States, this is NOT one of those instances of outsourcing to China while keeping an American label for marketing.
Q: What is better: snake boots or snake gaiters?
A: This is generally mostly a preference thing. As long as the fit and comfort level is high then you should be in great shape. Some people prefer one, some the other, and some actually wear both which might be a little bit over the top but hey, it gets done!
Important note: if you are going to be capturing venomous snakes (should only be done by professionals or under the apprenticeship of professionals) even with a great pair of professional snake tongs, you want to still wear boots or gaiters. If you watch the videos of professionals using tongs, they always do have that extra protection on.
Q: How do I keep up with new snake boot models from Lacrosse?
A: We do our best to keep up to date with any changes. Most of the time the new style will be the same as the old or just minor touch ups on the old style. If there's anything new we will test them out and add them to this review article where we think they belong.
Q: How many venomous snakes are there in the United States?
A: Funny thing: we have the perfect article on that which you can check out! If this interests you take a look at our Venomous snakes in the United States guide.
In Conclusion
Getting protection from the many venomous snakes that live in the United States is never a bad idea, especially for the avid outdoorsman who is going to eventually run into them. These boots have a great reputation for a reason, and it makes sense to get a comfortable pair of hunting boots that will actually hold up in the harshest of conditions, keep you comfortable, and above all, keep you safe. After all if the boots fail to do this last one then the rest of the bells, whistles, and features simply don't matter.
When it comes to finding the best snake protection for hunters, it is hard to argue against the snake bite proof boots manufactured by Lacrosse, which has done a great job of avoiding the decline in quality that finished off Browning and Herman's foray into snake protective footwear in addition to the problems that Rocky snake boots appears to currently be having.
When you buy a pair of reliable snake boots you want to know you're safe and that's the type of surety that Lacrosse delivers!
Learn about the town these boots were born in!