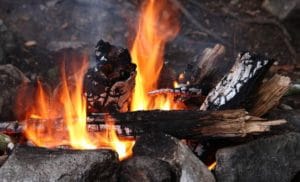 For me, summertime doesn't officially begin until you host one big outdoor event with your friends and family. For some that is a huge BBQ or pool party, but my preference has always been a big time camping trip. There is nothing better than being in the wilderness socializing (or drinking and playing bags) with the people you care about the most.
Anytime you are camping with lots of friends or your entire family, it is a good idea to pick a tent that offers enough gear storage and sleeping space to make everyone comfortable. There's plenty of time to get close without getting completely crammed together. For these big trips, we recommend 10 person tents.
To make your camping adventures more enjoyable, here are some of the best 10 person tents available on the market today – because no matter how much fun you are having, we all have to sleep sometime.
Our Top 8 Picks for Tents Made for Up to 10 People:
Ozark Trail Ten Person Tents Reviewed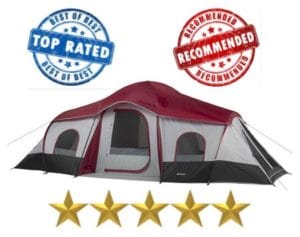 Ozark Trail makes a couple of high quality tents that are perfect for large group camping. The Most popular version is the Ozark Trails 10 Person Family Cabin Tent (3 Room). It has plenty of room, being 20 feet by 10 feet, with a major selling point being that you can setup three separate rooms, making it perfect for groups of friends that want a little bit of privacy. Each room can fit a queen sized air mattress, maximizing comfort for everyone.
Need even more privacy? With two side entrances and a main entrance, each room has its own entrance and exit! Each room also has its own window, which helps keep your individual room cool during those long summer nights. That top notch design is a major part of why this outstanding 10-man Ozark tent is rated so high on our list.
It is a popular tent with over 75% of the user reviews on Amazon being 5 star (as of June 2016). The price is really good too, normally being around the $160 mark. This is our recommended tent for groups of friends partying together…or families spending quality time together! The versatility it allows is part of the reason we can recommend it with a clear heart: because it works for so many different groups of campers to truly get the job done.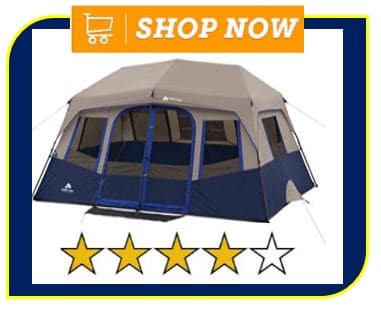 The best 10 person camping tent that not many people know about is the Ozark Trail 10-Person 2 Room Instant Cabin Tent. There are two big selling points here: the ease of setup and the roominess.
An instant tent comes with the poles pre-attached, so almost anyone can setup this tent in about two minutes, though admittedly this works out best as a 2 person set up job. That being said, if your goal is to make everybody else at the campsite jealous as they spend 30 minutes setting up their tent – buy this!
The large cabin style tent allows for lots of headroom, and you can easily fit a couple of air mattress and gear inside. It is more expensive than other 10 person tent options from Ozark Trails, normally costing around $250, but does come with several benefits including the aforementioned easy set up design.
This is our recommended tent for anyone that doesn't want to waste time setting up, and is ready to get the fun started right away!
More information about these and other family tents can be found on our best family tents article here.

Mountain Trails 10-Man Tents Reviewed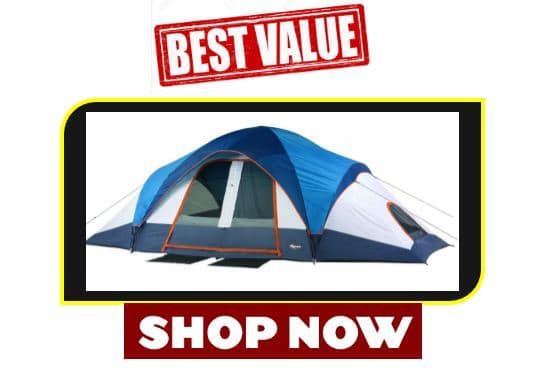 One of the best 10 person tents produced by Mountain Trails is the Mountain Trails Grand Pass Tent. This has a very traditional dome shape to it, and although it is not an instant tent, it normally takes two people about five to ten minutes to setup, which is fantastic for a tent of this size.
There is plenty of space inside, with the measurements being 18 x 10 feet when pitched. The center height is over 6 foot tall, which is actually really high for a dome tent, but not as high as cabin tents.
The cost is very cheap, being around $130 to $175 depending on time of year. We also really like the look of this tent, it has a nice splash of color to break up the monotony that many tent designs do suffer from (we're looking at you, any one of dozens of Coleman designs featuring light gray on dark gray) and despite the lower price it holds up during actual summer camping trips just fine even if you like to go out virtually every single weekend.
If you are asking which inexpensive 10 person tent is worth it, this is the pick. This is still an outstanding high quality tent that delivers on so many fronts including being very budget friendly compared to the others on here.
We would recommend this tent for beginners. The easy setup really helps teach beginners the basics of campsite setup, and the cost won't make you feel guilty if it only gets used a couple of times. This makes it a really inexpensive investment that can deliver a lot of value to your outdoor adventures.

Coleman WeatherMaster 10 Man Tent Reviewed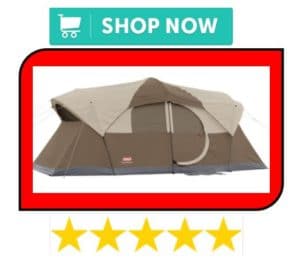 Coleman's version of the large 10 Person Tent is the WeatherMaster 10 Person Hinged Door Tent. The name implies this, but Coleman built this tent to hold up in rough weather better than most comparable tents. The tent's rain fly is removable, allowing for a mesh rooftop that gives you a good view at night or more sunlight during the day.
The high quality materials make this a very durable tent and it comes with a 1 year warranty. The setup is going to take 20 minutes or so, even for the more experienced campers. This tent is also very roomy, with a 6 foot 8 inch center height and an overall space of 17 feet by 8 feet.
This Coleman 10 man tent uses a hinged door design which makes it easier to get in and out of the tent and more access is always a good thing. The poles are made from heavy metal which makes them heavier and set up a true two person task (this brings back memories) but also means when this tent is set up well, it is strong and ready for any inclement shifts in weather.
The cost generally ranges from $200 to $300 depending if you can catch it on sale. That's a lot of quality space without having to drop a lot of dough on it.
Because of its durability, we recommend this tent for more experienced campers and groups that will be taking multiple camping trips every year. As the name would also indicate, this tent is also perfect for people that camp in sometimes harsher weather conditions and don't want to be restricted to simple campsites during the easiest of camping conditions in the summer.
There's only one potential downside we feel like we need to address is the fact that the tent stakes that come with this large tent aren't nearly as sturdy as the rest of the tent. While they will work for some people, if you've ever dealt with a lot of twisted tent stakes (this also brings back memories) then you may want to check out this article on replacement tent stakes.

Wenzel Tents Make The Grade!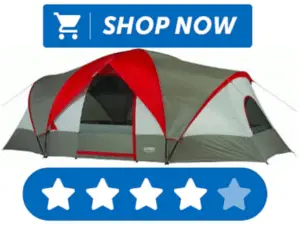 Our 10 Man Tent review wouldn't be complete without looking at the Wenzel Great Basin 10 Person Tent. Most people who reviewed this tent had nothing but positive things to say. It holds up well in the rain, is relatively easy to setup, is spacious, durable, basically it has everything that most people are looking for in a tent.
The design of this tent includes three roof vents that allows for a cooling breeze during the day, but just as a word of caution, that increased air flow means you need to pack warm sleeping bags if the night time temperature is going to be cool – we wouldn't want anyone to freeze because they don't have the right winter camping tents.
There is a room divider, so you can create two separate rooms for a little bit of privacy and you also have your standard storage pockets to help store gear. We recommend this tent for pretty much anyone, but it is better in warmer weather.

Core 10 Man Straight Wall Cabin Tent Reviewed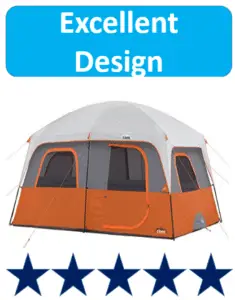 We make no secret of the fact that we have been huge fans of the CORE brand because their tents have consistently been pretty spectacular. So it should come as no surprise that their 10 man cabin tent shows up on our top list, as well.
The straight wall cabin tent is rated for up to 10 people, the center height is a full 86 inches so you can be pushing 7 feet tall and still have a small amount of head space in the middle. That is impressive.
The dimensions are 14 feet by 10 feet, and this is a heavy duty tent that weighs 35 pound but is built to be sturdy. The tent has a divider that allows parents to create a two room setup, and this CORE 10 man tent has both front and back door access. There are a variety of lantern hooks, gear lofts, and pockets to keep your important odds and ends off of the floor.
This is an outstanding design, and it's hard to find anything that you won't like about this tent. The special design allows for outstanding ventilation and air flow while the tent can also be zipped up and a fly thrown on to keep all the water out even during the heaviest downpour.
The tent is made from a very durable 68D polyester material, and there is even an electrical access port available. There are both steel tent poles as well as fiberglass tent poles, and the tent comes with a one year limited warranty, which we'll be rather surprised if you need to use but they back up their work just in case.
A great option, and great addition to this list. There are also other Core Tents listed in some of our other reviews, including the best family Instant Tents list & the best 6 man tents list!

New 10 Person Tents for 2018 & Beyond!
One thing that always excites my brother and I is when we go through all these blog posts when a new year comes around and see just what's changed. Sometimes the lists don't change one bit. The best pieces of equipment are still the best, or we might change a star rating slightly based on new rave reviews of recent changes or in the other direction if the quality seems to be slipping (never acceptable).
We're happy to report the best case situation for this post on camping tents designed for use by ten campers. Not only do all the old ones on this list hold up, but others emerged in 2016 with feedback far too positive to ignore. Because they don't have the same number of reviews as the high quality tents that have been around for a while, these are an addendum for now as opposed to put in the list, but definitely give these new ones a chance!
Columbia Sportswear 10-Man Fall River Dome Tent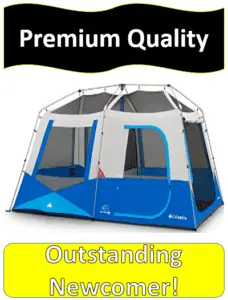 The first reviews on Amazon didn't appear until several months after we published the original version of this article, but Columbia's splash into the large family tent market has gone extremely well based on the early feedback.
Made from strong and resilient 150D polyester and multiple covered windows and separators to create separate rooms, this is a very versatile large tent that delivers plenty of options for groups of campers looking at different ways to split up the sleeping space.
This versatility means there can be a 360 degree view that goes in any direction, allowing you to set up to let the perfect air flow through in addition to being able to clearly see the best views in the campground.
There are multiple mesh pockets for gear throughout the tent for easy storage of wallets, keys, glasses, and anything else small you don't want over the floor where they can be stepped on. A limited one year warranty helps protect buyers in the event that a full summer of use and rough and tumble play (let's be honest on the most likely way a large tent might be damaged) end up doing a little bit of damage.
With a happy heart we add this high quality tent to our list of top 10 person camping shelter options.

Browning Camping Big Horn Hunting Tent Reviewed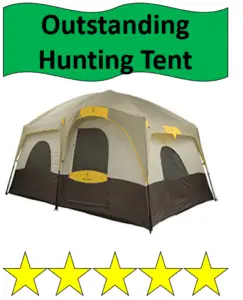 Good for families or for groups of hunters needing that stable camping space for a long multi-day hunt, Browning is a name that is well recognized throughout the outdoor industry and with good reason.
While more people might be aware of their hunting boots and gear, their 10 person hunting tent has received rave reviews not only from the targeted outdoor groups of hunters but also from many families who have used them, as well.
The picture shows the fully set up tent along with a rain tarp/fly that fits comfortably over the top but is also fully removable to reveal a screened roof that offers fuller ventilation as well as well as some beautiful views of the stars.
This tent uses a 3 pole setup system that is fast, easy, and sturdy, and the rain tarp buckles on securely and easy to hold up against even some really heavy rain and wind, allowing everyone to stay dry and comfortable.
The roomy tent makes it perfect for small hunting groups with tons of gear or a large family needing that extra sleeping room plus some space for the luggage. This tent has an extra strong floor, room for cots, and really focuses on that heavy duty quality. This tent was actually very close to making our top list last year, and at this point it finally gets its well deserved place on this list of top choices!

Major Camping FAQ
Q: What are the common styles of 10 people tents?
A: When you're looking at the extremely large tents generally you are talking about either a cabin style tent or a dome style tent. There are some variations of this, but generally you have cabin tents which tent to be tallest in the middle and offer a little more walking around and head space, but also tend to be heavy duty.
The dome tents for 10 people are a bit lighter, might even be just a step above instant tents, and are focused more on maximized sleeping space on the ground.
Q: I'm really old school – aren't there any 10 person canvas tents?
A: There are a lot of great canvas tents and in fact we have a blog post dedicated solely to our favorite canvas tents. While there are some great 6 person canvas tents and 8 person canvas tents, we haven't found a 10+ person setup we're really impressed with yet.
However, if you believe we missed one or are a company producing good ones who want to prove us wrong – definitely contact us! Otherwise that link goes to our favorite 6 & 8 man canvas tents.
Q: Do all 10 man tents have separate rooms?
A: Most do. Some are solidly designed as having separate interior rooms, creating many 2 room tents and 3 room two person tents, while others are mostly one really big open space that have thin canvas dividers that are attached to the interior ceiling and can be rolled down to create separate rooms.
The exact design or set up will vary from one design to another – so if you have an idea in mind then make sure to check out the brands to find the one that is right for you.
Q: Do all 10 man tents have screened in porches?
A: No. There are some designs that have this feature, and there are other large tents that have a zippered fly that an be extended out to shade with a couple extra poles and guy lines.
Q: Where can I find a 10 person tent for sale?
A: Amazon is always a good choice just because you can compare what everyone is selling these tents for, and we'd encourage you to check out the links we have in this article so you can look at all the options that are available for you.
At the End of the Day
The right gear will always make your camping trip more enjoyable, and that is especially true with your tent choice. Picking the right tent comes down to knowing what situations you are going to be using it in.
Beginners should pick different tents than experienced campers, and people that are planning more serious camping trips should pick different tents than those who are just meeting friends for an outdoor party. This guide of the best 10 person tents should help you pick the right tent for your situation!
If 10 Person Tents are going to be to big for you, check out our articles on the best 2 Person Tents, 4 Person Tents, and Connect Tents!
Here is a quick video showing an Ozark Trail 10 Person Tent to give you an idea of just how big they are and how much space they have to offer.