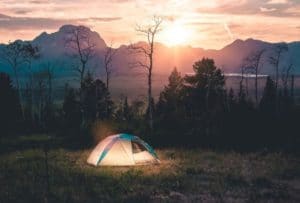 One of the most common questions we field at amazingoutdooradventures.com is about tent size. We can understand why. We have done enough camping to know that even if a tent claims to be an 8 or 12 person tent, realistically, you are not going to fit near that amount of people into it.
And once you add in gear storage…those tents can become cramped in a hurry.
Most campers want an accurate idea of what sized tent they should buy and we found 6 man tents are ideal for most small group adult and small family camping trips. Realistically, you can fit around three adults or two adults and two children comfortably (with gear storage).
One of the other questions we often hear is what are the best 6 man tents?
The best 6 man tents are the ALPS Mountaineering Camp Creek 6 Man Tent, Core 6 Man Instant Tents, and the Coleman Montana 6 Man Tent. 
Our 6 man tent review includes some of the most popular brands and options available to campers today, and should give you a clear idea of what tents are best for different situations. So what is the best 6 man tent? Read on to find out!
Quick Reference Chart
Here is a quick reference chart that shows several of the top 6 man tents that we reviewed. While this might give you a small taste of what these great tents have to offer, make sure to check further down for updates because further down is a more detailed review of each tent!
Coleman Montana 6 Person Tent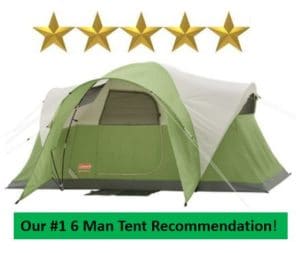 This is one of the best tents for extended camping trips, and is very popular choice for scout leaders. Scout leaders love it because it is built to withstand rain storms and keep water where it belongs, outside of the tent.
The floors and seams are specially designed to prevent leakage, and the windows have a unique angled design that allows you to keep them open during all but the worst rain storms without flooding the inside.
The rainfly is removable which allows for more sunlight into the tent during the day. There is even an awning for the front door that gives you a place to remove shoes without tracking mud into the tent during nasty weather. Space wise, you are looking at 12 feet by 7 feet when pitched, and a center height of about 5 feet 8 inches. With the cost normally being around $120 for this tent, it is hard to find a better value for scout leaders or small group campers in need of a new tent.
Other popular features include:
Electrical access port
Interior storage pockets
1 Year limited warranty

ALPS Mountaineering Camp Creek 6 Person Tent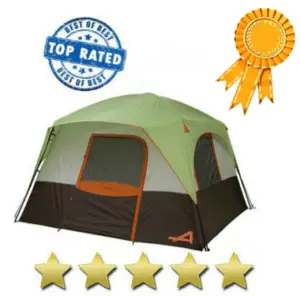 This is one of the newest 6 person tents for camping that potential campers can pick from. There are a lot of great selling points for this tent, but my two favorite are the tent's durability and design.
The strong polyester fabric, fiberglass poles, and steel uprights make this tent perfect for campers that need a durable tent that will last multiple camping trips.
Design wise, you have four huge windows and a huge front door allowing for a great view and nice airflow. The design also includes walls that only have a slight slant to them.
The almost vertical walls allow for plenty of standing space and also provides more usable space on the inside of the tent than you would normally get from a 6 person tent.
You will have about 100 square feet of room inside with a center height of about 7 feet, providing a perfect social gathering space for campers. This is one of the larger tents made from ALPS Mountaineering who tend to specialize in slightly smaller tents, but the same legendary quality they are known for with their other tents is alive and well in this model, which we have as more of a 1-B as opposed to a #2, and many campers argue this one is slightly better – and you can make that argument, especially if budget is not a major issue for you.
The Camp Creek 6-person tent from ALPS Mountaineering is more expensive than a lot of other options, normally priced around $250 or even more, but this tent well worth it, especially considering ALPS Mountaineering's reputation for building durable tents.

Kelty Outback 6-Person Tent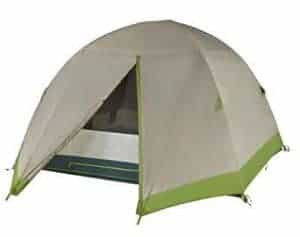 We consider this one of the best 6 man tents for backpackers or people that like to camp a little bit off the beaten path. The weight is really good, about 16 pounds when fully packed, making it manageable to hike shorter distances with.
For longer hiking trips we will always recommend purchasing a two or three pound 2 person tent, but if you need a larger tent, and you know you are going to have to hike short distances with it, this is a great option.
The setup for this three pole-free standing tent is easy as well, normally taking two people between five to seven minutes to complete. It is considered a 3-season tent, making it suitable for camping in spring, summer, and early fall weather depending on the region you are camping in. Prices normally vary somewhere from $225 to $250, making it a good option for us more serious campers.
Generally speaking, this is not our recommended tent for most family camping trips.

Ozark Trail 6 Person Instant Tent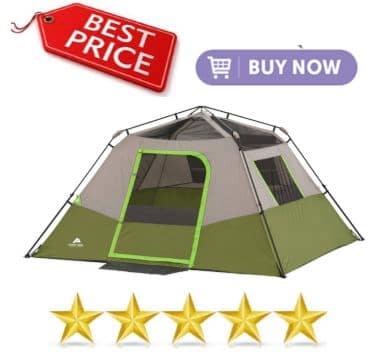 Who do we recommend this tent for? Basically anyone who wants to be able to pitch a fairly large tent in about 30 to 60 seconds flat, as opposed to re-living our youth of heavy poorly marked poles and a lot of swearing and tent re-pitching. Most large tents can take 10 – 20 minutes to setup depending on how complicated they are, but this Ozark Trail's tent comes with everything pre-attached, allowing for the easiest setup possible.
Measuring at 10 feet by 9 feet, you should have plenty of space to sleep comfortably and this tent even advertises as having the room for two full sized queen sized air mattresses – if ya'll are too good to sleep on the ground. You also have storage pockets and an electrical access port built in. I also think this tent has a really good classic look to it, so it scores bonus points in the looks department as far as we are concerned.
Instant tents do have some durability concerns, but as long as you are gentle, you shouldn't have any major concerns. This is an older tent, so prices are usually around $120, making it ideal for people that only take a few camping trips a year. A classic design that really holds up.

CORE 6 Person Instant Cabin Tent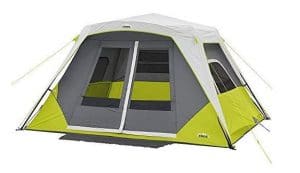 CORE is a name that shows up on several of our other top tent articles, and if you have had much experience with them, it's not hard to see why. Weighing 22.7 lbs and designed to comfortably fit up to six campers, this eleven foot by 9 foot tent has found plenty of fans among the spring and summer camping crowd (note: this is not designed as a 4 season tent, so it isn't ideal for autumns in cold climates).
This tent can offer plenty of space for air mattresses for those campers who need a little bit extra padding underneath them, and pre-connected poles means the setup is quick, easy, and should only take sixty seconds or so to complete.
A center height of a full 72 inches gives plenty of space for most people to stand without worry. There is a lantern hook to make it easy to set up light within the tent at night, as well as a wall organizer and pouches to keep a lot of gear off the floor. With multiple places to put it, you can also organize in a way that makes sense and puts everything in an easy to find place.
Potential negatives? The rain fly is a bit small, and there are some people who aren't particularly big fans of the tent stakes that naturally come with this exceptional tent but that's easily fixable with a good set of replacement tent stakes. That being said, this model is clearly one of the best 6 person tents for the money.

Coleman Elite WeatherMaster 6 Man Tent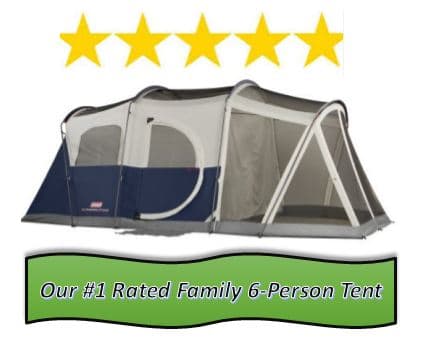 If you are looking for a tent that packs all the bells and whistles you can think of, this is the tent for you. This tent has a large screened in area before you reach the front door. This area is perfect for storing gear and providing a mud free place to remove shoes before entering the main part of your tent.
This screened in area does not have a floor, so we advise bringing a small tarp or some old carpet to place in front of the entrance.
It is a very spacious tent, providing a main tent area of 11 x 9 feet in addition to the 9 x 6 foot screened in area. The center height is roughly 6 feet 8 inches, making it tall enough for almost anyone to be comfortable.
Here is the kicker, this tent even has a built in LED lighting system with three different settings that keep the tent bright enough to read or play cards in at night. This tent is heavy, weighing almost 50 pounds, so do not plan on doing any type of backpack camping with it. The price is normally around $300, and this is the perfect tent for families that do a lot of camping together.
If you like the look of this tent, but need more room, check out these bigger family tent options.

Updated for 2019: While we still stand by all the awesome tents on this list as being among the best of the best when it comes to good 6 person tents for the family, there have also been some others that have really stepped up their game. While all the tents listed in this original article are definitely top 10, we're not sure they would all be top five anymore. Here are some new arrivals who might just have a say in knocking some of the former top 5 off of their high perch:
Coleman Sundome 6 Person Tent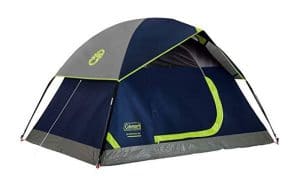 Coleman already has some outstanding tents that appear on many of our top tent lists, because they simply make a good product. The sundome 6-person tent is a 10 foot by 10 foot setup with a 6 foot center height, which is very large for your conventional sundome tents, which tend to be smaller in nature.
These tents are 16 lbs in size, have solid poles that can stand up to wind, rain, and buffering, and include many fantastic benefits in a relatively compact package.
These 6-man tent are designed with water resistance in mind, with the Coleman company even advertising these tents as being up to 1/3 more resistant to water compared to other similar tents. Even beyond this there is an extra rain fly that is included for additional weather protection.
All of this is covered under a limited one year warranty, giving serious backing to the high quality of work that this company is providing to consumers with these tents.
Mesh windows allow for exceptional air flow throughout the Coleman tent, which can then be sealed up to keep dry. The one big potential drawback? Unless you have a couple teenagers or kids in that 6 person count, you're going to have a rough time fitting six people in here without any overlap. Without kids this is a much better 4 person tent with room left for gear.

Coleman 6-Person Instant Cabin Tent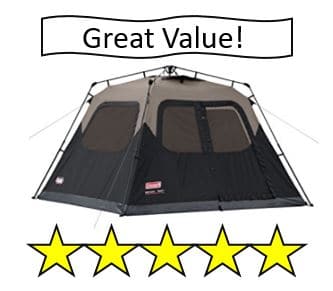 This tent almost made our top list the first time, and after more design improvements, more online reviews from more happy campers, and just continued improvement, it's hard to argue not putting them on this list.
In fact, it's very possible they would have been #6 on a top 10 list if we had done that instead of top 5, originally. This cabin tent is a unique but outstanding design that is a touch more than 10 feet x 10 feet and makes it easy to sleep a full six people.
These are designed with tough taped/polyester seams to make the tent solid, while pre-attached poles are the key to a fast and easy setup. Extend the poles, secure them, and the tent is up. Once two people are used to it, it should only take about 60 seconds to get it all done. Their trademarked WeatherTec system means special welded floors and inverted seam design to keep water out.
This is an outstanding tent choice for families looking for a good 6 person tent that is still easy to set up without the many headaches that come with it.

Big Agnes Flying Diamond – 6 Person Tent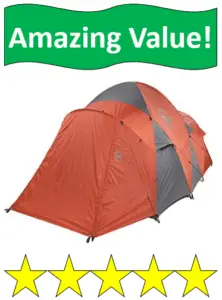 Wrapping up the "Welcome to the Top 10 6-Person Tent" list from Amazing Outdoor Adventures, is the Flying Diamond 6-person tent model from the Big Agnes company. These nylon made tents are set up for full 4-season camping, include vestibules attached to the tent allowing for a safe place to store gear or strip off outer clothing before crawling into the main sleep space of the tent.
The vestibule door is versatile and vertical zippers allow those doors to be combined with trekking poles and line to create some shade during the warmer camping months.
The main material used is polyester while nylon mesh windows allow for proper air flow. Added on top of all of it is polyurethane coating that is specifically designed for waterproofing to keep campers dry and comfortable.
Add in the fact that the poles are made of high grade aluminum to keep them relatively lightweight while remaining impressively durable. Storm flaps, mesh storage pockets, and well designed hook stakes complete the package of this outstanding tent.
As of this writing, this tent has an incredible 4.8 rating on Amazon.com.
Coleman Octagon Tent Review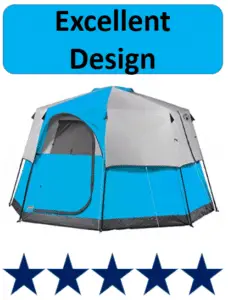 The Coleman Octagon Tent is sometimes seen as more of a 7-person tent as opposed to a 6 person, but considering most tents are very optimistic about fitting in the most warm bodies, we feel very comfortable putting this outstanding tent onto this list. Featuring a very unique design, this addition to our list of the top rated multi-people tents is an excellent option for individuals who need
Constructed from a durable Polyester Taffeta 68D material, this tent is designed to hold up to some pretty major weather while creating a secure little space for an entire family. This is also an outstanding option for groups of friends who frequently camp together or for events where you need extra tent space like weekend campouts with the Boy Scouts or a week long hunting expedition (for less than 6 people in this case since gear is an issue).
However this highly rated design is one of the most popular tents that Coleman makes, period, and offers solid steel poles for stability,  two doors to allow entry from either side of the tent, and even a trademarked (and patented) WeatherTec system that includes welded floors and inverted seams which keeps the water out. The solid and centralized octagon design along with the steel poles make this arguably the best 6-person tent for windy conditions.
The poles are color coded for easier set up, and there is a zip-on fly that protects from rain and wind, but can also be drawn back to increase ventalation. The interior even ha a removable privacy wall to create separate rooms if needed. Add in some interior pockets with cup holders and this 13 x 13 foot 6 person octagon tent has a lot to offer!

6 Person Tent FAQ
Q: Which 6 man tent is best?
A: Best is a relative term. We try to balance the highest quality, ratings, ease of setup, versatility, and price when figuring out how to order them, with the important caveat that all of these must be high quality to even get on the list. If money is not an issue and you're going by sheer quality of construction we suggest looking at the ALPS Mountaineering Camp Creek, Core 6 Instant Cabin Tent, and Coleman Octagon as being particularly good choices out of our list – but it's important to note that all of these are really top notch – we're separating them by the thinnest of margins in most cases.
Q: Who needs a 6 person tent? 
A: There are several situations where a 6-person tent make sense including larger families with plenty of kids, Scouts or other kid camping groups, a tent for multiple adult friends, as well as for slightly smaller groups that tend to pack heavy for camping trips and need more room for gear that won't intrude on the sleeping spaces.
Q: What are some benefits of going with a 6 person tent design?
A: There are many potential benefits with 6-man tents. They are more comfortable than small tents, tend to be far less expensive than 8, 10, or 12 person tents, have room for gear, hold up against wind well, as well as a large number of outstanding options to choose from (as our list clearly shows).
Q: Why are there so many tents from Coleman on this list?
A: In the same way that some companies focus on mountaineering tents, ultralight backpacking tents, or materials like canvas tents, and while Coleman makes all types of outdoor gear, they spend a lot of tent time on larger tents which is why they also appear on many lists for family tents, 8 person tents, or even our list of top 10 person tents. Coleman knows how to build high quality large camping tents.
Q: What are some of the cons of going with a 6 man tent?
A: These are not good at all in most cases for winter camping and generally don't hold up to snow well at all. They also might be a bit more expensive or sized than 3 or 4 person groups actually want to pay for.
Q: Are these considered small family tents or large family tents?
A: These are a more middle of the road, but if these are the only two choices then you would call these a large class of family tents. They would be on the smallest side of larger tent designs, but they fill that niche really well.
Q: What's the normal warranty on these tents?
A: Depends on a variety of factors including the brand, the company, whether you buy new or used, and who you buy them from.
In Conclusion
For most situations a 6 man tent is going to be the perfect size. Six person tents are generally less expensive and easier to setup than larger models, and are the perfect tent to start teaching kids the fundamentals of camping with. Hopefully this 6 person tent review will help you pick the right tent for your situation. And just remember, as your children grow older and become teenagers, you may want to look into upgrading to an 8 or person 12 person tent – and we have plenty of good reviews on those tents too!
In case you were wondering how to setup an instant tent, here is a quick video.