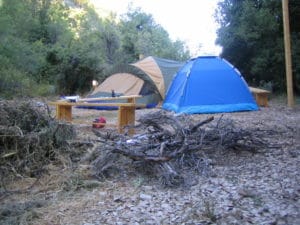 Some of the best experiences I had growing up were the long camping trips I got to take with my family. We would often camp in the wilderness of Iowa, Wisconsin, Minnesota, and even way up north in Canada. Whether we went as part of our local Boy Scout Troop or as part of our own family camping trip, we spent many weeks and months out in tent life.
Great memories of bonding as a family and learning so much about what the great outdoors had to offer. I also learned at a young age that camping with the wrong equipment could make these camping trips much less enjoyable, especially during set up time.
The most important piece of camping equipment was our tent. It had to be large enough to support five people comfortably, and durable enough to stand up to the sometimes harsh elements. Because thunderstorms be darned, we were going to camp and fish that weekend! I also cared about things like how easy it was to setup and take down, because my brother and I were always going to be left with those types of jobs at the campsite.
With the hopes of making your future family camping trip more enjoyable, we thought it was important to create a list of family tents that we would strongly recommend for different situations. We looked at factors like cost, durability, features, ease of setup, and user reviews to provide our recommended list of tents.
Comparison of the 9 Best Family Tents
Through personal experience, user reviews, and extensive research, we graded some of the most popular tents on a scale of 1-5, with 5 being our highest recommendation. For cost, 5 would be the most affordable, 1 would be extremely expensive. While every situation is a little different, and everyone has different features they look for in a tent, we determined the most important factors to be cost, functionality, durability, and user reviews.
Functionality includes things like weight, features, ease of setup, and all the little things that make camping more enjoyable. If in doubt, we tend to put the most weight on durability and functionality, with cost a little bit less, but each person is going to have their own priority when it comes to these factors so by all means, judge accordingly to get the right shelter for your favorite camping schedule.

Individual Tent Reviews
That chart above is really nice for a quick snapshot of some of our favorite tents, but more information on the features and functionality of each tent is necessary before making a decision.
What is perfect for one family won't be the best option for another. We recognize there are many different family tents out there, many different needs, and we do our best to thoroughly cover what all of these fantastic family tents have to offer to help you get a look at the absolute best options currently available out there.
Here is a quick rundown of each one.
Wenzel 8 Person Klondike Tent Reviewed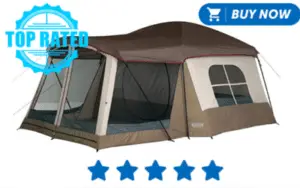 This tent is strong across the board in our grading system. This 8 person dome shaped tent is 16 x 6.5 x 11 feet, and is divided into two spaces. The front area can go from a screened in sun room to a second bedroom at night that fits 3 people comfortably.
This is a family dome tent by design, so if you are a fan of large dome tents then you will like what Wenzel brings to the table with their large family sized Klondike tent and the versatility of this tent, along with the high quality of the materials used in manufacturing, make it a fairly easy choice as one of favorites on this list.
Available in gray or blue, this is a solid looking tent in either color, and when it comes to getting your night camp ready, we strongly recommend a two person setup crew, which should be able to accomplish the task in 15 – 20 minutes. The biggest weakness of this tent is it performs average to below average in heavy rains/heavy winds, so plan accordingly.
However in favorable and gentle camping conditions, their tents are so durable that Wenzel offers a 10 year warranty on their website. These tents also tend to be very reasonably priced compared to other high quality tents this size.

Ozark Trail 10 Person 3-Room XL Family Cabin Tent Reviewed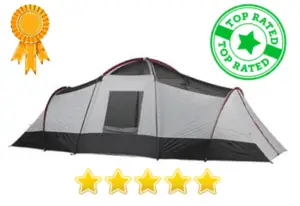 This is our number one rated tent when it comes to cost. We would consider this the best tent for families only looking to take one or two smaller camping trips a year. This isn't built for constant campouts with the Scouts 20 times a summer or for a six month camping spree across country but this is a surprisingly inexpensive family tent that is very light on the wallet compared to many other options that are out there of the same size.
With 3 rooms, 3 doors, and 6 windows, it really has a neat look to it in addition to offering some outstanding ventilation during cool breezy summer days when a little bit of wind is the perfect add-on to make the tent extremely comfortable. The divided rooms are perfect for a little extra privacy, and you can comfortably fit a queen sized mattress in each room.
You can also use the middle room for storage, and each side room as a private bedroom, making this one of the best multi room tents. The setup is easy, normally taking about 15 minutes, but the durability is slightly suspect.
If used sparingly, this tent will easily last 3 to 5 years, but doesn't stand up to multiple week long camping trips as well as some of the other options we have on this list. While we understand the challenge of making durable family tents it still has to be a consideration in grading, though as we said – this isn't necessarily bad, just not quite as high as some of the premium choices on this list.

Ozark Trail 3-Room Instant Tent Cabin Style Reviewed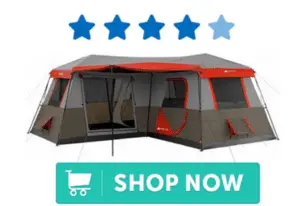 With such a long name, you expect a lot of good things from this tent, and it delivers. We would consider this one of the best house tents for camping. The two biggest reasons why people buy this tent is size and ease of setup, and that second one is not a point you get to emphasis very often when it comes to large family sized tens. As an "instant tent" Ozark Trail claims you can setup the tent in under two minutes because the poles are pre-attached.
Realistically, when you add staking the corners into play, one person can setup in under five minutes, although with two experienced people working together on the setup that under two minute mark is very much in play.
This tent has three rooms and can comfortably fit 10 – 12 people, making perfect for large group camping trips as the 16 x 16 measurements means plenty of ground space no matter how large the group or family.
The downside is durability. Instant tents give you an easy setup, but they do not last as long as other tents. Normally the first things to break will be the fabric and the poles. The one major drawback is that this tent does come with our lowest durability rating out of this group, which is surprising to some because the cost of this one is a bit higher than many of the others on the list but you're not paying for 5-year durability, but you are paying for its amazing size and functionality for large groups.

Coleman 8-Person Red Canyon Reviewed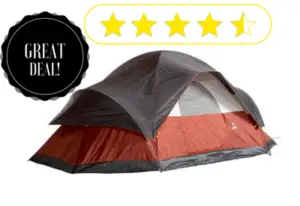 This tent scored a lot of points on our cost scale, but was just average when it came to functionality and durability. The size is great, 17 x 10 feet, with a center height of 72 inches, making it tall enough for most people by offering plenty of space.
The setup time for this particular 8 man tent from Coleman will generally be around 20 minutes with a group of 2 or 3, it is possible to setup with 1 person, but that normally takes around 30 minutes. Most people are really happy with how it performs in the rain and breezy conditions.
Some people have suggested this works a little bit better as a 6 person tent for families with teenagers or bigger members, or if you tend to pack a lot of gear but that shouldn't take away from how durable and functional it is. This is a very basic tent, lacking some of the bells and whistles other tents have, but it is very popular.
Coleman has been making a variation of this tent for years, and it has literally thousands of reviews online, something not a lot of tents can brag about and showing just how popular this particular model of family tent really is.
Since this model is a little older, you can normally purchase it for a bit of discount compared to some of the other tents on this list.

Coleman 8-Person Instant Tent Reviewed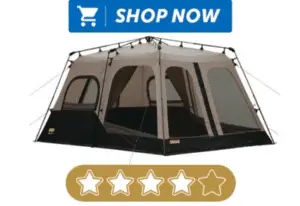 This is Coleman's version of the quick setup family tent. The poles are pre-attached to the tent base and with a little practice, Coleman says you can setup this tent is less than 1 minute!
For my brother and I, that's exciting and allows us to start having fun right away. It has a 14 x 10 base, so realistically I would consider this a 6 man family camping tent as opposed to the eight that is advertised but let's face it: this is true of the way most tents figure out available sleeping space. They're always very optimistic and measuring with shorter people and/or kids as some of the warm bodies.
With two doors and seven windows, it offers great views and fantastic ventilation. Coleman gives this tent a 1 year warranty, making it perfect for multiple family adventure camping trips and if you put it through the ringer for a year you will really be able to test its durability while fully covered.
Depending on where you buy from, if there are any sales, or what time of year you make the purchase you will often find this tent's cost normally coming in at around $200 – $300 with even more variation based on color scheme (yes different color combos will cost different amounts) you pick.
The downside is it's a heavy tent, and like most instant tents, durability can be an issue which is why we have it at 4 stars instead of the 4.5 rating you see on most review sites. We slam into a lot of camping adventures and heavy use so we are definitely tough when it comes to grading durability.

Coleman Montana 8-Person Tent Reviewed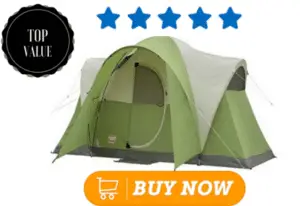 We consider this to be one of the cool camping tents available today due to its longevity and popularity. Coleman has actually been producing this tent since 2010, and it has been a hit among experienced family campers and outdoor enthusiasts for really good reason.
We would highly recommend this tent for extended camping trips, scout troops, and families in general. This tent passes our durability test and is one of the better options out there, in our opinion.
The mesh roof allows for great star gazing during clear nights, and a rain fly can easily be added to protect from rainy weather. The size is great, allowing for 2 queen sized mattresses and gear, or 3 queen sized mattresses if you leave your gear in the car. There is an electrical access port so electrical devices can be used inside.
Setup is relatively easy, taking most groups about 15 minutes of time. The center height is a little low, being only 6 feet 2 inches, but for most of us, that is still tall enough. If you're spending most of your time in a tent standing straight up, you're doing it wrong.
The cost can vary but the truth is that generally speaking this design of family tent is actually very economic considering what you get, making it a very good value buy, especially when comparing cost to functionality.

Browning Camping Big Horn Tent Reviewed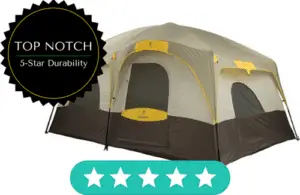 This tent is our highest ranking tent in terms of durability. Browning makes their tents with high quality, long lasting materials. This tent has a 3 pole design, with the poles being made of fiberglass with steel uprights for extra strength. It also is made from polyester materials that stand up well to UV rays.
Besides being durable, this tent also looks great and is perfect for family adventure camping. On average it takes about 15 minutes for two people to setup, and has a total area of about 150 square feet. There are two large front doors, and you have the ability to create two separate rooms for a little bit more privacy (though it's still one large tent, so don't have unrealistic expectations).
We recommend this tent for families that take multiple camping trips every year or spend long periods of time outdoors. This is a durable and exceptional tent and that means you need to be prepared to spend a little bit more on this premium family tent but even at the high end you should be able to get it for under $400.

Core 9 Person Instant Cabin Tent Reviewed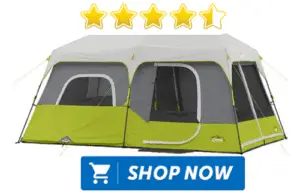 This is another quick setup tent, with Core claiming you can set this tent up in less than 60 seconds. The poles are attached, so basically you take it out of the bag, unfold, extend the poles, and eureka the tent has been pitched.
The 14 x 9 foot spaces fits two queen sized mattresses, but realistically, nine people is a pretty tight fit once you include gear. It also has lots of pocket storage on the inside, and also has an electrical cord access port to help power up electronics. Not a big need for us since we grew up old school camping but this can be a nice compromise with younger outdoor kids who still feel they need a little bit of an electronic hookup getting started.
The big feature that Core likes to promote is a unique venting system. There is an air intake system that is adjustable, but it helps to pull in cool air from the ground, and hot air can escape through the mesh ceiling.
Anybody that does a lot of summer camping knows how miserable it can be inside a hot tent, and this feature really helps keep you cool. That is an outstanding design that makes things a lot better and more comforting.
From a pricing standpoint, you can expect to pay around $250 most of the time although it may be a little bit more or less depending on where you're buying from and when.

Tahoe Gear Ozark 3-Season 16 Person Family Cabin Tent Reviewed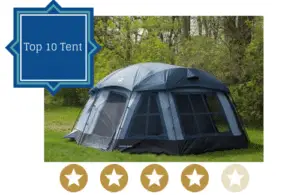 My favorite part of this heavy duty family camp tent by Tahoe Gear is the way it looks. When it comes to awesome camping tents, the unique look, 7 foot center height, ability to fit 16 people, and durable materials really makes this tent a winner.
The huge open spaces allows for lots of storage and sleeping space. This is an impressively sizable tent and if you are going with a group and gear this can be a great option to make sure there is plenty of space for everyone and everything.
There isn't a lot of privacy on the inside of the tent, and the other drawback is the setup time. You need to have multiple people, the poles are big and heavy, and it is going to take 25 minutes or so. However if you want durable – at this size it doesn't get much durable than this!

4 Important Factors to Consider When Choosing Your Tent
Factor #1: Pick the Right Tent for Your Budget
Large family camping tents can vary in cost from a couple hundred bucks to four or five hundred dollars. I would recommend the more expensive tents for families and large groups that are going to take multiple camping trips every summer; or for the families and groups that will be camping for weeks at a time. For the families who are only camping for one week a summer, spend your money on cheaper tents, and spend the saving on making your vacation as enjoyable as possible!
Factor #2: Examine the Features of Each Tent
Every camping trip is different, and you want to have a tent that meets all the demands of your outdoor adventures. To do his, make sure the tent you pick has all the necessary features. For example, if you are planning a harsh weather camping trip, winter camping tents are completely different than beach or summer tents. Look at things like weather proofing, the number of doors and windows, rain canopies, durability, and extra storage.
Factor #3: Make Sure the Tent Is Functional for You
The functionality of your tent is the key to making your trip enjoyable. For example, if you know you are going to be the only one putting up your tent, make sure you purchase one that can be pitched by only one person. If you need air mattresses, buy a tent with enough room to fit one or two mattresses and your gear. If privacy is a concern, make sure you buy a tent that has one or two room dividers.
All these little things add up to create a more enjoyable experience, so do your research!
Factor #4: Look at Available Reviews
I always encourage people to look at reviews before making a purchase. Don't treat reviews as the be-all and end-all source of information, but scanning through a few dozen can really help you find out about awesome camping tents. I would also encourage people to visit the manufacturer's sites for additional information. Manufacturer sites are a great source of additional information, and they often have a section of commonly asked questions.
Large Tent FAQs
Here are some of the most frequently asked questions we get from people when looking for the best tents for family camping.
Q: What is the difference between dome tents and cabin tents?
A: Dome and Cabin refers to the shape of the tent. Dome tents are shaped like a dome and are generally easier to setup, cheaper, and weight a lot less than cabin tents. However, dome tents are generally more restrictive when it comes to space.
Cabin tents are boxed shaped, so they have much more head room, more storage space, and normally can be divided into multiple rooms. Cabin tents normally take multiple people to set up and due to their heavy weight are not ideal for hard to reach camping areas.
Q: What is an Instant Tent?
A: The word instant refers to how you setup a tent. Instant tents will come with the poles pre-assembled and pre-attached to cut down on setup time. You literally pull the tent from the bag, unfold it, and pop the poles into place. You will still need to stake the corners of the tent, and may have to do things like attach a rainfly.
Q: What is the difference between 3 season and 4 season tents?
A: The season rating refers to how a tent holds up in adverse weather conditions. 3 Season tents are recommended for spring, summer, and early fall camping. They are not recommended for winter use. 4 Season tents are specially designed to hold up better in adverse weather conditions.
They are generally more expensive, are heavier, and are more durable. Despite the name, 4-season tents are normally only used for winter camping.
Q: What is the best tent for me?
A: All the information above should help you select the appropriate tent for your family. The best advice we can give you is look at price, user reviews, durability, and functionality and pick the appropriate tent for your situation.
For families that spend lots of time outdoors, spend a little extra money for durable tents like the Browning Big Horne, Tahoe Gear 16 Person, or Wenzel Klondike tents. For families that only take one or two trips a year, the Ozark Trail 10 Person and Coleman Red Canyon are ideal choices.
Finally, for people that just want a really easy setup, go with an instant tent like Ozark Trail 16 * 16, Coleman 8 Person Instant, or Core 9 Person.
Q: What are the best family tents currently available?
A: This is going to depend a lot on what your specific needs are, as well as your specific temperament. If money isn't an issue then a large family canvas tent can be a great choice, especially if you want the definition of durable. If you want the setup to be as easy as possible then you need to look at the large instant tents. If budget is a major issue, you need to choose between the inexpensive options.
This article is a great place to start, and you can also check out our other major blog posts on family tents on this website for more great ideas on the best tent options out there.
2018 UPDATE:
If you haven't seen it yet, check out our new post on connect tents. These are a pretty new idea, and we have to give serious props where they are do. It's easy to create another quality tent based on old styles and models, but these are new, they're roomy, and they are extremely creative tents. These allow for the partying during the day, enjoying the shade when the sun's too hot, and closing up for privacy at night so if that sounds good – make sure you check it out!
In Conclusion
This article definitely gives you plenty of information when it comes to the many different choices families have when it comes to finding the perfect tent for that long-awaited outdoor adventure. The good news is that there are many options out there. Some are the old school tents that can hold up to a beating but have those heavy metal poles that are so hard to set up, to the new models that are designed to pop up instantly.
Take a look at everything here to see what models might work the best for you and your needs. Whether you're looking for a hunting tent that can take a beating in all four seasons of harsh weather or a family tent for some easy summer outings, we give you access to all this and much more!
Good basic YouTube video on picking out a good family tent
*Featured image courtesy of SteveD at Flicker, attribution as part of the creative common license.