Ammunition belts are fantastic hunting and competition shooting accessories. Not only do they look really cool, they're also quite useful. When you sport one of these bad boys, you'll have quick access to your ammunition, and it's a really convenient way to carry your bullets if you decide to go on a hike or a hunting trip.
Best Ammunition Belts
Ammunition belts come in a wide array of styles and are typically made out of leather, nylon, or canvas. Some hold pistol ammo while others hold shotgun or rifle ammo. Once you find the right one for your lifestyle, you won't want to shoot without it again.
Ammunition belts really are that great. Listed below are a few of the best products sold today. Check them all out. You might find the one that's perfect for you.
Allen Shotgun Shell Belt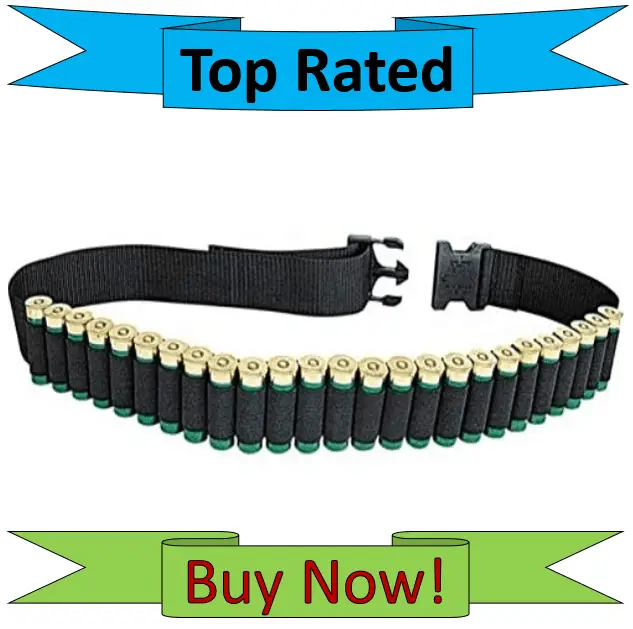 This is a fantastic ammunition belt for anyone who shoots a shotgun. This belt securely holds a total of 25 rounds and allows you to access your bullets fast and with minimal movement.
The loops are made from an elastic material that stretches and tightly holds all your rounds. You can feel comfortable knowing that your cartridges will not wiggle out of their holders when they're loaded in this belt.
The overall design is also quite impressive. This ammo belt is made out of a really lightweight, squishy material that's not only extremely comfortable, but it's also quite durable too. When you sport this Allen shell belt, you'll hardly notice you have it on. It really is a joy to wear.
The quick release buckle is another really cool feature. With this buckle, you can put on and take off the shotgun ammunition belt within seconds. All you have to do is pinch the two sides of the buckle together, and it instantly releases. You can literally do it with one hand. It's that quick and simple.
Pros
Holds your rounds in super snug loops
Maximum 52″ waist size
Holds up to 25 shotgun shells
2″ Extremely durable web material
Can also be used as a shoulder held bandolier
Lightweight and comfortable to wear
Cons
Quick release buckle is made of plastic
Belt will need to be broken in before it's comfortable
Click here for up to date pricing from Amazon!

Bagmaster Web Cartridge Belt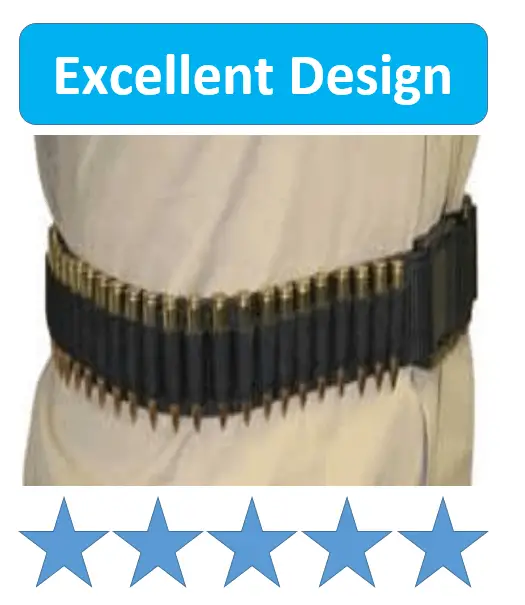 The durability of this ammunition belt is quite remarkable. It's made from 2" heavy nylon material and double stitched together. The cartridge loops are quadruple stitched to the belt and also made from a tough, elastic nylon. This thing is build to last. In fact, every Bagmaster ammo belt comes with a lifetime warranty.
Being able to take a lot of rounds with you wherever you go is also great. This firearm belt can carry a total of 50 .223 to .44 bullets for Magnum rifles and pistols. Even when fully loaded, it's still a really light accessory making it the perfect choice for a hunting trip. Carrying your ammunition has never been easier.
Another thing that makes this Bagmaster product worth the buy is the versatility it offers. This Bagmaster cartridge belt can fit any waist size between 30″ and 54″. This gives you the option to wear it over your coat, wear it over your body armor, and even wear as a bandolier too if you really want. The choice is yours.
Pros
Quick release buckle can be unfastened with one hand
Really comfortable to wear
Holds your ammunition tightly
Carries a total of 50 Magnum rifle and pistol rounds (.223 to .44)
Heavy stitching
American made
Backed up by a lifetime warranty
Cons
The loops are really close together making it sometimes hard to insert the cartridges
Click here for up to date pricing from Amazon!

U.S. WWII M1 Garand Rifle Ammunition Belt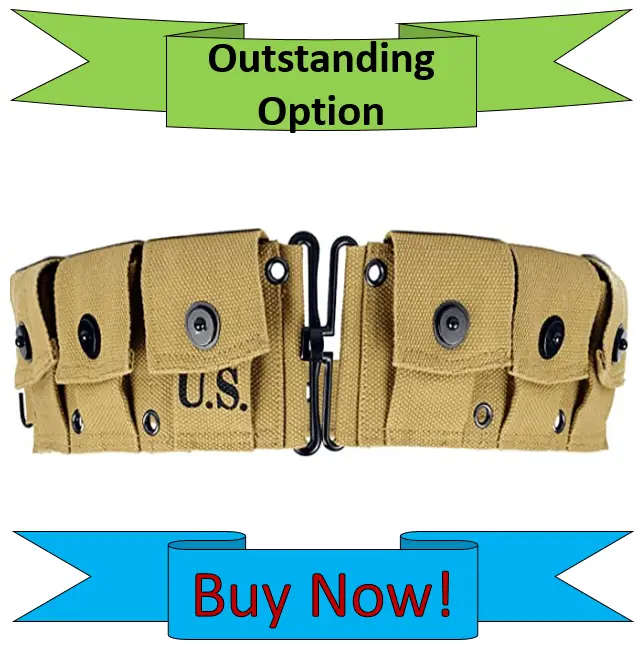 This is a really great ammo belt for anyone who shoots a M1 Garand rifle. This thing can carry up to 10 clips comfortably, 1 in each of the 10 pockets. Each of the pockets snaps shut, so your ammunition won't fall out.
Another thing that's great about these pockets is that you can also use them to carry other things like first aid supplies, cash, keys, and other smaller items.
The overall design is also quite stunning as well. This Garand rifle ammo belt is a replica of what was used in WWII, so if you're a history buff, you'll especially enjoy shooting with this unique ammo belt.
Just like the original design, this piece is made from tough, durable canvas and will not rip or tear under normal circumstances.
The back portion of WWII M1 ammo belt features a really soft strap. Even when fully loaded, this M1 accessory is extremely comfortable to wear. This back strap is also where you adjust the waist size, and it can be adjusted up to 48″.
This means that you can even wear it over a thin coat or your body armor.
Pros
The design is a replica of an original piece featured in the IMA collection
Carries a total of 10 M1 Garand ammo clips
Lightweight, durable design
Can be adjusted up to 48 inches
Very comfortable, even when fully loaded
Cons
The snaps tend to loosen up overtime
Click here for up to date pricing from Amazon!

Country Western USA Cartridge Gun Belt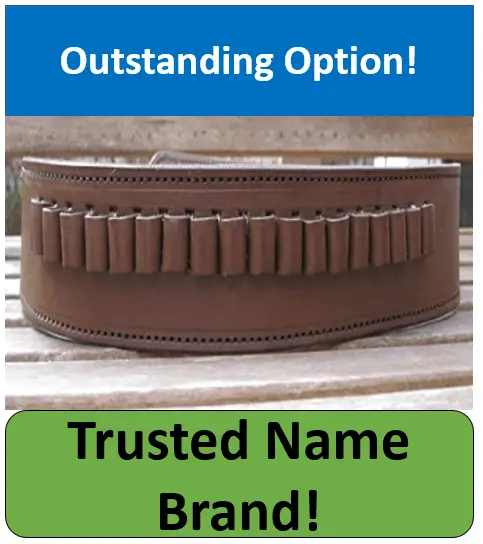 If you love leather, and you love to shoot a .45 caliber pistol, then this ammunition belt is the perfect accessory for you. Country Western USA Cartridge belt is crafted from thick, high-quality leather that not only looks amazing, it's also extremely durable as well.
You'll even enjoy the smell of the leather when you first open up your package. It's that great.
This heavy-duty leather ammo belt holds a total of 18 cartridges for any .45 caliber pistol. Inserting and accessing your rounds is a quick and easy task when you sport this beautiful piece of work.
The leather loops securely hold your rounds, so you can move about freely without having to worry about losing them.
The front buckle and the adjustment strap also adds to the overall beauty. The buckle has a really striking brass shine to it while the adjustment strap features a thin, finely-cut design and 6 convenient notches for precise fitting. It's important to note though that it's recommended that you choose a size that's a minimum of 6" to 8" larger than what you typically wear.
Pros
High-quality leather design
2.5" wide for maximum comfort
Holds a total of 8 .45 caliber rounds
Easy to use belt buckle
6 belt notches for precise fitting
Lightweight and comfortable
Cons
You need to choose a size that's 6" to 8" larger than your normal pants size
Click here for up to date pricing from Amazon!

Tourbon Adjustable Leather Pistol Cartridge Belt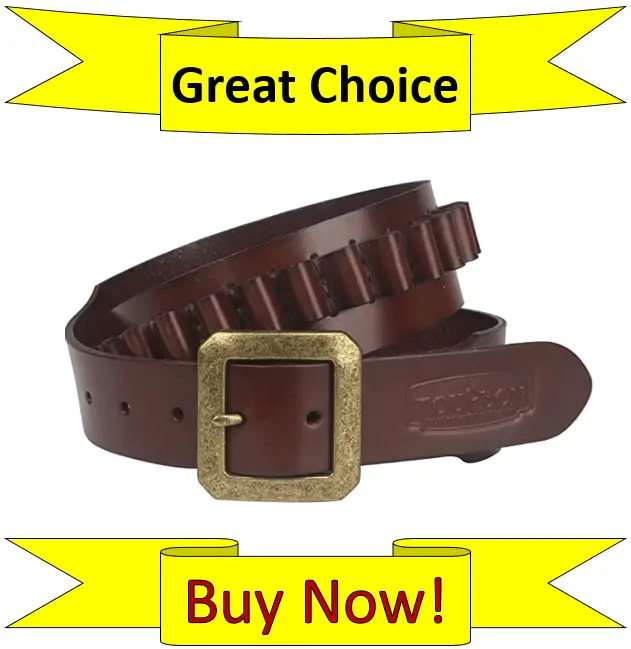 This is another leather belt that's equally impressive, but one of the main things that makes this belt different from the last is the amount of ammo loops embedded into this design. This Tourbon cartridge belt can hold a total of 20 rounds for the 9mm pistol.
If these extra loops are important to you, then this just might be the best ammunition belt for your sporting needs. Having extra cartridge loops comes in really handy on hiking and camping trip. However, if you're just a casual shooter, then you might not need to carry that many rounds with you.
Another thing that's great about the Tourbon belt is the complete design. This beautiful piece is crafted from top-of-the-line leather and reinforced with wax-lined thread stitching.
The rugged brass buckle also complements the overall look of the belt and is made from high-quality steel that'll last for years to come. This really is one good-looking, high-performance shooting accessory that you might want to think about adding to your collection.
Pros
Crafted from tough, durable leather
Reinforced with premium wax-lined thread stitching
Makes accessing your bullets fast and easy
20 loops for your 9mm ammunition
Very comfortable to wear
Cons
Only fits waist sizes between 31″ to 37″
Click here for up to date pricing from Amazon!

Previous Top Rated Cartridge Belts
Sometimes because of supply chains being broken (see 2020's pandemic mess) there's an ammo belt that was on our top list but now is unavailable. If it looks like the issue is temporary then we tend to keep it in the list.
If the company went bust, discontinued the item, or we just can't find any information (and they don't reply to our inquiries in a reasonable time) then we move them down here. If you can find any of these ammo belts in the future,
Broomstick Rifle Cartridge Belt
This cartridge belt is worth very penny. It's comfortable, durable, adjustable, and definitely useful. Once you put this thing to use, you'll understand why it's such a popular accessory. This Broomstick ammo belt will really add to your outdoor hunting experience.
The overall design is pretty simple, but the belt itself is made from a very durable, elastic nylon that really conforms to the shape of your body. You don't have to worry about it digging into your hips or your lower back. This cartridge belt really is a pleasure to wear.
The cartridge holders on this belt are also made from a really squishy, elastic nylon that holds your ammunition snuggly tight. Having your cartridges wiggle out and fall to the ground can get quite frustrating. When you sport this clever device, that's not something you'll have to worry about.
This ammo belt can hold a total of 20 shotgun or rifle shells, and when fully loaded, it's still comfortable to wear. Some cartridge belts get stiff when every holder is filled, but this nylon design prevents that from happening. It's like you're not wearing anything at all. Give it a try. You won't be disappointed.
Pros
Easy-to-use quick release buckle
Adjustable up to 52"
Carries a total of 20 shotgun rounds
High-quality elastic nylon design
Extremely durable
Cons
The quick-release buckle is plastic
Link: http://www.amazon.com
Click here for up to date pricing from Amazon!

Different Belts For Different Ammunition
Many of the belts made for pistol ammunition tend to be crafted from a high-quality leather where as most of the belts designed for shotgun ammo are typically either made from an elastic or heavy canvas material. Rifles on the other hand can sway either way.
Now, that doesn't mean you can find an elastic cartridge belt that holds 9mm bullets or vise versa, but for the most part, these are the norms. Some hunters even pay big bucks to have an ammunition firearm belt custom made for them. By doing this, you can control of every single specification.
When deciding on the right belt for you, you'll always want to take into account the kind of ammo you'll be shooting and your personal preferences. By doing so, you'll enjoy shooting with your ammo belt that much more.
Ammunition Belts vs Bandoliers
When it comes to the difference between ammunition belts and bandoliers, belts go around the waist and bandoliers are worn over the shoulder and hang diagonally across the body.
Another difference between these two styles is that ammo belts typically have more adjustable options than bandoliers do.
Now, that's not to say that there's no adjustable bandoliers sold on the market, but for the most part, the belts own this category.
When choosing between an ammunition belt and a bandolier, again it really comes down to personal preference. Do you like your bullets around your waist, or do you like them handing across your body?
Each style works well, but you have to decide yourself which one is the better option for you.
In Conclusion
There are many options for hunters and recreational shooters when it comes to storing and carrying your ammunition. While ammo belts might not be the best option for everyone, for many people they offer a great way to carry extra ammunition whether hunting or off to do some recreational shooting with friends.
Other Articles of Interest