Ammunition bandoliers are unique and extremely useful shooting accessories. If you're unfamiliar with what specifically a bandolier is, this is an ammunition holder that either goes around your waist or over the shoulder like a sash.
The style you choose will really depend on your personal preferences.
Ammunition bandoliers can be made from a variety of materials including vinyl, canvas, and nylon. Some firearm bandoliers have pockets while others have adjustment straps.
There's so many different styles and designs to choose from these days it's crazy.
Finding the Best Ammunition Bandolier for You
If you're interested in adding one of these cool accessories to your collection, it's important to first find a style that appeals to both your tastes and your active lifestyle. Listed below are a few of the top ammunition bandoliers sold on the market today.
Safety Solution 56-Round Shotgun Shoulder Bandolier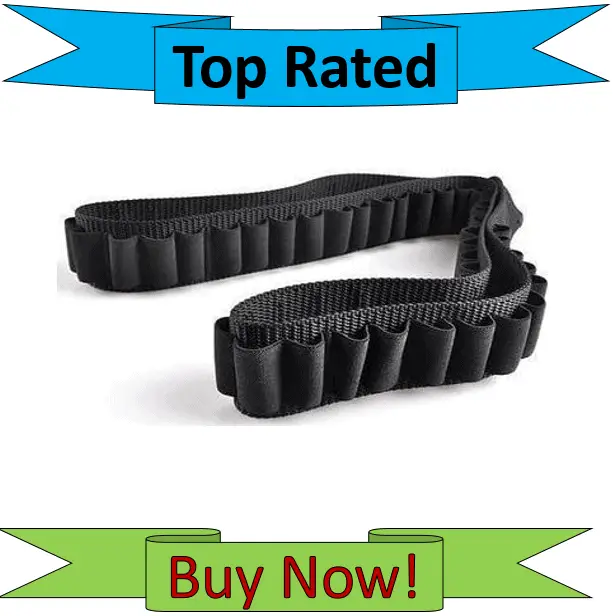 The thing that's really cool about this shotgun bandolier is the amount of shells it can hold. This thing can carry a total of 56 rounds for either a 12 or 20-guage shotgun. The Safety Solution bandolier features a 2-pack design that makes removing your shells from the loops a quick and easy task.
By minimizing your movements, you'll also decrease your chances of scaring away the animal you're targeting.
Another thing that's great about this shoulder bandolier is the way your shells will fit snug in the loops. You won't have to worry about your ammunition falling out and onto the ground.
However, the loops will typically be tight at first and will need to be stretched out a little, but after a few uses, they'll begin to fit perfectly and won't slip out.
The lightweight design is also a benefit that needs to be mentioned. There's nothing worse than trying to lug around a heavy bandolier, and when you wear this thing, you won't have to worry about that. This is one light hunting accessory that'll won't put pressure on your back and shoulders.
Pros
Made from a tough, durable nylon
Lightweight construction
Extremely comfortable design
Holds up to 56 shells for either the 12 or 20-guage shotgun
Quite sturdy
Shells won't slide out
Cons
Loops typically are a little tight until stretched out
Click here to get up to date prices from Amazon!

Galati Gear Rifle Bandolier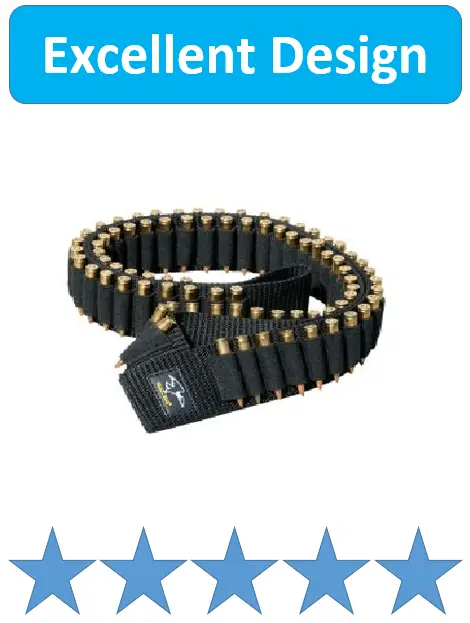 This stylish rifle bandolier is a fantastic choice for anyone who enjoys shooting smaller cartridges. The Galati Gear Bandolier works especially great for 7.62×39, 223, 243 cartridges, but it can also hold quite a few other sizes too.
The best part? This handy shooting accessory can stock a total of 80 cartridges at one time. Now that's convenient.
The overall design is also quite impressive. The body of this firearm bandolier is constructed from 2/25" military pistol belt webbing while the cartridge loops are made with elastic. These elastic loops will securely hold your ammo in place and keep them from slipping out.
Having your cartridges wiggle out and fall to the ground can get frustrating fast. That's simply not an issue when you use the Galati Gear ammunition bandolier.
For easy transportation, this shooter's bandolier lightly rests on your shoulders and wraps around your upper body like a sash. Even when all 80 cartridges are loaded, it's still extremely lightweight and easy to carry. Going on a long hike in the wilderness?
This is one accessory you'll definitely want to take with you.
Pros
Very comfortable / easy on the shoulders and back
Allows you to load your pistol fast and with minimal movement
Holds a total of 80 cartridges
Durable construction
Elastic loops hold your cartridges securely
Cons
.30-30 cartridges are typically loose in the loops
Rugger 10/22 and .22LR cartridges will not fit in the loops
Click here to get up to date prices from Amazon!

Perfect Company 56-Round Shotgun Shell Bandolier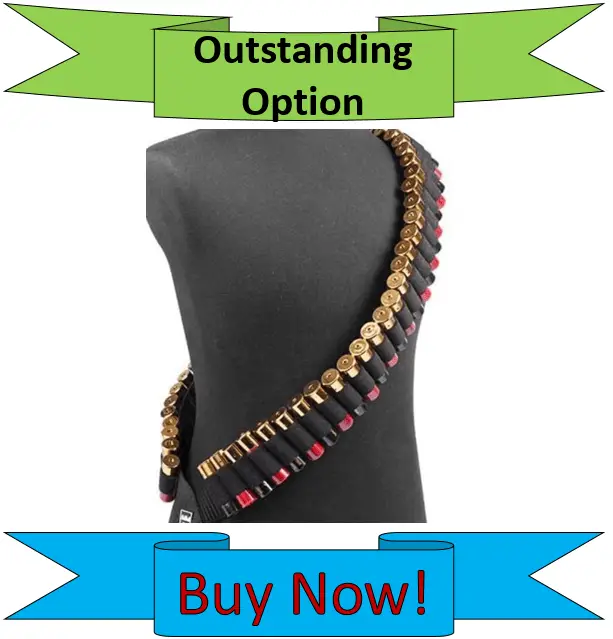 If you enjoy shooting your shotgun regularly, then you may want to think about investing in this ammunition bandolier. This thing doesn't just look cool, it's really useful too. In fact, this shotgun bandolier holds a total of 56 rounds, either 12 or 20-gauge shotgun shells.  
This Perfect Company shotgun bandolier is made almost entirely from elastic material. That includes all the loops that hold your rounds. Because of this, you won't have to worry about your shells slipping out from the holders and becoming lost.
Another thing that's great about this elastic bandolier is that it's lightweight and fits comfortably on both men and women, even if body armor is being worn at the time.
You'll barely even notice you have it on. It really is a pleasure to wear.
Pros
Simple to use
Lightweight even when fully loaded
Elastic construction fits comfortably
Elastic loops hold your ammunition securely
High-quality stitching
Cons
Inserting your shells into the holders can be a little difficult until the loops become a little stretched out
When all 56 holders are filled, the bandolier can be a little stiff
Click here to get up to date prices from Amazon!

Yazilai Shotgun Bullet Bandolier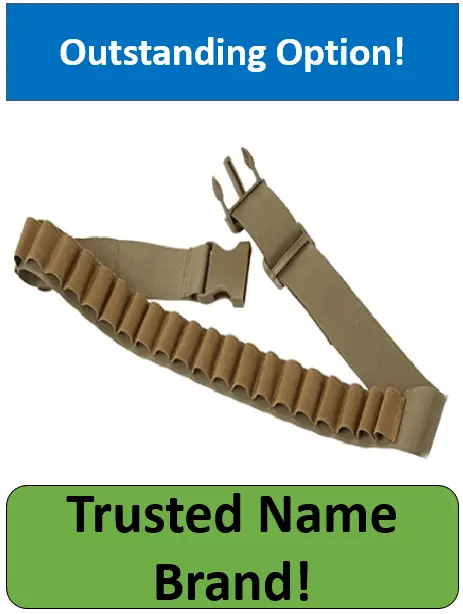 The thing that makes this shotgun bandolier different from the others is that it's adjustable. This is a really great feature that makes wearing an accessory like this a much more enjoyable experience.
Nobody wants to sport an uncomfortable bandolier, and with the Yazilai, you'll be able to adjust it to your specific body size.
Another great feature of this ammo bandolier is that it holds a total of 27 shotgun shells, and because the loops are elastic, your ammunition will be securely held at all times.
You can run, climb, and jump without having to worry about your cartridges falling out.
The durable nylon construction is feature that also needs to be noted. The fabric on this shotgun bandolier will not typically rip under pressure and is 100% waterproof too. You can even wash it if you want. That's the durability of this Yazilai product.
If you're looking for extra quality, then this is a great choice.
Pros
Adjustable
Lightweight and extremely comfortable
Holds a total of 27 shotgun cartridges
Elastic loops ensure your ammunition won't slip out
Rolls up nicely for storage or easily traveling
Allows you to easily access your bullets
Cons
Not a good choice for shooters who want to carry more than 27 rounds with them
Click here to get up to date prices from Amazon!

Tourbon Shotgun Hunting Bandolier Belt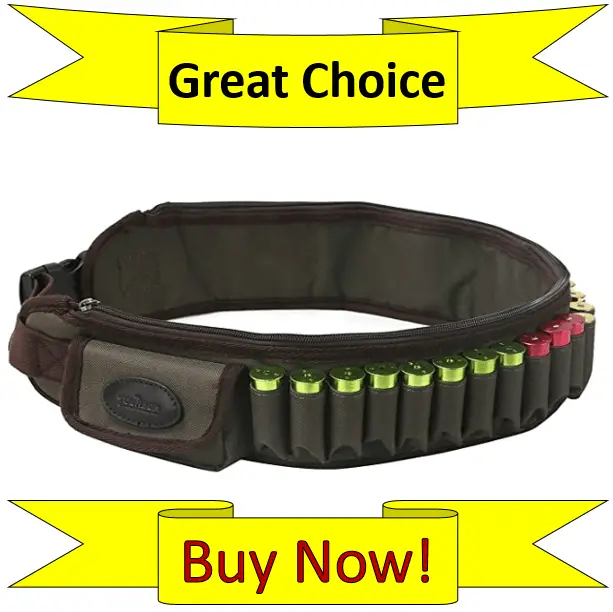 The Tourbon shotgun bandoleer belt is made from high level 600D polyester and is designed to be flexible enough to fit around the waist from 35 inches to 43 inches when used as a belt or you can sling it around a shoulder.
This is a better build for over the shoulder than across the chest but it has the capacity to hold 24 shells directly in addition to having two small side pockets.
The Tourbon rifle bandoleer is even more popular although is notoriously harder to find on Amazon (more on that below).
However, this is a higher quality bandolier that brings plenty to the table.
Pros
Extra pockets
Made from top notch 600D polyester
Buckle is quick release
Offers plenty of carrying options for extra shells
Cons
Built a bit more for a belt or shoulder sling versus a true bandoleer
A bit smaller than some of the other options on this list
Click here to get up to date prices from Amazon!

Tourbon Canvas Rifle Bandolier
This is probably one of the most durable rifle bandoliers sold today. This ammunition holder is thick, wide, and made from extremely durable canvas. It's also held together with tough, well-stitched thread that really blends in with the overall design.
Unlike the previous two products, this rifle bandolier wraps around the waste instead of over the shoulder. This will put less strain on your shoulders and back which will ultimately increase the overall quality of your hunting experience.
The two pockets on this Tourbon Canvas rifle ammo bandolier are another really cool feature. These two pockets are big enough to hold a variety of little items including extra ammo, screws, small tools, hunting licenses, Kleenexes, and a wide variety of other items. Both pockets snap shut for safe keeping and are easy to reach.
Comfortability is another benefit to investing in this Tourbon hunting accessory. This rifle bandolier fits any waist size between 30" and 50" and attaches together with an easy-to-use buckle. It's lightweight, comfortable, and won't put any strain on your back. This really is one high-quality bandolier definitely worth your hard-earned cash.
Pros
Elastic loops hold your cartridges securely
Holds a variety of different sized shells including the .357, 308, 243, .410, 30 30, and the 30.06
Made from durable canvas with tough stitching
Two convenient pockets for carrying extra ammunition
Cons
Can only hold 16 shells at one time
History of the Ammunition Bandolier
The first bandolier was created in the 16th century, and this design was used by soldiers until the 18th century. The first style had pouches to hold all the tools needed to load and shoot their muzzle-loading muskets. In the 19th century, a new style of bandoliers was developed.
This new bandolier design held metallic cartridges in addition to grenades. Today, you can find several different kinds of bandoliers for every sized bullet. However, ammunition bandoliers aren't as popular as they used to be. Why?
When firearm magazines were invented and started becoming wide spread, people didn't have as big of a need for bandoliers as they used to. Now, that doesn't mean that they've become obsolete. In fact, in recent years, firearm bandoliers have been making a comeback.
They're stylish, convenient, and really are a handy hunting and trap shooting accessory.
What's the Difference Between Bandoliers and Belts?
Bandoliers go over the shoulder and belts go around the waste, but it's important to note that ammunition belts are usually categorized with bandoliers. So, besides that difference, what are the other differences, and which one should you choose?
Both ammunition bandoliers and belts are fairly lightweight even when fully loaded, but the ammo belts won't put any pressure at all on your shoulders.
On the other hand, some shooters feel it's easier to access their cartridges when their wearing a bandolier. All in all, it really comes down to personal preference.
In Conclusion
Bandoleers have gone by the wayside a bit over time, mainly due to how many other options there are. A bandoleer may not make a lot of sense outside of looking cool in a Hollywood movie.
However, there's no denying they look really cool. While life isn't a World War II movie, and you're not going to rock one the way Chewbacca on Star Wars is, there's something cool about the design and carrying ability of a bandolier that many hunters and recreational shooters will surely appreciate.
Other Articles of Interest