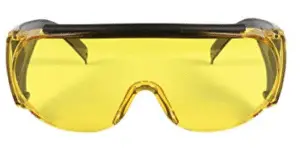 While recreational shooting can be an absolutely enjoyable hobby, and sharpens a useful skill, anyone who is serious about the sport will tell you the importance of proper safety gear. From ear plugs or other ear protection to the proper safety glasses and proper following of safety standards on any given shooting range, you want to make sure you're properly prepared.
This is why it is absolutely essential to use protective eyewear when you shoot. When you fire a weapon, it can send flying discharge backward. If your eyes are not protected, you could be seriously injured. By simply investing in quality eye protection, you could prevent a tragedy.
If you're confused about what kind of shooting glasses you should invest in, it's important to consider a few things like the kind of weather you'll be shooting in, whether you want UV ray protection or not, and whether you'll be doing most of your shooting outdoors or at an indoor shooting range. Above all, look for quality.
The 6 protective shooting glasses listed below are all fantastic products worth investing in.
Allen Over Shooting & Safety Glasses
Not only are these safety shooting glasses among the best out there, but they also win major bonus points for a design that allows for their use with prescription glasses, the Allen safety glasses can slide right over them. Excellent design.
If you wear prescription lens, then you'll absolutely love these convenient and stylish shooting glasses. These glasses are built extra large, so you can wear then right over the top of your normal lens. There's no snapping or attaching. You can put them on and take them off within seconds. It's that easy.
In addition to convenience, these protective glasses are also built tough. They're layered with a metallic coating that won't scratch, and the lens are impact resistant. For extra safety, the lens are also UV resistant and wrap all the way around the frame. This extra coverage will help you prevent any unnecessary accidents.
Another thing that I absolutely love about these shooting glasses is that they're extremely comfortable. You won't even know you have them on. In fact, they only weigh a total of 3.8 ounces. Now that's light.
There's three different colors available all at an affordable cost. They include clear, mirror smoke, and yellow. I highly suggest giving these a chance if you already wear glasses. You'll more than likely fall in love with them after one use.

BLUPOND Anti-Fog Polarized Shooting Safety Glasses
Trying to find a pair of protective shooting glasses that can block UVA, UVB, and UVC rays in addition to injurious blue light can be quite a challenge sometimes. Fortunately, BLUPOND has you covered. These polarized glasses allow you to accurately fire your weapon without the sun effecting your vision or causing damage to your eyes. The lens are also both scratch and impact resistant and offer superior eye protection.
The frames are also amazing. They're Italian designed and constructed from a very durable magnesium and aluminum. They simply won't break under normal pressure. Even the hinges that hold the frame together are build tough and designed to withstand damage. If you're tired of having to replace your protective eyewear, then I highly suggest giving these a try.
When you purchase these BLUPOND Anti-Fog Polarized Shooting Safety Glasses, you'll receive a complementary accessory case. This case is very stylish looking and gives you a place to store your eye wear when you're not shooting or facing the sun.

iLumen8 Safety Shooting Glasses 
These shooting glasses offer advanced protection for your eyes and are designed to provide you with enhanced optical clarity. Whether you're a sharp shooter, a hunter, or someone who simply enjoys shooting firearms, the iLumen8 protective wear can help improve the accuracy of your shot by quite a lot.
iLumen8 offers three different colored lenses. They include clear, yellow, and black. The yellow lens are best used in low-light areas like indoor ranges. They're also quite useful when shooting at either dusk or dawn. The dark lens on the other hand are better suited for really sunny days, and the clear lens are best used in normal lighting conditions. All three styles are UV resistant and will protect your eyes from the harsh rays from the sun. They offer ultimate protection.
In addition to protecting your eyes, these protective glasses are also well constructed. Both the lens and the frames are impact resistant. The frames are also coated with a black finish that won't scratch when dropped or stepped on. To add to this, the feet of the frames feature rubberized feet. These rubberized feet will keep your protective lenses on your face at all times, even during action sports like paintball shooting.
When you purchase these iLumen8 protective glasses for shooters, you'll also receive a complementary carry pouch with a convenient little cleaning cloth. All orders also come with a money back guarantee. You have nothing to lose. Give them a shot.

Howard Leight Sharp-Shooter Glasses
Most of the shooting glasses on the market offer quality eye protection, but very few go above and beyond like these do. So, what makes the Honeywell Genesis shooting glasses so special? These protective glasses feature 9-base wraparound uni-lens that provide ultimate safety.
For severe weather conditions, Howard light added a patented anti-fog coating called Uvextreme to the lens. This coating allows you to shoot more accurately when your vision is limited. Located between the frames and the lens is the ventilation channel. This built-in channel helps keep the lens sparkly clear at all times. The best part?  No matter how many times you clean the them, it'll never rub off. It's on there to stay.
Besides safety and improved vision, the Honeywell Genesis protective glasses are also extremely comfortable. The nosepiece is made out of a soft material that won't become bothersome, and the frames are lightweight. It's like you're not wearing any protection at all.
There's three different colors of lens you can choose from. They include amber, clear, and espresso, each offering a slightly different clear or shaded view of the world to allow you to adapt to the shooting scenario that you enjoy or rely on most.
If you're interested in buying more than one pair, you can save money by purchasing the 3-pack which includes one of every color for a very reasonable cost.

Radians Revelation Protective Shooting Glasses
Shooters wanting high-quality protective eyewear in a specific color should check out the Radians. These shooting glasses are available in 10 different stylish shades. They include amber yellow, blue mirror, copper, orange, light smoke, dark smoke, clear, silver, and vermillion. Most other competitive companies don't offer that big of a selection to their customers.
These protective shooting glasses are not just good looking, they're also 99.9% resistant to harmful UV rays and designed keep your eyes safe when you fire your weapon. The lens are made from a durable polycarbonate that's impact resistant and meets every single ANSI Z87.1+ requirement. Now, that's tough if you ask me.
Wearing these protective shades is also a pleasure. You'll more than likely forget you even have them on. They're lightweight, sit comfortably on your face, and are designed to fit pretty much any sized head. If you're interested in a premium pair of glasses at an affordable price, then these are definitely a fantastic choice.

Roxie MO-RWRP Womens Shooting Glasses
Most of the protective shooting glasses on the market are very masculine looking. That's why the Mossy Oak Women's shooting glasses are great for female shooters. They're colored in a very stylish pink and feature a traditional yet feminine design. Don't let that fool you though. These glasses are extremely durable and offer superior eye protection.
Both the lens and the frame are made from a durable plastic that won't scratch or break when dropped. The lens also curve down and backward providing the shooter with a greater protection. You can feel confident knowing that your eyes are in safe hands when you sport these while you shoot.
Mossy Oak is a well-established brand that you can trust, and these shooting glasses are proof of that. They're affordable, effective, and definitely high-quality. Try them out and you'll see.

Some Final Thoughts
Shooting is a great way to relieve stress, sharpen the skills before hunting season, and spend a nice block of time on the weekend. However, you need to make sure you have the right equipment in order to shoot safely and make the most of your time without risking injury. The good news is that this isn't hard to figure out, and aside from the excellent shooting glasses listed in this article, you will find many fellow shooters and hunters are more than happy to share their best recommendation with you.
Don't forget there are many types of shooting gear out there that you will want to consider, and if you're looking for more check out these articles, as well, to learn more!
Shooting safety & etiquette: always important!