If you're looking to invest in a choke tube for your shotgun, but you don't know specifically what kind you should invest in, then you'll definitely want to check out the products listed here.
Choosing the right shotgun choke tube really comes down to the kind of shooting you'll be doing and the distance you'll be doing it from.
For those individuals who are new to the world of choke tubes, these devices attach to the inside of your shotgun's barrel. The groves on these tubes shape the load being ejected from the barrel of your firearm and result in a tighter, more dense pattern.
Finding the Best Shotgun Choke Tube for You
Different choke tubes are designed for different things. While some are made to be used for shorter distances, others are designed for longer-ranged targets. With that being said, here are a few of the best shotgun choke tubes sold today.
ADD A LITTLE MORE HERE
Carlson's Long Beard XR 12-Gauge Choke Tube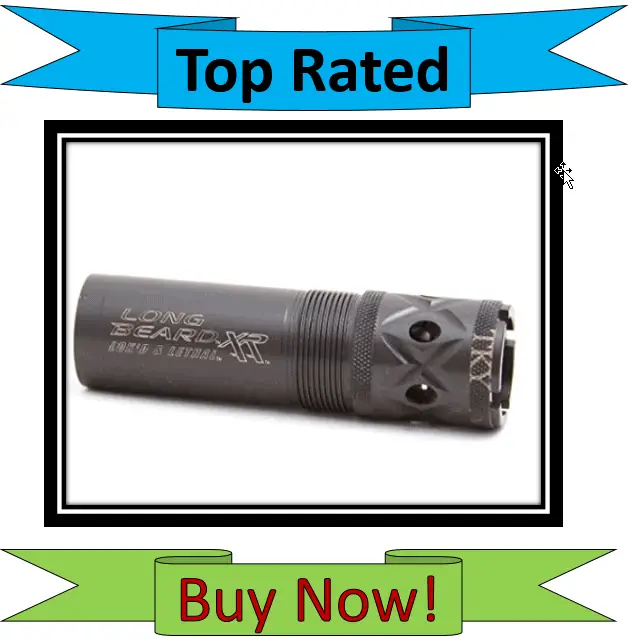 If you enjoy shotgun hunting, then you should definitely check out this remarkable device. This choke tube is constructed from 17-4 heat-treated stainless steel and built to last.
It doesn't matter what kind of weather you're hunting in, you won't have to worry about any sort of rusting or cracking under pressure.
That's quality construction because this truly is one tough shotgun accessory.
Another really cool benefit to using to the Long Beard XR is the overall performance. In fact, this shotgun choke tube features a parallel section that's 25% longer and is built with Shot-Look Technology.
As a result, you'll experience denser and tighter patterns when you shoot downrange. It's truly remarkable.
The Triple Shot Technology crafted into this Carlson choke tube is yet another really cool benefit to shooting with this gadget. This technology reduces those annoying flyers, prevents your shot string from decreasing, and will even help you keep your pellets from becoming deformed.
Once you shoot with this shotgun hunting choke tube, you won't want to shoot with anything else. It really is that cool.
Pros
Lightweight / won't weigh your firearm down
Durable construction
Utilizes both Triple Shot Technology and Shot-Look Technology
Produces tighter and denser loads for longer distances
Easy to install
Fits perfectly
Cons
Made only for Beretta / Benelli shotguns

Carlson's Beretta/Benelli Mobil 12-Gauge Sporting Clays Choke Tube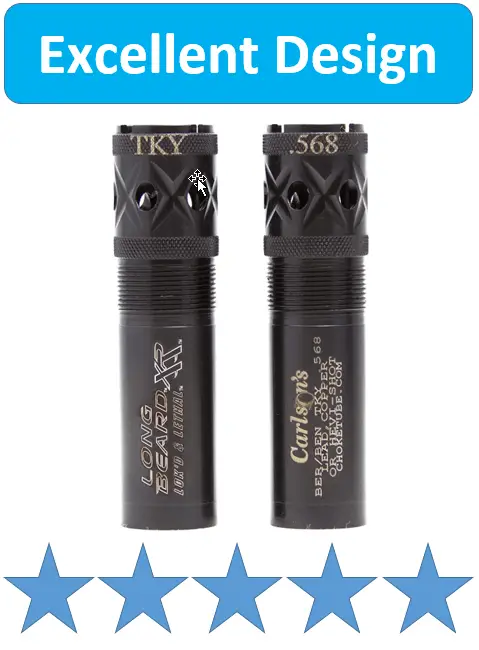 This shotgun choke tube is a great choice for anyone who enjoys duck or turkey hunting. It'll also take your trap shooting skills to the next level. The secret is in the design. This choke tube is constructed from 17-4 heat-treated stainless steel and features a constriction of 0.700. This is a serious improvement from previous models.
In addition to the overall construction of this device, the usability of this gun choke tube is also quite impressive. It's easy to install and it fits perfectly in a Beretta or Benelli Mobil 12-guage shotgun. There's no filing or sanding to make it work. It literally fits like a glove.
The lifetime warranty is another benefit to adding this shotgun choke tube to your collection. You can feel confident knowing that if anything should happen to this device under normal usage, you'll be taking care of. However, as well-built as this choke is, it's very unlikely that you'll ever have issues. Once you give this shot gun choke tube a try, you'll understand why it's such a popular choice among hunters.
Pros
Can be installed within minutes
Produces nice patterns
High performing device
Light-weight design
Durable and well-built
Lifetime warranty
Easy-to-use choke wrench included with every purchase
Cons
More expensive because it's a pair
Designed mostly for Beretta or Benelli shotguns

Carlson's Browning Invector Full Choke Tube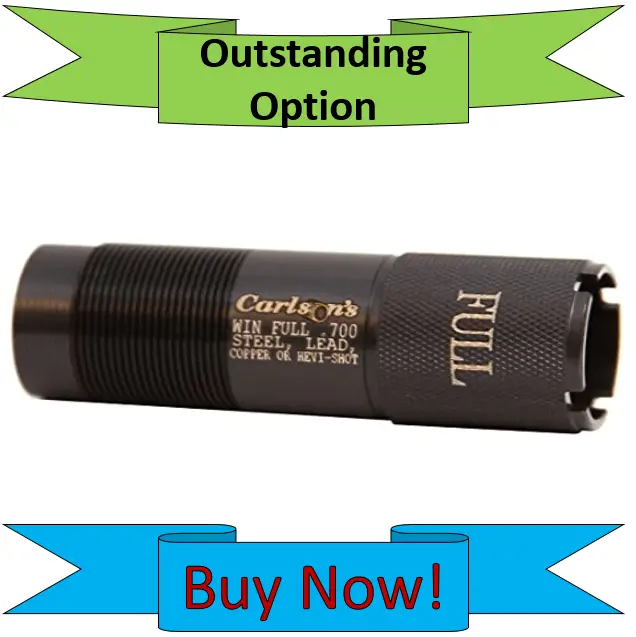 Unlike the Carlson's Invector skeet choke tube listed above, this Invector is a full-styled choke tube and an excellent tool for turkey hunting. Now, that doesn't mean you can't trap shoot with this device, but it works better for longer range skeet shooting.
However you decide to use it, one thing is for sure. This is a great addition for your shotgun.
The constriction size of this shotgun choke tube is 0.700 making it a better choice for long distance shooting. The body is crafted from 17-4 heat-treated stainless steel. It won't rust, warp, deform, or form cracks in negative temperatures.
Installing this accessory into your shot gun is also a headache-free, especially since every order comes with a handy choke wrench. You'll be able to attach and remove this tube within minutes.
If you're an avid turkey hunter, then you'll definitely want to consider adding this hunting accessory to your collection.
Pros
Non-glaze matte finish
Manufactured from premium stainless steel
Full- style choke tube with a .700 constriction
Quick and easy to install
Works with multiple firearms including the Browning Invector, Mossberg 535, Mossberg 930, Maverick 88, Stevens Model 67 E series, and most Winchester shotguns
Lifetime guarantee
American made
Cons
Can be a challenge trying to fit this choke tube in a Beretta Montefeltro

Carlson's Benelli Crio Choke Tube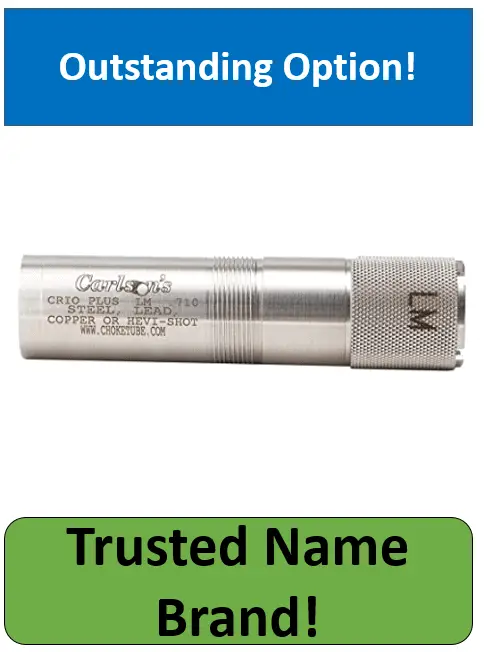 Hunting waterfowl is a fun hobby, but unless you have the right choke tube, your accuracy will more than likely suffer. Carlson's Benelli Crio choke tube is a fantastic choice for anyone who hunts these kind of birds with a shotgun on a regular basis.
The lightly modified .710 constriction makes this device perfect for those longer distanced shots.
Another really great thing about this hunting choke tube is that it fits perfectly on just about any Benelli curio-styled shotgun. It is important to note that this device is not a fully universal accessory, so there are a few models it may not work with.
As long as it's compatible, you can attach this firearm choke tube to your firearm within a matter of minutes.
The construction of this device is also quite striking. This shotgun choke tube is crafted from a really tough, heat-treated stainless steel that will continue to perform even after hundreds of uses.
You'll definitely get your money's worth when you invest in this choke tube.
Pros
Produces really tight, clean patterns
The included choke wrench makes installations quick and easy
Lifetime warranty
Designed from durable stainless steel
Extremely accurate
Cons

Carlson's Cremator Ported Choke Tube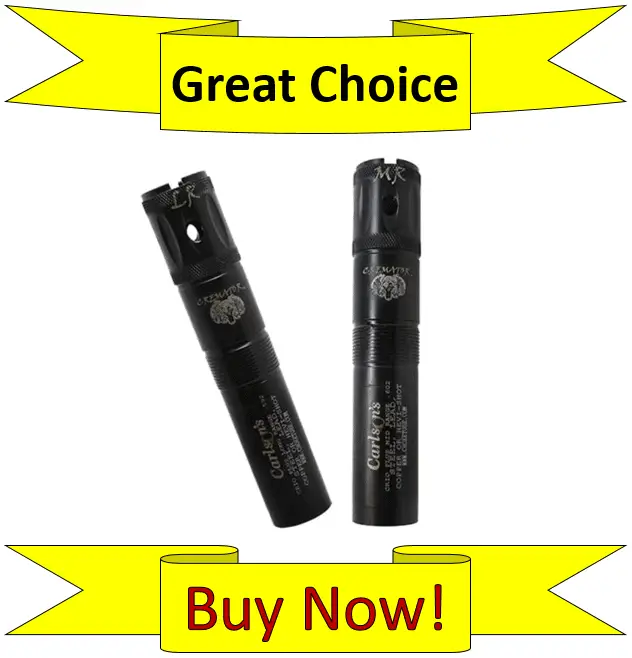 One of the best perks to using this shotgun choke tube is the Triple Shot Technology that's embedded into this impressive device. So, what is this technology? This technology is characterized by a series of three rings located in the taper area of the choke tube.
These rings are designed to provide a much slower, smoother transition, starting from the shotgun's bore to the last constriction.
Besides this Triple Shot Technology, another benefit to shooting with the Cremator choke tube is a major reduction in both fliers and deformed pellets. You're really learn to appreciate this.
In addition to this, the parallel section on the choke tube is longer than similar models. As a result, your patterns will be cleaner and much more tighter.
To help minimize muzzle jump and recoil, the designers made this choke tube ported as well. By reducing recoil and muzzle jump, your shots will be more accurate and your shoulders won't be as sore after a long day of hunting.
You'll definitely enjoy a better shooting experience when you attach this hunting accessory to your firearm.
Pros
Utilizes Triple Shot Technology
Quick, toolless installation
Design minimizes muzzle jump and recoil
Dense, clean patterns
Constructed from 17-4 heat-treated stainless steel
Steel, Bismuth, lead, and Hevi-shot can all be used with this choke tube
Cons
Not a universal choke tube

What Is a Choke Tube Used for on a Shotgun?
For those individuals who are unfamiliar with what specifically a choke tube is, this is a device attaches to the inside of your shotgun barrel. It tightens your load while also holding it together for a longer period of time. The end result is a real dense shot pattern.
There are several different kinds of choke tubes sold today. The size you choose will largely depend on what you're hunting and the distance you'll be shooting at. Just remember, the more narrow the tube, the farther your shotgun's load will travel.
Some of the most common kinds of choke tubes used by hunters today include super-full, full, modified, improved cylinder, cylinder, and skeet. Each one of these tubes has a different sized circumference and was made for a specific purpose.
For instance, the full choke tube is more commonly used for turkey hunting and trap shooting whereas the cylinder is generally used in law enforcement.
What Are Shotgun Choke Markings?
Shotgun choke tubes have a sequence of markings that help shape the load being ejected from the barrel of your shotgun. The amount of the markings will largely depend on the style of the shotgun choke tube.
For instance, a cylinder-styled choke will typically have 5 markings whereas the modified-styled choke has 3 markings.
How Do You Measure a Shotgun Choke?
Knowing the proper size of a shotgun choke is very important. The best way to do this is to invest in a bore gauge. This tool will give you the exact measurements. You can also take your shotgun to a local  gunsmith.
Once you have your measurements, you'll want to subtract the muzzle diameter from the bore diameter to get your constriction measurement. It's that easy.
In Conclusion
Having the right choke for your shotgun is important. Whether you're a recreational shooter or a hunter, you will want to make sure you have the tools on hand to get the most out of your outing.
The right shotgun choke can go a long way to make sure your next outing is the successful one that you deserve.
Other Shooting & Hunting Articles You'll Love