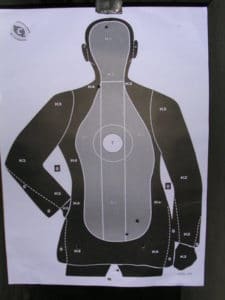 Some of my best memories as a child involved shooting at the make shift range Dad would set up at our country farm for the local Boy Scout Troop. I learned to shoot with a simple bolt action .22 rifle, one shot at a time, bare sights. No scope allowed for us! There were many weekends we learned to target shoot, with plenty of adult supervision, of course, and honed our skills weekend after weekend.
During those late spring and (all) summer weekends, it admittedly would have been nice to see how we were doing as we shot, but as it was you had to shoot your five, wait until everyone was done, and then once all the guns were safely unloaded, chambers open, and set down, then you could go and look.
Those were great memories and while there was also plenty of practice shooting around our property even without the Scouts around, there's no question that I never got to use any cool recreational shooting targets like these when I was young.
One of the plus sides of being an adult: having money to spend the way I want and catching up on all that lost shooting practice. If you're looking for some top notch recreational shooting targets, read on to see some of the many excellent options that are locally available.
Splatterburst Silhouette Reactive Targets
Are you're tired of walking all the way down the range just to see if you hit the target? Save yourself the hassle with a Splatterburst Silhouette Reactive Target. When you fire at one of these amazing targets, the point of impact will instantly burst into a bright, fluorescent yellow dot that can be seen from long distances and in a wide range of lighting conditions.
The target itself is 12 x 18 inches and made from an extremely durable, non-adhesive tagboard that's designed to last much longer than your typical paper target. You'll enjoy shooting over and over without having to change your target repeatedly. This durability definitely ups the degree of usefulness for frequent target shooters and it is worth noting that the ones we link to are a set of ten – giving you plenty of targets that will last time after time.
Whether you're shooting a pellet gun, a handgun, or even a shotgun, Splatterburst's reactive targets will make your shooting experience much more enjoyable. There's a reason these targets frequently get a perfect score from experienced shooters and they are among the most popular targets you will find on Amazon or anywhere else online, for that matter.
These targets are made in America and come with a 100% satisfaction guarantee. Try them today!

Splatterburst "Stick & Splatter" Reactive Targets
Just like with the Splatterburst Silhouette Targets, the Splatterburst "Stick & Splatter" Targets will also turn a bright, yellow fluorescent yellow when you make contact. However, instead of a large silhouette, the Splatterburst "Stick & Splatter" Reactive Target displays a large circular grid for precise shooting and comes with 19 cover up patches located on the outer edges of the target. These patches will help you extend the life of your target while also providing you more to shoot at.
In addition to this, Splatterburst "Stick & Splatter" Targets will also stick to just about anything you can think of including wood, rock, metal, plastic, and even tree bark. It doesn't matter if it's hot, humid, cold, raining or windy, these targets will remain fastened to whatever you stick them too.
Splatterburst "Stick & Splatter" Targets are also American made and constructed from a tough, non-adhesive tagboard that's built to last multiple rounds. This is another target from the top name in the industry, and there is a reason they are on top of our list of the absolute best recreational shooting targets out there.
Every target delivers hours and hours of shooting enjoyment, and if by any chance you're unsatisfied, you'll get a full refund, no questions asked.

Champion Redfield Style Precision Sight-In Target
If you're looking for a target that's specifically designed to increase your accuracy as a shooter, then the Champion Redfield Style Precision Sight-In Target is the perfect target for you. By using the Champion Redfield Style Precision Sight-In Target on a regular basis, you'll see your ability to properly squeeze a trigger and accurately align your sights improve in no time.
Champion Redfield targets for precision shooting have a white-grid background and feature a large diamond positioned directly in the center with 4 bright red diamonds in each of the corners. For more shooting enjoyment, this target also has 4 solid red bars all positioned in the north, south, east and west locations of the target.
These excellent precision shooting targets measure 16 x 16 inches for maximum visibility and constructed from top-of-the-line materials. They come in a pack of 100 are a definitely worth every penny, offering an exceptional target for those marksmen who want to test themselves at a higher level at get an extremely precise look at how close or far away they are at hitting their exact mark.

Champion LE Green Police Silhouette Target (Pack of 10)
Champion LE Green Police Silhouette Targets are absolutely perfect for shooters interested in practicing their overall defense shooting skills. These targets are 24 x 45 inches in size and feature a large, green silhouette on a white background. In the middle of the silhouette is a large scoring table. This scoring table allows you to track your performance and easily count how many rounds you shot off.
These are made by Bushnell products use the bright green because it makes it easy to see right off the bat where a shot hits so you can make adjustments as you shoot. Some shooters even keep green duct tape on hand in order to cover up the results from an early shooting and then re-use the target once again.
Champion LE Green Police Silhouette Targets are made from top-notch materials and will stay together after multiply rounds. Whether you're looking for a way to polish your defense skills or simply have some fun at the range, Champion LE Green Police Silhouette Targets are definitely a great investment.

EasyShot Blue & Red Silhouette Targets
EasyShot Blue & Red Silhouette Targets are illustrated with bright, contrasting colors for easy shooting and increased accuracy. If you are an individual who has a have a hard time seeing your target from a distance or in a dim setting, then you'll love shooting at one of these colorful targets by EasyShot.
This large 18 x 12-inch target features a blue silhouette with a scoring table and red targets located in both the center and the upper portions. In the two upper corners, there's two more tiny, circular targets for more shooting enjoyment.
These are heavy-duty targets that come with 150 easy-to-use repair stickers. These repair stickers will make your targets last even longer and save you cash in the long run. This is extremely convenient in addition to allowing the aforementioned savings, and the fact these additional patches come with the target kit really speaks well to how these are packaged and designed for active shooters.
EasyShot Blue & Red Silhouette Targets also have a 100% satisfaction guarantee.

Marksman SKLZ Diagnostic Training Pistol Shooting Targets
Marksman SKLZ Diagnostic Training Pistol Shooting Targets train you to shoot like a champion. If you're truly interested in increasing your accuracy, then you'll want to give these targets a try. Marksman SKLZ Diagnostic Training Pistol Shooting Targets will help you eliminate bad shooting habits like jerking the trigger, heeling, anticipating the recoil or even thumbing your piece.
These targets also help shooters become more accurate with the use of various shooting tips located on the outer portion of the circular scoring table. Whether you're shooting too high, too low or even too far left or right, you'll receive a tip on how to correct that error.
Marksman SKLZ Diagnostic Training Pistol Shooting Targets are constructed from a tough material that's built to last and won't tear or rip in even the heaviest winds. These targets are 11 x 17 inches and colored with a bright, fluorescent red and thick black for ultimate visibility.
Every pack comes with 20 Diagnostic Targets and 5 Bonus Dot Torture Drill Targets, so you have plenty of options that will keep you in good practice as you keep your shooting skills honed.

B-29 Shooting Target Official NRA Police Silhouette
The B-29 Shooting Target is an effective tool used by our men and women in uniform. This target is constructed from durable materials and displays a large, black silhouette with a numbered scoring table positioned in the middle. The B-29 Shooting Target is not only a fun way to practice your self-defense shooting skills, it's also helps you perfect your accuracy overtime.
Obviously since this is a target design that is officially put out by the NRA, you know they're designed with shooters in mind. This target's full paper dimensions are 21 inches tall and 14 inches wide while the actual target area is 18 inches tall by 9 inches wide, giving a more accurate area as center mass. They come in bulk, which makes them extremely useful when ordering for ranges or if you're planning on going through a lot of targets (like those long weekends in Scouts). Very good buy for the very inexpensive price.
The B-29 Shooting Target is a great tool no matter what kind of gun you own. Whether you're shooting a pellet gun, a pistol, an air rifle or even a shot gun, this particular target is an outstanding value and is an excellent choice for shooters of all skill levels. The B-29 targets are available in a package of either 50 or 100, so you won't be running short on targets!

Caldwell Rimfire Resetting Target
If you're getting bored shooting at paper targets, then add a little excitement to your shooting experience with the Rimfire Resetting Target from Caldwell. Appearing yet again on this list because hey, these guys obviously know target shooting, this particular target system has an interesting set up that definitely sets it apart from the others on this list.
This resetting target consists of a metal frame with multiple 2.5-Inch hanging shooting circular spot targets. These targets are all fluorescent, orange targets. Other shooting spots can be purchased separately and attached to the main frame.
The Caldwell Rimfire Resetting Target is made a solid, durable steel and measures out to 16.8 inches wide x 22.5 inches high x 1.8 inches deep. This intuitive target requires minimal setup and is easy to travel with, and since the targets are steel that last for years and years even with the most frequent shooters. If you take really good care of these targets, you could be using this for decades.
Once you invest in this Caldwell Resetting Target System, you'll never have to buy another target again. Think of all the money you'll save. It's truly a target worth buying.

Chromalabel Target Pasters
Chromalabel Target Pasters are an excellent tool for shooters. These little 1-inch circular shaped patches are a fantastic way to extend the life of your paper targets. Not only do they save you money by conserving your targets, they're also are a great way to mark your accuracy.
These are pretty self explanatory. When you want to cover the holes from a previous target shoot you simply peel them from the wax paper and stick them over the bullet holes in your targets. Once you shoot through them, simply put another target paster over the top of it and go back to shooting.
These adhesive target pasters are put together in a dispensary box of 1,000, so you won't have to worry about running out for quite some time. This means you have a serious ability to reuse targets over an over again. This dispensary box is lightweight, very easy to carry, and fits easily in most ammo bags. These particular target repair pieces are available in the either black, red, or florescent red-orange.
Florescent red-orange is a great color for shooters with poor vision.


In Conclusion
There are many different options out there when it comes to target shooting and this article has shown just a glimpse of what's out there. This hasn't even looked at many of the really basic or traditional paper targets out there, or some of the less than politically correct options. Truth be told, you can probably find a target for just about anything but for target shooters looking for a little bit of fun and shot by shot correction, or looking for a way to get youngsters into gun safety prior to hunting (or for that merit badge for Scouts) then this article certainly gave you plenty of great options to choose from!
If you liked this article, make sure to check out this post about the best metal gong shooting targets for something a bit difference. Beyond this, if you need a good shooting rest to help you with your aim, make sure to check out that helpful blog post, as well, or this one on red dot rifle sights and enjoy!
Excellent video on "safety" of steel targets