Ammo boxes are a great tool for transporting, categorizing, or storing your ammunition. There are many different products available and trying to decide which one is right for you can be a little difficult sometimes. The best thing to do is consider why you're interested in buying an ammo box and what you want out of it.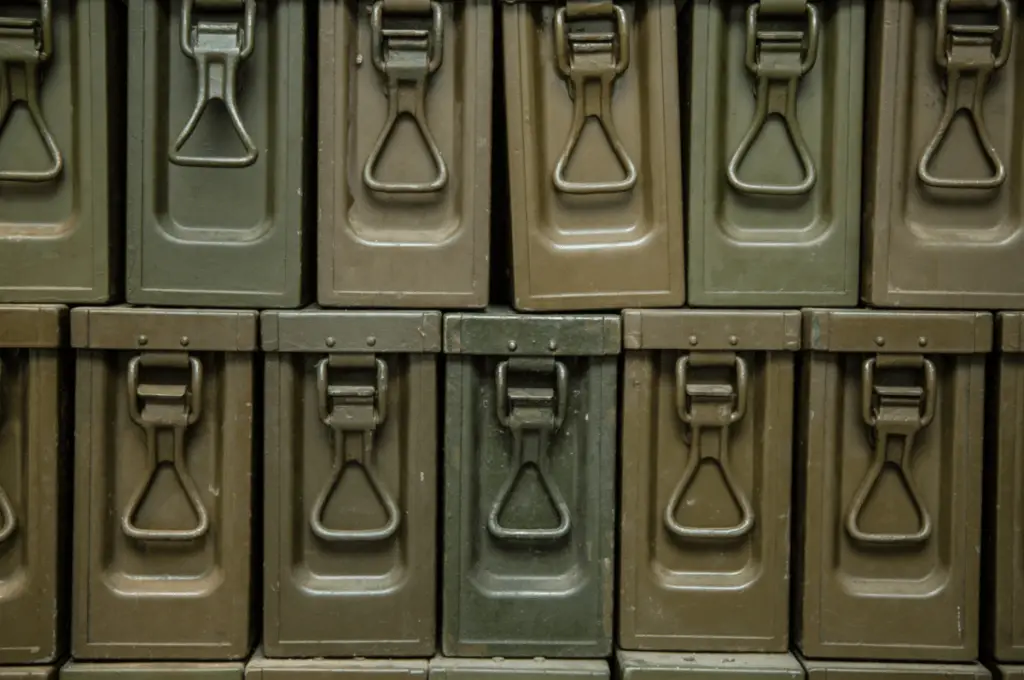 These can be a great shooting accessory before you head out to the local range or set up one of your own on private property.
What Are the Best Ammo Boxes Available?
Some ammo boxes can be stacked on one another like shelves and others can be easily transported. Some are made from hard plastic while others are constructed from aluminum or stainless steel. That's just the start.
The best ammo box overall is the MTM AC4C Ammo Crate because of it's smart storage, ample space, and great overall design. The best ammo crate for specialty ammo or individuals will depend on space needed, caliber of ammo, and dependability in the field.
Listed below are a few of the best ammo boxes sold today. Take a look and see if anything catches your eye.
INSERT CHART/COMPARISON GRAPH THERE
Top Pick: MTM AC4C Ammo Crate 4-Can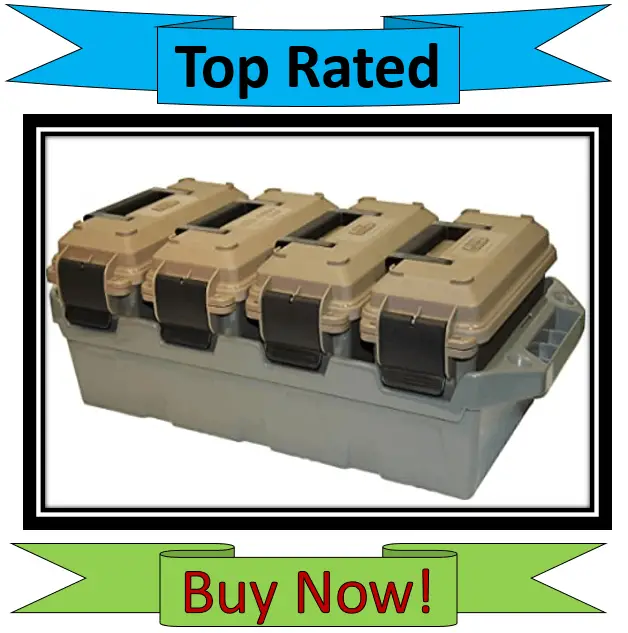 This ammo box is awesome. Not only is there 4 separate compartments, when you purchase more than one, you can stack them on one another. This is an excellent way to store your ammunition.
However, with the convenient handles located on the top of the container, you can also transport one of these bad boys with you. This is one versatile ammunition box definitely worth the investment.
All 4 of the 30-Caliber containers have an O-ring that creates air-tight seal.  This tight seal protects your ammunition by preventing moisture from getting inside of the containers. 
Exposure to moisture can make your ammunition rust or corrode. It can also deactivate the primer in the cartridges. Air tight seals are especially important if you're planning on storing your ammunition for an extended period.  
Another thing that's absolutely great about the MTM AC4C ammo container is the durability. Metal ammo boxes can rust over the years and be dented when dropped. This gun cartridge crate is made out of hard plastic and can really take a beating.
If you're looking for a product that'll last for years to come, this is it.
Pros
Multiple crates can be stacked for easy storage
Built-in handles positioned up top for hassle-free transportation
Extremely durable & hard to damage
Each of the 4 canisters are sealed with an air-tight O-ring
Can be tied down using the 4 hoops located on the top of the container
Can be used to store other items like first aid supplies and such
Cons
Tapers in inward near the base of the container resulting in less storage space, although this is mitigated by simply being larger than other models
Harder to transport than smaller and more compact models, can be much heavier when fully loaded as a result
Click on this link for up to date pricing here on Amazon!

Premium Runner Up: MTM Case-Gard AC3 3 Can Crate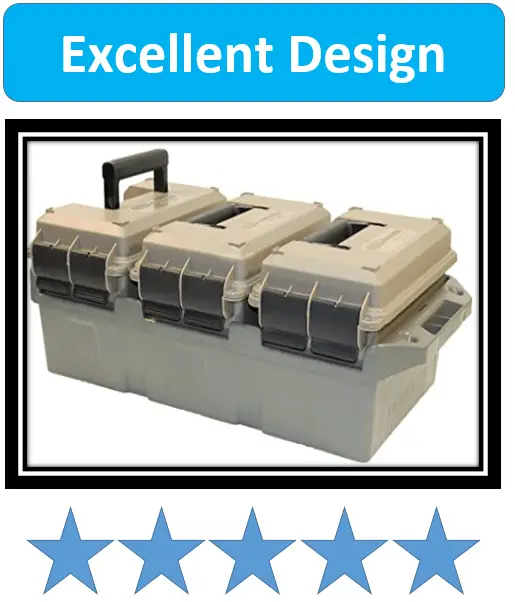 This is another heavy-duty ammo crate definitely worth the money. This thing is constructed from hard, durable plastic and can withstand years of abuse. The 3 cartridge canisters are designed to store 50 caliber bullets, and to keep them from being exposed to moisture, rubber O-rings were also incorporated into the lid of each canister.
In addition to being durable, this ammunition crate can also hold a lot of ammo too. In fact, each canister can hold between 800 and 1,200 rounds, depending on the size of the cartridge. Now, that'll come in quite handy, especially if you're planning on storing your ammo.
If you are thinking about using the MTM Case-Gard crate to store your ammo, them you may want to buy more than one. Why? These are stackable. This is a really great feature that not all ammo boxes offer.
On the other hand, if you like hauling your cartridge crate with you, then you'll appreciate the three solid handles located up top. There's even 4 built-in tie-down loops to keep your container secure when you're carrying it in the back of a truck or a trailer.
If you are an avid hunter or recreational shooter, you'll definitely want to think about adding this accessory to your collection.  
Pros
Built sturdy and tough
3 embedded ammo canisters
Built-in O-rings provide an air-tight, water-resistant seal
Multiple ammo crates can be stacked on one another for easy storage
Made in the United States
Cons
Click on this link for up to date pricing here on Amazon!

Plano 1312 Ammo Box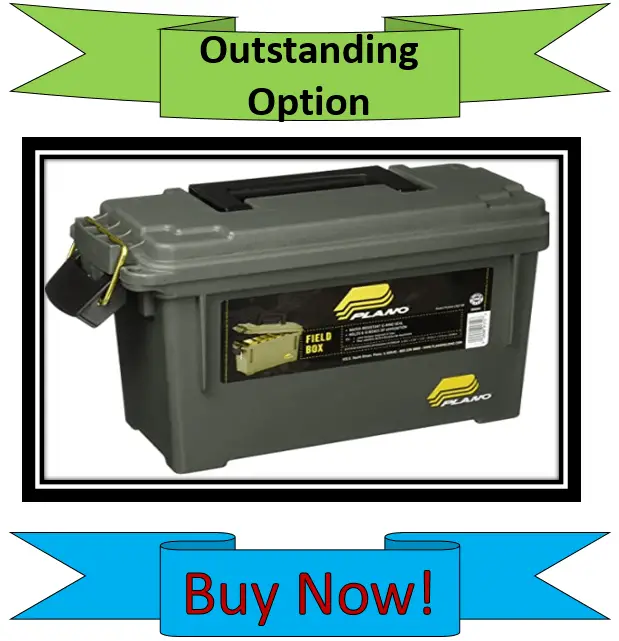 If you're looking for something a little smaller and easier to take with you to the range, then this compact ammunition box might be the right choice for you. You can't hold anywhere near the amount of ammo the last two cartridge crates can, but this ammo container is much easier to travel with, it's lighter, and it will take up less room in your vehicle.
However, for a small ammo box, this thing can hold quite a few cartridges. In fact, you can carry around 1,200 cartridges for a 50-caliber firearm. That's a lot rounds, and because all this brass gets pretty heavy, the company Plano added a really tough, durable handle on the top of this container for easy transportation.
The brass bailed latch and the water-resistant O-ring built into the underside of the lid provides an air-tight, water-resistant seal that'll keep your ammunition from corroding, rusting, or defecting the primer in the cartridges.
Ammo is quite expensive these days, so why not buy a quality container that will keep them safe? This really is one fantastic ammo box for the money.
Pros
Can be locked for extra security
Lightweight and extremely durable
Great for the shooting range
Easy to travel with
Made out of thick, durable, hard plastic that's hard to damage
Air-tight, water-resistant seal
Made to carry .50 caliber cartridges
Cons
The red barcode sticker is hard to remove and leaves a sticky mess when removed
Click on this link for up to date pricing here on Amazon!

Military Issued U.S. G.I. 50-Caliber Ammo Box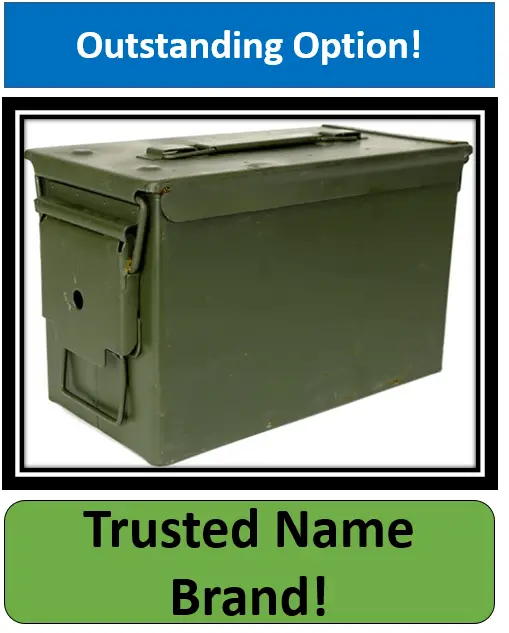 Anyone who likes collecting military issued shooting accessories will absolutely love this ammunition box. This collector's piece was previously used by our United States Military. Now, don't let that fool you though. This container is still in excellent condition and looks really good. You won't find any dents or major blemishes, and the lid works just as well as it always has.
This 50-caliber cartridge container was originally crafted from a real durable steel and is so tough it's bombproof. Yup, you heard that right. This thing can survive a bomb. The hinges, the top-handle, and the front latch are also made out of metal as well.
The rubber gasket built into the underside of the lid provides a watertight seal, so your ammunition will be free and clear from any sort of moisture. This is important because moisture can corrode your cartridges and dampen the primer in them. By storing your ammunition in this G.I. 50-caliber cartridge box, you'll have nothing to worry about.
Pros
High-quality metal construction
Designed for 50-caliber cartridges
U.S. Military issued
Both waterproof and bombproof
Convenient metal handle up top for easy travel
Can be easily stacked
Cons
The inside of the ammo box may come with an unpleasant odor
Click on this link for up to date pricing here on Amazon!

MTM AC50C-40 50-Caliber Ammo Can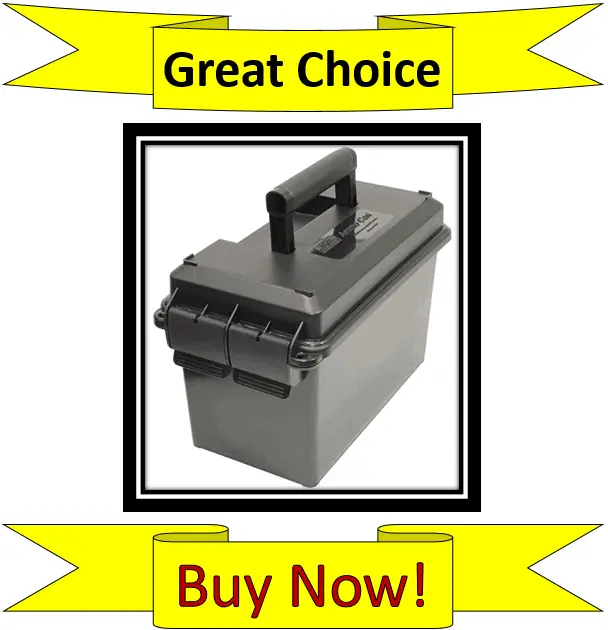 With this ammunition can, you get the best of both worlds. It's small, compact, and has a convenient handle for hassle-free traveling. On the other hand, the MTM ammo container is also great for storing your cartridges too. It's stackable, fits great on a shelf, and can be easily stored in a closet.
The overall construction of the MTM 50-caliber ammunition can is also quite impressive as well. It's made from a heavy-duty polypropylene plastic that can really withstand a lot of abuse.
The tongue and groove O-ring seal system in addition to the dual latching system creates a seal that's not only water resistant, but it also keeps the humidity from seeping in during those hotter months.
The double padlock tabs built onto this container are really handy too. There's two tabs, one on each side of the lid. With the use of your own padlocks, you can keep your ammunition safe from theft, and if you have children in the household, locking your ammunition box is an also a really smart move.
Pros
Made to store 50-caliber cartridges
Can store a wide range of other items
Extremely durable
Stackable
Can be locked for safe storage
O-ring seal system keeps moisture, humidity, and dust from getting in
Made in the United States
Cons
The sticker labels on the sides are hard to get off and can leave a gooey mess when removed
Click on this link for up to date pricing here on Amazon!

Sheffeld 12634 Locking Ammo Box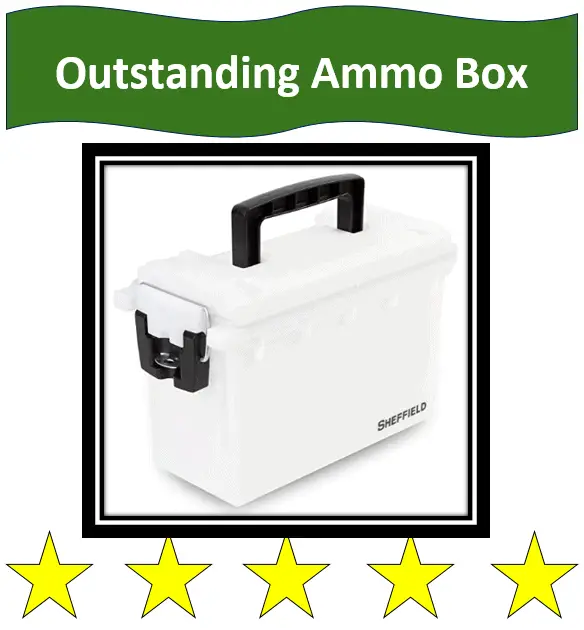 This Sheffield ammo box isn't just for ammunition, this thing was designed for carrying and storing a wide range of outdoor supplies. This can include fishing tackle, small tools, first aid supplies, electronic devices, and much more.
The rubber O-gasket built into the lid creates a waterproof, air-tight seal that'll protect the contents in the ammo can. For theft and child protection, there's also 3 locking options available to you.
These include the two padlock tabs and the main locking mechanism. This is truly one secure cartridge container.
Just as with the last couple products, this ammunition box is stackable. When you purchase 2 or more, you'll be able to stack them on one another. Having multiple containers is quite handy for categorizing your different cartridges or outdoor hunting supplies.
If you do decide to take it with you on one of your hunting trips or down to the range, there's a convenient handle on the lid for easy transportation. This handle, in addition to the rest of the ammunition box, is made from a highly-durable plastic that can withstand a lot of abuse.
When you're not using the handle, it conveniently lays down, so you can stack another ammo box on of it.
Pros
Available in a wide range of colors
You can store an array of items including first aid supplies, tools, and fishing tackle
Compressed fit lid keeps water and dust from getting on the inside
3 locking options
Made from tough, durable hard plastic
Made in the United States
Cons
The white colored ammo box is a little bit transparent in the sunlight and may reveal the contents inside
Click on this link for up to date pricing here on Amazon!

MTM Case-Gard AC15 Ammo Can Mini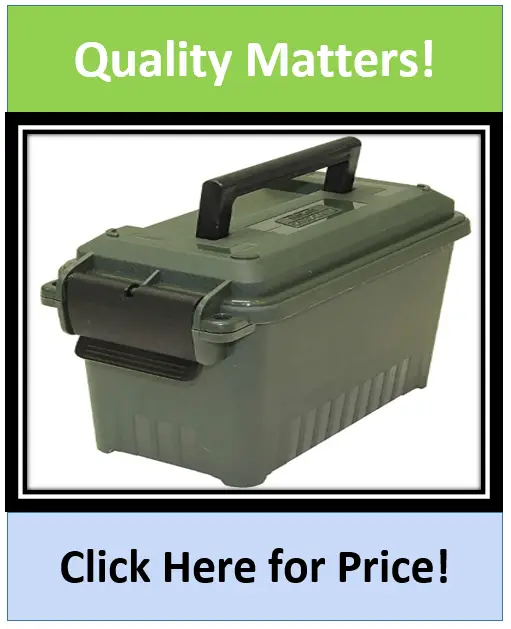 If you're interested in a more compact ammo box, then this just may be the product for you. The MTM Case-Gard AC15 is probably one of the smallest models on the market making it absolutely perfect for the gun range or overnight camping trips.
The lightweight design and the convenient handle up make traveling with this ammunition can a piece of cake. The handle is well-built and fits nicely in your hand. To keep your cartridges safe and clean, MTM added double padlock tabs and a high-quality latching system. This latching system creates a tight seal that keeps moisture and filth from seeping it's way inside.
As compact and this gun ammunition can is, this thing will carry a total of 700 rounds of 9mm bulk ammo. Now that's a lot. In addition to this, this ammunition box can also carry:
400 APC bulk ammo rounds
400 223 bulk ammo rounds
100 boxed 28 and 410-gauge rounds
60  12-gauge rounds
2.75″ bulk ammo rounds
This is typically more than enough rounds for a day at the range or an overnight camping trip. It's important to note though that there is a 12lb limit, so you should never try to overfill it. Other that, this is definitely one useful shooting accessory worth the investment.
Pros
Can be stacked
Made to hold a wide range of ammo types
Lightweight, heavy-duty polypropylene plastic construction
High-quality latching system keeps moisture and filth out
Double padlock tabs
Convenient carrying handle
Cons
May be too small for some buyers
Click on this link for up to date pricing here on Amazon!

Redneck Convert RC Black Military 50-Caliber Ammo Box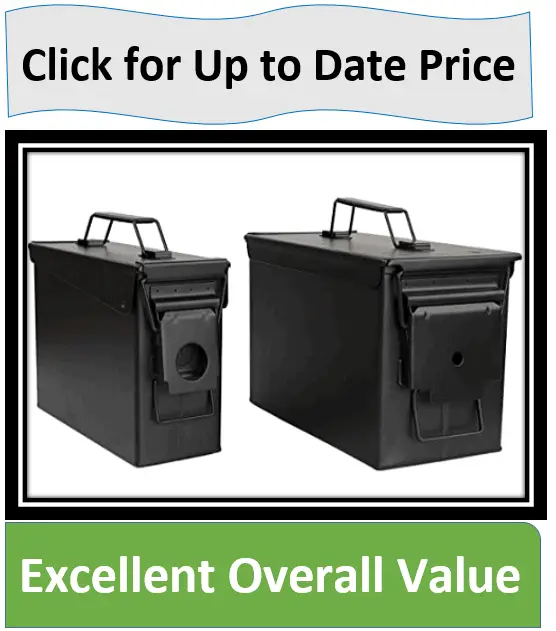 Any shooter or hunter who is a fan of heavy gauge steel construction will absolutely love this ammunition box. This military-styled container features a tough Army latch and a solid lid with a built-in rubber gasket to create an air-tight seal.
Once fully closed and latched, nothing is getting in. This includes water, humidity, or filth of any kind. Even if you accidentally drop this thing in a lake, the ammo inside will stay nice and dry.
If you're planning on buying more than one, you'll be happy to know that these cartridge containers can be easily stacked on one another for convenient storage.
The best part is that you can store a wide array of items in them. Beside ammunition, these metal boxes are also great for storing things like tackle, first aid supplies, and a variety of tools.
If you're buying this magazine storage box to take with you to the range, then you'll really appreciate the foldable metal handle located up top. This handle fits comfortably in the palm of your hand no matter how much ammunition you're carrying.
For security purposes, you can also lock your contents up for safe keeping and prevent young children from getting inside. Safety is an important feature that you should really look for in a good ammo box, and this product has it.
Pros
Lockable
Military-styled design
Crafted from heavy-duty steel
Army-styled latch
Foldable handle for easy transportation
Available in 2 colors: black and tan
Lightweight
Cons
When stacking more than 2 filled ammo boxes, the stack may begin to lean a little to one side
Click on this link for up to date pricing here on Amazon!

In Conclusion
Ammo boxes might have been more common with military use than in modern shooting ranges, but that doesn't mean there isn't a place for them! Modern ammo boxes for recreational shooters have come a long way. They offer great transportation options for your ammunition and sometimes even space for your favorite sidearm.
In other words, these have come a long way from the days of big hollow metal boxes used at one time by the armed forces. Take a look at the ones we've reviewed up above and enjoy your time at the range!
Other Shooting Articles You'll Love