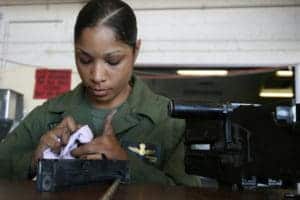 Cleaning your firearms is a necessary task that every gun owner needs to do on a regular basis. By doing so, you'll keep your guns in fantastic condition and firing the way they're suppose to. Cleaning guns isn't just for aesthetics sake – it's a crucial part of maintenance!
However, it's essential that when you do clean them, you use quality products that'll get the job done right and in the most efficient way possible.
Although there are several products on the market, I can safely say that all of the cleaning patches listed below are high-quality and definitely worth your money. When choosing, it's important that you make sure you invest in patches that are designed for the size of your firearm.
Patches that are too big for the barrel of your gun may get stuck, and patches that are too small may not get the job done right. Read on to learn about your options because you want to make absolutely sure you have the right patches for your gun cleaning job!
Hoppe's No. 9 Gun Cleaning Patch
These cleaning patches are made to be used with 0.38 to 0.45 sized calibers and 0.410 to 20-gauge firearms. Each package contains 50 super-absorbent, woven patches that are made from pure cotton and are also pre-cut for your convenience.
Simply pull them from the package and they are already all set for instant use in cleaning your firearms.
It doesn't matter how dirty your firearms are, the Hoppe's No. 9 Gun Cleaning Patches have been tested and are designed to handle even the toughest filth. They're great for any kind of gun cleaning situation you may find yourself in.
They are made to standard so there aren't any surprises: each pad offers the same level of quality as the last so you know what to expect.
Give these patches a try, especially if you haven't cleaned your firearms in a while. I think you'll be more than happy with their cleaning performance, and there is a reason why they are so highly rated by many hunters and recreational shooters who have tried them out.
While all the cleaning patches for gun on this list are excellent choices, Hoppe's cleaning patches for firearms is our top rated cleaning patch option for getting the job done.

Otis All Caliber Cleaning Patches (100 Pack)
If you're looking to get your money's worth, then you'll absolutely love the Otis All Caliber Cleaning Patches. These patches are designed to clean 0.25 caliber to 12/10-gauge firearms and come in a package of 100. Not only do you get a nice supply, each cleaning patch can be used up to 6 separate times.
Now, that's what I call getting a deal! This means for those of us who own way more than one firearm that there will be plenty of cleaning power from just one package of these Otis cleaning patches for firearms.
You'll absolutely love these unique cleaning patches. They're circular shaped and made out of a premium cotton. The 360-degree cleaning area covers more territory and the cotton texture absorbs all kinds of lubricants, solvents, and your basic grime.
They truly are an effective gun cleaning tool, and it isn't at all hard to see why they are a favorite among many responsible gun owners.

Pro-Shot Products 100% Cotton Flannel Patches
These flannel patches are not only made from soft cotton, they also have a high thread count and are tightly woven together. In addition to this, these patches are double napped on each of the sides.
Why is this important? This double napped feature helps make these patches a really effective cleaning tool, and it is a design that indicates this company knows the importance of keeping a clean gun, and every shooter or hunter wants equipment that is both efficient and effective.
Another thing that I really love about these cleaning patches is that they're available in a wide array of sizes and package amounts. The sizes range from 1″ to 3″ and the package amounts come in either a 50, 100, 250, 300, 500, 600, or 1,000-count bags.
That variety is really important. Pro-Shot Products really provides their customers with a wide selection to choose from, so you can buy a smaller pack of 50 to keep one firearm clean, or if you have a large collection you can buy in bulk with a full 1,000 cleaning patch bag, and I absolutely love that.
Great versatile offering the amount of choice you really want to see.

Birchwood Casey Gun Cleaning Patch
Birchwood Casey Gun Cleaning Patches have a cross weave pattern that really works well for scrubbing and cleaning your firearms. This lint-free material is made from cotton and highly absorbent.
They soak up oil and other solvents like no one's business making them absolutely fantastic for really filthy jobs.
The kind of firearms that these patches are designed to clean include the Square 9 mm in addition to a .38 and a .45 Caliber. You can use them to clean other guns too, but you'll have to cut them down in size.
As they are sold and produced, you want to keep to the above mentioned models for best overall cleaning and maintenance results.
Every patch distributed by Birchwood is American made and comes in a package of 500. That's a solid number of firearms cleaning patches and there's little denying that for what you're getting, this is definitely worth the money.

Skyline Center Inc. Gun Cleaning Patches
These little square gun cleaning patches are 1.75″ in size and come in a package of 1,000. They're most effective when used to clean 7mm firearms and .38 to .357 calibers as well. The edges of these patches are double-napped for advanced cleaning, and because they're made solely from high-quality cotton, their absorbent qualities are really top notch even compared to some of the toughest competition on this list.
Residue, grime, and other dirt issues on your firearms don't stand a chance with a good oil and these reliable cleaning patches.
When you order these powerful little cleaning patches, they'll come in a durable, resealable bag for your convenience. This resealable bag keeps dust from getting in and allows you to take them with you wherever you go. The fact the bag reseals easily is just a very well thought out bonus/benefit that make this choice even more appealing.
Skyline Center Inc. Gun Cleaning Patches are made in America, and manufactured and packaged by individuals with disabilities. When you place your order, not only will you be purchasing a fantastic product, you'll also be contributing to the success of our country.

Real Avid Handgun Cleaning Combo
This cleaning combo is one amazing set. It consists everything you could ever possibly need to keep your firearms in great, working condition. Real Avid went the extra distance when they designed this collection. So, what's all included?
You'll receive 500 cleaning patches all together, 250 smaller sized and 250 larger. These patches are made for 0.22, 0.38, 9MM, 0.40, and 0.45 caliber firearms and constructed from premium cotton for full absorbability. You'll also get a 9″ handgun cleaning rod, several phosphor bronze brushes, and a few nylon jags too.
If this isn't enough, you'll also get a handgun smart mat with an attachable, magnetic parts tray. Now, how cool is that? You'll never have to worry about losing or misplacing your screws and other small pieces. They'll always be right by your side.
Last but definitely not least is the weather-resistant, zippered carrying case. This case is waterproof and features a small, compact design for easy transportation. It'll protect your collection and keep them in great condition.

The Professional's Choice Cotton Flannel Gun Cleaning Patches
Trying to find a bargain these days can be quite challenging, but when you order these gun cleaning patches, that's exactly what you'll get.
Each package consists of 800 patches made from a high-quality, flannel cotton. They're tough, absorbable, and used by a wide array of experienced hunters and shooters. These are a "classic choice" that have proven dependable for quite some time and absolutely hold up to the other competition on this list.
The Professional's Choice designs their cleaning patches for a wide selection of firearms. Some of the guns they make patches for include the .223 caliber, 9mm, 6mm, 7.62 mm, 16-guage shotgun, 20-guage shotgun, and so many more.
They're definitely a top-notch product at a very conservative price, and I have to say, I love that.

In Conclusion
Clean and well maintained guns not only function better and stay in the family longer, but they allow others a very clear picture of the level of care the individual takes of their firearms. This is above and beyond the obvious: clean and well-maintained guns just look better. Whether you're an old hand who already understands the importance of a clean firearm and is just looking for a convenient place to shop for top rifle cleaning pads (you're welcome) or a beginner wanting to get the right materials to make sure your firearms are always looking their best and functioning at their highest level.
Other resources of note:
Using Cleaning Patches for Guns