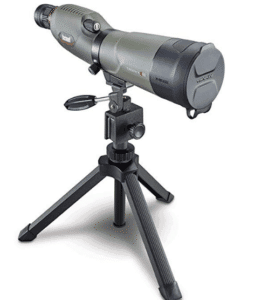 Shooting spotting scopes are a very useful accessory that every hunter or recreational shooter should add to their collection. Although some gun owners choose to use binoculars for their sighting needs, there are a lot of benefits to using firearm spotting scopes instead. Some of these reasons including advanced zoom technology, a greater viewing distance, and stronger lower light features. The best spotting scopes for shooters share some common traits, and we run those by you as well.
When choosing the right model for you, first you'll want to consider what you'll be using the spotting scope accessory for. After that the next thing to think about are the kind of features you're interested in as well as the kind of weather conditions you'll be hunting or shooting in.
Although there are several different products on the market, the devices listed below are some of the best models on the market. Read on and find the right scope for you.
Looking at the Best Spotting Scopes for Shooters
When it comes to shopping for the best spotting scopes for shooters, it's important to do some serious research to understand what factors are most important to you. When talking about really high quality and precision equipment like spotting scopes the smallest differences from one model to another can led to a massive amount of difference.
From focusing on the multiple budget friendly Emarth models to the truly high quality precision models for top notch precision rifle shooters and their spotters, we attempt to give a great mix of all the best options currently available. Read on to learn more about the best scopes, with or without a tripod.
Emarth 20-60x60AE Waterproof Spotting Scope with Tripod
If you enjoy both close-up and long-range views, then you'll really appreciate the 20-60x zoom lens and the full field view on this shooting spotting scope. The full field view features a 39-19m/1000m viewing experience along with a 45-degree eyepiece.
The vibrant colors and the clarity you'll experience is truly amazing. If that's not enough to please you, the fog-proof setting should. It doesn't matter what kind of conditions you're hunting or shooting in, you'll always be able to see clearly. Even if you're in a low-light situation, the multi-coated lens and the BAK4 roof prism will ensure you'll still get a nice shot every time.
The construction of this spotting scope by Emarth is also amazing. The body is coated by a shock-proof rubber that's easy to grip and helps prevent the device from being damaged due to bumps and scratches. In addition to this, the shooting scope is also 100% waterproof. This means that if you find yourself in rainy or snowy weather, you won't have to worry about damaging the device.
Programming your firearm spotting scope can be a hassle, but with the duel focus wheel system, you'll be able to adjust the device to your liking within seconds. Glare will also never be a problem either with the help of the built-in retractable sunshade. This retractable sunshade minimizes glare instantly, so you can always shoot as accurately as possible.
This is one fantastic hunting and shooting accessory you'll definitely want to think about investing in. Every purchase comes with a sturdy, rotatable tripod which allows you to enjoy a wide array of angles.


Bushnell Trophy Xtreme Spotting Scope
Looking through this amazing spotting scope is really a treat. With top-of-the-line optics and full HD clarity, you'll enjoy nothing but the very best in visuals. The 12 to 36x adjustable magnification and the 50-millimeter objective lens also really add to the overall quality of this device.
You'll be glad to know it doesn't matter if you're focusing on something up close or far away. You'll always get a great picture with remarkable detail. Even if you find yourself in an environment with little lighting, the multi-coated optics will improve light transmission.
The Bushnell Trophy Xtreme Spotting Scope is one tough device that's both water and fog proof and made to withstand your average wear and tear. The body is coated with a shock-free rubber that'll protect this shooting accessory from unnecessary drops, dinks, and scratches.
Bushnell even provides their customers with a limited warranty with every purchase. That's not all you'll get when you add this shooting spotting scope. You'll also receive a well-crafted tripod, a car window mount, a scope glove, and 2 carrying cases, 1 hard and 1 soft. This is definitely one fantastic package worth every penny.


Emarth 20-60x60SE Straight Spotting Scope with Tripod
Locking in on your target is just one of the many features this spotting scope has to offer. Once locked, the adjustable 20x to 60x magnification setting gives you the ability to either zoom in or out with the press of a button. The process is that easy. You'll even get a 127′-62′ field of view when you're using your scope at 1,000 yards.
That's quite impressive for these 60mm objective lens. This Emarth Spotting Scope is a great choice for anyone whop enjoys hunting, bird watching, or recreational shooting.
Shooting in a low-light environment can be a little challenging, but when you use this nifty device, that won't be a problem. This spotting scope by Emarth incorporates BK-7 prism and features fully coated optics.
What does that mean for you? You'll enjoy better light transmission in addition to superior clarity. This in return will help increase the accuracy of your shots and the chances of successfully hitting your target.
The construction of this straight spotting scope by Emarth is also quite astonishing as well. The outer body is coated by a shock-proof rubber that's not only easy to grip but also protects the device from becoming damaged when dinged or bumped. In addition to this, this firearm spotting scope is also both water proof and fog proof.
Every purchase comes with a high-quality tripod and a lifetime warranty. You'll also get superior customer service 24-hours a day. Give this hunting accessory a try, and you won't want to use anything else again.


Celestron Spotting Scope
Having options is definitely good, and when you choose the Celestron spotting scope, you'll get just that. This Celestron accessory is available in 6 different choices, and each one features a different angled eye piece. They include the following:
100° to 45°
100° to straight
65° to 45°
65° to straight
80° to 45°
80° to straight
When choosing the right model for you, it really depends on personal preference. Although each of these models have individual features, they all have excellent zoom settings, a fantastic linear field of view, and a state-of-the-art zoom eyepiece. However, the magnification specifications of each of the eyepieces will vary a little. For example:
The 100° to straight model has a 22x to 66x magnification setting
Both the 65° to 45° and the 65° to straight models have a 18x to 55x magnification setting
The 100° to 45° model has a 1.8x to 1x magnification setting
Both the 80° to 45° and the 80° to straight models have a 20x to 60x magnification setting
Another thing that these shooting spotting scopes all have in common is that they're waterproof, fog proof, and constructed from top-of-the-line materials. In fact, every purchase comes with a lifetime warranty and excellent customer service. All of spotting scopes by Celestron are available for a different price and are a high-quality shooting accessory.


Emarth 20-60×60 Angled Spotting Scope
Emarth makes high-end hunting and shooting accessories, and this spotting scope is no exception. However, the thing that makes this model different that the others are the larger eyepieces. These enlarged eyepieces are more comfortable for certain shooters and can help you increase the accuracy of your shots.
Other than being larger, the eyepieces also have a magnification setting of 20x to 60x and sit at 45° for an extremely comfortable experience. To add to this, the 60mm lens are fully coated and deliver a bright, vibrant picture while the built-in bak4 roof prism allows you to see more clearly in low-light conditions. The bak4 roof prism will also help decrease eye fatigue which in return will also help you improve the accuracy of your shots.
Like all of the Emarth firearm spotting scopes, the body is coated in a shock-proof rubber coating that's easy to grip and the device itself is both waterproof and fog proof. Made from top-of-the-line materials, simple drops and bumps won't harm this well-constructed hunting and recreational shooting accessory.
An additional feature that really needs to me mentioned is the camera adapter for Canon products. Detaching and attaching your camera to the included tripod is a quick and hassle-free experience. You can go from using your firearm spotting scope to your Canon Camera in no time at all. Now, that's convenient.


Barska 30-90×90 Waterproof Colorado Spotter Scope & Tripod
Featuring a field of view of 78/26 – 40.2/13 and an exit pupil of 3.6mm at 30x and 1.2 at 90mm, this spotting scope is definitely an accessory you want to take with you on your next hunting or shooting trip. For advanced comfortability, the Barska Colorado Spotter Scope also has a 1.78" eye relief with a close focus of 32.8 ft/10m. Spotting and zooming in on your target is not only convenient but also very detailed as well.
The tripod is another reason to invest in this shooting spotting scope by Barska. This tripod can extend anywhere from 26.6" to 63.4". This gives you the ability to find your perfect angle and focus in on your target in the most comfortable manner possible. Adjusting the length of the tripod is easy and cam be done within seconds. The process is that simple.
Minimizing glare is a problem many hunters and shooters have to deal with when using their scopes, and that's why the built-in edged sunshade is such a remarkable addition. This edged surface reduces most glare which in return allows you to shoot with accuracy and without any distractions.
This Colorado firearm spotting scope is built tough, made with durable materials that can stand up you're your basic daily wear and tar, and is 100% waterproof. Whether you're shooting in the rain or the snow, your device will never be damaged due to moisture. This is definitely one quality shooting accessory worth the investment.


SVBONY SV17 25-75x70mm Spotting Scope
Although there are several benefits to using an angled-shaped spotting scope, there are also quite a few good reasons to use one with a straight design as well. Straight spotting scopes allow you to find your targets quickly and with minimal effort when you're gazing through your scope horizontally or directly downward. If you prefer the straight shape, then the SVBONY SV17 is a fantastic choice.
Besides the straight shape, this spotting scope by SVBONY also features a bak4 prism setting which increases visibility in environments with poor lighting while also adding to the overall clarity of the shot.
Seeing your target is even easier with the 70mm lens. These larger than average lens provides you with a more fulfilling field of view. In fact, you'll even notice the high-quality resolution when you peer though these lenses.
When you purchase this 70mm spotting scope, you can include the tripod for a higher price or simply buy the scope by itself. However, the tripod is definitely worth the extra money. This tripod can be adjusted anywhere from 17" to 54" and features 4 different sections for multiple viewing angles. Whatever you decide, both choices are definitely a wise investment.


BARSKA 20-60×60 Straight Spotting Scope with Tripod
This is definitely a compact little device, but don't let that fool you. The BARSKA spotting scope is one amazing hunting accessory. You'll appreciate the crisp, colorful 20x to 60x zoom magnificent setting and the fully coated optic lens.
You will find it doesn't matter if you're hunting at dusk or in the middle of the day, you'll be able to spot and focus in on your target with no problems at all. This BARSKA shooting accessory even features a fog-proof setting for limited visibility.
Another thing that makes this straight spotting scope aa smart investment is the overall construction. In addition to being 100% waterproof and extremely durable, the body also features a smooth, polished surface with an easy-to-use focusing knob. This is one beautiful firearm scope for the price. When you add this shooting scope by BARSKA to your collection, you'll also receive a complementary carrying case and a pan-head tripod.
The carrying case makes it easy to travel with your device while also keeping the lens from getting dirty.


Firefield 12-36 x 50 SE Spotting Scope Kit
A spotting scope with a bunch of knobs and buttons can be hard for some people to use. For those individuals, this Firefield shooting accessory is the perfect choice. This device only has two easy adjustment knobs and yet still delivers an optimal viewing experience. In fact, the lens are multi-coated for superior clarity and are even purged with nitrogen for foggy environments.
This spotting scope by Firefield also features a lightweight design that's easy to travel with, durable against your regular wear and tear, and protected by a ipx6 waterproof rating.
The sunshade lip is also another cool feature that helps eliminate glare and excessive sunlight. By minimizing these two variables, you'll be able to see better and shoot more accurately.
When you decide to invest in this Firefield Kit, you'll also receive a really sturdy tripod and a tough, nylon carrying case. By utilizing this carrying case, you'll keep your new accessory in fantastic shape for years to come.


Orion GrandView Waterproof Zoom Spotting Scope
Zooming in on your target is a piece of cake when you use the Orion 55205 GrandView. This spotting scope features a zoom range of 16 to 48-power and contains 65mm multi-coated optical lens making this model a fantastic choice for any avid nature lover. The clarity in addition to the bright, vibrant colors that you'll experience when you use this remarkable device will absolutely amaze you.
Anyone who enjoys watching birds, admiring beautiful landscapes, and even checking out the stars will want to think about buying this outdoor accessory.
The rail mount system is another impressive feature that needs to be mentioned. This mount system allows you to easily attach an Orion EZ Finder Deluxe II Reflex Sight to the scope. Although this Orion Sight is sold separately, when you do pair these two, what you'll end up with one amazing combination.
Just as with many of the firearm spotting scopes listed in this article, this Orion accessory is 100% waterproof and built to withstand your typical bumps, drops, and mishandlings. The best part? Every Orion customer will receive a free carrying case with an adjustable shoulder strap for easy transportation.


Wrapping It All Up
The right scope makes a difference. While the video below is on a more conventional rifle scope, something the average hunter will find more useful, spotting scopes make a big difference for long distance precision shooting. If you're into the real long distance firing and want to keep those skills sharp, you'll want a good spotter with a good scope. These are the best non-specialized ones currently on the market and give you plenty to choose from.
Recreational shooting is not just a hobby, it's also the sharpening of an important skill. Having someone with a top notch spotting scope is a definite plus to make sure you stay at your absolute best!
Choosing A Rifle Scope Video
Other Shooting Articles of Interest