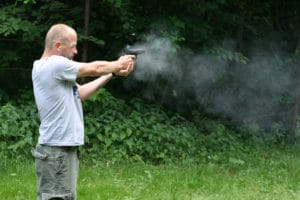 Admittedly the closest I've ever gotten to going gong target shooting for a really long time was with a BB gun at a carnival. Don't get me wrong: I love shooting and always have since my earliest days in Scouts, but it was always plenty of paper targets, not metal. Why I don't necessarily feel like I missed out on anything per se, there's a part of me that was thrilled the first time a gun shot was followed with a metallic ping, instantly confirming the hit.
I also briefly thought about my amazing type of bad luck and wondered what the chances of ricochets were, but I always shoot from a safe distance and hey, gotta go out somehow.
The truth is that metal gong shooting targets, even steel ones, are perfectly safe as long as you are being properly supervised and using common sense such as firing from a proper distance to make sure there is no realistic danger to yourself or others around you.
This is one of those things that should go without saying but we feel we need to put it in anyway: always practice all safety precautions when you are target shooting, handling firearms, or in an area with anyone doing the same.
Avoid stupid avoidable tragedies, folks. That being said, lets get on to what you came here for: the absolute best information on metal shooting targets for recreational target shooting!
XSTEEL AR500 GONG Reviewed
If you're tired of paper targets, and you're interested in a new shooting experience, the XSTEEL AR500 GONG is a real treat. This well-crafted gong is designed for handguns and rifles up to a 0.308 Winchester, and will last a lifetime as long as you only use handgun ammunition.
The XSTEEL AR500 GONG is 12" in width, 3/8" thick, crafted from thick, durable steel and cut using state-of-the-art laser technology. Not only is this gong built to last, you'll absolutely love the sound it makes when you shoot at it. That's half the point, isn't it?
That clear ping sound that lets you know just how good and straight on a hit it was. There's a reason this target is the top of our list, and it is likely to stay there in the foreseeable future.
There's two convenient mounting holes at the top of this large, metal gong that allow you to tie or attach it from just about anything that'll sustain its weight. From inside target practice to outdoor recreational shooting, this gong is definitely a fun and entertaining target to shoot at.
Standard isn't always boring – sometimes the classic route is absolutely the way to go.

Ar500 Metal Target Reviews
The Ar500 Metal Target is a large gong made from high-quality steel and comes with a lifetime guarantee when used as intended. This durable gong also comes in a wide array of sizes for satisfaction.
However, it's important to note that each gong of a different size will have its own limits.
First, we have the 3/16" gong. This gong can handle rounds up to 9mm and are great for guns that shoot 22lr ammunition. Next, there's the 1/4″ gong. These gongs can withstand pistol rounds up to a 44MAG. The thing that truly makes this specific-sized gong cool is that it's designed to ring louder and swing more in comparison to the other target gongs.
Now we have the 3/8″ gong. This gong can handle rifle rounds up to 7.62 is generally favored by rifle shooters.
However, it's important to note that if you want to prevent your 3/8″ gong from pitting, you'll really want to make sure that your bullet's speed is below 2900fps during full impact. Last but not least is the 1/20 gong.
This target gong can handle rifle rounds up to 338 and is commonly used by both the military and police for their training exercises. Just like the 3/8″ target gong, you must be sure that your bullet speed is below 2900fps.

Bullseye Metals AR500 Steel Gong Shooting Target
This gong target is 8" in width, 3/8" thick and constructed from AR500 tough steel. It can really take a punch. It's seriously one of the durable targets on the market right now which has won it plenty of fans.
The AR500 Steel Gong Shooting Target is also resistance to abrasion. No matter how many times you shoot it, it'll always keep it's smooth and polished appearance.
The Bullseye Metals AR500 Steel Gong Shooting Target is crafted with only one hole near the top and can be attached to just about anything using thick rope of durable chain.
This is a metal gong that will last the test of time and is designed to work with most pistols and rifles. Versatile, well made, and designed using the appropriate materials, this target is a solid buy for any marksman.
Whether you're shooting a rifle or a pistol, the Bullseye Metals AR500 Steel Gong Shooting Target is truly a great investment and will keep you happy through plenty of hours of target shooting at home or at a range.

Tactical Scorpion Gear AR500 Steel Shooting Target Gong
The Tactical Scorpion Gear AR500 Steel Shooting Target Gong is a fantastic gong target that can be shot at by pistols, rifles and a wide selection of calibers including a 223, 5.56, 5.45×39, 7.62×39 and even a 308.
However, with a caliber delivering a velocity of over 3000fps, you must use at a minimum of 200 years in distance. Pistols must be shot 10 years away and rifles 100 yards away.
The Tactical Scorpion Gear AR500 Steel Shooting Target Gong measures out to 10″ in width and 3/8″ in thickness resulting in an extremely durable gong target. In fact, when used as directed, the Tactical Scorpion Gear AR500 Steel Shooting Target Gong has a lifetime warranty from any kind of breakage possible.
The top two 1/2″ mounting holes make hanging this gong target a breeze, and they're thick enough to ensure that they'll never break. The Tactical Scorpion Gear AR500 Steel Shooting Target Gong is a budget-friendly investment that you'll love shooting at for years to come.
If this design doesn't do it for you, one of the fun things about Tactical Scorpion Gear is that there are so many different gong target designs. In fact, there are over 15 different shapes when you count all the diameters, all the shapes, all the sizes, and this can lead to a variety of different metal targets and set ups.
In other words, if you check out this page for the single target, you're going to get treated to a wide variety of options for shooting gong targets that

RMP Unpainted Gong Swing Target Kit
If you enjoy shooting at a variety of different sized gong targets, then you'll more than likely enjoy the RMP Unpainted Gong Swing Target Kit. There is definitely extra value here because we're not talking about one single shooting target but an actual kit that includes three different sized gong targets. They include a 4″ gong, a 6″ gong and an 8″ gong.
Each one of these gong targets is crafted from tough, durable steal and 3/8″ thick for maximum impact. They're custom cut from state-of-the-art laser technology which gives them their sleek and polished look.
The 3 gong targets in this kit are made in the United States and come unpainted for personal customization. With two mounting holes on each gong target, you can hang them all in various locations for a more exciting shooting experience. The RMP Unpainted Gong Swing Target Kit is, in my opinion, a great way to go because you get three targets and thus have an extra versatility.
This is a great set of gong targets and if you are looking for a little bit of variety start with this one and then expand from there as you continue to pursue your interests in marksmanship.

Ar500 Target Solutions Steel Gong Target Set
This fantastic set of 5 targets really gives you a variety to shoot at. The set includes a 12 x 20 x 3/8″ silhouette in addition to a 12″, 8″, 6″ and a 4″ target. All 5 targets are made from durable steel and work especially well for both pistol and caliber rifles. This includes the 9mm, the 45ACP, the 0.223, the 30-06, the 308 in addition to most other types of high powered rifle calibers as well.
All five targets in this kit consist of three mounting holes and have a real distinct ring to them when you make contact. This makes the hits enjoyable as you can tell when you hit or when you miss right off the bat, and the silhouette target certainly brings a different perspective to the experience.
This set has a large number of different options when it comes to targets and it's one thing that really sets them apart from the competition.
The right coloring and distinctive ring is part of what makes for a fun shooting experience. The variety of sizes will also add to your shooting experience while also helping you improve the accuracy of your shots.
From large to small, there's a target in this kit for everyone's skill level, making it a great kit for multiple shooters in a family who are all currently at different levels.

Caldwell Magnum Rifle Gong Complete Kit
The Caldwell Magnum Rifle Gong is a great gong target for people of all skill levels. This target doesn't have to be hung like traditional ones, so it can be placed almost anywhere you want. This makes changing the location of the target fast and easy.
Move it closer for beginner shooters and further away for more individuals with more experience. It's that easy.
Another fantastic benefit of the Caldwell Magnum Rifle Gong is the ability to break it down and transport it. It's light, crafted from steel tubing and can be taken apart by hand.
Once broken down, all the pieces can easily fit into a medium-sized bag for easy transportation.
This target shooting gong kit is also extremely durable. The gong is custom cut from AR-550 steel and connected to a frame also made out of AR-550 steel. The AR-550 metal used in the making of the Caldwell Magnum Rifle Gong that's been tested to a Brinell hardness of 550 and can sustain the impact of the bullet without breaking or bending the frame.
When shooting using this particular setup, the suggested minimum distance is 100 yards and a maximum impact of 3,000 fps. By using this target as directed, you can expect it to last a lifetime.

Shooting Target Mounting Kit
If you're planning on purchasing a target gong with mounting holes or you already have one but the rope you're using just isn't tasking care of the job the way it's suppose to, then it's in your best interest to invest in a target mounting kit.
All the pieces in the Target Mounting Kit, including both of the 0.25″ chains, are designed for gongs with holes 3/8″ or larger and are made from high-quality, durable zinc plated steel that won't bend or break in even the harshest conditions.
One of the best things about the Target Mounting Kit is the freedom it gives your gong to move around and ring loudly when shot by a bullet. This kit will not mute or restrict your gong in any way. The Target Mounting Kit is an essential purchase for anybody with some metal targets they want to try out.
After all, there's no point in having a great series of steel targets to practice shooting if you don't have any way of mounting them up right.
If you don't have a target mounting kit, this is a great one to get started with!

AR500 Silhouette Steel Shooting Target Full Stand Mount Kit
The AR500 Silhouette Steel Shooting Target Full Stand Mount Kit is a product every shooter will absolutely enjoy. When you purchase this kit, you'll receive a steel silhouette gong shooting target measuring out to 12″ x 20″ x 0.50" in addition to a 2 x 4 target mount hanger and an X-base.
The thing that makes this target so much fun to shoot at is the way the target rings when you make contact. It rings like a bell letting you know you hit your target. Another benefit of this kit is the way the mount holds the target at a perfect 20% angle.
Why is this important? This angle deflects your shrapnel and moves it to the ground where it can be easily picked up.
The AR500 Silhouette Steel Shooting Target Full Stand Mount Kit can be shot at by a wide array of different kinds of guns, but generally it works best for pistol and rifle calibers. This target is crafted from durable, 0.50" AR500 steel and made to hold up against all kinds of weather conditions.
An excellent target for long term target practice and keeping sharp with your skills.

Patented Target AR 500 Steel Gong Stand
The Target AR 500 Steel Gong Stand is crafted from AR500 steel and extremely durable. This patented design can sustain up to 250 pounds without bending, breaking or compromising the form and is designed to be the perfect stand for any steel gong you might be using for target practice with your rifle or handgun.
The body has a beautiful, semi gloss powdercoat finish and is fully resistant to corrosion. This is great news for people who love to shoot in all types of extreme weather conditions.
In order to properly use the Target AR 500 Steel Gong Stand, you'll need to provide either a 3/4″ Black Iron, an EMT or PVC pipes that serve as legs. These legs can now be bolted into the stand with the recently added 5/16″ holes.
This will make your stand even more sturdy and secure. You'll absolutely love the Target AR 500 Steel Gong Stand as excellent support for your target setup so you don't need to worry about shifting or falling targets.

In Conclusion
There are many different options when it comes to shooting targets, and even among single types like paper targets, powder targets, or metal targets, you can find a wide variety of options and styles within. This article has clearly shown that when you're looking at steel gong targets for recreational shooting, one size does not fit all and there are many different options to give your practice time the right feel and fit.
Don't be afraid to ask some local experts for advice on which ones might suit your needs best, and remember to always shoot safely so so can enjoy every outing whether for the purpose of recreational shooting or training.
Other resources of note:
Military Arms YouTube Channel on Shooting Steel Targets Video