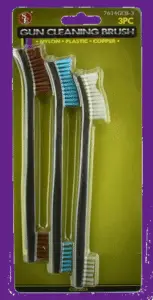 There's a special type of pride that not only comes from a firearm that looks good, one that you're proficient in firing, but also knowing that it is in good firing order because you personally handle taking care of it. Whether it's finding the perfect gun oil, making adjustments with your gunsmithing tools, or cleaning the interior as well as the exterior, the right tools matter and that means paying attention even to tools as small and easy to forget as a good gun cleaning brush.
Gun cleaning brushes are an essential tool when it comes to performing basic maintenance on your firearms. Quality brushes will effectively loosen the build-up of residue and other contaminants that can not only cause your firearms to become corroded, but this build-up can also cause malfunctions with the piece itself in addition to other safety issues as well.
When choosing a brush, there are a few different factors you should consider. First, a quality brush needs to be effective at removing the build-up. Some brushes are made from nylon or plastic while others are constructed from brass, steel, or copper.
In addition to this, you'll also want to see what the brushes intended use is for. Some brushes are designed to clean the bore of your gun while others are more suited to clean the external surface.
Finally, you'll want to make sure you choose the right size brush or set of brushes that's right for your firearms. You can't clean the bore of your gun if your brush is too big or too small. It's just not effective. As with anything else, you want the right tools for the job.
Check out the brushes listed below. They're all high-quality products each unique in their own way.
SE Gun Cleaning Brush Set
You'll absolutely love this set. Some of the bristles on these brushes are made from nylon and some are make from brass. You get a variety of sizes for both, and the best part is there's 5 different sets to choose from. The sets include a 3-piece, a 5-piece, a 10-piece, a 17-piece, and a 38-piece. To help break it down, check out the sets below.
3-Piece Set
The 3-piece set is complete with a one plastic-bristled brush, a nylon-bristled brush, and a brass-bristle brush. However, because each brush is double-sided, you actually get 6 brushes altogether.
Each brush has a larger side and a smaller side too. This allows you to more effectively clean the build-up from your pieces. Each piece is 7-inches in length and extremely easy to grip.
5-Piece Set
With this 5-piece set, you'll get 3 double-sided brushes, one copper, one nylon, and one brass. To add to this, you'll also get 2 double-ended picks. These picks are a great tool for removing every single speck of build-up, even in the hardest spots to get to. They're also 7 inches in length and comfortable to grip.
10-Piece Set
If you especially like nylon bristled brushes, they this set is for you. You'll get 10 double-sided brushes, and each brush has both a large and a small end. One of the brushes even has a smaller side for more precise cleaning.
17-Piece Set
You get a little bit of everything in this set. There's a variety of different sized copper, nylon, and brass brushes made to clean the bore of your firearm. You also get two brushes for cleaning the outside surface as well. This is definitely a well-diverse set.
38-Piece Set
This set is truly impressive. It even comes with a protective case for easy storage, convenient transportation, and advanced protection. You get 36 different bore cleaning brushes, 12 copper, 12 stainless steel, and 12 brass.
The piece I really like though is the 6-inch extension shaft. This shaft is really fits comfortably in your hand and easily connects to each of the brushes. This is the mother of all sets.

Tipton Best Gun Bore Brush
If you're looking for a really tough bore-cleaning brush, then the Tipton is definitely a great choice. Coming in a pack of three, these gone bore brushes are extremely well-designed and have a reputation for quality.
The brushes are a brass and bronze constructed tool can remove gun residue and fouling of all kinds with little or no effort at all. They are strongly and specially designed so that they really get the job done right. By using a brush of this magnitude, you'll extend the life of your firearms every time you use it and keep it in good firing order.
The reason why this brush surpasses many other products on the market is because it contains 20% more bristles than most other typical kinds.
However, for an effective clean, it's essential that you get the right size for your gun. In fact, there's 14 sizes to choose from including the 17-cabiber all the way up to the 357-caliber. You'll want to pay attention to the fact that prices of this 3-pack vary based on the size caliber you choose, and you do want to make sure to match the right brushes with the right caliber of firearm.

Tipton Ultra Jag / Brush Set
This is one remarkable set of tools. However, the thing that really amazes me about the Tipton collection is the clever hard-shell case. This case has specifically labeled slots for each piece.
Keeping your brushes organized has never been more of a walk in the park. They're easy to locate and easy to access.
Organization isn't the only cool thing about this set. The design is lightweight, compact, and also tightly fastens to keep moisture, dust, dirt, and other contaminants from getting inside.
When you keep your brushes in this case, you'll keep them in great shape for several years to come.
Now, as far as the tools themselves, this collection includes 26 pieces designed for the 17 caliber all the way up to the 45 caliber. Each brush has a thread count of 8 to 32 and will really remove the build-up of gun residue as well as many other contaminants in no time at all.
These brushes make cleaning your firearms a very simple job.

Stainless Steel Gunsmith Armorer Pick Set
The thing that really makes this unique little set standout from the rest is the handy, little carrying case that comes with it. This case is tough, weather resistant, and features individual pouches for each of the tools. You'll be able to keep every piece organized and protected at all times.
Now, the tools themselves are also quite impressive. You'll receive 3 double-ended brushes, 5 double-ended stainless steel picks, and 1 double-ended stainless steel hook. Every piece is built strong, and made out of the finest materials. You won't have to worry about them breaking or falling apart. They're made to last a lifetime.
When you purchase this set, you'll even receive a lifetime money back guarantee. You can feel comfortable knowing that If anything should happen to your tools, you'll either get them replaced, or you'll get your money back.
That's what I call a great deal!

A Few Final Thoughts on Gun Cleaning Brushes
This is one of those areas that the more you get into the field, the more solid an opinion that is going to form. There are many hunters and shooters who have a strong preference for brass and bronze as opposed to more conventional brush materials, while there are plenty who feel the exact opposite.
You may find that you want to try out several over time, and it's not out of the question that you end up with a preference for your rifles, other preferences for your shotguns, and still more for your handguns. Whatever you're comfortable with and gets the job done is the way you should go with confidence.
A few great resources to check out:
Great Video Tutorial on Cleaning Your Handguns