Instead of tossing your hammock into a box this winter, why not keep it around? Leave it up and challenge the winter elements. Camping hammocks have been gaining popularity throughout the last few years. Instead of carrying around a tent, stakes and poles, you just have to set the hammock up and enjoy a good night's sleep.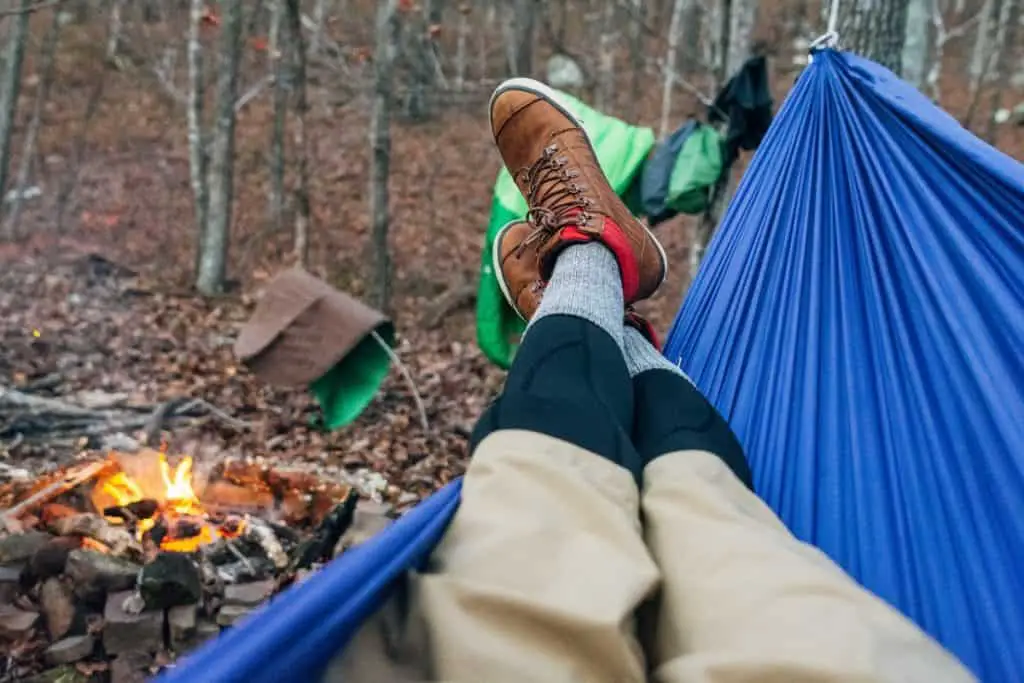 However, most people replace their hammock with a tent as soon as winter nears. That nice breeze turns to an icy chill, but there are several tips to help you extend your camping seasons using your hammock. Furthermore, there are a number of advantages of camping in the cold, such as no insects and no grass to disturb your sleeping.
Not only that, but the cold air tends to boost energy levels and open up the lungs. Let's not forget to mention that campsite hammocks allow you to sleep virtually anywhere, and you don't have to worry about laying down on rough terrain.
Simply strap the hammock's strips around trees, and then attach the straps to the hammock's carabiners.
When the hammock is strapped in, it shouldn't be able to stretch too much. It should also have a bit of a sag, that way you're able to sleep diagonally. The hammock shouldn't be too tight because it'll be uncomfortable to sleep on.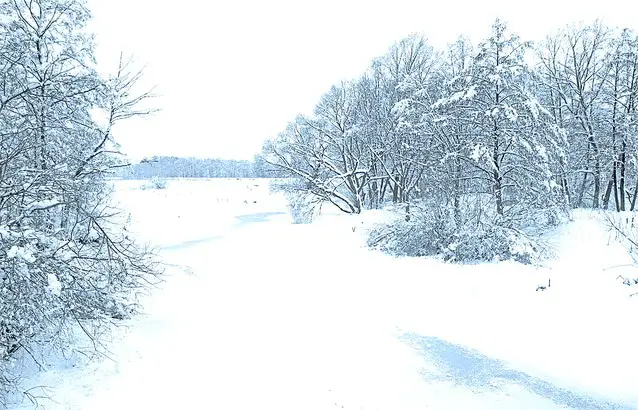 Good single and double wide hammocks with hammock straps should have no issue holding up because of the cold weather.
What You Need for Winter Hammocking
Winter hammocking requires a lot of quality gear. This goes beyond just having a good hammock. You need a winter-grade sleeping bag, hammock liner, proper insulation, and the gear to make sure you can cook, keep warm, and otherwise have a safe and exceptional winter camping experience.
IMPORTANT: Most winter campers agree that hammocking when it's much below 30 degrees is often just a bad idea. While that's not to say it isn't doable, keeping warm and safe is much more difficult. Cold weather hammocking has its limits and there comes a point where you need to look at tents, or even a thick canvas tent semi-permanent set up where you can have a wood stove inside. Make sure you're looking at conditions where you can hammock camp in the winter SAFELY.
Hammocks are generally not designed for cold weather. This is all the more reason to have the proper gear. Anyone who has taken a lot of survival classes or just done plenty of tent camping understands the potential of body heat if you can wrap yourself up well enough.
A good double wide camping hammock can still be an outstanding option. If you have the gear to go with it and plan intelligently, this is a fully viable way to enjoy the outdoors with snow on the ground.
Keeping Your Hammock Warm
When you use a hammock for camping, then you need materials that will keep you and your hammock warm. These materials include pillows and blankets that have been made with specific things, such as feathers. Such materials will keep pillows and blankets dry.
Plus, heating, loft or filling won't be lost as a result.
If you want to save money, then you can warm up by using a sleeping bag. Most sleeping bags are made with dry test materials or synthetic materials. All you have to do is take the sleeping bag and pull it into the net.
It's a good idea to keep as much heat around you as possible when you're camping in a hammock during the winter.
Reflective sunscreens that you use on cars can help. Such screens can reflect your body's heat. In turn, you'll remain warm while you're camping out in your hammock.
Camping During The Winter In A Hammock: Top Tips
There are a few tips to keep in mind when using a hammock for camping in the winter. The top tips are:
Sleeping Bag – Bring along a sleeping bag. Not just any old bag, but you want a winter sleeping bag. One that's designed to keep you warm in temperatures well below zero. Wrap it around the hammock and then you can get inside of it. Trust us when we say you'll remain very warm with this absolute necessary setup for winter hammocking.
Choosing A Place– In the wintertime, the wind will constantly be going against you. A good place to set a hammock up is in a dense forest. Behind a rock or other natural objects that can serve as a windbreaker are good places to place a hammock too.
Boil Water – Boil water and put it inside an insulated water bottle or thermos that can hold hot temperatures. Put the bottle inside two socks, as this will serve as a hot water bottle. Don't just use the bottle itself, otherwise you risk burning your skin.
Mummify Yourself – Sometimes blankets just don't get the job done in the winter. So, bring a warm sleeping bag and wrap yourself up in it, but make sure the bag you bring is synthetic filler or is filled with feathers. In order to protect your head, you'll want to enclose your head with the bag's hood.
Sleeping In A Hammock Like An Expert
Here's another tip, keep your boots from lining in the bag. The same goes for your clothing. Doing this will keep your boots and clothes warm. You'll also be pleased when you wake up and your clothes aren't filled with snow.
Multi-Purpose Use
Investing in a sleeping bag is a wise idea if you want to camp in a hammock, regardless of the time of year you want to camp in. Sleeping bags are lightweight and provide you with warmth. Plus, you can use sleeping bags as a pillow. Simply fold your sleeping bag up and lay your head on it or use it at the bottom of the hammock and rest your feet on it.
Cushion
You should also bring a pillow with you, even if your head fits perfectly inside the bag's hood. This will provide your head with additional protection. Not only that, but you'll sleep better and your head will be kept warm.
Combat Heat In Order To Capture Heat
In the wintertime, you have to keep your body temperature warm. This is why you should use a screen such as the Gran Trunk flywheel. You place the screen near the hammock, and then you'll capture heat and retain it.
Sleeping Pad
The ability to keep your back warm is a bit difficult when you're sleeping in a hammock. This is because the insulation is compressed by your body. Having another level below you is crucial, so you should place the pillow below you. An inflatable cushion can do the trick too.
DIY Insulating Pad
If something is reflective, such as an emergency blanket, then put it in the net because this will isolate it. Let's not forget to mention that the additional layer between the net and the sleeping bag can come in handy. Furthermore, a cell foam cushion can serve as a barrier between you, the hammock and the elements, so consider increasing width or going through shadows.
Under-Quilt For Emergencies
Blankets that are waterproof and windproof can be good for emergencies. If your hammock is surrounded by bushes, then a blanket will come in handy. Just make sure you tie the hammock's ends to the corners, and that the blanket is attached to the hammock's sides and bottoms.
Under-Quilts Specific To Hammocks
Many people don't want to go through the hassle of typing blankets to their hammocks, especially when the weather is cold. The good news is there are companies that make it very easy to set their hammocks up. Not only that, but some hammocks are equipped with insulation, so you'll feel cozy and will remain warm throughout the night. Generally speaking, an under-quilt is a good idea because they can be combined with top quilts or sleeping bags.
Upper Quilts
The best upper quilts are comfortable. Unlike sleeping bags, they don't have a zip. Not only that, but they are available in various styles. However, there are a lot of companies that do create quilts with a zip.
Here's a tip, find a sleeping bag that is cheap, as well as padded. Then you can put everything into the hammock before placing it off to the side. Leave it there until it's ready to use.
Our Picks for Best Winter Hammock Camping Gear
Everyone has their preference when it comes to great outdoor gear. Even among these picks while we have our favorites there are others that are going to work just as, or nearly as well.
However, if you want top notch gear that sets you up for winter camping success then start with this gear and go from there!
Best Arctic Sleeping Bag: Cascade -40 Degree High Performance Sleeping Bag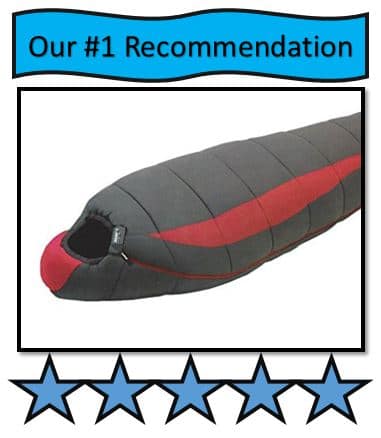 There's a reason this sleeping bag came in first in our review of the best winter sleeping bags. High performance doesn't even begin to describe how impressive this sleeping bag is. As someone who lived in the interior of Alaska and knows very well what -40 degrees feels like, I appreciate a truly great winter weather sleeping bag when I see/feel one.
This is the type of sleeping bag you absolutely want to have if you are going to consider winter camping. I still definitely don't advise out door camping when the temperatures reach that level, but if you're sleeping outdoors when it's around zero, this type of extra warmth is important to have.
Best Double Wide Camping Hammocks
Honesty there are three different premium camping hammocks that are virtually interchangeable as 1A, 1B, and 1C to my brother and I. If you have a preference, that's not a bad thing. However, these three hammocks consistently seem to be some of the best out there.
We are also firm believers in the double wide camping hammocks. This gives the space you need for padding, underquilt, and the sleeping bag you'll want to set up a good winter camping hammock setup.
All you have to do now is start shopping around for hammocks and choose the one you think will work the best and provide you with the best experience.
In Conclusion
I know given a choice I'm move of a canvas tent, semi-permanent tent setup when it comes to winter camping versus a hammock, but both setups can be extremely effective. Whatever your favorite winter camping setup, you always want to make sure you're safe and warm when it's time to sleep.
If you make sure to use an Arctic sleeping bag, follow these tips on winter hammock camping, and surround yourself with experienced winter campers if you're a beginner, and you'll find no season is off limits. Even when you feel like putting up the hammock!
Other Articles of Interest