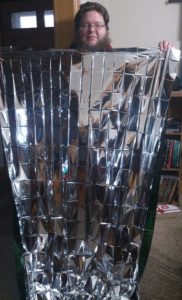 Note: This is an individual product review looking at the Stoikd emergency blankets (mylar). Although they did send us a complimentary product to review, this is not a sponsored post. We give only 100% completely honest reviews based on our experience. This remains true whether good, bad, or ugly. We have not been paid or further compensated for this post beyond the free review sample.
There's no question that emergency mylar thermal blankets have really caught the attention of the general public, and it isn't hard to see why. No one wants to imagine themselves in a life or death situation during the winter from a stuck car or getting lost during a winter hike, but these things can happen and you want to always be prepared.
The Center for Disease Control (CDC) estimates that nearly 1,300 people a year in the United States die as a result of hypothermia, or from complications thereof, so this is a serious and genuine concern especially when traveling through cold weather areas during the winter months.
Considering how small, lightweight, and inexpensive they are, a good mylar thermal emergency winter blanket can easily be carried with you anywhere, fitting in a purse, a hand bag, a glove box, or a wide array of other areas. There's no excuse not to have one close by considering how small they are and in how many different places they fit.
Every survival kit should have one, in my opinion, because it is such a versatile piece of equipment and when you need one, you're in a situation where you don't want to be caught short handed with anything!
So how does the Stoik'd emergency blanket compare? Read on to get my opinion on this particular brand of emergency winter blanket.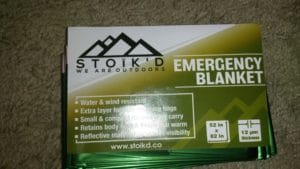 At first glance
There's a lot I like about what Stoik'd brings to the table with their particular blanket. Each one comes in its own plastic bag, and these can be bought in bulk with several individually wrapped emergency blankets all put together in a larger plastic bag.
As advertised on the cover these are wind and water resistant. The #2 point on the front is what makes me happiest because it's a direct instruction on the proper way to use these (that many other emergency blanket companies unfortunately don't provide), in that their primary use are an extra layer for sleeping bags or even a down bit of padding  that works to keep your body heat between a blanket or a couple of blankets. This is where they will be their most effective.
The reflective material on both sides is pretty easy to see, especially on the silver side, although the green side can be useful in the right circumstances, as well.
This is a pretty large size for these blankets, and for a larger sized guy like me that is also a huge plus – I'd rather have plenty of extra material versus not nearly enough!
Putting them to the test
Note before diving in: I have a ridiculously old and ornery "smart"phone and the camera on it decided to convert very few of the pictures over, so there are no pictures of me putting this into actual action. After a long overdue and necessary upgrade, I'll test another one and update the pictures. Apologies.
I am happy to report that these worked great. Whether insulated on the back deck in a sleeping bag in Iowa in December or on the third story deck of a Lakewood CO apartment in late November on a windy day, these definitely trapped in my body heat while sleeping and truth be told, I'm a furnace when it comes to giving off body heat so any reflection was going to help keep me very warm and I was not disappointed.
In fact with my poofy hat and sleeping bag, I woke up feeling a bit uncomfortably warm at times despite 25 to 40 degree temperatures all around me.
Two thing that definitely stuck out:
This is a very large emergency blanket, as the picture with me holding it out shows. This is exceptional, and the given dimensions of 82 inches long and 52 inches wide seem right on the mark. Very good size when they are usable in the correct way, and can even be gerry-rigged as a jacket when used in an emergency style wrapped around the body.
I was impressed with the durability. Now any mylar thermal blanket can be ripped, tore, or damaged, but these by Stoik'd are not easy to just pick up and tear even though they look really thin and vulnerable to a direct tear effort.
This combination is part of the reason I'm very happy with this product, and would be even had I done the full purchase.
Final Verdict?
This is a rock solid myler style emergency blanket. I love the fact they are up front about how these should be used: as extra layers for blankets and sleeping bags and with the advantage of being reflective material. They are not misleading with how these should be used, and when used properly, they are a powerful survival tool in situations where you need every little bit of help you can get to survive and thrive!
You can find the company website at Stoikd.co.
Great video on why these must be used as intended to be effective

This video is a good example of how most people plan to use these mylar blankets are used, and why they often fall short in this instance. This also reinforces why I'm so happy Stoik'd is very forward with their emergency blanket instructions.
*DISCLAIMER: We were provided a free emergency mylar winter blanket by Stoik'd to review, however we always give a 100% honest review of any product based on our opinion and first hand experience. We accepted the free sample for review, but no one can "buy" a good review off of us. If they get a positive review, then it's because the product met our high standards.