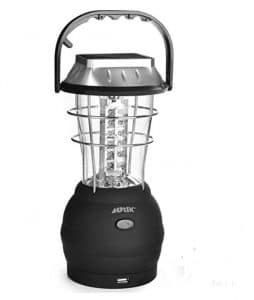 One piece of camping equipment I always like to have with me is a good solar lantern. Lanterns are very nice for illuminating your campsite or tent, and they tend to provide more visibility than a flashlight when you are out and about, walking around in the dark.
What are the best solar camping lanterns for 2019?
The best solar camping lanterns are the AGPtek Solar Lantern, MPOWERD Luci, and the TANSOREN LED Camping Solar Lantern. These three options separate themselves from the competition.
I also tend to use a solar camping lantern over a traditional battery powered lantern because they provide a similarly bright light, and they save on batteries. I like being a little bit environmentally friendly, and you will never have to worry about not having light as long as you pick from the best solar lanterns.
Below is a list of the best solar powered lanterns we reviewed. We looked at factors such as cost, functionality, brightness, and many other things to provide you with our top recommendations.
Please enjoy, and hopefully this article will provide you with everything you need to know before you purchase your next camping lantern!
Quick List of the Best Solar Camping Lanterns
Below is a quick review chart of our favorite solar lanterns. There is a much more detailed review of each one below the chart – but this should give you a good idea of what they look like and some basic info!
Updated for 2019: We have added some additional outstanding solar lantern options and will continue to change the list in the future as needed to make sure you're seeing the absolute best options when it comes to camping lanterns that are powered by sunlight. Some major changes are coming to the list in the next few days!
A quick review of the best solar lanterns!
AGPtek Solar Lantern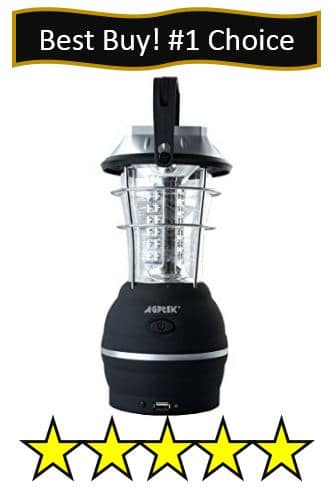 One of the most popular solar camping lanterns you can buy is the AGPtek Solar Lantern. It comes with almost everything you would want with a solar lantern, including 5 charging methods, 2 brightness modes, and even a USB output that you can use to charge phones and other devices.
With five different ways to charge this lantern, you will never run out of light. Solar charging is the most energy efficient way to keep your lantern full of light. Six to seven hours of charging in the sun will get the lantern to full power – which is about 12 hours of light time on high brightness and 20 hours of light time on low brightness.
Option two to provide a charge is a hand crank, which is perfect if you don't have any sunlight. According to AGPtek, about 1 minute of easy cranking will give you about 20 minutes of light. The more you crank, the longer you will have light!
Option 3 and 4 for charging are using a car adapter or by using an AC adapter (both are included when you purchase). The car adapter and AC adapter normally take about 7 to 9 hours to fully charge the lantern to that 12 or 20 hour light time threshold.
The last method (Option 5) to run this lantern is 3 AA batteries. These batteries can be used if adapters or the sun isn't available, and you aren't in the mood to crank for a few minutes! The batteries are good to have included just in case you need the light quickly in an emergency situation.
The two brightness modes are actually very bright (240 Lumens on high and 120 on low). The lower mode is good for reading and most normal activities, and the bright mode is great when you need that extra visibility when outside at night.
The lantern weighs about 1.5 to 2 pounds and looks great. It has a nice black base color and a handle on top that makes it easy to carry or hang up.
Because of this product's durability, positive reviews, cost, and features – we consider this the best solar camping lantern for the price!

MPOWERD Luci Inflatable Solar Light (2019 Update)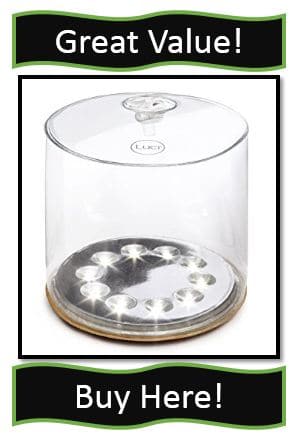 The MPowerd Luci Outdoor Solar Lantern is very unique, but a very effective solar lighting source. Like the name suggests, you actually have a plug on the top of the lantern that you blow into to inflate the base of the lantern. When the air is out of the lantern, it collapses to a disc about one inch in size.
The inflation process makes it incredibly easy to store and pack in any camping situation. It also weighs under 5 ounces, so the weight won't slow down any hikers.
It has three different lighting settings, really bright, not so bright, and blinking (it blinks in 1 second intervals). The lantern itself is actually 10 little LED lights that can light up about 15 square feet of space at a brightness of 1200 lumens.
The solar panels are on the bottom of the lantern, and it takes about 7 hours of direct sunlight for a full charge. A full charge will provide up to 12 hours of lighting time. There is a charge indicator that will tell you how much charge the lantern has.
Besides being lightweight and compact, this solar lantern is very durable and is even waterproof. It can be used for camping and hiking – or any outdoor activity that could require a little extra lighting.
We should also point out that MPOWERD has done some really great things in developing countries. That are dedicated to bringing cheap and affordable light sources to families that wouldn't normally have access to nighttime lighting. These lights are also being used to replace kerosene lanterns that could produce toxic and harmful fumes.
These lights have been used to provide lighting in everything from health clinics to providing light for children that want to do some homework at night.
According to their website they have sent over 200,000+ lights to over 105 different countries – impacting over 1,000,000 people. It is refreshing to see a company that gives back to countries and people that can use some assistance.
UPDATED for 2019 – There is a newer version that has been released. The old version is still phenomenal, but it has been improved upon! A direct sunlight charge of 7 hours will light the lantern for 24 hours. It still has 10 LED lights that are up to 75 lumens in brightness each. It only weighs 4.4 oz. and has most of the same features you loved from the first version. It does have a slight change to its look, but it still looks great and functions better! CLICK HERE TO CHECK OUT THE UPDATED VERSION AS WELL.

TANSOREN LED Camping Solar Lantern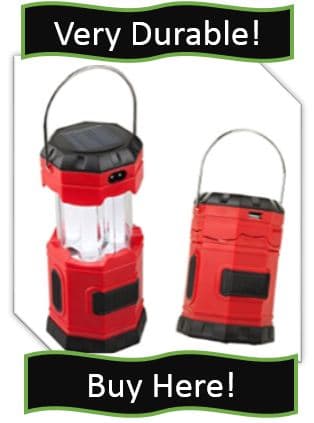 TANSOREN makes a fantastic solar lantern that is very durable and highly rated when looking at reviews. They also have an 18 month warranty on their product and great customer service.
Their product is well made, with this company saying that each lantern is hand made with military grade plastic that is even water resistant! For those who like a well made product – this is going to be a great choice for you!
Even with those heavy duty materials, this lantern still weights under a pound. It also comes with a nifty hook that makes it really easy to hang up. This is a great solar lantern for a chilling around a campsite with.
The light source is a 180 Lumen white LED light. It can be charged by sun or with a USB port. You will normally get about 8 hours of lighting time when fully charged. You can also run this lantern off of batteries, which is nice when that sun just doesn't come out during your camping trip.
I really like the look and design of this lantern. It does collapse a little bit, but isn't nearly as compact as some of the other options. However, the design really reminds you of a more traditional lantern. I would recommend this lantern more as a campsite lantern and less as a hiking lantern.

CrazyFire Solar LED Camping Lantern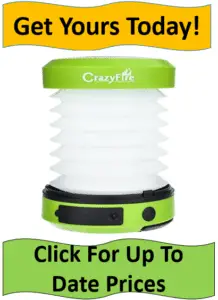 Here is the one of the newer options to the list of best solar lanterns. The CrazyFire Solar lantern is an excellent option that is designed more along the lines of the ErgaLogik design. This solar LED camping lantern has three different light settings depending on your specific needs, giving you an important versatility.
The High LED setting is for the flashlight when you're doing a bit of night hiking, the medium setting is great for a camp lantern, while at low for hours the lantern can blink an SOS pattern in Morse code, alerting any searchers, rescuers, or random passerbys about your need for assistance.
This solar lantern features a compact design which makes it useful for thru hikers, campers, or even as an extra light for at home DIY specialists working on the car or a darker area in the house and need some extra illumination to see what they are doing.
The unique folding design is popular because this makes them very easy to store, pack, or carry. In addition to this, these environmentally friendly camping lanterns are charged directly from the sun, and this lantern even includes a usb port that allows either the lantern to be charged at home or a charged lantern to work to charge up smart phones in emergency situations.
This is a very well designed lantern that has performed well enough to make our list of the best solar lanterns currently on the market.

Kizen Solar Powered LED Camping Lantern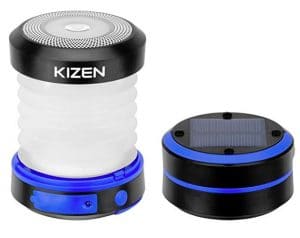 The Kizen Solar Powered LED Camping Lantern is great because it provides a compact design with multiple ways to charge. The compact design is very cool, when the lantern is fully folded, it is about the size of a hockey puck – making it very easy to travel with! Especially on those hikes off the beaten path.
Obviously, there is a solar charger on top of the lantern that allows it to be charged by the sun. There is also a quick USB port charge option to give this lantern the extra juice it needs during those cloudy days. If the lantern is fully charged, you can even plug your phone into the USB port, and it should give you enough juice to make a phone call.
It does have three different lighting options. They are pretty basic: you have a high setting, a low setting, and an SOS blinking setting. 
It does have safety features built-in. For example, you are never going to be able to overcharge this lantern. 
Kizen does say they have a 100% money back guarantee with a lifetime warranty. I've never had the need to check their customer service department out, but that is a really cool offer from them! These lanterns are also very highly regarded and highly reviewed on online shopping sites!
If you are looking for a well-designed, very trustworthy, very affordable, and high-quality solar lantern, you won't be disappointed if you pick this one!

CMB 2-in-1 Rechargeable Camping Solar Lantern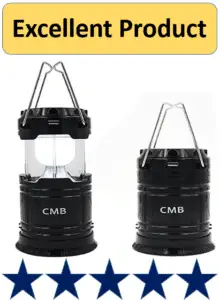 UPDATED 2018: We have a new entry onto our list of the top rated solar lanterns currently available on Amazon.com, and it is a very budget-friendly one at that! The CMB 2 in 1 can be used as a lantern or a flashlight. Charge its NiMH battery in the sun during the day via the built in solar panel, and use as you need it at night once darkness falls.
This lantern can keep regular light going for up to 12 hours at a time and has a strong reputation for being able to provide brighter light over a larger area than the average 30-LED camping lanterns.
There is a built in power bank that can be accessed via USB meaning during the day when this is charging, or even at night while in use, it can be used to charge smartphones for those of you who need to remain connected (we're only partially judging you). This makes the lantern plenty powerful as well as a versatile tool during your night time camping activities whether you're fishing, hiking, using during emergency situations (like post hurricane) or just hanging around the campsite.
This tends to be one of the more inexpensive models, as well, and while it's not a truly high end model like the AGPTek, it is a very solid options that gives plenty of options when it comes to use, portability, and how easy it is to store and move.
A great addition to our list of the top rated solar lanterns for 2018 and beyond.

ErgaLogik Compact Solar Camping Lantern (Currently Unavailable)
One of the best hiking and lightweight solar lanterns you can buy is the ErgaLogik Compact Solar Lantern.
It is very light weight, easily weighing less than a pound – and it folds down, making it very easy to store and to travel with. Being light weight and easily stashable, I highly recommend this for hikers and anyone that has to travel a little bit before reaching their campsite!
This compact solar lantern has 3 lighting modes, can be charged two different ways, and it does have a USB outlet that allows you to charge those electronic devices we are always carrying around. When fully charged, you should get about 10 hours of light on low brightness mode and 5 hours of high brightness lighting time.
When charging in the sun, 1 hour of sunlight usually provides about 15 minutes of high brightness lighting and about 30 minutes on low brightness mode. The other lighting mode is a flashing light, which normally gives you about 34 minutes of lighting time after 1 hour of charging in sunlight. When you use an adapter to charge it normally takes between 4 to 6 hours to become fully charged.
The benefits of this options are the cost, the easy storage, and the extremely light weight. It doesn't have the crank charging methods that other options have, so charging can be an issue if you have no sunlight and no adaptor to charge it.
However, for hikers and trekkers, this is a great option!

Trekk Outdoor Solar Camping Lantern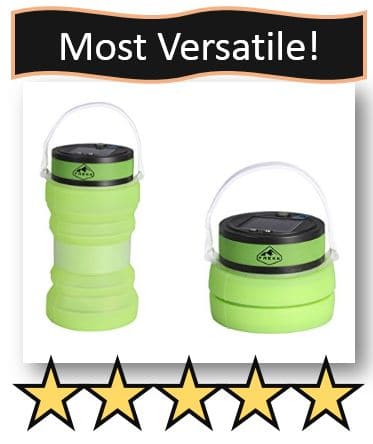 Trekk also makes a really good outdoor solar lantern. It has the ability to be charged from either sunlight or a USB charger and it has 3 lighting settings, a bright light, not as bright of a light, and a blinking setting.
The big selling point for this product is the design. I would consider this a multipurpose tool. The reason I say this is because it is built with a collapsible silicon tube. If you unscrew the top a little bit, you can push down on the silicon tube and it collapses down to a very small unit, making it very easy to store.
This silicon base tube has multiple ways it can be used. It is actually a water bottle that will store almost 25 ounces of water (don't worry the lights are protected even when you have the lid screwed on to the silicon base) which is nice during survival situations or just regular old camping trips.
The bottle is also waterproof and floats, so you can actually use the silicon tube as waterproof storage. If you are looking for a place to store your keys, phone, matches, or anything you want to keep dry – you can store them in this tube!
If you are looking to store something inside of the tube that is bigger than the mouth of the tube, a couple of pieces can quickly be removed giving you more room to stick that item inside (this is handy when you are trying to store your phone). These pieces are easily reattached and your items are safely stored inside!
It comes with a USB charger included to help you charge the lantern. The charger is actually attached magnetically – so you don't have any USB openings that ruin the waterproof integrity of the lantern.
The USB charge will give you about 5 hours of lighting time on high and 12 hours on low when fully charged. Solar charging will give you about 2 to 3 hours of lighting time when fully charged on high lighting mode. There is a little sensor that will be glowing red when charging and will turn green when you are fully charged.
The big benefit of this solar camping lantern is its flexibility. Being able to use it for waterproof storage, a water bottle, or a lantern is really handy. Great product for campers, hikers, and outdoor enthusiasts!

Solar Lanterns FAQ
Q: What should I look for in the best camping lanterns?
A: This depends a bit on what you're looking for, but in general you want to find lanterns that are made from top notch materials, have an array of good rankings/reviews from trusted individuals who have used them, but also if the design delivers what you need. Do you need versatility? Pure light power? Ability to charge a phone or laptop in an emergency? The answer to these questions are what you need to answer to get the right fit for you and your needs.
Q: Just what are solar lanterns?
A: Simply put these are lanterns designed with small solar panels on them in order to directly turn sunlight into power. This power is stored into a battery and then it works as a regular lantern.
Q: Can lanterns be solar and battery powered?
A: Absolutely. In fact, solar energy works by taking the light of the sun and storing it as energy in a battery. Most solar camping lanterns will be battery powered, however some of this will have slots for traditional batteries, too, as a backup. Others do not, and many consider those models are more environmentally friendly but both options are very much available.
Q: What's the difference between solar camping lanterns and solar emergency lanterns?
A: Just the marketing. The concept is the same, the tool itself is the same. These are lanterns that use the power of the sun to charge and then can be used for light when darkness comes, and some designs even let the lanterns work as a charger for phones. Whether you use this while camping, hunting, fishing, or during an emergency, the lanterns are the same.
Q: How do solar lanterns work?
A: There is a small solar panel, which more accurately should be called a solar cell, which creates a photovoltaic effect that converts direct sunlight to a specialized battery in the lantern which is designed specifically to do just that: converting sunlight energy into electric energy that can be stored in a battery, and withdrawn from a battery to power the lantern. It's all about that sunlight to the panel, photovoltaic effect, electricity to the battery, battery puts out energy.
Q: How do I fix a broken solar lantern?
A: This is a tough one. Best option is to see if your lantern is under warranty. Otherwise unless you REALLY know your solar power and batteries and can get the right parts, you're probably better off buying a new one – may we suggest one of these top rated models that are known for lasting longer?
Q: Where can I buy solar lanterns?
A: These used to be a specialty item but now they are common enough that you can probably find them in pretty much any sporting goods store. That said, why do that when you can buy from Amazon or from that top 7 list of best options right above this section?
Q: Why are these lanterns so often advertised for use after a disaster?
A: Because they can provide light without infrastructure. Take a look at the recent hurricane disaster that smashed into Puerto Rico. When that wiped out the entire infrastructure for electricity in many places, there was no light or power at all. Solar powered lanterns are ideal here because they can charge during the sunny part of the day and provide much needed light at night. Solar chargers are great for the same reason. They provide options when there don't seem to be many others available.
Q: Are solar lanterns safe for indoor use?
A: Of course! One of the major advantages of these is that there is no gas, no fuel, no fumes. Light is light, so as long as they are fully charged, you can bring them out in the dark and use them to light up the interior of your house with no side effects like propane or gas might have in an interior area.
Q: Do all solar lanterns have phone chargers?
A: No. There are several of these that have a USB port for emergency charging of a phone or even a laptop (although this can really suck up the juice), but there are also several solar lanterns that do not have this specific feature so you will want to check out each individual model to find the one that works best for you.
Final Notes and Thoughts on Solar Camping Lanterns
These solar lanterns are really nice for hiking or lighting up a campsite. For people that camp for long periods of time, having a lantern that has those battery backups is a really good idea. The one drawback to some of these lights is that without the sun, you aren't able to charge these lights, and we have all had those camping trips where we have stayed up a little too long at night.
For hikers we are going to recommend one of the lightweight options, that way you aren't going to wear yourself down with all that extra weight, plus they are very compact and won't take up your limited storage space. Hikers may also want to look at different solar powered flashlight options.
The options above are some of our favorite options for lanterns taking advantage of solar power. Believe it or not, you can also combine these solar lights with a solar backpack that can be used for hiking and charging your other small electronics.
There is a lot more great solar camping gear that you can read about here as well!
We understand not everyone is looking for a solar lantern, so check out our reviews on other camping lanterns that are a little more traditional!
Best Kerosene Camping Lanterns
Below is a quick video review of the Trekk Outdoor Solar Camping Lantern. It is really hard to describe just how versatile this lantern is in words – so this video should do it justice!