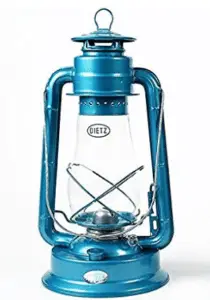 When it comes to camping it is best to always be prepared at night. Some of my best memories of growing up are of Scout camp, which included every boy having a flashlight, a campfire, and the adults lighting up the kerosene lanterns around a couple key points to bring some light to our evening campground.
These weren't only good for camping, but living way out in the country meant many times when a big wind storm came through or a particularly heavy snow the power went out. Bringing out the lantern let us play cards as a family, get around the downstairs in what would otherwise be total darkness, and they were just great long-lasting pieces of equipment.
Even in a world of LED lights and flashlight lanterns, you better believe there's still a place for truly good kerosene lanterns. That's doubly true for those of us who have positive memories of using these frequently whether it was to play cards with family in the country house during a storm or even to light up the area during summer camp.
Read on to find our top picks for these old school, but still wonderfully relevant camping/emergency lanterns.
Quick Link Chart:
Not Kerosene lanterns, but seriously good gas camping lanterns worth a look:
Top Kerosene Lanterns for Camping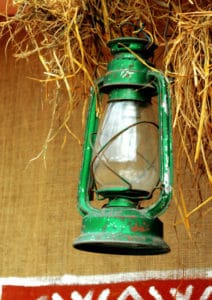 There are several great options out there when it comes to finding the perfect kerosene lantern for any and all of your camping needs. While there has been a clear trend over the last few decades moving away from the traditional kerosene lanterns toward more modern technology like solar charged lanterns and LED lanterns, there are still some really decent kerosene lanterns out on the open market, as well as several multi-fuel lanterns that can use kerosene as a fuel.
While some people might be moving in a different direction, and admittedly there's a lot to like about some of the other options, there is something classic and wonderful about the old kerosene camping lanterns that brings back fond memories for me of Boy Scout camp outs (we had several Coleman kerosene lanterns and tripods to hang them from), so many camp outs with the Scouts, and even a few times at home when the power went out which happens when a massive Iowa thunderstorm comes with the lightning and your house is the only thing sticking up for a mile in any direction. In other words, plenty of memories about the sight, the smell, and the experience of being around these.
Kerosene hurricane lanterns, emergency kerosene lanterns, kerosene camping lanterns, whatever the name they choose to market themselves or go by, here are our current picks for the best models out there on the market plus a few similar multi-fuel lanterns that are also worth a serious consideration if you're not completely sold on the kerosene.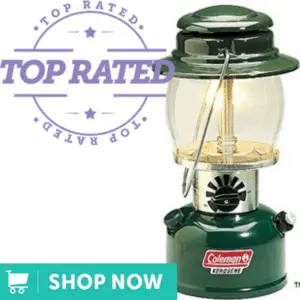 Coleman One Mantle Kerosene Lantern
This is the highest rated of the true kerosene lanterns currently being sold on Amazon, and shines up to an impressive 784 lumens that can cast a lot of light in a backyard, inside a home, or out on a campsite. If that is too much light, then the good news is that this Coleman outdoor lantern has a natural dimmer switch built in, allowing you to adjust the light until it's at the right point for your specific needs.
This lantern has a 5.75 hour running time from a mere 2 pints of kerosene and its globe is resistant to high temperatures, making it unlikely to crack even under high heat. This lantern is extremely well made and has a durability that you don't find with most models, even among other outdoor lanterns.
The special one mantle design gives more control and allows for a unique lantern construction by Coleman to provide such an exceptional and unique outdoor camping kerosene lantern.
You can also rest easy knowing that Coleman provides a 5 year limited warranty for this model, showing they fully believe in backing their work with this unit.


Stansport 12-Inch Kerosene Lantern
Sporting the traditional metal construction featuring a glass globe in the center, Stansport kerosene lanterns are a traditional design from a company that has been creating high quality kerosene lanterns for many decades now. Also often referred to as hurricane lanterns, this classic design is relatively inexpensive while delivering a high quality experience when you need light.
Weighing a mere 1.27 lbs, this lantern is easy to lift, carry, and move about with ease. The adjustable wick allows you to have some control over how easy it is to light and how much light comes off the wick once lit.
This version has a classic red color finish, solid metal construction, and it is very easy to light and use in a pinch. If you're looking for a reliable budget solution for a cheap kerosene lantern that will hold up to regular use, this is probably your best option.
It might not be the absolute top of the line, but it still remains a damn fine lamp, in our opinion.


V&O Supreme Brass Trim Oil Lantern
V&O has two very similar quality models here that were good enough to make our list of the top rated kerosene lanterns currently on the market. Holding 31 ounces of lamp oil / kerosene this oil lantern by Vovo is well constructed, can give up to a maximum of 26 hours of burn time in the right condition.
This is an excellent option for a good emergency lamp that can work well for one or more nights when needed.
This hurricane kerosene lamp comes in both green and blue while feature metal construction with a brass trim and solid glass globe in the middle. This is a classic design for these types of lanterns and at 15 inches in height there is plenty of size to give off the level of light you want when the power is out or when you need some light for night traveling.
This old fashioned wick model will certainly bring back some fond memories for some and delivers a very unique aesthetic that is really hard to duplicate.
The two current available models:
310-80061 – Blue

310-80041 – Green

Hurricane Lantern 15-inch by Kerosene Lantern
Powered by conventional lamp oil or kerosene, these emergency lanterns are designed for when the power goes out but also work well for camping when you have the right tripod and hook setups available. While the glow of this lantern can add a pleasant and warm ambiance to a room or bit of a relaxing glow to a campsite at night, first and foremost they provide the necessary light to see and function when you don't have any other options available.
The extremely old school brass appearance of this lantern gives the appearance of heavy metal and an almost antique design, but the lamp is actually quite light at a very moderate 2.9 pounds.
This still makes it a relatively light lantern, so don't keep it outside during a storm (baffling but some people have done this in the past for some reason) because it's not designed to withstand an outside storm.
Good relatively inexpensive option if you like the really rustic old bronze look, and as of this writing relatively good ratings on Amazon.com allowing it to round out the top list of true kerosene lanterns that are available.


But time carries on…
Let's face it: since my time in Scouts 20 years ago a LOT has changed and the technology has moved away from the old kerosene lanterns. With that in mind, here are 3 great Coleman camping lanterns worth considering:
Coleman Premium Dual Fuel Lantern
Not only is this one of the highest rated camping lanterns on all of Amazon but this one reminds me and my brother vividly of our days camping in Scouts. Our model was a much older version and was all kerosene if memory serves me right, but the design was the same and lasted without issue for years – which makes it easy for us to understand while the more modern premium dual fuel lanterns for camping use the same design.
Coming with a protective hard carrying case, this extra bright lantern can put out a whopping 861 lumens of light on high, but it also has an adjustable knob to allow you to dim the light to the right output for your specific indoor or outdoor needs.
Weighing 6.12 pounds this is a heavy duty lantern that is built to last and even lights in cold conditions like fall and winter – which was part of the reason this style of lantern was embraced by out Scout leaders.
Dual Fuel system runs on Coleman's liquid fuel or unleaded gas and these heavy duty camping lanterns can run for up to 7 hours on just one full tank while still saving you money by using less fuel than your average propane lantern. The two mantle style gives plenty of light and in addition to this you also get a 3 year limited warranty that further backs up the quality of work that the double wall construction and and hard plastic protective cover help to promise consumers.


Coleman Premium Powerhouse Dual Fuel Lantern
The name doesn't lie on this one. While extremely similar in design in many ways, the powerhouse version of Coleman's Premium dual fuel camping lantern lives up to its name by going well above the 861 lumens from the premium model up to a full 1,107 lumens on high. This extra bright light emanates in a full 360 degree radius and can run up to 7 hours on high on one tank of fuel – and even longer when the knob is adjusted to a slightly lower setting.
Like it's closely related cousin, the Powerhouse is designed to still create amazing light even when it is really cold out  in late fall or early winter conditions.
This lamp can run off either unleaded gasoline or Coleman's liquid fuel, and a fuel filter funnel is included to make it easy to top off or refill your gas lantern.
The two mantle style means better lighting, and it comes out of the box with two standard mantles. Whether you need it to light up your house during an emergency or are looking to keep a little bit more light up at night around the tent while camping at night, this is an excellent choice.
Add in a great 3-year limited warranty and it becomes really easy to see why Coleman continues to show up on this list.


Coleman Deluxe PerfectFlow Propane Lantern
Another highly rated option produced by the Coleman company (let's face it – after over a century of making lanterns they really have this practice down) this 2 mantle propane lantern is easily lit with matches and has a fully adjustable light setting that can increase or decrease the direct flow of propane depending on whether you need the lantern to be brighter or dimmer.
The propane tank to this lantern is sold separately, and it is the responsibility of the customer to make sure they have the necessary propane for the lantern to function. With a maximum brightness of 967 lumens this is a quality model that can shine plenty of light on any given situation without completely busting the bank. Classic Coleman quality that provides long lasting light and holds up to the normal wear.
Weighing a mere 3 lbs, this Coleman model is solid, though not necessarily heavy duty.That being said, it will work for most reasonable outdoor uses and a manufacturer's warranty is often available upon request from customer service.
This is one camping lantern that has a lot to offer.


Important Kerosene Lantern Accessories
Kerosene lanterns don't just work by themselves. As with so many pieces of camping gear, it's important to have the additional little pieces that keep the larger lamps going. In the same way many tents are worthless without the tarp, stakes, and poles, you want to make sure you have plenty of lamp oil, wicks, and kerosene for those camp lanterns so you don't lose your light in the evenings.
Depending on the specific type of camping lantern you choose to go with, there are many camping lantern accessories that you may need to keep everything up and running. Take a look at this short list and familiarize yourself with your specific lamp to understand what you may need.
Lamp wicks
Lamp oil
Fuel filter
Fuel
Tie style mantles
In Conclusion
Look, there's no denying how convenient newer LED camping lanterns are, but there is something about a kerosene lantern that is just great whether breaking it out during a blackout from a storm or out at a campsite bringing some degree of light to the dark woods to still get around the tents and enjoy the experience of being out in the wild and surrounded by nature and wilderness. While the overall market has definitely shifted in other directions overall, there are still some very good kerosene lanterns and gas based lanterns that get the job done and we hope you've found one that you love!
How to light propane lantern YouTube video