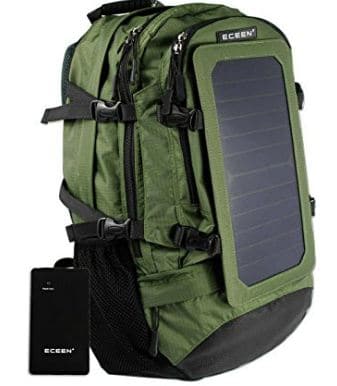 For those of us that really like to spend a lot of time outdoors away from electricity, but also really like using our smartphones for documenting those outdoor adventures – a real smart investment would be the purchase of a solar powered backpack.
Smartphones, tablets, and laptops are awesome until the battery dies on you, than they are pretty much worthless. Good solar powered backpacks are going to allow you to charge those devices efficiently when you have no access to electricity. Using the power of the sun, you are able to keep those electronics working – and the social media statuses coming!
Below is a list of the best solar powered backpacks. We wanted to look at charging power, comfort, looks, storage capabilities, and other factors to make sure we recommended some of the best versions you can buy. These backpacks are going to be perfect for hikers and campers that aren't around electricity, or even students that just need to charge their phone in between classes!
NEW BEST SOLAR BACKPACK LIST
We have added and updated our best solar backpack list for 2018. There were some great options that we have added, and some options that we had to move down due to availability issues. Please enjoy just quick reference chart and read beyond it to see a more detailed breakdown of these different options!
The Best Solar Powered Backpacks
Our List of the Best Solar Powered Backpacks
ECEEN Backpack Options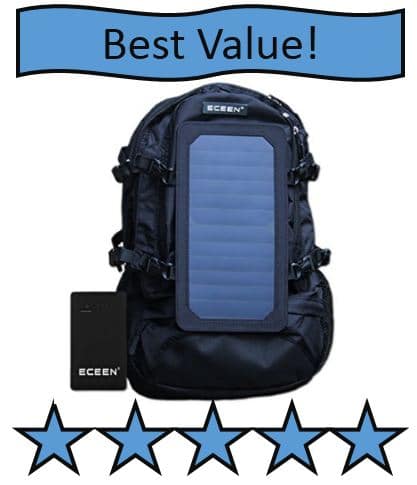 One of my favorite solar backpacks is the ECEEN 7 Watt Solar Backpack. There are numerous color schemes to pick from, ranging from blue to nature green to neon green – so you should have no problem finding a look that fits your personal style.
These backpacks come with a solar panel, USB cord, and a solar charger battery pack. You can strap the solar panel onto the back pack with the four built in clips, and the solar panel is very durable (you can even bend it, it is very flexible) – so you don't have to worry about smashing it.
How it works is very simple, you attach the USB cord from the solar panel through a small opening in the backpack to either the battery pack or your electronic devices inside of your pack. Once you do this, the sun will start to charge your devices!
One way to charge your electronics is to plug in the solar panel straight to your electronic device. With direct sunlight, these solar panels can charge your phone or smaller electronic device at about a 50% slower rate than most phone chargers that are just plugged into the wall at home. The bigger the electronic device, the longer it is going to take to charge directly from the solar panel. Also the cloudier the weather, the longer the charge is going to take.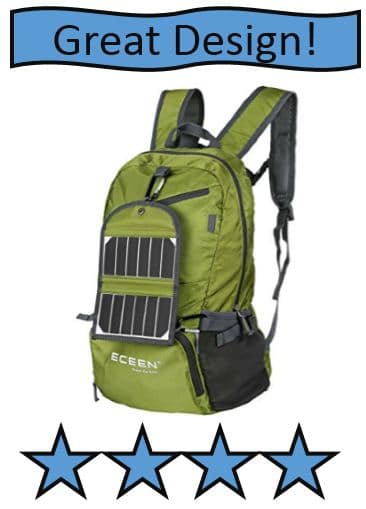 The other thing you can do is charge your electronics with the included battery pack (not all backpacks have these). If you do this, your phone or electronic device will charge in roughly the same time it takes when plugged into a standard charger at home. You can then use the solar panel to recharge the battery! The battery does have four lights on the top of it that tells you how charged your battery is.
There are multiple storage compartments of various sizes where you can store things from laptops, phones, and tablets, to paper, water bottles, and a decent amount of clothing. This is a really handy camping and hiking backpack, or a great option for just walking around town.
It is a very comfortable pack and is very easy to wear. It is normally priced in the $90.00 to $125 range depending on the style you pick, so it is more expensive than a lot of other options, but it performs better.
ECEEN also makes a lightweight option called the ECEEN Solar Foldable Hiking Backpack. This version includes a 3.5 watt foldable and removable solar panel and a 2000mAH battery pack. This version works exactly the same as the bigger version – but the battery and solar panel are a little smaller, so they do take a little longer to charge electronics.
Really the only reason that I would pick the smaller version over the larger version is because you just want a bag that is smaller in size, or because the smaller version is a little less expensive. Either way, you will be getting a very dependable travel bag that can charge those electronic devices!


EnerPlex Solar Backpack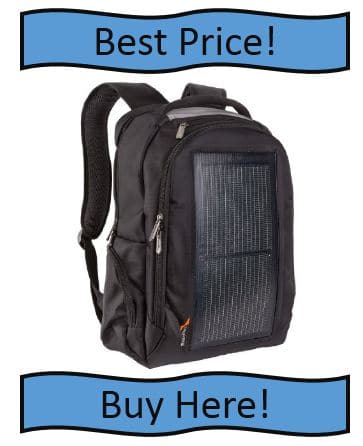 EnerPlex also makes a very good solar powered backpack that will charge your phone and other electrical devices. However, this backpack does not come with a battery that stores energy – so when your backpack is not in the sun – it is not going to be charging your electronics or holding a charge for you to use later.
This solar backpack has a built in 3 watt solar panel that is built very well – again you don't have to worry about these flexible solar panels breaking. When in good sunlight, you can expect your backpack to charge your phone in about 5 hours (according to the manufacturer).
The solar panel connects by USB cord to the inner compartments where you can store the electronics you are trying to charge. There is plenty of storage space. The look is okay – nothing special but nothing to be ashamed of either.
Reviews are mixed on this pack. The charge seems to be less than ideal if you are not in strong direct sunlight. Many people use the charger to keep their phone charged at the same level it gets plugged into at – meaning you aren't losing a charge, but you aren't really gaining one either.
The price is very affordable, which is the biggest selling point for this option when compared to others on the market.

Voltaic Systems Solar Backpacks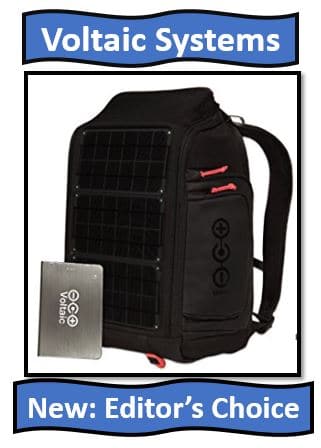 If you are looking for some really high end solar backpacks – I'm going to recommend that you look at the line of solar backpacks that Voltaic Systems produces.
Option #1 we are going to cover is the Voltaic Systems Array Rapid Solar Backpack. This unit includes a battery pack that is designed to charge your laptop, camera, and basically any device via USB quickly and effectively! It works for Apple, Samsung, Sony, Acer, and basically and brand of laptop, phone, or tablet you can think of.
The battery you connect to your device is so efficient that it normally charges laptops in 6 hours, or most smartphones in 1 hour of time. Fast and efficient – just the way we like it!
The backpack design includes the built in solar panels to recharge the battery, a padded laptop sleeve, and plenty of other storage pockets and spaces.
It is made from lightweight, UV resistant fabric – and that fabric is actually made from recycled plastic/soda bottles! We love these environmentally friendly & protective bags.
The solar panels are built to last and they come with a 2-year warranty. The battery pack comes with a 1-year warranty – helping to eliminate your durability fears!
This is just a high end solar backpack that is great looking, efficient, and an all-around home run.
You also have the Voltaic Systems OffGrid 10-Watt Rapid Solar Backpack & the Voltaic Systems 5W Rapid Charging Solar Backpack.
The 10-Watt option will charge most smartphones in 3.5 hours, has the same type of storage design, and the same warranty as the Voltaic Array option.
The solar panel of the 10-watt option is designed differently than the Array option, which is why it takes a little longer to charge different devices. Besides that, it is almost identical to the above options, but it is a little more affordable (but it doesn't charge your devices as fast).
The 5-Watt option is the most affordable choice from Voltaic. The solar panel is the weakest of the group, but almost everything else is identical!
All three are great choices.


ALLPOWERS SOLAR BACKPACK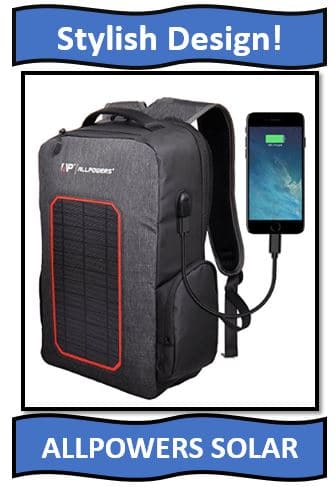 Another great backpack option is the ALLPOWERS Solar Backpack with Built-in 7W Solar Panel.
This bag is made from some very high-quality nylon fabric materials – as well as reinforced buttons and zippers. The straps are adjustable and look great, almost giving this bag a more "professional" look than many of the other options out there.
The bag also has 8 different compartments – so you should have plenty of storage for clothing and outdoor gear if you are camping, or books and your laptop if you are going from class to class! I would think that this would be enough room for most people, but I have been suprised before!
The bag has a built in 6000mAH battery – which can be charged by the solar panel or the included cable.
Under the right conditions, it is normally a 6 to 8-hour charge time for the battery – which can than charge your electronics!
It is a 7W solar panel that is maintenance free can the laminated coating can last up to 25 years – meaning you shouldn't have any problems keeping your included solar panel well protected and maintained.
I really like the professional look of this bag, and you should have no problem charging your electronics with it!


SolarGoPack Solar Powered Backpack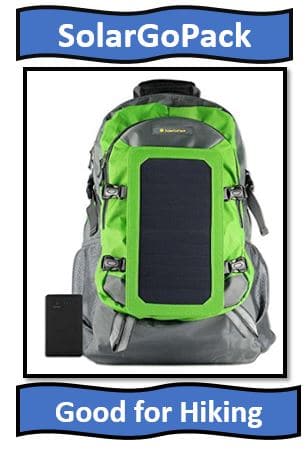 Another affordable, and fashionable, Solar Backpack that might interest you is the SolarGoPack Solar Powered Backpack.
This large backpack will have plenty storage space for camping gear, clothing, and electronics.
It is also built from lightweight materials making it easy to haul around when hiking or just causally going from place to place.
Inside the backpack, it comes with a 10,000 mAh battery – and a 7-Watt solar panel to charge that said battery! It also comes with a micro USB cable that will connect your device to the battery to get them charged!
You could use this backpack for school, hiking, camping, or anytime where you might need that little extra charge to your electronic devices!
There are a few really neat color schemes to pick from, including Army Green, Lime Green, and Red. If you like to flash the fact that you are wearing a solar backpack to everyone – I'm going to recommend the Lime Green option (Shane commenting to Jon here: "You would)!
This is just a high quality solar backpack that should be a great fit for most people! The price is also very affordable – giving you a high quality product for a very resonable price!
***IMPORTANT 2018 UPDATE***– While these were out of stock for a while (hey, quality flies off the shelves) fortunately this company has continued to run off a new batch and they are available once again…for now.

Luisvanita Solar Charger Backpack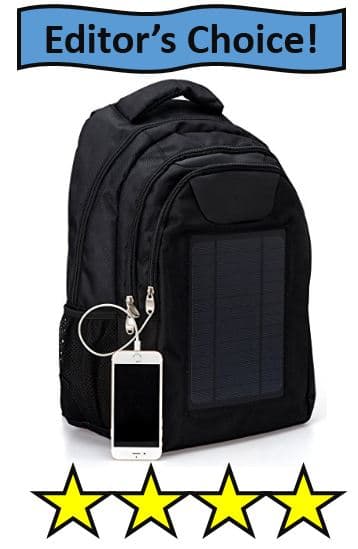 For those of you that are buying a solar backpack for the primary reason of being environmentally friendly, you should look at purchasing the Luisvanita Solar Charger Backpack.
It is made from a lightweight, water resistant fabric that is primarily made from recycled plastic soda bottles! Not only do you save energy by charging your electronics with solar power, the bag itself is made from recycled materials!
The bag comes with one 6W solar panel that is incorporated into the bag itself. Since it is made from strong materials the panel can withstand everyday usage and you shouldn't have a problem with it being scratched.
The USB cable is included, which will allow you to connect the electronics to the solar panel for charging.
The manufacturer states that 4.5 hours of sunlight should charge most smartphones completely and 10 hours of sunlight should charge most seven inch tablets.
The one drawback here is there is no included battery pack that you can use to charge other devices when sunlight is not available, which means it's possible to find some times on cloudy days when you're just out of luck. Still, the price is very affordable, and I love the fact that the bag is made from recycled materials to stay as earth friendly as possible.


Lumos UnPlug Solar Backpack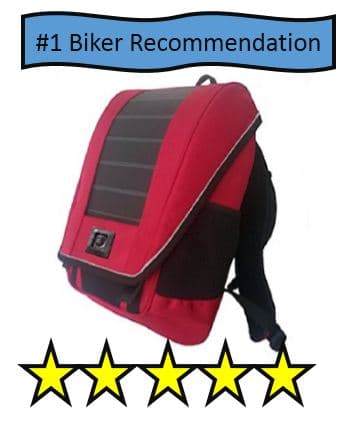 Lumos UnPlug makes a great backpack that they market towards bike riders!
They call it the solar backpack made by cyclists for cyclists, and there are many reasons why!
It has a very compact design that has a reflective outline that is great for cyclist safety (especially at night or those real early morning bike rides). It is water resistant, so a little rain won't hurt anything.
There is plenty of storage space, but the lightweight design won't slow you down on your bike! It even has a hydration hole and the supports were designed for bike riding comfort.
It also ships with a green high-visibility rain cover to protect the backpack during heavy rainstorms. Personally, I love the look.
The bag has a 3w "solar fabric" that will help you charge your electronics and it does come with a 2000mah battery for extra charging capabilities. The battery can be charged from a laptop. User reviews of the charging capabilities have been very positive for this product as well.
This is the number one solar power backpack for bike riders. If you ride your bike to work, or if you enjoy some long biking trails – this is the right backpack for you.

Zuoao Solar Powered Backpack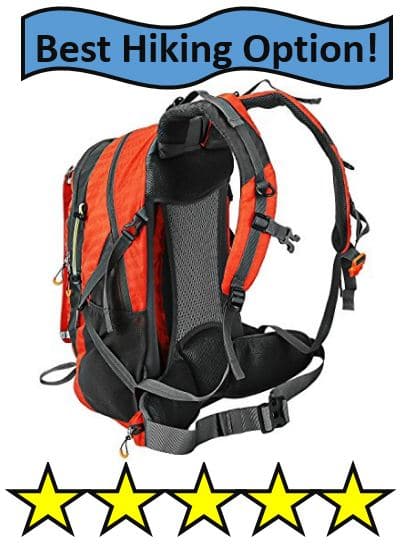 The Zuoao Solar powered backpack is my recommendation for people that are looking for a good hiking backpack.
It has a great frame that has lots of built in straps and padding to make hiking with this backpack as comfortable as possible. The strap fabric is also very breathable, which helps with airflow and keeping you cool.
There is even a built in 2L hydration bladder bag! This solar backpack really is built for hikers!
The 7W solar panel is removable and it comes with the 5V USB port that you can use to charge your electronics.
Size wise (L x W x H) you are looking at 22.8 x 13.39 x 5.9 inches with a net weight of 3.3 pounds. That should be plenty of space for you to pack all of your gear in, and with how the backpack frame is built, the extra weight won't bother you at all!
It does not come with a battery pack, but you can purchase one to store that solar energy. Again, this is our top recommendation for a solar powered hiking backpack due to its size, comfort, and charging power!


Wosports Solar Backpack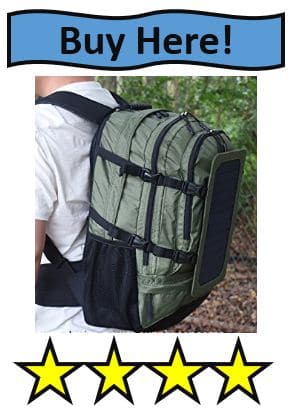 Wosports also makes a very solid solar backpack that is in the $60 to $75 range, which is very affordable for this product line.
It also comes with a 7W waterproof solar panel with the connector needed to charge your electronic devices.
The solar panel can be removed if needed, but there really isn't any reason to do so (I mean, it becomes a regular backpack without the solar panel – and $75 is a little expensive for a regular pack).
There is a really sharp red or nature green color scheme that you can pick from (I prefer the red option, but the green does look good) and with the solar panel weight included – the pack weights about 2.5 pounds. That makes it a good pack for hiking and camping.
There is plenty of extra storage space for gear and electronics – with three separate storage compartments.
To me, it is a little bulky compared to some other options for bikers or students that are looking for something smaller to take from class to class. Overall, it is a great option for people that are interested in one of these packs for camping and hiking purposes.

What to Look for in a Solar Backpack
Not every solar powered backpack is built equal, and there's a reason we felt the need to be really discerning on our best of list. There are many cheap backpacks out there that toss on a couple of small solar cells and then claim to be a top notch solar powered backpack while then failing to provide the charge they promise.
The good news is that as solar technology has advanced by leaps and bounds, the backpacks have continued to get even better. This is a trend we expect to continue, but there are a few things to look at before getting started to make sure you get the best possible backpack.
How convenient is the design (especially solar cell placement)?
On some backpacks its clear the design for the solar cells is much better than others. Placement matters a lot as even the smallest of shifts in angles can change how much sunlight hits those cells and how much power can therefor be formed. How you tend to carry your backpack can even make a difference.
Think about these details because they make a huge difference and can help you end up picking between two decent designs but grabbing the one that is truly going to be best for your specific needs.
What power claims does it make?
Not every solar pack is going to be the same, but every single one should tell you just how much power each pack can store at a given time. This might be the single most important piece of information to help you figure out if the bag is enough for your standards or if you need to look for something in addition to that.
How does it compare to the competition?
This article should hopefully help out immensely with this question, but it is a valid one that you should definitely spend time diving into. How does one pack compare to another? How many items can you plug in at once? Are there separate compartments for laptops, iPods, tablets, and phones to all charge at once? What are other benefits that differ between these packs that can help you figure which ones are best for your needs and which are just okay?
Shop, compare, and THEN buy!
What is the price?
Hey, price always matter. That being said, even if you are on a budget you mine as well make sure that you get the most out of the amount you do have to invest.
Solar Backpacks FAQ
Q: What are solar backpacks?
A: Simply put, these are backpacks that have solar cells, pads, or panels and allow for the charging of electronic devices such as cell phones, laptops, MP3 Players, and other similar electronic devices. In other words, all the little modern electronics that so shape our modern lives.
Q: How do solar backpacks work?
A: The cells on the backpack absorb natural sunlight and store it in a battery that then can transfer it into your plugged in device or devices.
Q: How powerful are solar powered backpacks?
A: Depends on the specific bag and the specific model. This should be one of your major pieces of research to figure out which one is right for you.
Q: How long does a charge last on a solar backpack?
A: This is going to depend on a variety of factors including battery size, how functional the solar cells are on that pack, as well as how many devices are plugged in at once and how much of a charge they need. How long a charge lasts is going to depend on a variety of other factors that can affect battery power such as extreme heat or cold.
Q: Can these solar backpacks work on long thru hikes?
A: These are not the best option for that sort of thing as with thru hikes you are much better off getting a traditional ultralight backpack and gear and then simply accepting the extra ounces that a portable solar charger will weigh, but that remains a much better option for that type of situation.
Final Thoughts!
There are a lot of good reasons to purchase solar powered backpacks. They are great for charging your electronics when you normally couldn't, and we all love to be a little more environmentally friendly.
The big things you need to look at when buying a backpack are what you are going to be using it for, and if you will need that battery attachment. Those batteries will come in handy when you are out in the middle of nowhere, but are a little less necessary when you are just traveling from class to class at your local college campus.
Comfort is important, so if you know you will be using these backpacks on bikes or while hiking – pick a version that is designed for that purpose!
For hikers and campers that are big into being environmentally friendly, check out these solar powered flashlights to add to your camping gear collection. Those flashlights are great in almost any night time outdoor situation.
Other great solar gear that we have reviewed includes: the best solar lanterns, the ultimate solar camping gear guide, the best solar fire starters, and the best solar showers!
Hopefully this article will help you pick the right solar charged backpack for your situation and if you want to see a quick review of solar powered backpacks – check out the linked video below.