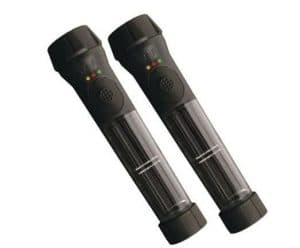 I think most of us have been on a camping trip where your flashlight runs out of batteries and the spares seem to be nowhere in sight – or we have lived through a power outage to know just how nice it is to have a dependable light source. Solar powered flashlights are a great option for people looking for a dependable light source that is not fully dependent on the charge of disposable batteries.
With that being said, what are the best solar powered flashlights?
We would recommend the Secur Hand Crank Solar Flashlight, the ThorFire Solar Flashlight, the Meco Hand Cranking Solar Flashlight, and the Gen RR Hybrid Solar Flashlight as the best solar powered flashlights. 
I would also recommend that almost everyone have a solar flashlight. They are not just for campers and hikers, but are valuable pieces of equipment to have in case of a power outage or a car breakdown during the middle of the night. You will be amazed at how much comfort a flashlight can bring you in those uncomfortable situations.
After a lot of research and personal usage, please read on to find our list of the best solar powered flashlights!
What are the Benefits of Solar Flashlights?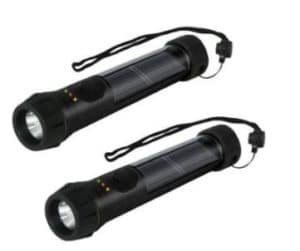 One of the biggest benefits of solar powered flashlights is their shelf life. A good unit will not need to be replaced for years, saving money on batteries and purchasing numerous new flashlights. Durability is also a major plus with a good solar powered unit. You won't have to worry about your bulbs burning out every few months like you will with a traditional flashlight.
For all of us that really care about preserving nature, a major benefit is that solar flashlights don't require the use – and therefore the disposal – of batteries. Batteries have become a major issue when dealing with trash disposal, and every little thing we can do to help the environment is a good thing in my book.
These flashlights are also great for hikers and campers that travel to remote areas. If you don't want to carry multiple packs of spare batteries, and you aren't going to have access to electricity, a solar powered lantern or light is going to be highly beneficial.
One of the best things about these lights that many of us might now be aware of, is that solar lights have been given to citizens of countries that do not have electricity, or stable power supplies. These lights give people of the world the ability to see in the dark when they couldn't before – which is something that many of us just take for granted.
Quick Chart of the Best Solar Powered Flashlights
Here is a list of the best solar powered flashlights you can buy. Below the graph is a full, more detailed, review of each individual option. We hope this helps you make the best buying decision for you!
A quick list of the Best Solar Powered Flashlights
Gen RR Hybrid Solar Powered Flashlight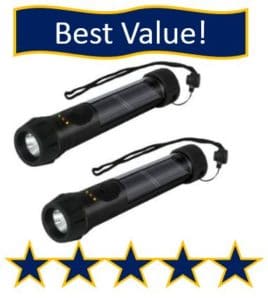 This hybrid solar powered flashlight recharges in the sunlight, but also has an emergency battery backup that stores extra solar energy – making it a very dependable flashlight even if you have forgotten about it for a while.
When fully charged, and it comes fully charged, you will be able to run your flashlight for about 16 straight hours before the next charge is required. It will take at least a few days of direct sunlight to fully recharge, but that 16 hour run time is one of the best you can find!
The big selling point here is this flashlight does not need to be stored in the sunlight to preserve its charge. The battery system stores the sunlight energy, and it hold that charge for 3 years! These flashlights are perfect for being stored in an emergency drawer at home, in the glove box of a car, or with your camping gear.
This lightweight flashlight is about 7 inches in length, and is waterproof in depths of up to 80'. It also floats, which makes it a good option for some late night fishing, where accidentally dropping the light over board has been known to happen once or twice (that is directed at you dad).
The biggest complaint users have is the on/off switch isn't clearly labeled. So it can be hard to tell if you are running the product off the solar cell or if you are draining the backup storage batteries. If the batteries are fully drained, it takes a lot longer to fully charge in sunlight.
Overall, you can but a two pack for a very reasonable price – making this a very good option for camping or emergency situation planning. It is our #1 recommendation if you are looking for a very simple, but dependable light.
Secur Hand Crank Solar Powered LED Flashlight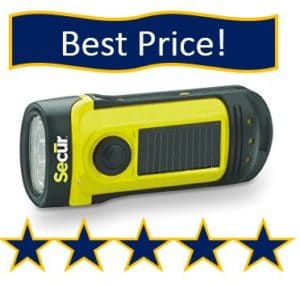 This is a really neat unit that can be charged by sunlight or it can be charged by using the hand crank that is built into it.
The hand crank is a nice way to power the unit up, especially if you have forgotten about it for a while. You will never need batteries or a cable to charge this flashlight!
There are 3 different lighting settings, a one LED Light, a three LED Light for extra brightness, and a three LED Flashing light setting.
The manufacturer states that after 1 minute of hand cranking you can run all 3 LED lights for 60 minutes, 1 LED light for 80 minutes, and the flashing light for 110 minutes. One hour of direct sunlight equals about 120 minutes of lighting.
It is about 6 inches in length and weights about half a pound. This flashlight doesn't store solar power like the Gen RR does, but the hand crank gives you the ability to get light whenever you need it.
The manufacturer says it is waterproof in up to 45 feet of water, honestly I'm not sure why you would want to take this flashlight that deep – but there are some online reviews complaining about it not being fully waterproof.
With a price of around $20, this is a great value!
ThorFire LED Solar Powered Flashlight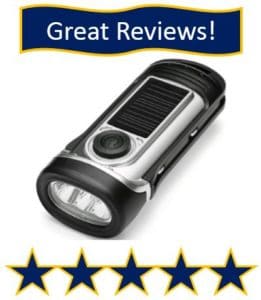 This is another very good solar powered/ hand cranking option you can buy.
It only weighs about 6 ounces and is about 6 inches in length making it easy to store in glove boxes, drawers, or a backpack.
Hikers or homeowners would benefit from ownership of this light.
One minute of cranking will give you about one hour of lighting time on the brightest setting, and one hour of direct sunlight usually gives you about two hours of lighting time on the brightest setting.
The crank is very efficient when compared to some of the other options you can buy.
This is a very durable flashlight that scores very well in the online review department, with almost 75% of people giving it a five star rating on many different sites.
Price wise it is generally more expensive than most of the other options, but it really performs well. This is an all around solid option for anyone looking for a solar lighting source.
MECO Hand Cranking Solar Powered Flashlight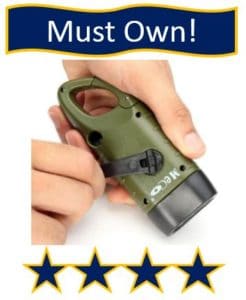 This is the solar powered flashlight I would recommend all campers and hikers NEED to have as a backup. It costs under $10, it weights under .2 pounds, so it is the perfect lightweight, cheap, emergency light source we hopefully never need during an outdoor adventure.
The cranking system is not as efficient as the Secur model flashlight listed above, with six minutes of cranking giving you about one hour of lighting time.
The solar energy collection works really well, usually storing a few hours of lighting capability in about an hour or so.
What I like about this unit is if you ever run out of solar energy in the middle of the night, the crank will allow you to use kinetic energy to create the light you need.
The price is so affordable that you won't be as concerned if it get damaged as some of these other options, and the small size makes this unit easy to transport.
It really is the perfect emergency flashlight unit and all outdoorsman should think about owning one!
NPET Solar Flashlights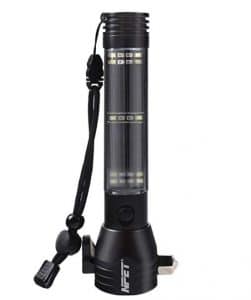 New to the list for 2019 are the line of NPET Solar Flashlights. I like these flashlights because they have a built in battery that can hold a charge for a long period of time. 
This battery can be charged in 4 to 5 hours by the included USB cord. Or it can be fully charged in about 30 hours thru the built in solar panel. 
This flashlight also has seven different lighting modes. When fully charged, these different modes should be able to run for between 4 to 7 hours before the batteries will need to be recharged.
There are some really cool extras that make this flashlight an excellent flashlight for keeping in your car. For example, it has a car window breaker and a seat-belt cutter built into its design. It also has a powerful magnet in the head of the flashlight so you can attach it to a car or metallic surface to use as a hands-free work light. 
This flashlight is water-resistant and built to be very durable. That makes it not only a perfect choice for an emergency car flashlight, but also a great flashlight for hikers and campers!
ECEEN Solar Powered Flashlight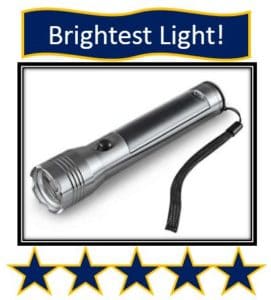 The ECEEN Solar Powered Flashlight is one of the brightest solar powered flashlights you can buy, so we highly recommend this for anyone that likes bright lights!
I also like the aluminum look to it, it really reminds me of the classic flashlight look!
This flashlight can be charged in two ways. Solar power is the obvious way, and this flashlight will be fully charged in about 8 hours of time. A full charge will give you about 4 hours of continuous use. It will hold that charge for up to 3 years – however it is recommended that you do a full 8 hour charge every 3 months to keep this flashlight as effective as possible.
The other way this flashlight can be charged is with a USB cord. The charge is a little quicker with a USB cord – it normally takes about 4 to 5 hours to charge.
That charge will also last for around 4 hours of usage. The USB port is good for charging the flashlight in the car, but obviously loses some effectiveness for hikers in isolated areas.
The big selling point here is the 1W LED light with 150 lumens of power that gives you about 50 meters of lighting distance – making this one of the brightest solar powered flashlights you can buy!
UPDATE for 2019 – This is a great flashlight, but currently unavailable from Amazon. 
OxyLED MD10 Multi-Functional Solar Flashlight (Currently Unavailable)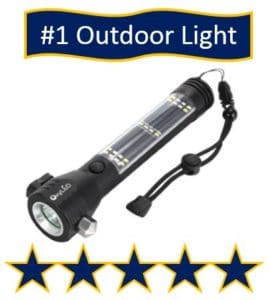 This is the most expensive solar flashlight on our list, but that is because this is a full blown survival kit.
It is a flashlight, a warning light, a compass, magnet, cutting knife, hammer, and rechargeable light source all in one!
With the inclusion of a magnet, compass, hammer, and knife – this solar powered flashlight is really meant more for your typical outdoorsman than it would be for emergency power outages at home. So we would recommend this unit for anyone that like to hike off the beaten track.
Made from a mixture of stainless steel and aluminum alloy, it is built to last. When it full brightness mode, you can expect to get about 3 to 4 hours of lighting time, and the dimmer modes last about twice as long. The light is very bright, and can illuminate areas up to 200 meters away.
Solar power is the easiest way to recharge this flashlight, but you can also recharge it by using a USB cord. This is another survival flashlight that gets very strong reviews by owners online, and we can easily recommend it.
Buying The Right Unit
The best advice we can give you is to think about how you are going to use your solar flashlight, and pick the one that is the best fit for you. The survival kit flashlights aren't going to be needed if the main purpose of your light is going to be sitting in a drawer in case of an emergency power outage.
You should also consider if you want a flashlight with a crank on it. This is an easy way to make sure you have a flashlight that will always be useable, but a unit that has a good battery backup should be able to provide light for a long time as well. However, if you think you are going to forget to charge some of these flashlights on a consistent basis, you probably want to own one that has a crank on it.
I would always recommend any outdoorsmen having a small solar power or crank powered unit as an emergency backup. There is nothing worse than being stranded in the wilderness with no light at night. An emergency light will also protect you in case your standard flashlight gets broken somehow.
Hopefully these quick reviews will help you pick the right solar powered flashlights – and I hope these flashlights help you explore some great outdoor areas!


Other Solar Camping Equipment
We have also looked at a lot of other Solar Camping Equipment that you should check out! Please enjoy our article on the following topics:
Here is a little YouTube video on solar flashlights if you want to see one in action!