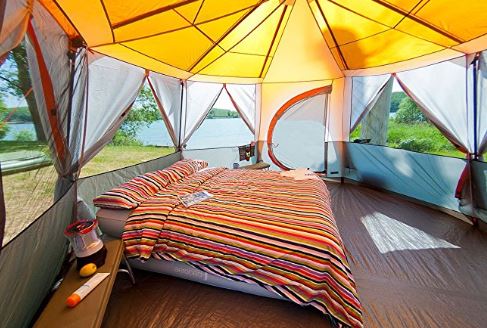 If you have read our site in the past, you have probably noticed we like to share different tent designs that really catch our attention.
We have talked about how much we like Instant Tents, and how much we like Connect Tents – so we thought we should share information about Coleman's line of Octagon tents!
These octagon tents are going to be perfect for most outdoor activities, and they are also popular when glamping (which might be the only way I can convince my wife to go camping).
When comparing octagon tents to traditional rectangle tents, you are going to get better airflow, a better view, and more sunshine when you pick the octagon shaped tent! That's because all of those octagon shape windows open up providing an awesome 360-degree view!
Interestingly enough, Coleman has a different name for their octagon tents in the United States vs. the United Kingdom – so read on to find out what your options are when it come to finding the absolute best octagon tents currently available!
Quick Options List
Here is a list of your Coleman Octagon Tent Options with a more detailed review below!
The Best Octagon Tents
The Best Coleman Octagon Tent Options.
Coleman Octagon 98 Review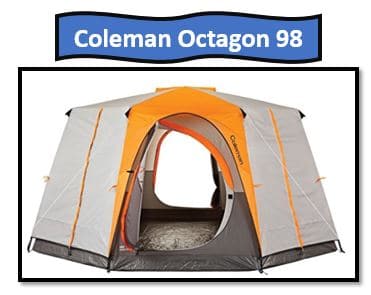 In the United States, your option is the Coleman Octagon 98. It provides a great look, with plenty of room, and all sorts of little features that will make your outdoor time more enjoyable!
From a size standpoint, you are looking at a tent that is 13 feet by 13 feet – and a tent that has a center height of 6 feet 10 inches. Coleman would call this an 8-person tent (it can hold 8 people in sleeping bags) – or it can hold 2 queen-sized airbeds.
The poles are made from steel, so they should be very durable, and they are color coated to try and make setup as easy as possible on you. I think most campers will be able to setup the tent in about 15 minutes.
Besides having durable steel poles, the tent itself is made from a very durable polyester material.
There are two options – One that comes with a full-length zip-on fly & one that comes with a half-length zip-on fly. The full-length fly is the one I prefer – because the window design & view is better than the half-length fly option.
There are two doors – one on each side of the tent – that provide easy access and middle of the night bathroom break exits.
For air circulation purposes, the windows and the roof are both mesh.
There is a removable privacy wall that will create two separate rooms inside the tent – which is excellent for family or group camping.
Other fun features include lots of interior storage pockets and cup holders – it's the little things that make camping more enjoyable.
All around, this is just a really great tent. The only downside is I've really only found this tent in a sharp blue color – or a nice looking grey color. Some more color flexibility would be awesome.


CORTES OCTAGON 8 Review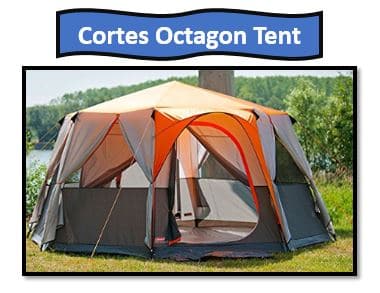 Coleman also has a great presence in the United Kingdom. Overseas, Coleman's Octagon tent is called the Cortes Octagon 8.
This tent is heavily marketed as a glamping tent – or a tent really made for fun family activities. Six of the eight sides open up completely, which provides all the sunshine, air flow, and comfort that you are looking for in a tent.
The door on this tent is really unique – with multiple screens and a cool hinge. It actually functions like a real door, which you aren't going to see in many other tents.
The size and the materials of these tents are basically the same as the option listed above. You still have that big living space that can be separated into two rooms and the flysheet can be removed to create more of a screen house.
It does also come with a wheeled carry bag because this tent does have a little bit of weight to it.
Coleman makes some great tents, and this one belongs towards the top of their best tent lists.
Our Final Thoughts
There are a few benefits to picking this line of tents. You have to love the design and the windows. Even if you are backyard camping – you can open all those windows and have a nice little shelter, with plenty of breeze to keep you cool.
This tent design is going to turn some heads, but if you are looking for something a little more traditional, please check out these following articles:
Also, remember to enjoy the great outdoors!