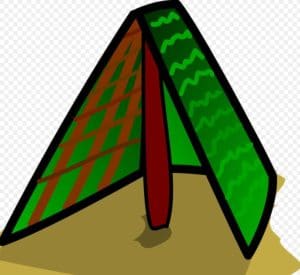 What the heck could make a tent worth $500 more than another one? Why are canvas tents so special? If, like me, you found yourself wondering these questions at any point in your life then this is the article for you! Read on to find out why canvas tents are superior and our picks for the absolute best canvas tents for camping.
If you are a big reader of our site, you know that we love to take a look at the different types of tents that you can purchase for your outdoor adventures. For this article we wanted to take a look at the best canvas tents for camping.
When I was a young kid and it seemed liked I spent my entire summer camping outdoors; I would often camp in a canvas style tent.
The big reasons we would use a canvas tent was because they provide a lot of room, and the durability is great, making it a wonderful option for extended camping trips – and family camping outings.
I would also spend a lot of time at Boy Scout camp – and of course those camps would have those old school canvas tents that looked like they were straight out of the 1950's.
Now that I'm older, I tend to use a nylon tent because it is easier to store, a little lighter weight, and can be easier for me to setup by myself. However, there are certainly a lot of reasons why buying a canvas tent would be beneficial for you.
Below is a list of advantages and disadvantages of canvas tents – as well as a review of the best canvas tents you can buy for camping!
*Editor's Note – Article updated to include Elk Mountain tents!
Best Canvas Tents Reference Chart
Below is a quick reference chart about the best canvas camping tents. Below this chart is a more detailed review about each one!
| Canvas Tent Picture | Tent Description | Amazon Link |
| --- | --- | --- |
| | Kodiak Canvas Flex-Bow Deluxe 8-Person Tent | Amazon Link |
| | Elk Mountain Canvas Wall Tent | Amazon Link |
| | Trek Tents 246C Cotton Canvas Cabin Tent | Amazon Link |
| | Kodiak Canvas 1-Person Canvas Swag Tent | Amazon Link |
| | Kodiak Canvas Flex-Bow 6-Person Canvas Tent | Amazon Link |
| | Trek Tents 245C Canvas Cabin Tent | Amazon Link |
| | Kodiak Canvas Flex-Bow 4-Person Canvas Tent | Amazon Link |
Best Kodiak Canvas Tents Reviewed
There's little question that Kodiak is one of the truly big names when it comes to the canvas tent camping world. They are a trusted name from a company that really understands that outdoorsman need truly high quality outdoor gear that they can rely on. Because of this Kodiak tents are very well known in the camping community.
Good canvas tents are known for their durability and the ability to hold up in any circumstances. As of this article, they make 8-person canvas tents, 6-person canvas tents, and 4-person canvas tents.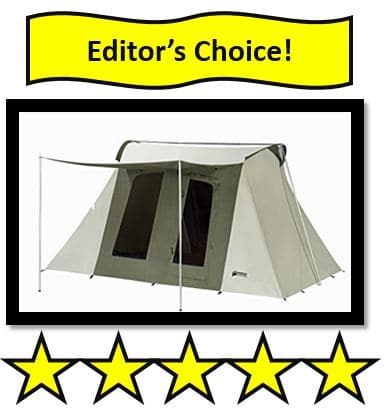 We'll bunch these together as Kodiak uses the same base design for all these models of tent but we will break down each one a bit to talk about the individual quirks of each.
One of the most trusted names in the canvas tent market is Kodiak Canvas. They make a great selection of camping canvas tents that should fit your needs!
Kodiak Canvas Flex-Bow Deluxe 8-Person Tent
The most popular option is the Kodiak Canvas Flex-Bow Deluxe 8-Person Tent. The online reviews for this tent are ridiculously positive – there aren't many people that have anything negative to say about it.
For a materials stand point – this tent is made from what they call a "Hydra-Shield" 100% cotton duck canvas. This canvas is very breathable, water resistant, and of course durable.
It has a spacious 6'6" ceiling space, with two large doors and four large windows. There are also two vents that are built into the design that helps improve air flow, helping you control the temperature inside.
The frame is made from 1 inch steel tubing and it has steel spring rods that keep the tent upright and taut – and you also have a heavy duty floor.
One person can setup the tent, and it should only take a few minutes after you get the tent staked (it comes with 12 inch steel stakes). It is heavy, weighting about 80 pounds.
Like the name implies, you can sleep up to 8 people in the 10 x 15 foot space, which should provide plenty of room for you and your family.
Important Note: The tent isn't made for extreme winter or heavy snow accumulations, but it will hold up in most other weather conditions.
It also comes with a large awning – so you can have that shady tent entrance.
The mixture of durability, materials, ease of setup, positive reviews, design, and just about everything else make this our #1 recommendation in the world of canvas camping tents.
You are looking at a price tag of around $650 if you pick this option, but it will be well worth it for you!
Kodiak Canvas Flex-Bow 4 & 6 Person Tents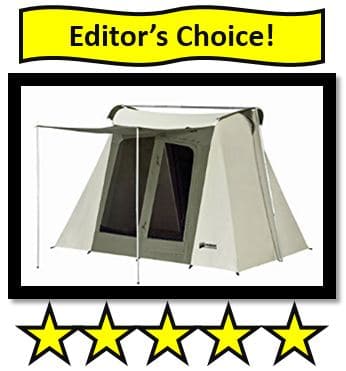 There are also two other size options for the Kodiak Canvas Flex-Bow Deluxe tent. You have a 4 person canvas tent and a 6 person canvas tent.
Both of these options have the same type of design, same materials, pretty much the same everything (including great online reviews) but are different in terms of size and price.
The 4 Person Kodiak Canvas Tent has a 6'1" ceiling height and a 9 feet by 8 feet sleeping space. It has a pack weight of 54.5 pounds as well. You are looking at a price of around $470 for this option.
The 6 Person Kodiak Canvas Tent costs right around $570 and has a spacious 6'6" ceiling height. The tent dimensions are 10 feet by 10 feet and will comfortably sleep up to 6 people. It is about 68 pounds in weight.
The awning does get smaller in size with the smaller tent options, as you would expect for practicality and smart design reasons.
All three of these tents are fantastic. Your deciding factor on which Kodiak Canvas Tent you should buy should be based on how much room you would like.
The bigger the family, the bigger the tent we would recommend.
If in doubt, make sure to go one size bigger than you think you need! After all, the way tents measure how many people they can fit are generally optimistic to the max.
Amazon Links:

Best Elk Mountain Tents Reviewed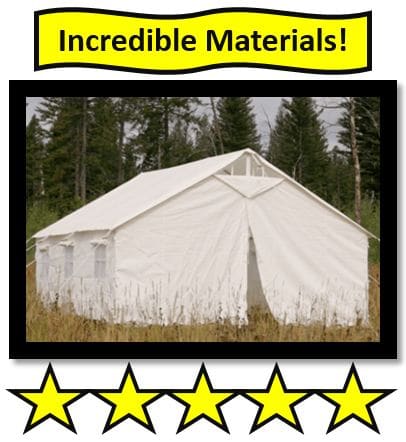 Elk Mountain makes some fantastic canvas tents that campers, hunters, and outdoorsmen should really enjoy. Based out of Idaho, they are determined to produce high quality canvas tents at a great price!
A huge selling point for these tents is the polyester material used to make them. It is stronger than traditional cotton canvas materials, it is lighter than traditional canvas materials, and it doesn't rot or get covered in mildew over time.
Elk Mountain is also very proud of their polyester tent material's strength. Quoting this directly from the Elk Mountain Website: "Our unique polyester tent material is an 11 oz canvas with a breaking strength of 449 lbs (warp direction) and 382 lbs (fill direction), making it significantly tougher than traditional canvas which has a breaking strength of 382 (warp) and 241 (fill) for 12 oz canvas and about 210 (warp) and 140 (fill) for 10 oz canvas. The tear strength is 67 lbs (warp) and 40 lbs (fill); this is roughly double that of the Sunforger canvas material used by other tent companies."
This natural waterproof material also doesn't shrink overtime – so when you buy an Elk Mountain tent, you are buying an incredibly durable tent!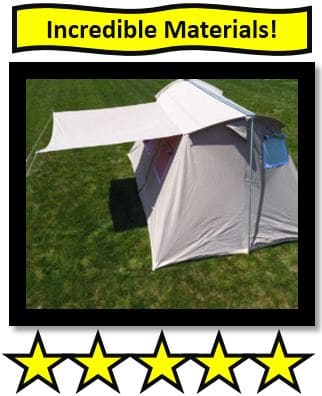 You will also love all the features these tents have. Their standard models will have screened windows, a stove pipe jack, and extra door in the back – basically all of the things you want for your camping adventures.
The most popular tents from Elk Mountain right now are their wall tents – which come in three sizes: a 13 x 13 size, a 13 x 16 size, and a 13 x 20 size.
The standard tents have all the great features included above- with some special options like a Wall Tent w/ Awning and Tent W/ Front Screen Door available as well.
The 10 x 14 Scout Tent from Elk Mountain is also becoming more and more popular because of its lower cost (right around $475) and top notch materials!
The tents usually arrive in about 5 days after ordering, which is much faster than most custom wall tent orders you can place. If you think about all of the features you get with a standard Elk Mountain Canvas tent – you would spend hundreds of dollars more to get those features from a Custom Canvas tent.
Let's face it: canvas tents are not generally known for their features which is part of what makes these particular tents so interesting in nature.
The big selling point here is going to be cost + durability/materials. It is hard to find canvas tents made from better materials than these! If you buy an Elk Mountain tent, you are going to be a happy camper!

Best Trek Canvas Tents Reviewed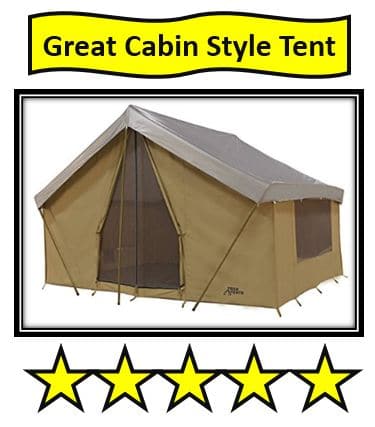 Trek Tents makes a couple of really good canvas tents that campers should really enjoy using.
The Trek Tents 245C Canvas Cabin Tent has been around the longest and is one of the most popular choices from Trek Tents.
This is a cabin style tent with a sleeping space of 9 feet by 12 feet – which is right around what we would consider a 7 or 8 person tent. The ceiling space is over 7 feet tall as well, providing everyone with plenty of headroom.
The frame is a steel frame that is 1" in diameter and powder coated – and it also comes with chain-linked poles that make the setup very easy as well. Most versions you buy online will have the fly cover included – which is obviously important if it starts to rain.
The walls and roof are made from a 100% cotton materials and the heavy duty vinyl coated canvas should last a very long time for you.
The design includes three extra-large windows that have inside zippers and a large front screen door that is easy to access and allows for nice airflow.
You are looking at a price of around $700 if you are going to purchase this tent – a great price for a very durable canvas tent.
You can also buy the Trek Tents 246C Cotton Canvas Cabin Tent from Trek. It is made from the same materials, same design, same everything – but it is a little larger at 10 x 14 feet. It does weight about 65 pounds – so it isn't a tent you are going to haul around for long distances.
Since the 246C option is larger – you are looking at a price tag right around $800. Trek Tents have been producing high quality tents since the 1980's, and you will be happy with the design and durability if you go this route.

Kodiak 1-Person Canvas Tents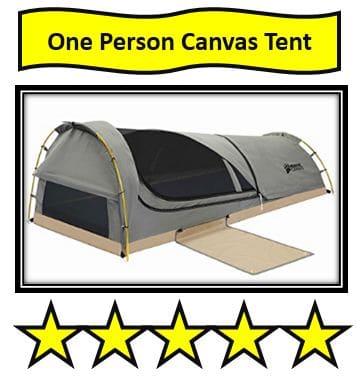 Not everyone is looking for a large canvas tent, so Kodiak Canvas did make the Kodiak Canvas 1-Person Canvas Swag Tent.
This tent is very unique, with a frame that is 6'8" long and almost 3 feet wide. It also only weighs about 17 pounds – so it is a lot easier to carry around than many of these other canvas tents.
This unique and very creative tent design also comes with a 2 inch foam mattress pad that will help keep you comfortable since you can't fit an air mattress or anything of that nature inside this tent.
You will find the canvas used for this Kodiak one person tent design is made from 100% cotton duck canvas, and the design includes multiple windows that can be opened to control air flow and temperature.
The price is about $300 for this tent. So this will be a great option for anyone that wants a very durable, great looking one person tent – and in fact it's pretty safe to say this will be the most sturdy and longest solo tent on the market right now. When it comes to sturdy and durable, after all, you just can't beat canvas as an outstanding building material!
The downside is you won't be doing much family camping in this tent!


Pros & Cons of Canvas Tents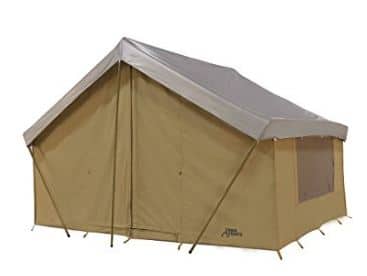 We are often asked why should I buy a canvas tent over a traditional nylon tent? To answer that questions, we assembled a simple list of reasons.
1.) Canvas tents can be better suited for long camping trips because of their heavy duty, durable materials. Simply put, they are going to last longer than nylon or other synthetic materials. People that live at campsites during the summer should look at investing in canvas tents.
2.) Canvas tents generally perform better in winter conditions. Heavy duty canvas fabric will block out the cold and wind better than nylon.
3.) Canvas style tents- particularly cabin style canvas tents – provide a great design that has more room on the inside – and a lot more headroom for people that don't like to walk around hunched over.
4.) Canvas tents are better in the winter, but they are also very functional during the summer – meaning you can have a 4 season tent for all your camping needs.
5.) Durability – if you buy the right canvas tent, you can go years before you need to replace it. Small holes and ripped seams in a canvas tent are also easier to patch up than holes and damaged seams in synthetic material tents.
Now of course there are a couple of reasons why synthetic material tents are better.
1.) Weight – Canvas tents can weigh over 100 pounds, they are a lot heavier that synthetic tents, and that can also make them much more difficult to store, transport, and setup.
2.) Price – Canvas tents are much more expensive than most nylon and other synthetic material tents. However, you won't have to replace these tents for a long time if you properly take care of them. They really are made for more serious campers.


Canvas Tents vs. Regular Tents
Canvas tents have several benefits over regular tents. Canvas is more durable, better for use during all four seasons, and built to hold up against heavy use. The cotton that the canvas is made from tends to breathe well which means that there are going to be less humidity issues than there will be with tents made from other materials.
However if there are some potential cons, it is important to know that canvas tents are definitely going to be much more expensive than an equivalently sized regular tent. These are also much heavier because the material is thick and dense, which means more weight. Regular tents in general will be easier to move, set up, or replace when the time comes. They will be cheaper, as well.
A general rule of thumb seems to be that you can think of canvas tents are heavy duty vs. regular tents which are more of the "regular" or standard purchase.
Canvas Tents vs. Dome Tents
Dome tents tend to be smaller. The common dome tents are generally either just for a few campers or at most a couple and a single kid. Even the largest dome tents tend to only be for around 4-5 people as other designs make far more sense when it comes to larger tents. Dome tents also come in multiple designs that are perfect for one or two people which is great when going on thru hikes or any type of ultralight backpacking.
Canvas tents tent to be bigger, heavier, and there's no situation where they make sense as an ultralight option. Canvas tents are heavier, and tent to be a good option for a long-term campsite or at least a weekend trip. If you are going to be set up for an extended period of time, you will want to move the tent around to avoid absolutely killing the grass. Dome tents are easier for this but there's much more of a "home away from home" feeling with canvas tents.
Canvas Tents vs. Pop Up Campers
Pop up campers offer some really unique options when camping and admittedly for some people will love what these have to offer. They bring a great combination of the extra home and security feeling that full campers or RVs bring to the able while being more compact for travel and still offering a touch more outdoors feeling for those who don't want to call themselves a glamper.
There are some serious advantages to pop up campers. For one, they offer a little bit more space. They are also off the ground which can be a good thing when the ground gets particularly cold. Some like the sturdiness of a pop up camper but it is worth noting that canvas tents are also plenty sturdy.
Add in the benefit of being able to hook up water for a shower, sink, or toilet in addition to offering better privacy.
However canvas tents have some advantages, as well. They might be expensive for tents, but even a $1,000 canvas tent is going to be far cheaper than the many thousands of dollars that pop up campers can cost. In addition to this, canvas tents can be rolled up and put away when at home while pop up campers can take up garage, yard, or driveway space.
Canvas Tents vs. Nylon Tents
Nylon is almost certainly the most popular building material when it comes to modern tents. The material is lightweight, cheap, and versatile. Nylon is a versatile material that allows them to be used for all types of tent designs. Nylon can be extremely lightweight in nature which gives a wide array of options when it comes to pole materials as well as designs that can be used. Unfortunately, nylon isn't nearly as breathable as good canvas which means nylon tents are hotter during hot weather and colder during cold weather.
Canvas tents are known for being great in all four seasons. It's also worth knowing for those who are especially dedicated to green tech that cotton canvas is natural material meaning that even when it is time for a tent to be destroyed, recycled, or replaced, that eventually over the long haul when out in the wild and left untreated long enough they will biodegrade and be better for the environment in the long run.
Canvas Tents vs. Polyester Tents
Polyester tents to have a lot of appealing traits. They are relatively inexpensive tents that are rot resistant, don't shrink, and are going to be fully waterproof. In addition to this, because the material is so light they can also be very versatile when it comes to design option. There's a reason that so many tent manufacturers have gone with polyester as a building material.
Polyester is going to be less durable than canvas, but overall it is one of the most popular materials used for tents for a reason. Polyester also has the advantage that it isn't prone to mildew or mold, which can happen with canvas tents since they are made of cotton fabric – especially if they are not properly taken care of.
Canvas Tent FAQ
Q: Are canvas tents the best?
A: Depends on your definition of the best. We love canvas tents because they are heavy duty. If you want a tent that has a chance of lasting 5, 10, or even 15 or more years despite heavy use – you have to go with canvas. These can be used to set up a permanent outdoor camp, be tailored around wood burning stoves, and are good in all four seasons. They aren't cheap, and they aren't overly modern in design (most of the time) but they are definitely up there as an absolutely outstanding tent.
Q: Are canvas tents too warm for summer?
A: Nope – every design of canvas tent allows for ventilation, and the heavier material can make the inside stuffy in really humid and hot temperatures, especially if there's no shade around, but that same thickness also means the shade on the inside is really effective in making things comfortable, especially with any breeze or ventilation.
Q: Can canvas tents really be used for winter camping?
A: Definitely. The extra thick material can be extremely effective at keeping in the cold while keeping heat inside. Many custom canvas tents are designed with a smokestack so a wood burning stove can even be put in and a semi permanent (or even permanent – check out the YouTube video at the end) house setup and be made with some proper planning, building, or adjustments.
Q: How do you waterproof a canvas tent?
A: Depending on where your canvas tent comes from or which one you buy, you might need to know this if your net tent isn't waterproof (although many of the new ones like those on this list are) when you get it, but if you're buying a used tent or want to re-up the waterproofing after years or even decades of use, then you'll need to know this.
Also often called "seasoning" your canvas tent, we'll eventually have an entire quick hit article on this topic but until then this video tutorial is a good start to learn how to do this.
Q: Why buy a canvas tent?
A: Because they are reliable, can take an absolute beating, and are the type of tent that you can use over and over again and it will still hold up for years or even decades. While you may pay more up front, that means you save a lot in the long run. These also make great guest shelters, semi-permanent camps you can set up, or even a workshop.
Q: Are there good canvas tents available for sale on Amazon?
A: Plenty. If you like modern canvas tents as opposed to the really simple old school designs (that brings back memories of Scout Camp) then actually looking at Amazon is the way to go, as our top list above shows (and links to).
Q: Where can I find a cheap canvas tent?
A: Because of the heavy duty materials and the serious labor that needs to be done in order to make a solid canvas tent, it is simply going to cost more to make these, which means it is going to cost more to buy. Add in all the awesome benefits that come with a canvas tent, and it's not hard to see why they can get a bit pricy, but they are worth it.
If you absolutely have to go budget and the great deals often found online at Amazon aren't good enough then your best option is frankly to look at a military surplus store or similar business and hope to get lucky.
Q: Are all canvas tents set up to use a stove?
A: No. There are some custom set up for this, otherwise you might have to do some work with an existing basic large piece of canvas, creating the proper setup so one can be created in a way that you hope for.
Q: What should I clean a canvas tent with?
A: The first step is using a brush to brush off as much as possible before hosing the tent down by spraying it with water. For maintenance or basic cleaning, a mixture of soap and water follows up, with special attention wherever it is needed. The tent then needs to be thoroughly rinsed to make sure nothing is left over and then it should all be air dried.
If early mold or mildew appears, it is important to address that immediately through vinegar and other mixes that can kill those growths as they are starting.
Final Thoughts
Listed above are a lot of great reasons as to why you should purchase a canvas tent over a traditional nylon or synthetic materials tent. We also listed out your best options when it comes to buying a canvas tent – so hopefully this article will make it easy for you to pick the right tent.
If you are looking more for a traditional tent, please check out our reviews on the best instant tents, 3 room tents, or even one person tents depending on what you are looking for!
Great Canvas Tent Winter Camping YouTube Video