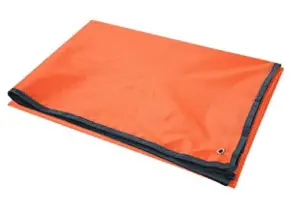 A good tent footprint is one of those pieces of equipment that can be easily overlooked but it can make all the difference when setting up the perfect campsite. These protective pieces of cloth are a great way to protect the bottom of your tent from wear and tear, something that is especially important considering how hard it is to find a piece of flat ground that is free of twigs, plants, rocks, and whatever else.
A good tent footprint is lightweight, tough, and will take a lot of the beating that the bottom of your tent (aka outside floor) would otherwise take.
There's no question that a protective tent footprint is a great idea to help protect your investment and help you squeeze extra years out of your favorite small or family tents. So without any further ado, read on to find our choices for the best tent footprints currently on the market today.
Just What Is A Tent Footprint?
A tent footprint is there to protect the bottom of the tent. While some people choose to go with a simple tarp, and that is better than nothing, a true footprint is a great piece of camping equipment that is laid out underneath the actual tent, providing a layer of protection. There are even some large tents that pack a basic tent footprint in with the tent, which then gets set and staked in before the tent is set on top of it.
Our Picks for Top 10 Tent Footprints (Quick buy links followed by reviews):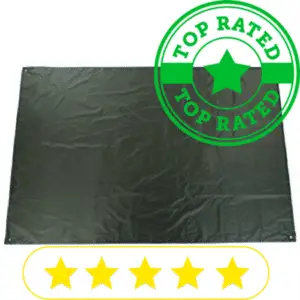 OUTAD Waterproof Camping Tent Footprint
When it comes to high quality footprints to protect tent floors, you're going to be hard pressed to find to find a better or more reliable one than the tarp/footprint produced by the OUTAD company. In addition to being made from high quality materials that will hold up to the wear and tear of long term use, tent footprints by this company come in your choice of one of four colors: green, dark green, blue, and orange.
One of the most highly rated choices currently available on Amazon.com, the high density Oxford fabric that is used in construction not only makes these very durable but also waterproof, as well. In addition to helping prevent too much wear on the floor of your tent these are also versatile and can be used as a sheet for laying out a picnic or in any outdoor capacity that you would use a tarp for.
In addition to these positive traits, it is worth noting that OUTAD footprints are ultralight and thus great not only for campers but also for hikers and backpackers. The smallest ones are a mere 11 ounces while the largest version is 17 ounces (1 pound, 1 ounce). Add in the low inexpensive price and you can see why this particular piece of outdoor gear is so popular.

Morrison Mountainsmith Tent Footprint
The classic charcoal gray Morrison tent footprint by Mountainsmith doesn't come in a lot of colors or have any bells and whistles – it is an excellent tent floor saver that gets the job done. A fire retardant coating makes this footprint fire resistant as opposed to water resistant, although keep in mind this doesn't mean it is completely free of these potential dangers.
Bartak and Grommet reinforcements help make sure that this Mountainsmith tarp and/or footprint is fully functional for a wide array of uses and at .55 lbs it isn't going to add a lot of weight to your pack.
While this particular footprint is most specifically designed to fit perfectly with the Morrison 2 Person Tent, it is strong enough and reliable enough to still find frequent use with other tents as well as for other camping situations that would conventionally require specialty tarps of some kind.
This is one of the absolute highest rated models on all of Amazon as of this writing, and it is not likely to lose its spot any time soon.


Tri-Wonder Outdoor Waterproof Tent Tarp
Coming in small, medium, and large sizes, Tri-Wonder waterproof tent tarps (a favorite among many outdoor specialists) are an excellent piece of equipment that is also commonly used as a tent footprint to help preserve your tent's floor over the long term.
Made out of the impressively resilient 190T Polyester Taffeta this material is designed to not only be lightweight but also to be waterproof and powerful.
This is one of the better ground tarps on the market, and the three sizes of footprint come with the following dimensions:
Small size: 98.4 x 59 in
Medium size: 118.11 x 86.6 in
Large size: 118.11 x 118.11 in
Choose the best one that works for the size of your tent and your specific needs. While the main focus most of the time will be working as a tent footprint you can also use this for a sunshade, beach picnic setup, hammock rain fly, or even as a general tarp setup.
If you want an extremely reliable and versatile camping footprint for your tent then you definitely will not be disappointed with this choice!

Archer Outdoor Gear Ultralight Tent Footprint Pad
Weighing a mere 0.5 lbs, this lightweight and extremely unique looking appearance because of the thermal aluminum foil that makes the full outer layer of the Archer ultralight footprint pad. This is a premium quality camp mat that sets it apart as looking different, can make it a signaling tool in an extreme emergency situation, and really this contribution to outdoor gear from Archer really stands out.
In addition to the aluminum foil outer layer there is also the foam insulation inner layer made from 2 mm of waterproof foam insulation that will help to keep you warm by reducing body heat lost to the ground and preventing a lot of the ground sapping warmth from you that takes place while tent camping.
While generally set up to be used as a tent footprint, there are other potential uses, as well. The company talks about the extra large size of (78.7 inches X 78.7 inches) their camping pad which allows for accommodating up to four people.
On top of everything else, this ground pad is extremely compact, easy to fold up and store, very lightweight, and you can fold or roll it up for the easiest possible storage depending on your specific space needs.
This is even one of the few pads that can offer noticeable help during winter camping.

OUTRY Waterproof Multi-Purpose Tarp
A great budget option, which is a touch surprising considering some basic tent stakes are included with the OUTRY. This multi-purpose tarp has often been used as a floor preserving footprint for most middle sized tents, and these even come in three sizes to better accommodate your needs no matter what your tent or camp size.
Special Oxford fabric helps to make the tarp both strong and waterproof, which also makes it a prime candidate for protecting your tent floor by serving as a protective footprint.
OUTRY is incredibly versatile with this creation, which is part of the reason that it is often advertised as an all purpose tarp as opposed to a singular use protective tent footprint. These weigh anywhere from 12.7 ounces on the smallest one all the way up to 20 ounces for the heaviest/largest one, meaning they are lightweight in all their forms and these can be folded down to save space, as well.
As of this writing the three sizes are:
Small protective footprint 4.9 ft x 7.2 ft
Medium tent footprint 5.9 ft x 7.2 ft
Large camping footprint for tents 7.9 ft x 7.2 ft

Bluecell Black Color Thick Tent Floor Saver
Made from the popular Oxford cloth material that many other companies have chosen for their versions of a protective tent footprint, the Bluecell camping footprint and floor saver makes our list as a highly rated choice that is extremely popular among a variety of tent campers looking to extend the life of their tents.
Weighing a touch over 12 ounces and a diameter of 57 inches X 77 inches, the Bluecell floor saver is black in color, strong in material, and moisture proof as well as abrasion proof. This protects your tent from rocks, sharp sticks or unnatural sharp objects, or anything else that can cause issues with the life of your tent floor.
Generally speaking these floor savers from Bluecell are diverse in their usefulness, as well. Aside from protecting the camp floor they can also be spread on the ground as a good place to sit for a picnic, put up as a shade canopy, or serve any function you would want from a tarp in addition to providing all the protection you were hoping for to make sure your tent lasts for as long as possible.
These are a great investment to increase the life of your favorite family tents and make them an investment that just keeps on paying off as you enjoy one outdoor adventure after another!

GEERTOP Tent Tarp Footprint (1-4 people)
Sporting some of the highest ratings of any tarp or tent footprint currently available on Amazon.com, GEERTOP offers an extremely intriguing option when it comes to delivering an absolutely outstanding quality footprint that gets the job done for smaller tents. They might be a relatively new name on the scene but they are already providing some serious quality that helps them get the job done right.
Made out of 20D duplex silicone coated lattice nylon allows them to produced strong waterproof ground sheets that are incredibly lightweight even by backpacking standards, while not sacrificing any of the durability or quality that you also expect from a high quality piece of camping gear.
This moderately priced footprint is good for smaller camping tents and currently comes in five sizes, at least if you are buying from Amazon.com. This means that whatever one to four person tent you have you should be able to find a GEERTOP tent footprint that is going to work for your specific needs. That is the type of promise that many campers, hikers, and outdoor enthusiasts  absolutely love.
The current sizes are:
Medium: 2'11" x 6'11" (5.6 ounces)
Large: 4'3" x 6'11" (6.7 ounces)
X-Large: 4'9" x 6'11" (7.4 ounces)
XXL: 5'11" x 6'11" (9.9 ounces)
XXXXL: 8'6" x 6'11" (13.8 ounces)
Even the largest option is under a pound, and this means that these are often perfect for any type of roughing it level of camping.

Terra Hiker Camping Tent Footprint
Coming in blue, green, or dark green colors, the Terra Hiker design of tent footprint is a welcome addition to this list. This inexpensive option from the Terra Hiker brand also comes in three different sizes and is durable and waterproof, making it ideal for most campers who really appreciate having a high quality footprint that will help the floor of their tent last even longer, furthering the life of the tent itself in most cases.
Getting the correctly sized footprint can go a long way towards helping you to preserve the life of your tent no matter how often you go out and camp.
Made from 210D Oxford cloth, this specialty tarp is also treated with a custom waterproofing process to make sure that no matter what the weather, you are in good shape and fully covered.
This can certainly add some serious comfort and security when it comes to outdoor camping. Being prepared and protected goes a long way to camping out the right way, which will be more likely to keep you happy with your outdoor adventures.
The current three sizes include:
Small at 59″ x 86″ inches
Medium at 70″ x 86″ inches
Large at 94″ x 86″ inches
This camping footprint for tents even comes with a basic drawstring carrying bag to make transporting it to and from a campsite much easier.

ALPS Mountaineering Tent Floor Saver
Designed specifically with ALPs mountaineering tents in mind, but made with a size and quality that makes them popular even with other tent owners. This should come as no surprise considering that products produced by this line are renowned for being extremely high quality, known for being reliable and able to hold up to even the most difficult of terrains and situations.
Which is exactly what you would hope for from a company focusing on creating outdoor gear for mountaineers. Climbing a mountain is not the time to worry about your gear being too poorly designed and built because you were too cheap to get the top available brands on the market.
One of the top rated camping footprints for a reason, this one tends to be a touch pricier but it is built to the high quality standards you would expect from the ALPS Mountaineering company.
One of the really interesting aspects that sets these apart from others is not that they come in many sizes – most companies producing ground tarps do this, but theirs are based on size of tent for two, three, four, five, and six people tents. Makes it easy to make sure you are buying the right one that fits your needs.

ALPS Mountaineering Lynx 1 Person Tent Floor Saver
This is an extremely popular and top rated floor saver that has a very strong rating in addition to a solid following. This isn't surprising considering the extremely high quality of ALPS Mountaineering gear. By pure quality and rating this would be higher on the list except for one really large and obvious issue: this tent floor saver is only designed for one type of tent.
While it still might work for some other very small tents, the floor saver for the ALPS Mountaineering Lynx tent is designed for that 1-person tent as can be seen from the 87 inches X 29 inches and weighs a mere 0.4 lbs.
This is set up to line up perfectly with this particular tent and its dimensions, though if you have another tent that has the same dimensions then in theory it should work there as well. There's no denying the quality of these tent footprints and how well they get the job done.
If you have a one person Lynx tent, then you definitely want to give this piece of protective gear a look.

In Conclusion
If you have a good tent you should definitely take steps to protect it. My brother and I have many memories of the big cabin family tent our Dad bought, because it lasted for many years. When you buy a high quality tent and take care of it, you really do save over the long run. Having that footprint underneath your tent so you can save the bottom from the worst of various sharp objects in the ground means your tent will last much longer, delivering the excellent and long run of use that you would hope for.
Why wait another day? Get one of these tent footprints to protect your tent today?
Good beginning YouTube video about tent footprints