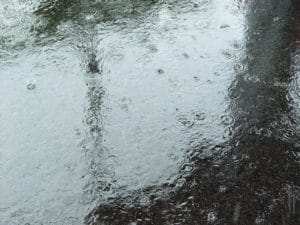 You don't want to buy an outdoor hammock without also getting a rain fly or rain tarp. While a camping hammock can provide a wide array of advantages to other methods of camping, you still need to be prepared if less than perfect weather decides to roll in on dark purple rain clouds.
While one of the major advantages of hammocking is the clear unobstructed view of a beautiful night sky that shows the stars and moon in all their glory, if the rain comes in you want to make sure that you are covered so you're not wet, miserable, and maybe even hypothermic. This situation should be hypnotically beautiful, and that's much easier when you are dry so you get all the benefits with none of the drawbacks.
A good hammock rain tarp will be easy to set up along with your hammock and provide solid cover from the rain…and about as beautiful an outdoor sleeping situation as you could hope for as the falling rain soothes you to sleep.
This is a wonderful experience and one that shouldn't definitely go on your outdoor bucket list if you haven't been there first hand yourself.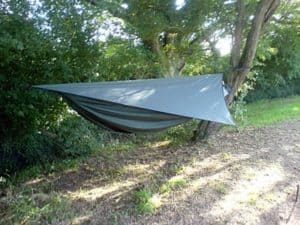 What to Look for in a Good Hammock Rain Fly
While there are plenty of good options when it comes to getting an excellent hammock rain fly or rain tarp, so you don't have to look very far to find an exceptional option. One thing to understand right off the bat is that there are many different types of available rain tarps so you want to learn about the various tarp setups that are available and which one fits with your specific need.
You also want to look for a quality product. There are cheap versions, but why go with something that might fail when there are so many that are extremely well made and tested to hold up from storm after storm? With so many high quality shelter tarps out there on the market that work for hammocks, tents, or both, why would you settle for anything that is second rate?
If they are well constructed, waterproof, large enough to give a decent amount of coverage, and have great ratings then look at giving them a shot. We kept things down to a top ten, but there's no doubt we could have made a much longer list. So read on – and find one of these top rain shelters that works for you and your hammock setup!
Important Note: The choices when it comes to a good shelter tarp or hammock fly are really astounding. We easily could have made a list of 30 options here with all of them above 4.0 stars on average, but that's too much information – so we've done our best to make a true top 10 list – but don't let that scare you off from any word of mouth recommendations you get. Hit up Amazon.com and find the one that is right for you!
Top 10 Hammock Rain Fly List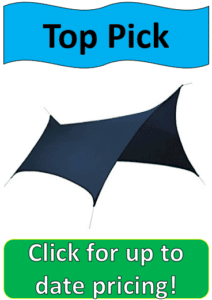 Eagles Nest Outfitters (ENO) ProFly Rain Tarp
ENO, short for Eagles Nest Outfitters, is a name that is well known throughout the hammocking community. The fact is, they are generally considered the gold standard when it comes to hammocks, hammock accessories, and that includes their ProFly rain tarp, our pick for the best rain tarp/fly that ENO presently puts out.
Currently offered in five colors (olive, gray, navy, black, lime green) this 100% nylon waterproof tarp is perfect for setting up a proper rain shelter above your hammock while camping so if there is even a threat of rain you will be able to rest easy knowing that you are covered and protected from above.
Six guide points in the tarp allows for multiple setups, and that means you can optimize your cover based on the type and size of hammock you have and the exact look of your particular camp setup. Not only is this rain fly designed to deflect water but it is also made of a thick and strong material that allows it to even slightly dampen sound to set up a great night's sleep.
Weighing a mere 1.35 pounds, this is a strong and highly functional tarp that can be used in a variety of ways and yet is also built to last the test of time as well as multiple camping excursions. The quality size of 10'6″ x 6'4″ for this ProFly outdoor tarp means plenty of cover from the sudden surprise rains Mother Nature occasionally likes to throw at you.
You will want to note that this comes with ties, but tent stakes are sold separately. Fortunately we have you covered with this comprehensive best tent stake guide.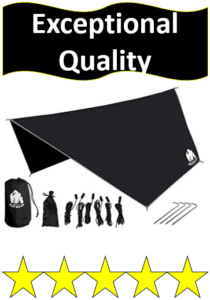 Chill Gorilla Pro Waterproof Rain Fly
Chill Gorilla is currently a very niche name in the outdoor arena, but there's a reason they are rapidly growing in popularity with a large number of outdoor enthusiasts. Not only is this camping fly extremely high quality, but this company goes the extra mile by making sure to include attachment ropes, stakes, and carrying bags for all of these items. There's no buying extra tent stakes, no replacement ropes – you can set this rain shelter over your camping hammock right away.
A full 25% larger than ENO's most popular tarp, Chill Gorilla goes with the idea that bigger is better. They might be a tad more expensive, but you get a lot more for the price. More material, more area covered, and of course the tent stakes are included so you don't have to make a second order to complete the setup.
This tarp has 6 guy points and a hexagon type of shape that gives it that extra bit of material to help more thoroughly offer shelter from the rain, sleet, snow, or whatever weather might be coming through your area at that moment. This is designed to be all weather protection, meaning it is built to be durable and to last.
Lightweight, this ultralight tarp setup is extremely popular with ultralight backpackers who need quality gear that won't weigh down the pack. We're very high on the Gorilla gear!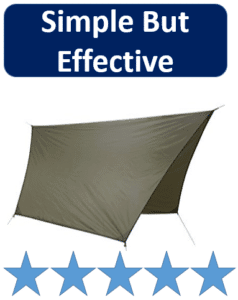 Hennessy Hammock Hex Rainfly & Rain Tarp
The Hex Rainfly by Hennessy Hammock is consistently rated as one of the best hammock rain flies available on the market, and even major retailers online like Amazon back this up.
Currently the highest rated of the hammocks out there, Hennessy stands toe to toe with giants like ENO and up and comers like Chill Gorilla and come out not just even, but arguably even on top.
You have your choice between symmetrical and asymmetrical designs depending on what type of coverage you need to be comfortable and dry in your camping hammock. Hennessy makes their tarps with Polyeurethane coated polyester, adding that extra layer of waterproof protection to keep you dry from the elements and insuring their rain fly is one of the strongest on the market.
Weighing in at a mere 1.4 or 1.6 lbs (depending on whether you go with symmetrical versus asymmetrical design) these tarps not only offer great protection for your hammock but can be used for a quick dry shelter during meals or if you need to quickly set up something just off trail. One of the best on the market right now and it's no wonder hammock campers love it.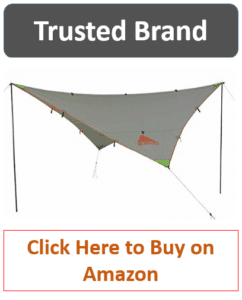 Kelty Noah's Tarp Shelter Reviewed
Kelty is a name that has come up a lot in our outdoor reviews, and for very good reason. This renowned outdoor brand has built their reputation on quality, focusing on doing a few things very well as opposed to a cheap or scattershot approach. Because of this is should come as no surprise that a name which comes up so often in other outdoor blog posts also makes an appearance here.
However, Kelty's Noah's Tarp shelter is a fantastic addition to this list that can be used with simple poles for a quick shady shelter, as a fantastic rain tarp, or perfect rain fly for the right size tent. Even better, it's worth noting that this particular rain fly comes in three different sizes which offers a bit of versatility that many others don't. Available in sizes of 9 feet, 12 feet, and 16 feet, there's a lot to love about what this rain fly brings to the table.
The guy out points are reinforced, and corner guy lines are adjustable. That additional bit of support helps with this rain tarp shelter's reputation for serious durability. It's made from a lightweight water-resistant polyester that gets the job done while lasting over a very long period of time.
This is a fantastic option for a variety of campers, hunters, and other outdoor enthusiasts though it is important to note that the poles are not included.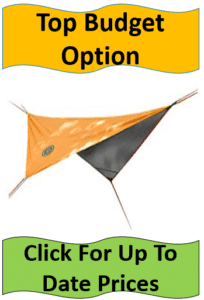 UST Base Tube Tarp 1.0 Reviewed
Ultimate Survival Technologies has produced a basic high quality tube tarp that ranks as the highest of the budget options on this list. Relatively inexpensive this shelter tarp is flame retardant, colored bright orange for easy visual spotting from the sky, while the inside is aluminum which reflects heat to keep you warm when it gets cool or can be used to reflect  light on a sunny day.
This is called a survival tarp for a reason and is compact, lightweight, and includes guy lines, tent stakes, and a carrying bag that makes it easy to put everything into one bag and transport it.
The tarp itself measures 35 x 40 x 35 inches and is useful not only as a way to keep your camping hammock dry, but also to help keep body warmth in during cold weather and work as a piece of signal and survival gear during those critical situations.
This tarp is lightweight, easy to carry, and a popular option for outdoor enthusiasts who are really into pieces of gear that can serve multiple purposes and who always view the outdoors as amazing, but also an environment you have to prepare for. If you like multi-use materials that function in a survival situation, then this is a basic tarp that will definitely meet your needs.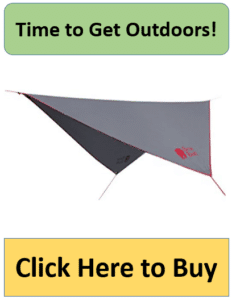 Bear Butt Double Hammock Rain Fly
Bear Butt is a brand that hammockers are going to be incredibly familiar with. They might be relatively new to the scene, but without question they are one of the best options out there. Their camping hammocks are already among the best available so it should come as no surprise that their hammock rain fly is on this list, as well!
Measuring 9 feet 4 inches down each side and 12 feet 10 inches down the middle, this hammock offers plenty of protection and is made from 190T polyester which is basically a fancy way of saying top notch material that are incredibly durable and completely waterproof.
Add in 4 reflective guy lines (convenient on those dark nights) and a couple metal stakes, there's a lot to love about this setup and that's even before mentioning what is hands down the best warranty and refund policy in the business. Their refund policy is simple: any time for any reason you get a full replacement or a refund if you're not happy with it.
That level of confidence forces a high level of quality, which is exactly what this rain tarp brings to the table.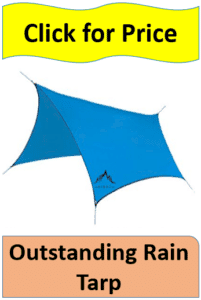 Himal Waterproof Sunshade Tent Rain Fly Tent Tarp
Himal's rain tarps for tents and camping hammocks come in two different sizes and come as a complete package that includes basic tent stakes, several lengths of nylon rope, and a carrying bag for all of it together. The tarp itself is made out of specialty parachute nylon fabric and a limited lifetime warranty that has gained the appreciation and attention of a large number of outdoor enthusiasts.
A rain fly from Himal is going to be high quality and it is going to stand out even among the many great options that hammock campers have.
While very versatile, a solid set up off of the ridgeline at about chest height will often produce the best overall results.
While these Himal tarps aren't known for being flashy, they get the job done. They are inexpensive, budget-friendly, but built up to high quality standards and at 1.6 lbs they are not going to weigh down your pack if you're on a thru hike.
If you're on a budget, these are a high quality option that can meet your needs.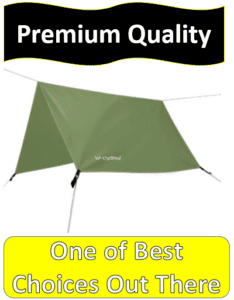 W-UpBird RipStop Hammock Cover
W-UpBird might use a different name, choosing to go with hammock cover or portable rain shelter over the more conventional tarp and fly designations, but no matter what the name the purpose is the same: keeping campers happy by keeping them dry. The RipStop line from this company are a 10 foot by 10 foot waterproof cover weighs 1.8 lbs. and is built to last even with frequent use.
Any outdoor fan is going to spend more time outside than just a "once in a while" schedule so why not build your gear to last? This large area tarp is perfect for being a waterproof cover to your camping hammock, tent, or just an easy setup as a temporary shelter from any inclement weather or even a bit of shade to get relief from a scorching summer sun on a cloudless July day.
Classic army green in color, W-UpBird includes the full setup package with 8 nylon ropes, 8 simple aluminum stakes,and a carrying bag for everything. These have held up well for many outdoor enthusiasts and are highly ranked among many customers who have been very happy with how they have held up even after constant use over long periods of time.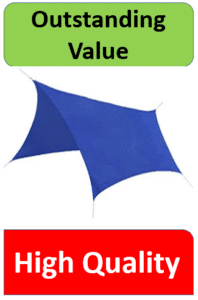 TriWonder Outdoor Waterproof Camping Tarp
Four different colors (blue, dark blue, green, orange) also comes with & without accessories. In addition to this there are small, medium, and large versions of the tarp, each with its own dimensions and there's even a small footprint if you are going to use this with a tent as opposed to a hammock.
Accessory packs include ropes, stakes, and carrying bags for all of these items. TriWonder is a budget-friendly option that doesn't skimp on quality and offers enough shade for a good hammock set up or for four people if it is being used by itself as a sunshade on the beach or a basic rain shelter over an outdoor picnic table.
Made from 190T Polyester Taffeta, this material is designed to last the test of time and is going to help make sure you have the shade and shelter you need to stay comfortable while outdoors. There is a one year warranty on all TriWonder tarps, making them even more attractive to budget minded outdoor enthusiasts.
The three available sizes:
Small 98 in x 59 in
Medium 118 in x 86 in
Large 118 in x 118 in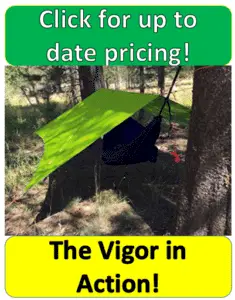 Vigor Waterproof Rainfly
Featuring a bright green/lime green color, the Vigor fly is often marketed as a tarp for large tents but it is an all purpose tent built to handle rain and snow, and comes with rope that reflects light as well as coming in at an ultralight 1.6 lbs which makes it quite popular with the long distance hiking and backpacking crew.
Made from rip-stop parachute nylon, these camping hammock rain covers are designed to last, and come with a remarkable 3 year warranty to prove that this company stands behind their quality of work.
The 10 foot by 10 foot tarp put out by Vigor is moisture proof in addition to working as a way to deflect rain, snow, sleet, and whatever else might be coming down on you. The silver reflective nature of the hammock ropes makes them easy to find with a flashlight at night as does the bright color.
This comes with stakes and the proper number of rope lengths, meaning you can set up right after purchase, and the relatively low price makes this another good inexpensive option. This is a tarp that is made with the hammock camper in mind and that means it is well designed to keep you comfortable and dry!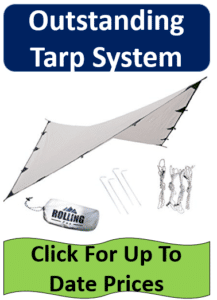 Rolling Fox Tarp Shelter & Survival Tarp Shelter
Lightweight, waterproof, and easy to setup, the Rolling Fox tarp shelter works wonderfully as weather proofing from an incoming storm while also having the functionality needed to act as a good emergency or temporary shelter if you get caught by a fast moving or sudden burst of rain coming in.
This polyester fly has a PV waterproof coating to make it even more water resistant, helping design it to deflect water as opposed to soak it in, even during the heaviest rains. Weighing a mere 1.2 lbs. this is a huge favorite among thru hikers and long distance backpackers.
Ultralight, compact, and high quality, it isn't hard to see why a relatively obscure name in outdoor equipment continues to gain a strong following of fans.
A remarkable 16 tie-off loops means this tarp can be set up however you need, especially in conjunction with the four stakes and lines. This is a great addition for hammock campers to protect them from the elements while minimizing the weight that needs to be carried.
Stay out in the wild and stay dry with this high quality hammock – one we will not be surprised to see move up the list in the upcoming years.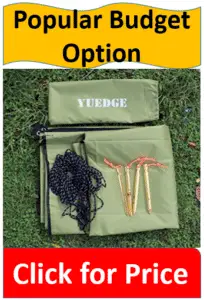 YuEdge Portable Lightweight Waterproof Rain Tarp
YuEdge isn't trying to make things fancy, they aim to make a high quality hammock rain shelter that is affordable, well made, and gets the job done and that's exactly what they create with a kit that has a waterproof tarp, four stakes, and the proper amounts of rope to set up and create some shelter.
Sometimes used to keep dry, sometimes used as a sun shade during especially warm and bright months, this polyester portable shelter weighs 1.95 lbs, making it a little bit heavier than many of the others but it is made of a thick material that also is built to reflect UV rays from sunlight.
This is a very inexpensive way to get shade, put cover over a camping hammock, or serve any other function that you would want from this piece of outdoor equipment. If you are looking for a reliable one (or several) on a budget, this is a great option.
Keep in the shade in summer or keep dry during a rain storm.

Some Very Interesting KickStarter Funded Rain Tarp Ideas
While it's not designed for the same purpose as the others on this list, we couldn't have an article about rain flies or tarps without once again mentioning our early post on the Trip Tarp. They did get funding for their upgrade via KickStarter after running a prototype and they make an excellent product that definitely makes planning your endeavor much easier and better organized. Check them out if you're always looking for more good outdoor gear.
However, getting to the topic back at hand, there are many incredible rain tarps for hammocks out there and you should have no problem finding one that fits all of your needs.
Rain Fly & Rain Tarp FAQ
Q: What is the difference between a rain fly and a rain tarp?
A: There really isn't much of one. When you look at the fly you get with your hammock (or a replacement one if the older version was damaged or just needs replacing) may be set up in a certain way to make it easy to run ropes through for the perfect overhead pattern and tarps often just have holes in the corner, they are essentially the same thing though as always quality will vary.
Q: Which ENO rain fly is the best?
A: While all of the rain flies Eagle Nest Outfitters puts out are top notch, we're big fans of the ProFly as being the best of the best among several truly outstanding choices although at the end of the day when it comes to any gear put out by ENO, you're going to be in great shape. That said if we have to pick one, we're sticking with the one we have rated #1 overall: the ENO ProFly rain tarp.
Q: What if I want to repair my old tarp instead of buying a new one?
A: First of all, make sure the old one is in good enough shape that it is worth your time, effort, and cost to patch up as opposed to go new. If you look over it and decide that you do want to move forward with repairs then there are repair kits and rain fly repair items out there you can find on Amazon. Look for YouTube videos if you need a visual walkthrough of how exactly to do this.
Q: Are these options really better than the one that came with my hammock and/or tent?
A: Honestly that depends on the quality of what you first bought but these are the top of the line hammock rain fly options so if you really want the best of what's out there, these are the options.
Q: How do you set up a rain fly?
A: This tends to be pretty easy, although it can vary slightly depending on whether you are setting up your rain fly for a tent or a hammock, or even as a general shade shelter or water collector.
In Conclusion
If you're going to go camping then no matter what style speaks to you, you need to follow the old Boy Scout motto of "Be Prepared." Have a really high quality hammock tarp on hand just in case the rain comes in. They are extremely light weight, give additional sheltering options, and can help insure that your outdoor outing is a fun, dry, and successful one at that!
In fact, unless you're going on a true long-term ultralight type of trekking journey, there really is no excuse not to
Great YouTube Video for Setting Up a Rain Tarp