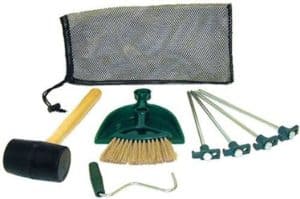 Tent stakes might not be a sexy outdoor topic, but if you have ever found yourself with a twisted or broken stake and a windy day, you know how important it is to make sure you are properly prepared with enough good tent stakes to batten down the hatches.
The good news is that replacement tent stakes tend to be inexpensive, easy to order, and take up very little space and weight. This makes them easy to pack without adding any heavy weight or inconvenience. Being prepared is never a bad idea, and as you'll see from this article there are plenty of options to choose from when it comes to finding high quality replacements for your tent stakes.
Tent states might not be as sexy as the newest tent or a new camping hammock, but they are an important part of any prepared camper's gear. Read on for the best replacement tent stake options around!
The Quick Top 15 Replacement Tent Stakes Comparison Table

Reviewing The Best Tent Stakes
There are a lot of different opinions when it comes to tent stakes. Based on my own experiences camping, it's not hard to see how that happens. Most tent stakes that come with tents are often very cheap. This means bending, twisting, breaking, and that can really make it hard to set up the longer your tent lasts.
The best tent stakes are going to be made from solid materials and ideally have a design and be made from materials that combine to form stakes that work effectively in virtually any type of ground.
ABCCanopy Pop Up Canopy Tent Peg Stakes w/ Orange Stopper
These are some of the highest rated tent stakes found on Amazon.com, or anywhere online, for that matter. They are made of light weight aluminum that is still manufactured in a way to make these especially strong, while also including bright and easy to see stoppers. The stoppers are red and orange to make them easy see. This is a big deal for those of us who have ever tripped and hurt ourselves a at a campsite.
These stakes are very well designed and set up in a way that offers plenty of area to hammer in, easy to pull out, and the sharp but narrow stake means it can cut through even the toughest of ground relatively easily.
These are some of the best tent stakes on the market, and the 10 set makes them a good deal for tent owners who tent to go through stakes a lot or lose some. This package often even comes with bonus rope that can be used for tying down the tarps or any other side needs you may find around the campsite.
These camping tent stakes are high quality and getting just a little bit of a bonus is just that: a great bonus.

Vilight 7075 Aluminum Tent Stakes for Camping
These Vilight aluminum tent stakes are made from aerospace quality aluminum and a bright red color to make them easy to spot. These extra long stakes are 8.3 inches in length and the strong construction makes them perfect for soft or hard soil. This means they are good for virtually any condition where you need to to stake down into the ground.
The top of each stake is designed with three ridges, giving them multiple spots where a line can be tied. This is a nice bit of added versatility. In addition to this, each stake also has a reflective pull cord attached to it, making them easy to pull out of the ground.
The top tent stakes tend to be made of excellent materials and have simple but effective designs, and that's just what you get with these Vilight stakes.
These stakes come in a bag made from top notch waterproof materials and are some of the strongest in the market for their size, and a solid 8 of them means plenty of replacements.

Cosmos Orange Aluminum Tent Stakes for Camping
These bright orange aluminum tent stakes aren't only strong, but the wide design means they can be relied upon for an extremely solid anchoring. These wide tent stakes are very easy to spot, can be hammered in well, and designed with a number of holes you can run twine or nylon cord through.
This might not be helpful for many tents (although it can be extremely helpful with old fashion canopy pull out for additional shade). These are also extremely helpful with open canopy setups.
These Cosmos top replacement tent stakes are 12 inches long and because of their design are also extremely versatile. There are 6 stakes included in this package, and there's a reason these are considered among the absolute top replacement tent stakes available to the public.
If you want some replacement or backup stakes for your tent, you won't be disappointed with these.

Kungix 7″ Aluminum Alloy Tent Pegs
These replacement stakes from Kungix are seven inches long each and come in a pack of ten, held in an aptly labeled Kungix sack. Every single one of these black aluminum replacement pegs also features a reflective rope at the end, making them easy to spot and much easier to pull out of the ground.
You can even spot them at night because of the reflective nature of the rope, meaning even a night time take down doesn't have to be overly difficult.
These ultralight and ultra strong replacement tent stakes are designed to be resistant to bending, twisting, and other types of damage. If you've ever had to work with a group of tent stakes with half of them twisted and bent, you know how important this is.
They even come with a lifetime guarantee to replace damaged stakes – making them a great option as far as replacements go!

TNH Outdoors Aluminum Tri-Beam Tent Stakes
These outstanding tent stakes from the TNH Company are constructed with 7075 aluminum that makes them extremely strong and resistant to bending and twisting.
The bright red color of these thick stakes makes them easy to spot and also increases their ability to thoroughly anchor a tent to the ground.
This is the newest design of stakes from the TNH company and are surprisingly strong period, much less when being compared to other ultralight stakes. This set of 10 means you have plenty of extra tent pegs no matter what the situation.
In fact, you may find that after using these replacement pegs that you like them better than the stakes that naturally come with your tent and go for the full swap out. Why settle for inferior tent pegs that come with your favorite family tent when you can upgrade and go with these outstanding top tent stakes.

SE 9NRC10 Galvanized Tent Stakes w/ Green Stopper
These are among the best simple tent stakes out there, and a little bit of investigation makes it easy to see why. The green stoppers on top are made of PVC material, meaning every bit of these individual stakes are designed with quality in mind.
These stakes are 10.5 inches long, and considered very heavy duty based on their ability to take a lot of stress and put up against all sorts of weather based scenarios – extremely gusty, heavy winds and all.
These stakes are seen as being an absolutely essential tool for a variety of different setups including (but not limited to) anchoring canopies, tents, patios, or even garden structures. What is your outdoor need? Whatever it is, these heavy duty stakes can handle your needs.
They are simple, strong, versatile, and can help make sure you never have an issue again when it comes to heavy duty reliable tent stakes. Don't overlook the relatively simple design because these work, and that's what matters!

Gearupz Tent Stakes Kit w/ Aluminium Alloy Pegs
When looking at a list of the best tent stakes, we'd be remiss not to mention Gearupz tent pegs as being one of the ten best options currently available online. These aluminum alloy replacement tent pegs are 7 inches in length and are a bright red.
Each one has a small loop of nylon rope with it that is reflective, making it easy to find with a flashlight.
These tent stakes are not only high quality and can handle any replacement needs you may have, but they are part of a larger tent kit and also come with:
Hard plastic camping hammer
6 1/2 feet of guide line
Waterproof bag for the replacement tent stakes
Full mesh carrying bags
In addition to the extremely high quality stakes and the full array of tools that come with this excellent overall package, it's worth noting that the tools of the kit in its entirety all fit inside the mesh carry bag. 
When you're dealing with replacement stakes and tent rope, ultra light and ultra hard are exactly the type of adjectives you want to hear and that's one of the reasons why the Gearupz kits are so highly regarded.

Tent Tools Premium Tent Stakes & Bag
Tent Tools is so confident in the quality of their best replacement tent stakes that they include a life time warranty with them. If one of these stakes breaks for any reason whatsoever you can call them and get it replaced for free.
A little bit of time with these stakes gives you the idea that's a promise they probably don't have to cash in too often – they are built as solidly and reliably as any other pair of replacements that you are likely to find out there.
These strong ultralight stakes are made from aerospace aluminum and colored orange in addition to having a reflective pull cord attached to each one. These come in packs of 8, although sometimes packs of 10 are available, as well.
That's a lot of top replacement pegs for your tent, tarp, or other outdoor setup. The strong "Y" design of the stakes means whether the soil is loose, hard, dirt or clay, they are going to be able to dig in and get a solid anchor down to meet all of your needs.

All One Tech 7075 Aluminum Outdoors Replacement Tent Stakes
Why have only 4, 6, or 8 when you can get the full set of 12 high quality aluminum replacement tent stakes? These specially designed and strongly constructed tent pegs are especially useful for families that have large cabin tents or multiple large tents.
Families in those situations will often find themselves requiring all the more replacements since all too often the metal stakes that come with a large tent tend to be cheaply made, causing the need for solid replacements like these.
Available in five different colors including black, blue, orange, red, and white, each of these also comes with reflective rope attached for easy retrieval no matter what time of night. These are seven inches of solid aluminum built to last and not to bend or twist.
These are some of the best replacement pegs out there and when you get quality at this level you certainly can't argue with those results.

MSR Mini Ground Hog Stake Kit
Weighing only 0.22 lbs, these red heavy duty aluminum replacement camping pegs have won a strong following among outdoor enthusiasts who do all kinds of camping, in part because they are extremely powerful and reliable.
That is a hard combination to find, and often times a new tent won't have the best stakes, which can be annoying. If you spend the money on a seriously good tent like the ones we mention on our pages about the best small tents or the best family tents, you want really good camping stakes, as well.
If you get lucky, then great.
If not, the good news is that these MSR mini ground hog stakes can often prove to be more than enough and these stakes are specifically designed to be extremely lightweight (even more so than other replacement stake kits put out by this company) in addition to being strong.
These are an outstanding choice for replacement tent pegs. Well made and well designed, they are set to hold up to the test of time. You are not going to be disappointed with this option if you need a small number of rock solid replacements. These are the lightweight stakes that are going to pull their weight out in the field.

Bonus Consideration: Coleman Tent Kit
The Coleman Tent Kit is one of the most popular kits out there, and is especially a popular buy from online retailer Amazon.com. In fact, these are considered a best selling item on Amazon in the camping category, so that's saying a lot.
These are outstanding kits and come with:
4 solid steel replacement camping pegs
Solid rubber mallet
Steel "hook" to easily pull stakes out of the ground
Little dust pan and hand broom to keep the tent clean
While these aren't necessarily the best option if you need a large number of replacement stakes, but the 4 in this kit are solid and they offer very useful additional tools that can help make all the difference.

Comparing Common Tent Stake Materials
One of the major differences between various tent stakes will be the materials used to create them. While I've mostly stayed with various metal options throughout my life, I am very familiar with how to make my own via wood (hello Alaska improv) as well as the thick plastic stakes – a single big yellow one of which somehow made it into our family tent's old, rusted, and twisted tent stakes that came with our family's first tent.
Most tent stakes will be metal or plastic. There are some wood options although those are very uncommon now. Read on to learn more about each tent stake material type.
Metal Tent Stake Options
By far and away metal is the most common material used. However, there are massive differences between the three metals that are most commonly used. Generally speaking metal tent stakes will be made of steel, aluminum, or titanium.
Each of these metals has various properties but the exact design of the stake can also make a major difference in how they perform. However the following section is focusing on the most common metal properties.
Titanium tent stakes
Although tent stakes made from titanium are the rarest by quite a bit, they are also the strongest. Titanium is a truly premium building material.
These will not only be the lightest stakes in weight, but also the strongest. Titanium is virtually impossible to break. Hammer these over and over during the years, and they will work. These titanium stakes are generally going to be smaller because they don't need to be large to get the job done.
Even better? There's enough flexibility to flex without bending. So they're ideal for frozen ground and aren't going to bend and twist over time. If you grew up with low quality steel stakes bent and twisted from years of camping, you know how appealing this is.
Steel tent stakes
These will be tough, but also the heaviest of the metal stakes. While you'll never find truly high quality steel used on stakes, they are more than enough. Long lasting, some will eventually bend, twist, and rust, but many of these can last for years. These are a good option for most hard soils. That being said, you will slowly lose some over time.
Aluminum tent stakes
Lightweight but sturdy, these are great for loose and regular soil, but not the best option when it comes to hard soil. You shouldn't use aluminum stakes in frozen ground as these do have a reputation for possibly snapping. You shouldn't discount tent stakes because they are aluminum, but just be aware of their restrictions.
Plastic Tent Stake Options
Plastic tent stakes tend to be heavy duty. While pretty lightweight, these tend to be really thick and bulky to give a large mass. This means a lot of effort to hammer in, but they stick. Their bulk lets them last the test of time, but almost certainly tips will dull or even break off. This means older plastic stakes requires a LOT of work to hammer into the ground.
Not a bad cheap option, but you need to be willing to accept that your savings come at a price of needing extra effort.
Wood Tent Stake Options
Some people like to go really old school or traditional, and there is something to be said about making your own set of wood stakes via hatchet to stake down your tent. While the truly old school stakes were carved from wood, today this is generally synonymous with finding downed branches or pieces of wood that are then carved via knife or hatchet. Or both.
The benefit of that is being able to customize the side of the stakes. It's also good hatchet practice. Cutting with the blade, then using the back to hammer it in.
Unless you're getting something customized, you're not going to find a new option manufactured from these. Going with wood means cutting your new ones from available wood.
The debate continues
There's not a clear winner here, although most campers have a preference of one sort or another. This forum shows that debate in full swing. Whatever your preference, there are going to be good options available.
Other Articles of Interest
In Conclusion
There are many great options out there when it comes to getting the perfect replacement tent pegs for your outdoor gear. This article really goes into detail about the top 10 options available, and our chart looks at the top 15. That being said, there are even many more fantastic options out there, so don't go out on a camping trip without having your backup pegs all ready to go!
No matter what your favorite type of tent stake there's an option here.
Great Tent Stake Comparison Video